Both buyer and seller preferences and choices over e-commerce platforms are undergoing rapid change. Not surprisingly- such changes are obvious to be expected during times of such major upheavals and explosive growth!
Recent research from Content Square, based on 50 million browsing sessions across the websites of 100 of the world's top retailers, offers some insightful data on the scrolling behaviour of online shoppers. The data gathered between August 2013 and November 2014 shows that internet users accessing e-commerce sites on all types of devices are now scrolling further down their pages. Nearly 15% of the consumers now check the web page of an e-commerce site right till they reach its footer, as compared to a paltry 5% three years back.
Consumers, who scroll more were also seen to buy more – so does the increase in scroll rate augur well for the online sellers?
Online Shopping Behaviour: Tablet Users Scroll The Most
Scroll rate was defined by Content Square as the position of the last line seen by the viewer or surfer. The report reveals the year-over-year increase in the position of the last displayed line on smartphones, desktops, and tablets, across e-commerce sites.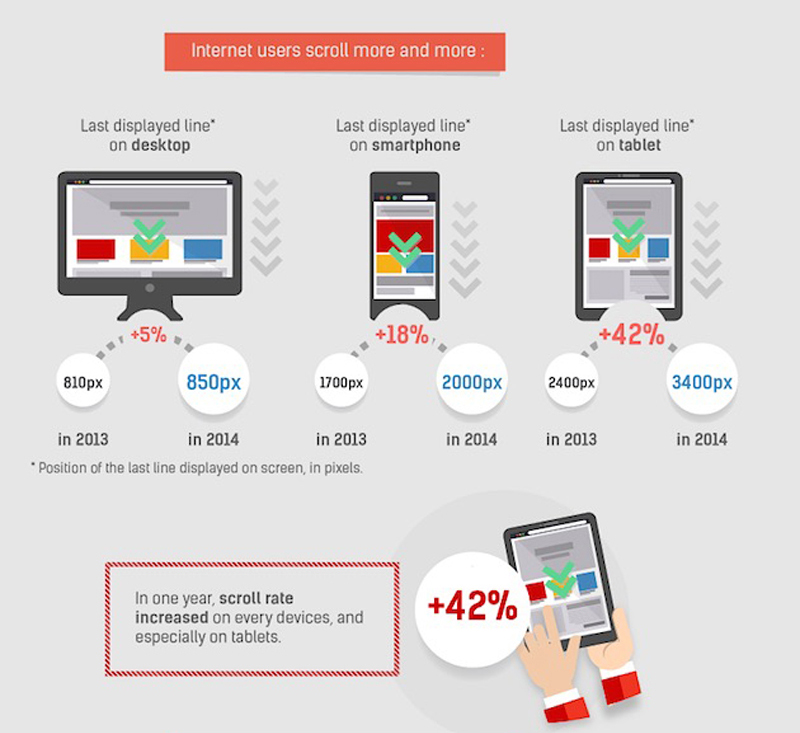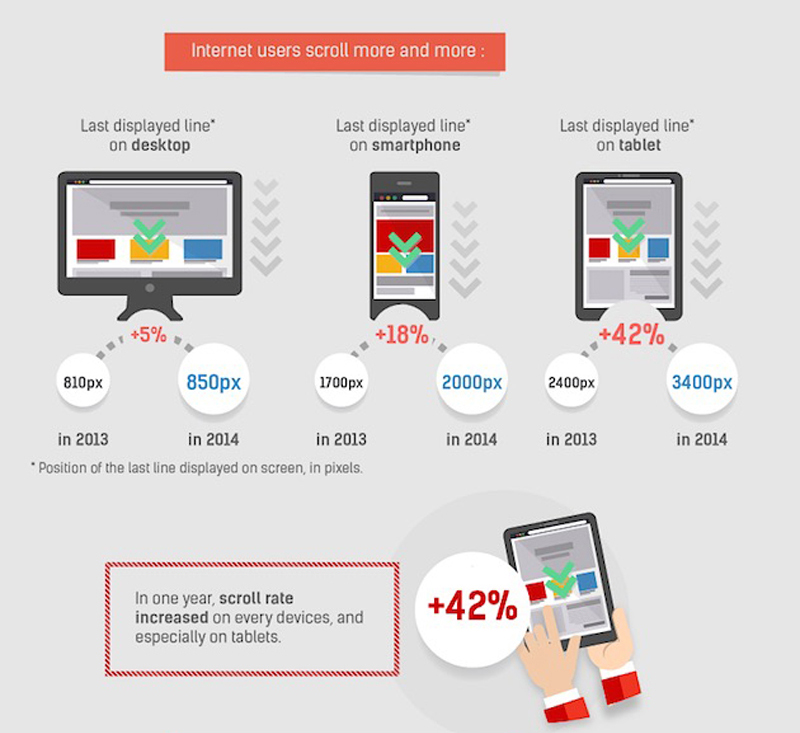 Desktops: The scroll rate on desktops and laptops increased by 5 percent during the last year, with an average consumer going up to 40 pixels lower in 2014 as compared to the previous year.
Mobiles/ smartphones: Scroll rate on these increasingly popular devices for the e-commerce sector showed a moderate increase. It went up by 18 percent during a year. The average consumer, who would scroll down by 1700 pixels during 2013 went lower down the page till 2000 px during 2014.
Tablets/ iPads: These devices showed the maximum improvement in scroll rate. The scroll rate was seen to improve by 42 percent and the consumers were seen to scroll down 3400 px in 2014 as compared to 2400 px in 2013.
Tablets and iPads, therefore, are the most important devices leading e-tailers to need to focus on. The sites must be responsive and tablet friendly.
Also, owners of e-commerce sites would do well to invest more in their remarketing strategy. As the readers are scrolling lower down the pages, the sellers can surely hope to multiply their sales by showing them products in which they have shown their interest earlier whether on their site or another. At the same time, they need to make sure that the results are highly relevant.
E-commerce site owners cannot, today, afford to ignore user preferences while working on their user interface (UI). Online buyers are today interested in a wide range of products, and site owners need to wake up to this and design their sites accordingly.
Footers Becoming More Important
200% Increase in Rate of Surfers Reaching All The Way Down To The Footer In Three Years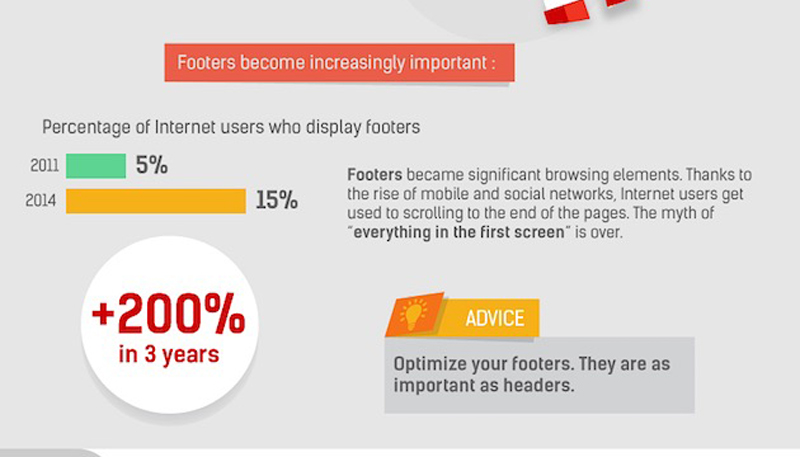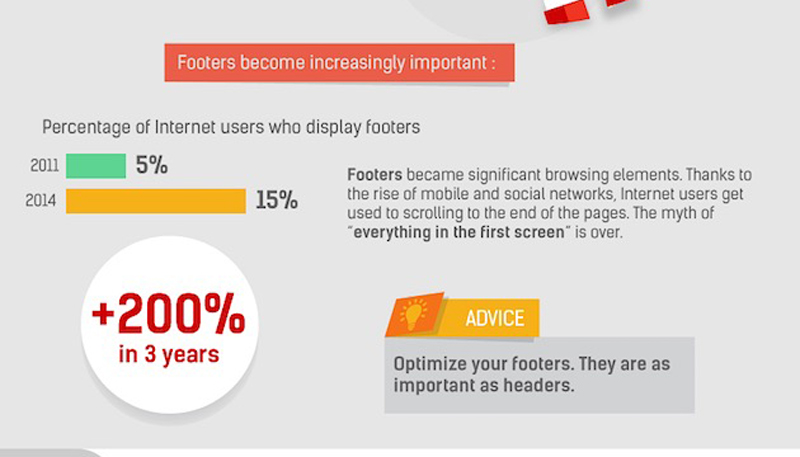 As compared to only 5 percent of consumers heading to the bottom of the page or its footer on an e-commerce site in 2013, nearly 15 percent of the internet users are now doing so. The importance of the footers, so to say, has increased by 200percent during a short span of only three years.
There was a time when most website owners would not bother beyond capturing attention and converting a consumer into a buyer the moment they landed on their site. This increase in the importance of the footer underlines the fact that the bottom of the page is just as important as the top or the header.
It is, therefore, becoming imperative for e-commerce sites to optimize their footers as well since they have now come to be recognized as significant browsing elements.
Cultural Differences Influencing Scroll Rate on E-Commerce Sites in Various Countries
An average page on a Chinese e-commerce site, according to Content Square is as tall as 20,000 px!! That sounds all the taller when compared to the average page size of 2500 px across European e-commerce sites.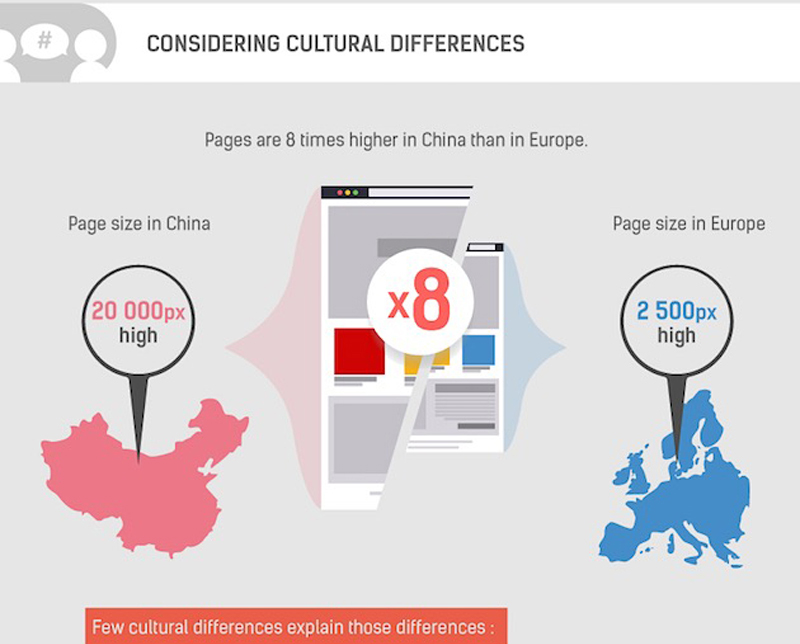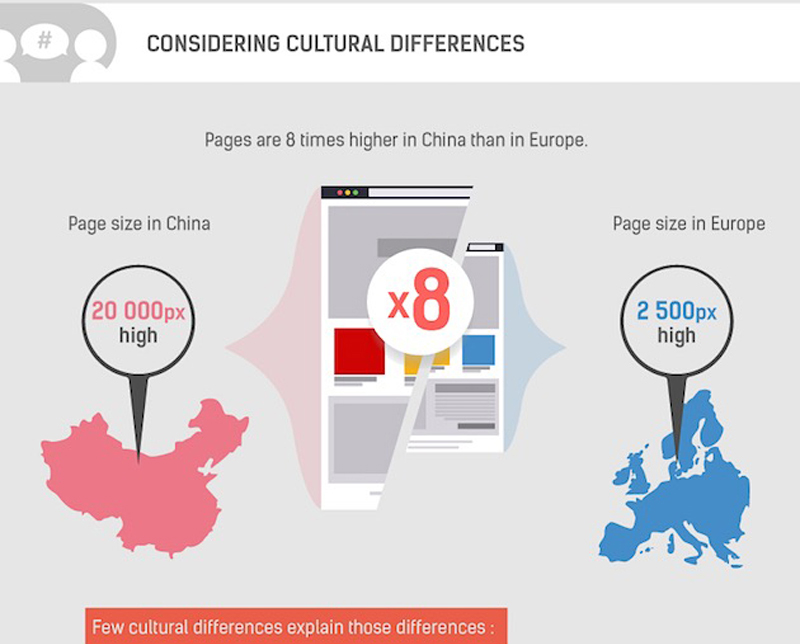 The Chinese web pages of e-commerce sites, therefore, are EIGHT times taller than European pages!
What could be the reason for such extraordinarily high or tall pages in China?
Having been deprived of liberty for a long time, the Chinese people devour content and therefore are more likely to scroll lower down the pages as compared to their counterparts in the rest of the world.
Mandarin, the Chinese language, has 5000 characters (imagine the plight of their school kids!) as compared to only 26 in the English alphabet due to which the people in that country are used to dealing with a lot of information.
The Chinese are not impulsive people. They take their decisions after a lot of careful deliberation. While planning for the future or making their purchases, they make 50-year plans while Europeans plan for 2-3 years- explaining why they will read a lot and gather all possible information about a product before they rush to buy it.
Impact of Scroll Rate on Conversions
Internet users on tactile devices (i.e. tablets and smartphones) tended to buy more if they scrolled lower down the pages of e-commerce sites.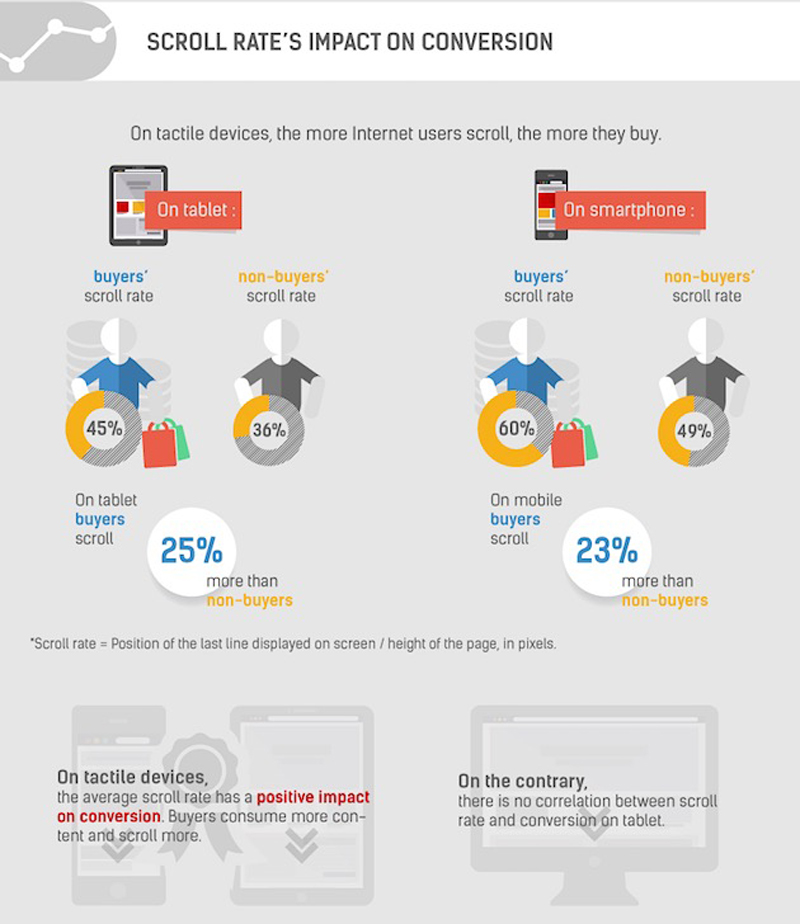 "On tactile devices, the average scroll rate has a positive impact on conversion. Buyers consume more content and scroll more. On the contrary, there is no conversion between scroll rate and conversion on tablet," says the report.
Leading e-commerce sites would, therefore, do well if they can exhort their consumers to scroll lower and lower down their pages.
Keeping the average internet surfer engaged and hooked on to the site for the maximum possible duration is of paramount importance.