If a picture says a thousand words, a one-minute video is worth 1.8 million, say Forrester's researchers! It is one of the most engaging ways to tell a story. Sharing video content with users has become one of the main strategies for content marketers and social media experts of late.
We already said that earlier. But then, the same holds true even now. Only increasingly so!
The importance of video content has increased hugely over the last three months, causing everyone with a sizeable online presence to sit back and take note of the emerging trend.
Like a shrewd businessman who can look and think ahead of his times, and an entrepreneur who wants to cash in on every possible opportunity, Mark Zuckerberg is on acquisition spree to make sure he catches the proverbial worm by being the early bird! Having bought the voice recognition startup wit.ai last week, the site owners have announced taking over San Diego based video infrastructure QuickFire. Now now…since this acquisition (or, should we say a formal announcement to that effect?) comes barely a day after it had bragged about getting more than a billion video views across their site since June 2014, we cannot help linking the two big news from our favourite networking site!
Leading social media analytical firm SocialBakers had then noted that Facebook Inc. (NASDAQ:FB) is becoming the preferred platform for sharing video content. They had also drawn an attention to the fact that the "YouTube fist, Facebook second" thumb rule was beginning to get ignored as the trend of uploading videos directly to Facebook was catching up among brand owners. They had also highlighted the serious challenge posed by the social site to YouTube by competing with it for the number of videos viewed as well as the degree of interaction thereon.
Within three months, the same agency (SocialBakers) announced that more videos were uploaded to Facebook during the past two months than on YouTube owned by Google Inc. (NASDAQ:GOOGL). What earlier looked like a distant possibility has now translated into ground reality much to the horror and dismay of YouTube!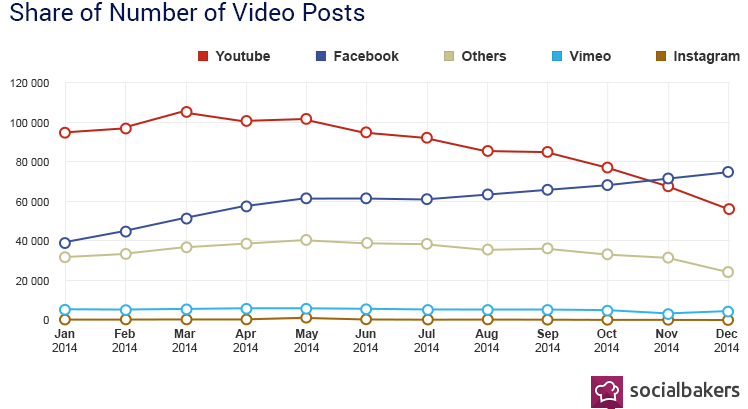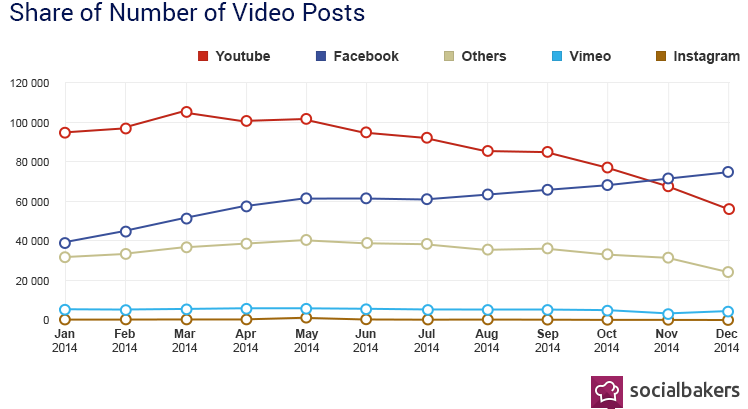 And what is both shocking and surprising it the rate at which the tables have been turned on them.
This analysis has been presented by them within a few days of the Zuckerberg owned social site announcing crossing, on an average, 1 billion daily video views since June 2014. Facebook also mentioned the number of video posts per user having gone up 75% over the last year and the number of video shares appearing on users' NewsFeed up by 3.6 times as compared to the previous year.
YouTube, which prevailed over all other formidable rivals when it came to the number of videos shared only a year back, was overtaken by Facebook in November itself but the lead at that point of time was only 5,000 views- too slender to deserve a mention. The gap, which widened to 20,000 in December 2014 as the holiday season saw more video content being shared helped reaffirm Facebook's position at the top of the table.
Not only has the number of videos being posted on the social site gone up substantially, the level of interaction the shares of video content are getting over Facebook has also gone up hugely. As compared to only 50% of total video interactions in January 2014, Facebook is now getting more than 80% of all video interactions.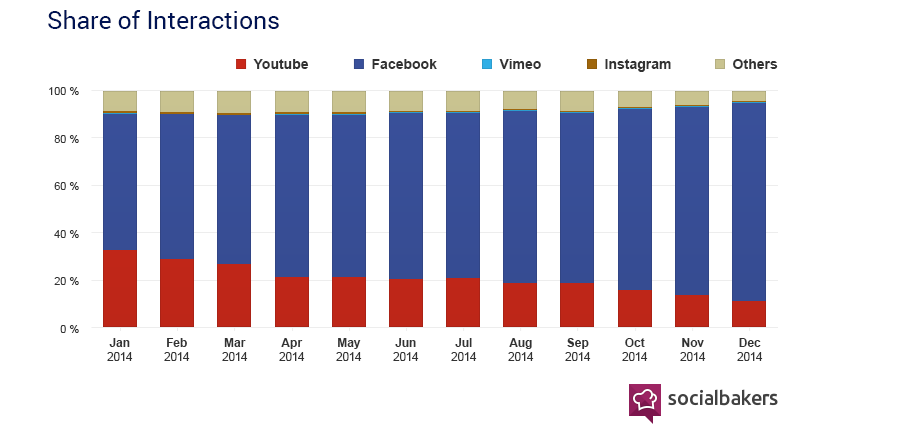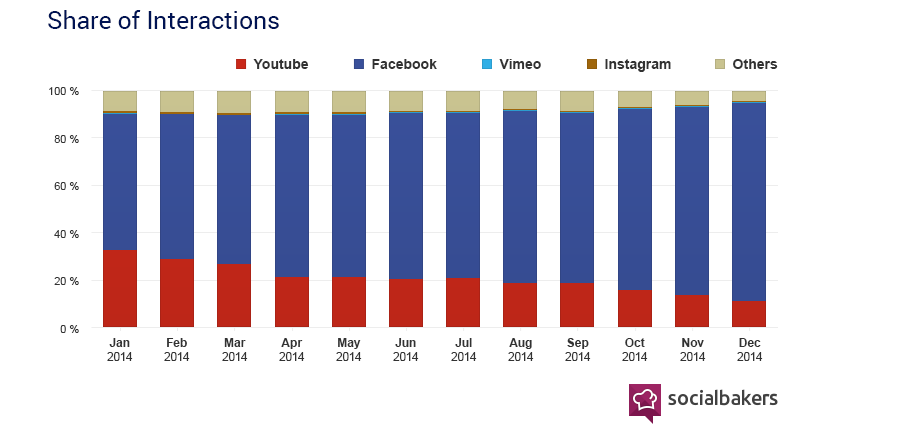 "People speak a new universal language — one that is made up of photos, emojis, stickers and videos. This visual language is seen as a succinct, time-efficient and powerful way for people to get their point across." mentioned SocialBakers.
Mark Zuckerberg had earlier said that his site would be mostly video in the coming five years. it sounded silly and puerile to us at that point of time but given the speed at which it is beginning to overtake YouTube and the short span of time it has turned the tables on the Google owned video channel has taken everyone by surprise. With the acquisition of QuickFire, this transition to a predominantly video site might even happen at a faster rate.
What Is QuickFire And How Will The Acquisition Help Facebook ?
Fully aware of the fact that the network infrastructure in most parts of the world is not sound enough to support the massive consumption of video that's happening online without affecting the quality of video content, QuickFire reduces the bandwidth needed to view a video online without compromising on its quality.
Having acquired QuickFire, the social goliath over which more than a billion videos are viewed on an average day can "help deliver high quality video experiences to all the people who consume video on Facebook," mentioned QuickFire CEO Craig Lee on his official website.
Not everyone has been happy with the auto-rolling feature of videos on Facebook primarily because these videos consumed too much bandwidth ad data. With this acquisition, this complaint will be effectively redressed.
Facebook couldn't be happier too! Their official spokesperson Vanessa Chan has overtly stated that in an emailed statement on Thursday.
"Video is an essential part of the Facebook experience. We are excited to bring QuickFire Networks on board as we continue delivering a high quality video experience to the over 1.3 billion people who use Facebook."
The Facebook- Messenger-Instagram-WhatsApp camp already oversees how the netizens communicate with each other over the social space. The largest social site and the most popular messaging apps are theirs already. As is the picture sharing platform Instagram. With the videos getting more views and a greater involvement over their site too, this one large group has established itself as the supreme commander over the social space.
For now, the Zuck owned network deserves one huge applause for  stealing the thunder from right under YouTube nose and beating the gargantuan Google. The site which had earlier faced criticism for auto-rolling video ads and auto-playing videos has now worked its way to the top, beating the hitherto unrivaled YouTube.
This means the online video sharing space will now have two biggies- Facebook and YouTube locking horns.
Also implies that just like searching something over the internet is synonymous with 'Googling' it (even if you are using another search engine), sharing a picture, message or video will soon imply 'Facebooking' it!