Four out of every five people on this planet consider internet access to be a basic human right, according to the survey conducted over internet users in 24 countries. It also drew attention to the fact that an increasing percentage of internet users are today worried about their online privacy than there was a year back. Most of those questioned also admitted that their online behaviour has changed significantly over the last one year.
Criminals hacking into bank accounts (78%) or getting access to private information like messages and pictures (77%) emerged as the top concerns for internet users across the world.
The CIGI-Ipsos Global Survey on Internet Security and Trust was conducted by the globally acclaimed research company IPSOS and undertaken by the Centre for International Governance (CIGI) by consulting 23,376 internet users in October- November 2014.
The key findings of the survey are:
Internet Access
83% of the respondents feel that affordable access to the internet is a basic human right.
81% believe that internet access is vital for their economic future and livelihood.
Statista illustrated this data collected by CIGI-Ipsos report in an easily comprehensible chart: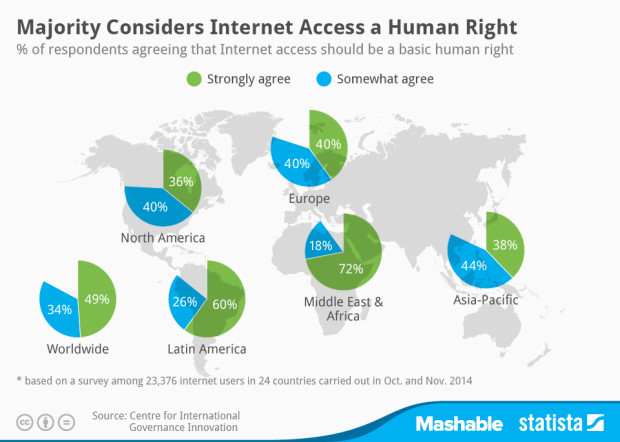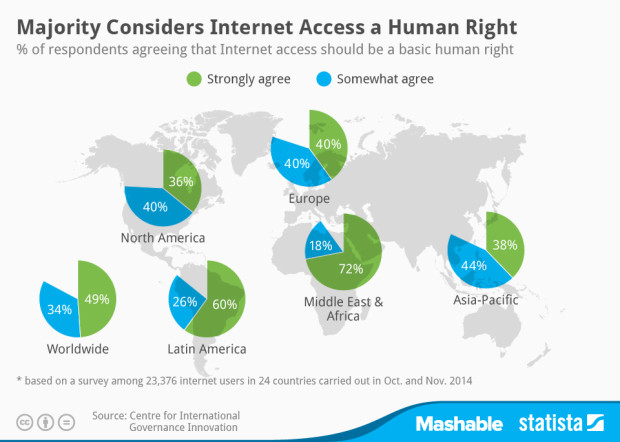 Privacy and Monitoring of Internet
64% people are concerned about their online privacy which is higher than last year's figures.
36% of those questioned believe that private information over the internet is safe.
64% people are concerned about governments censoring the internet- 61% are worried about their own government agencies secretly monitoring their online activities while 62% are worried about the government agencies from other countries secretly monitoring their online activities.
Almost three-fourths of the respondents are worried about private companies collecting information of their online behavior and then passing it on/ sharing it for commercial purposes without their consent.
Threats In the Cyber Space
A majority of internet users (60%) have heard about Edward Snowden, the US contractor who turned whistle blower and leaked secret information about various government agencies (primarily those belonging to US) to the media.
78% are worried about criminal hacking their bank accounts.
77% are paranoid about hackers getting through to their online accounts and stealing their personal information like pictures and messages.
72% people showed concern about information belonging to vital institutions in their country falling in wrong hands due to a cyber attack by terrorist organizations or other governments.
Control Over the Internet
48% believe that their respective governments are doing a fairly good job of making the internet access safe and secure.
34% feel that their own government might restrict their access to the internet while 43% were worried such threats might come from governments other than their own.
57% would trust a combined body of technology companies, engineers, non-governmental organizations and institutions that represent the interests and will or ordinary citizens and governments to play an important role in running the Internet.
This survey gives deep and meaningful insights about what goes on inside the mind of internet users across 24 countries and underlines the fact that "fears about human security have moved from the physical world to now include the virtual world," as pointed out by Fen Hampson, Director of CIGI's Global Security & Politics Program.
"Unless trust is restored in the Internet through creative governance innovations its real potential to promote human development and global prosperity will be severely compromised," said Hampson.
The overwhelmingly huge vote to consider affordable internet access as a basic human right helps draw attention towards the increasing importance of internet access for economic opportunity and growth.
At present, a little less than 3 billion people have the access to the internet though that figure will be reached in early 2015. eMarketer had also earlier predicted that half the world will have internet access by 2018.
"Right now, one-third of the world's population is online but two-thirds of the world's population is not. Unless they are brought online, a world of Internet 'have and have-nots' will not only contribute to income inequality, but also stifle the world's full potential for prosperity and innovation."
Though there can be no denying that access to the internet is vital for the socio-economic growth of any region, question marks have been raised by many in the past about calling internet access a 'right.'
Vint Cerf, who is often referred to as the father of the internet, himself asserted, "Technology is an enabler of rights, not a right itself."
Not only individual users, even governments and some highly influential people in positions that matter have been highly wary of sharing messages and other vital information online. The Russian premier, Vladimir Putin, who has worked with the Russian intelligence agencies before stepping into politics still refuses to use email and calls the internet 'a CIA creation', prompting a reaction from Tim Berners-Lee, the London based inventor of internet, that this was not the case.