Among all the social networking sites, Facebook Inc. (NASDAQ:FB) leads as the biggest platform for online marketing having 1.35 billion monthly active users. As Simply Measured – one of the leading social analytics platforms – released a report on how the Interbrand Top 100 Brands used Facebook as a marketing tool in Q3, 2014, it is found that 97 percent of the brands have a Facebook page and 95 percent of the brands have posted at least once in this third quarter. Study of this last quarter by Simply Measured tells us that Facebook is mostly used by these top brands to interact with their fans and followers. The study also includes the number of fans (1,145,379,588), brand posts (12,790), engagements (101,158,665), hashtags (7,218), links (3,433) and videos (1,208) on the Facebook pages of these brands.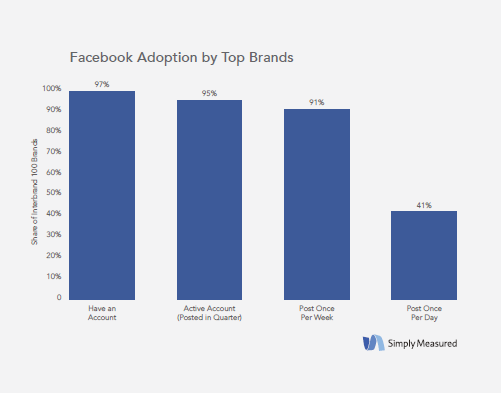 Michael Thomason, the Marketing Analyst for Simply Measured, says "Facebook has always been an important social media platform for brands, and that brand loyalty has continued to grow over the last year".
Frequent post is not the key to success all the time
The study also observed that 91 percent of the brands post at least once a week. This shows that these brands, through their frequent posts, make efforts to catch the attention of the fans. In fact, the study says that 65 percent of the Interbrand top brands, on an average, post at least five times or more on Facebook and 44 percent post five to ten posts per week. Besides, there are five brands who post more than 30 posts per week. These are the different strategies followed by different Interbrand companies. But, companies who emphasize on the number of posts and end up posting too frequently may end up losing their fans on their pages. Such regular posts tend to get repetitive and promotional at times. Again, if the content is not relevant enough, which is possible if posts are too frequent, the fans may start 'unfollowing' the respective brands' pages. Thus, these companies have to be more alert about the content, if they are posting frequently. But there are exceptions like MTV, which posted 150 posts per week, on an average, on Facebook and yet managed to bag a position among the Interbrand top five brands by audience along with Facebook, Coco-Cola, Disney and McDonalds. This kind of a marketing strategy may bring success to a company like MTV, but adopting the same might not prove to be very wise for other brands belonging to other categories in the Interbrand top 100 global companies.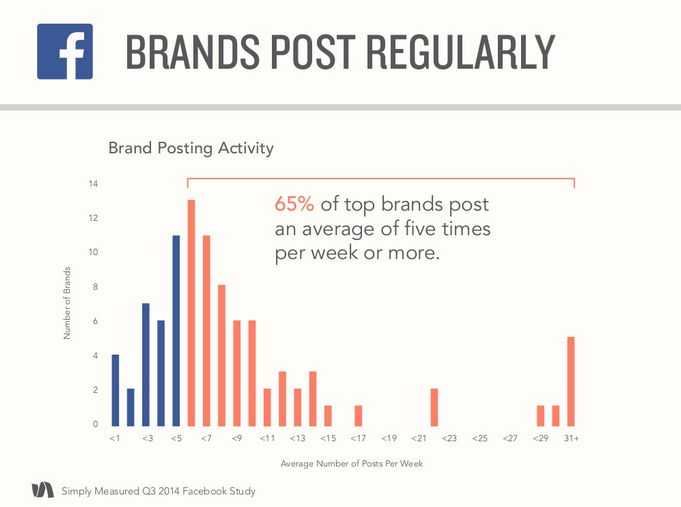 The rising Fan-Count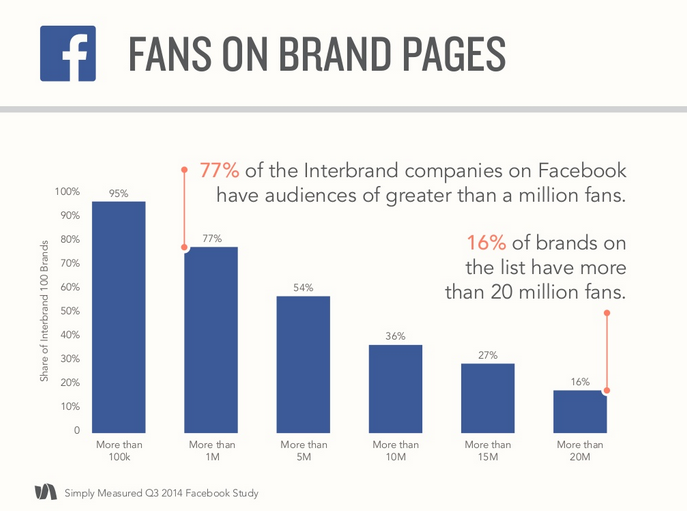 The study also shows that more than any other social networking site, people interact with brands the most on Facebook. All the Interbrand 100 companies, together, have 1.1 billion fans. 77 percent of the brands having more than 1 million fans is a commendable achievement. This affirms that the marketing strategies followed by these companies are leading them to their respective goals. In fact, 16 percent of these brands have managed to have more than 20 million fans. But this is also alarming for the companies who have less than 100,000 fans. These companies, in order to climb up the ladder, have to start interacting more with their fans and attract more fans to 'like' their pages by coming up with better deals and offers.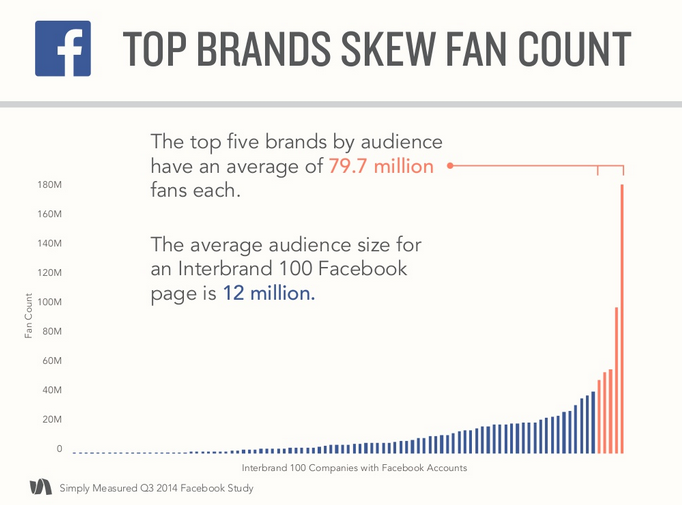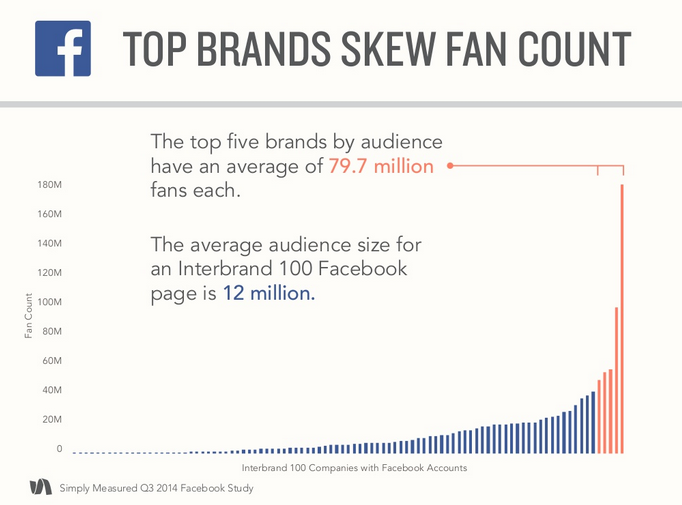 According to Simply Measured, an Interbrand 100 Facebook page, on an average, has an audience of 12 million people. The top five brands by audience namely, Facebook, Coca-Cola, MTV, Disney and McDonalds combine to make up almost 400 million fans of the 1.1 billion fans which the Interbrands top 100 companies have, altogether. Each of these top five brands has an average of 79.7 million fans. Here, Facebook has the largest number of followers with over 164 million fans on its Facebook fan page. This also marks the very clever marketing strategy of Facebook as Facebook markets itself through Facebook itself.
Share of posts vs. Share of engagements
According to the graph based upon the Simply Measured study, photos account for 62 percent of all the posts by the brands and 77 percent of all engagement. This shows that there has been a decrease in the percentages from Q2, 2013. But this is not going to affect the brands as they have stopped depending much on the visual contents. But there had been a good rise of 27 percent of all brands posts and 16 percent of all brand post engagements in the use of links. Thus, along with the use of photos, brands are also considering the method of using the links to promote which they didn't consider to be that important a year back. Looking at the rise in the percentages of the link usage, brands should start thinking of coming up with links to more relevant contents.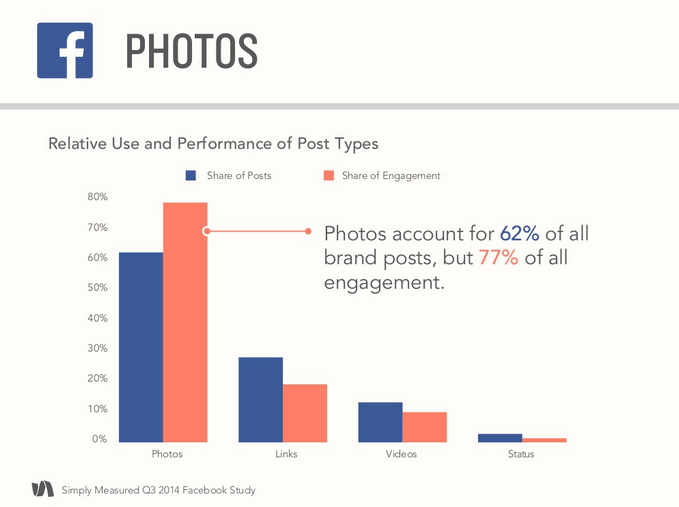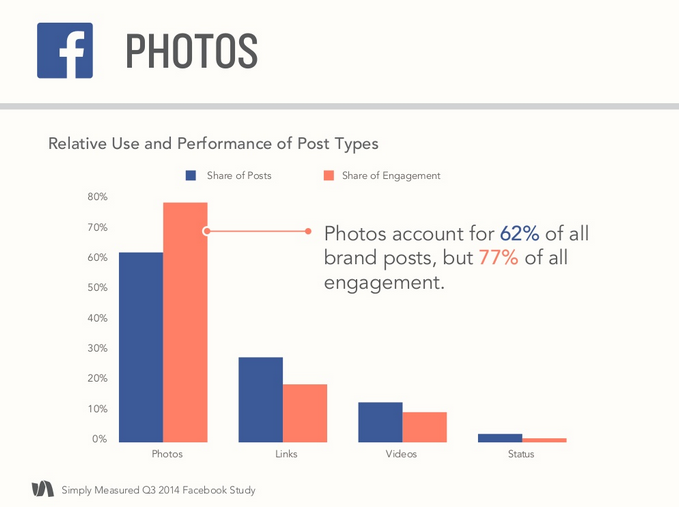 Keep it short and eye-catchy
The graph, which demonstrates the length of the statuses of the brands in the Interbrand top 100 global companies, shows that the number of characters in the status ranges from 75 to 175 characters in most brands.  Only 7 percent of brand statuses consist of more than 300 characters per status. Thus, most brands depend on the visual contents and links they post rather than their statuses. This also shows that they try to keep their statuses short and concise so that it reaches to a huge number of audiences at a glance. This is another way of promoting the brands with short and catchy messages which may leave an impact on the minds of the fans.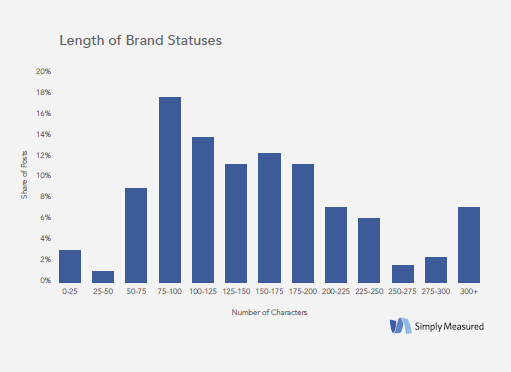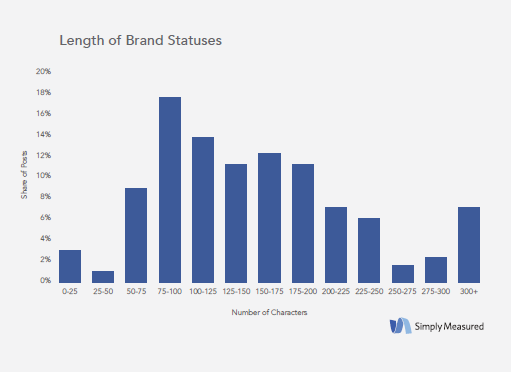 Less in number but highest engagement per post
Industry wise, only four companies are enlisted in the category of restaurants among the Interbrand top 100 brands. But their average engagement per post is the highest (20,636). This is probably because the restaurant brands focus more on posting pictures of the food items they have. This is a very strategic way of drawing more attention.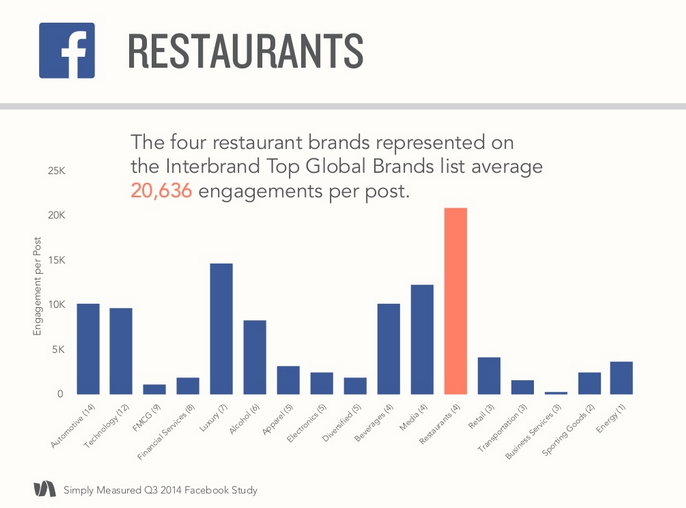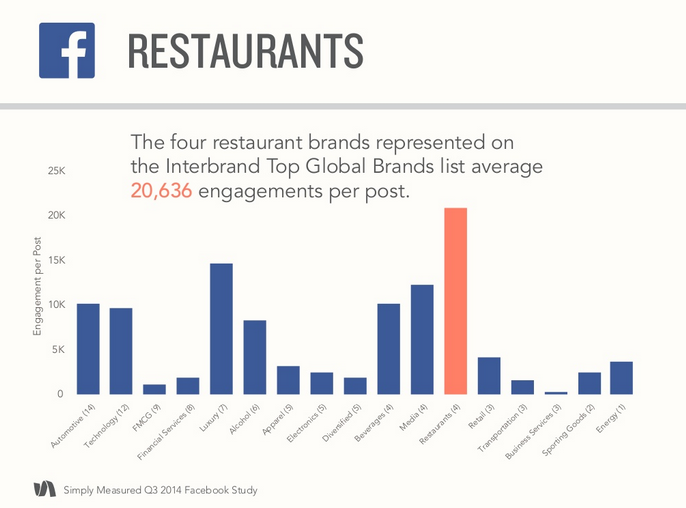 Under the automotive category, maximum numbers of companies are enlisted (14 companies). On Facebook, these brands have 9,725 engagements per post on an average. This is quite alarming for these companies. They have to make their posts more eye-catchy and they themselves have to be more alert in order to increase the number of engagements per post on their pages.