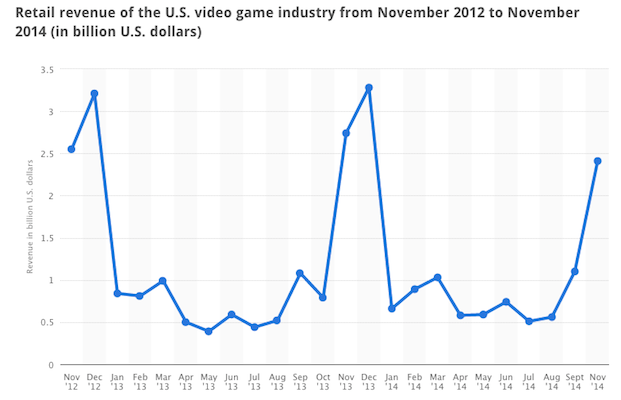 Given the developments in video games over the past few years, it's easy to view the gaming industry as one that is constantly expanding and evolving. Indeed, developers seem to be driven to provide newer and better experiences all the time, and this makes gaming one of the most interesting entertainment industries to follow. But did that industry actually grow over the course of 2014?
Overall, it would appear that it did not. In fact, statistics on overall video game sales in the U.S. suggest that revenues are down nearly a third of a billion dollars this November as compared to the same time last year. Specifically, Statista lists 2013 revenue for November at $2.74 billion—nearly the exact same as the year before. But for November of this year, the number was only $2.41 billion. The data also shows that gaming revenues tend to peak in December, so there remains a possibility that 2014's peak will come closer to years past. But for now, it looks as if sales are down, on the whole, in 2014.
But to look at video games as a single united market is an outdated approach, given that various branches of gaming have essentially spawned their own industries. For example, the app gaming market has demonstrated some different trends than those from the overall video game revenue charts. Total numbers are somewhat tricky to come by (largely because the market is divided into various app stores and mobile service providers), but an analysis by Quartz offers a snapshot in looking at Apple's numbers. Specifically, their article looks at overall revenue for iOS apps and finds that the tech giant is incredibly dependent on gaming for growth within its app market. Of the top-20 revenue generating apps, games make up an incredible 90%. Also, given that the app store is apparently Apple's single fastest-growing revenue center, those app gaming revenues figure to be incredibly high. There is, as the article also states, a ceiling on app gaming growth, but for the time being it appears that this is one large gaming market that continued to grow in 2014. Interestingly, the year 2015 is expected to witness few major shifts in the favor of video gaming industry. Forbes outlines six such major changes that Game Industry must pay attention to next year.
"Despite a decline in dollar sales, hardware unit sales for eighth generation consoles increased by 3 percent over November 2013," NPD analyst Liam Callahan said in a statement.
There's another growing branch of the industry to consider, and it's online and mobile gaming. To some extent, this branch is tied to mobile apps, as there are dozens of popular apps offering casino-based gaming content. However, the true potential for casino gaming is in real money poker, arcade, and slot sites that are only just beginning to explore expansion into the U.S. market. Earlier this year, according to NJ Biz, the popular European casino gaming site Betfair joined forces with the Caesars Entertainment group in order to continue operations in New Jersey, one of the three states in the U.S. in which online gambling is legal. This partnership is likely evidence of established online casinos' efforts to position themselves for a potentially lucrative boost in business as soon as online gambling regulation eases up in the U.S., which is expected to happen in the coming years.
It's worth mentioning that in its first year of legal operation in New Jersey, the online gambling industry actually failed to live up to revenue expectations. However, given that those expectations were incredibly hefty, that's not as damning a statement as one may think. The bottom line is, online gaming sites make a great deal of money, and expansion to the U.S. will surely lead to revenue growth.
All in all, there's no single answer to whether the gaming industry has grown in 2014, or if so, how much. Given the overall video game numbers referenced previously, it would appear that at least by some measurements, gaming revenues actually declined. But with the app industry still growing and the gaming sites likely on their way in the near future, a lull in 2014 should not be taken as a sign of a long-term decline.