Advertising on social media sites has become a trend which is gradually transforming into a global phenomenon. This is promoting a rapid growth of eCommerce all over the world. Statistics show that Facebook Inc. (NASDAQ:FB) is serving as the best platform for the EStores to flourish. This is due to the newly introduced Call To Action (CTA) buttons on Facebook, their popularity and their click-through rate (CTR) performance which results in an inflation of the overall CTR of Facebook, increasing it up to 2.9x. It is estimated that the eCommerce sales worldwide will swell to $1.471 trillion in 2014, which is huge. Hence, it can be expected that Facebook will have a lot to contribute to that number.
The CTA battle
From February 2014, Facebook started working on its commercial aspects by adding Call To Action (CTA) button on the news feed ads. Since then, most of the advertisers have introduced these CTA buttons in their ads featuring on Facebook. The five CTA buttons Facebook features are Shop Now, Learn More, Book Now, Sign Up and Download.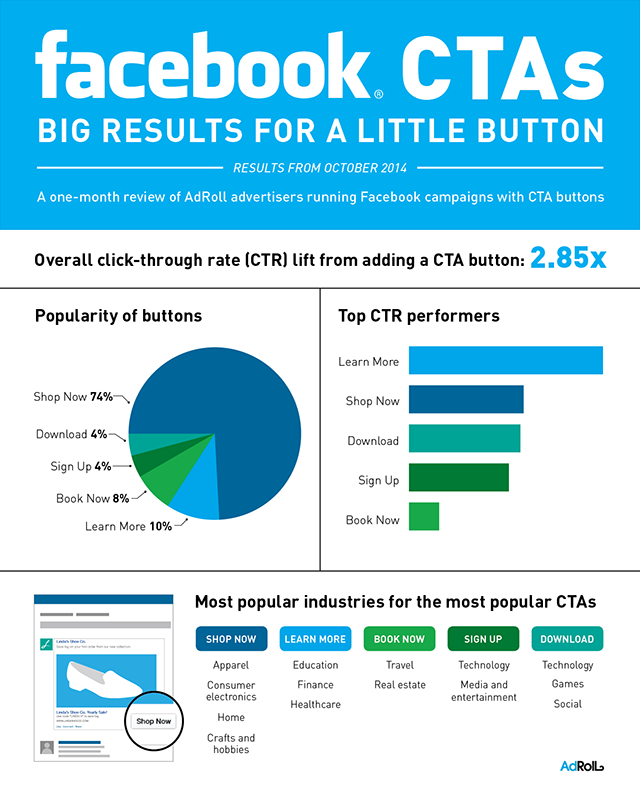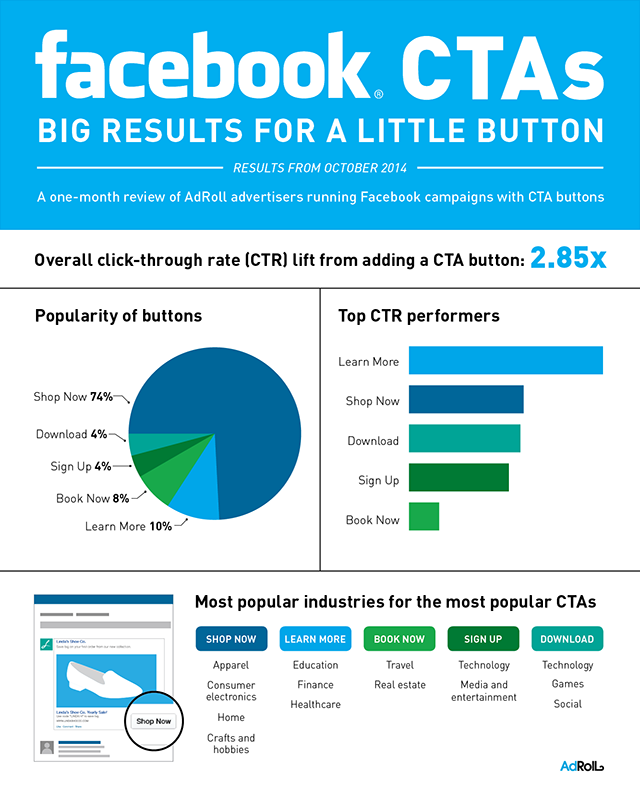 AdRoll – a leading Facebook marketing agency – recently studied the adoption and performance of these buttons by reviewing all its campaigns run in the month of October. The above pie chart demonstrates the popularity and adoption of these buttons among the Facebook users. In terms of popularity, the Shop Now button leads with 74% of total adoption because Facebook features advertisements for apparels and consumer goods which are most popular among the online shoppers. As the number of eStores are growing and most of it banking big on investors money, the adoption of Shope Now button is higher than other CTA buttons. The Learn More button stands second with a popularity of 10%. This button is useful for education and knowledge purposes. The third most popular button is Book Now. This button is usually used by people who want to book flight seats or movie tickets. Though, both these activities take place through the internet the most, yet the popularity of this button on Facebook is very less because people book their travel tickets or movie tickets online by directly visiting the concerned site of the airlines or the multiplex, respectively. The Download button has a popularity of 4%. This button is used to download videos, softwares or apps from Facebook. The Sign Up button also has a popularity of 4%. This button has very less importance for Facebook users as its meant to acquire a number of users subscription channels.
Now, the horizontal graph on Top CTR Performers has a different story altogether. Though the Shop Now button is the most popular among Facebook advertisers, people are benefited the most from the Learn More button as it is used for education purpose and its tempts users to click in order to explore more about the offered service/product. Thus, Facebook is actually serving the best purpose of educating people and intensifying their knowledge. Followed by Learn More comes the Shop Now button. The performance of this button is lesser because it caters to only those users who are interested in shopping the product or buy a product due to better deal offered via the linked ad. It holds the second position due to the popularity of online shopping among the shoppers on Facebook. The Download button comes next as it enables the downloading of popular games, apps and softwares. If popular games can be downloaded from the internet, there is no need for one to go to a shop and buy it. The Sign Up button is not much significant to the users because Facebook plays two vital roles nowadays; social networking and online shopping. People don't have much to sign up for through Facebook, at least. The Book Now button doesn't get to perform much here unless they offer a great deal of interest. The respective sites are visited directly by the internet users, be it a movie ticket or a room in a holiday resort.
Takeaways:
Shop Now and Learn More are the best-performing buttons on Facebook. E-Stores and Educational offerings must focus on Facebook advertisement to generate greatest returns.
– Apparently, Facebook users don't prefer to book online tickets or property online.
– Acquiring Facebook users via app/software download or Singh Up button perform modestly on Facebook. Vendors, offering such services, may use Facebook CTA buttons after the close monitoring of ROI.