Online harassment or cyber bullying is now becoming a commonplace phenomenon.
It is not without reason that Pew conducted a full-fledged study to know more about it. 73% of adult internet users had seen someone being harassed online in some form or the other and an astoundingly high 40% of them had been through the dreadful experience themselves. It was also found that age and gender bore a close correlation with harassment and that social networking sites were the most common platforms for cyber bullies.
Six Different Forms of Online Harassment
Online harassment, Pew observed, could take on various forms.
They asked their respondents who admitted to having seen someone known to them being harassed online to describe what they had seen. They said they had seen at least one of the following:
60% had seen someone being called offensive names
53% had been witnesses to willful attempts to embarrass someone
25% said they had seen someone being threatened physically
24% had seen someone being harassed over a long period of time
19% had been witnesses to online sexual harassment
18% had seen someone being stalked online
Those who had been victims of harassment themselves said they were targeted to at least one of the following:
27% had been called offensive names
22% had been embarrassed by someone purposely
8% had been threatened physically
8% had been stalked
7% had been harassed over a long period of time
6% had been harassed sexually
These six forms of harassment can broadly be categorized into two types:
Less severe– includes name calling, embarrassing someone, etc. This layer of annoyance is such a commonplace occurrence that most people undergoing it or witnesses to it often ignore it or forget it.
More severe– includes stalking, threatening with physical violence, sexual harassment or harassment over a long period of time.
22% of the adult internet users or 55% of those who had been harassed online had gone through the 'less severe' forms of harassment only.
18% of the internet users or 45% of those who had been harassed, however, had been subjected to severe forms of harassment.
Age and Gender Are Closely Related to Online Harassment: Young Females Are the Worst Victims
Age – Internet users in the 18-24 age group are more likely to be harassed online. 70% of the respondents in this age group had been victims of at least one type of harassment mentioned above. 65% of them in the 18-29 had been through it.
Gender- Men are more likely to suffer from at least one of the elements of online harassment as compared to women- 44% vs 37%. Harassment to men came mainly in the form of calling names, embarrassing or threats of physical violence.
Young Women at Greatest Risk
Women aged 18-24 can be worst hit by online harassment. 26% of the respondents admitted to having been stalked online while 25% admitted to sexual harassment.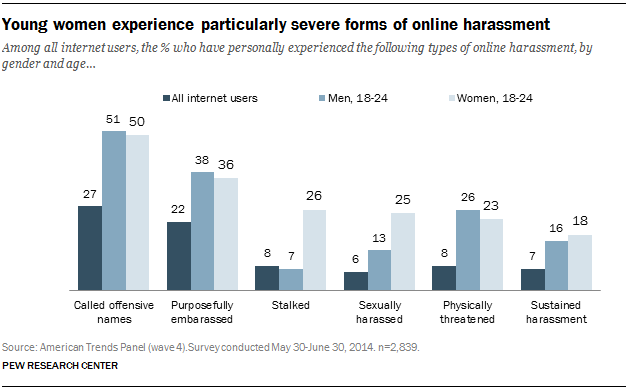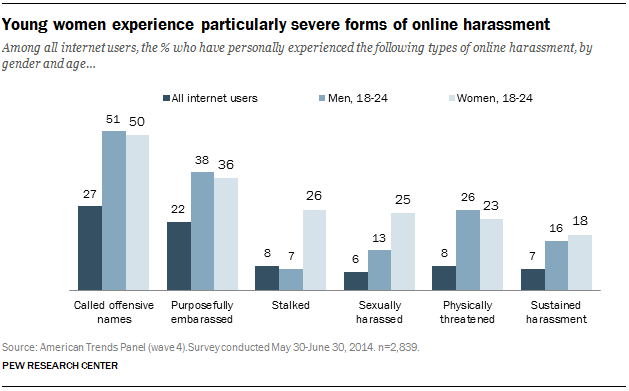 Other Easy Targets
Besides the demographic groups mentioned above, adult internet users in whose lives internet played a major role were at greater threat. This included people who promote themselves online for better job prospects, those working in the digital technology industry and those about whom lots of online information is available easily.
The most recent incident that comes to one's mind is that involving nude photo leaks of many female celebrities including Oscar-winning actress Jennifer Lawrence, Ariana Grande, Mary Elizabeth Winstead, Kate Upton and many more. Hackers had got those pictures by accessing the iCloud storage of these female celebrities.
Unlike others who were scandalized, Lawrence chose to raise her voice. While some others dismissed the pictures saying they had been photoshopped or laughed the whole incident away, she chose to issue a statement through a publicist.
"This is a flagrant violation of privacy. The authorities have been contacted and will prosecute anyone who posts the stolen photos of Jennifer Lawrence," said her spokesperson.
She admitted that the pictures were hers and meant for her ex with whom she had been in a long distance relationship but she was unapologetic about the whole incident and chose to lambast those behind the leak. "It is not a scandal. It is a sex crime. It is a sexual violation. It's disgusting," she said. "Anybody who looked at those pictures, you're perpetuating a sexual offense. You should cower with shame."
Networking Sites and Apps Are Most Common Platforms of Online Harassment
Some environments were more prone to harassment than others.
66% of those who had been harassed online said it was over networking sites or apps
22% had been harassed in the comments section of websites
16% complained of harassment over gaming
16% in personal emails
10% on discussion sites like Reddit, etc
6% over online dating sites and apps, etc
Young men were more likely to report of harassment over online gaming.
Social sites are often accused of not doing enough to deal with online harassers while they are, more often than not, not to blame for haters and bullies who operate with aliases and multiple accounts.
The largest of all social sites, Facebook, does give the users the option to unfriend and block people. The sad part is that not many users are aware of the Privacy settings on the site and a greater percentage of them operate their accounts with default settings. It would be wrong to blame the site owners for misuse of information shared over a platform like this if they were not sensible enough while choosing what to share, with whom to share and how much to share. The site owners also take quick action against offensive content reported to them. I do wish Facebook did not allow personal pics to be downloaded to avoid their misuse in any form later.
Reddit action of taking off all nude photographs mentioned above was applauded by one and all.
The efforts of Twitter to block put offensive content have been most laudable.
A few months back, they had taken off crude, altered pictures of Robin Williams sent to his daughter over the site after he committed suicide. The company's policy now authorizes it to take off pictures of dead people from their site.
They already have a one click button to report against offensive content, but they made the process of reporting even easier two days back by making the forms for reporting such content simpler and less cumbersome. Besides the victims, other site users who see an abuse taking place can also now report it to the owners and request them to take such content off air.
"We'll be adding more controls and features to this page in the coming months," the Twitter announcement said. "Additionally, accounts that you've blocked won't be able to view your profile."
The new network Ello which shot into limelight for its very public anti-Facebook rants also has tools which give its users the option to block out or mute users who bother them over their site.
Responses to Online Harassment
While 60% of the harassed people chose to ignore their last incident, 40% took steps to address the problem. The steps taken included;
Confronting the person causing harassment online (47%)
Unfriending or blocking the responsible person (44%)
Reporting the person to the website or app (22%)
Drawing support for themselves by discussing their problem online (18%)
Changing their username or deleting their profile altogether(13%)
Other responses included withdrawing from online forums, avoiding attending certain events or places and reporting the problem to the law enforcement agencies.
After-Effects of Harassment
The response to the most recent incident of online harassment by the respondents who formed a part of this study varied widely.
14% found the incident extremely upsetting
14% found it very upsetting
21% found it somewhat upsetting
30% said it was a little upsetting
22% said it was not upsetting at all
While more than half the respondents did not found their most recent experience very upsetting or only a little upsetting, 27% of them were extremely or very upset.
Again, women were seen to react more sharply to such incidents as compared to their male counterparts. While only 17% of the men were extremely upset by their most recent incident, 38% of the women fell in that category.
Conclusion
Online harassment came under a scanner over the last few months following the "Gamergate scandal" where prominent women in the video gaming industry came under a lot of flak for the stereotyped portrayal of women in online games.
One, if the worst affected was thirty-something old Brianna Wu, a software engineer and founder of game developer Giant Spacekat. She was threatened with rape and death over Twitter. Her husband was not spared either and got threats of castration. Wu ultimately had to report the incident to the police to initiate action against such haters and to ensure her own and her family members' safety.
It can be difficult for police to go after online bullies in part because "our legal system hasn't quite caught up with technology," said Elizabeth Dowdell, a nursing professor at Villanova University who studies online aggression. On top of that, adults are generally hesitant to report harassment because they might view it as a "child or teenage problem."
"But the Internet has no age limits," Dowdell said. "People look for outlets for aggression and the Internet is a wonderful place because it's anonymous and you don't have to be truthful."