Brand owners with a formidable presence over Facebook Inc. (NASDAQ:FB) will now be able to drive better traffic and get higher engagement from their Facebook pages, thanks to a study conducted by SocialBakers, one of the leading providers of social media statistics and analytic tools. After screening 800 global pages and 5,000 local pages over the popular networking site, they have come to conclude that local pages across Facebook far outperform global pages in terms of engagement from the audience. These findings are crucial for brand owners who are targeting Facebook users across multiple countries with different sub-sets of usage, preferences, time zones and priorities.
Social analysts have always been divided over whether brands with a global presence should maintain one large, consolidated global page or have a number of local pages.
SocialBakers, after a detailed study and thorough research, inferred that interactions per 1,000 fans are always, as a matter of rule, higher for local pages- whatever their size.
As pointed out here in an earlier article, it is very important for brand owners to choose the social platforms across which they choose to make their presence felt and the manner in which they use these networks to get the most out of their ever shrinking advertising budgets.
The Bigger the Local Pages, the Better the Interaction Thereon
It was observed that whatever the size of page, a Local Page always gets a higher degree of interaction from fans than a Global Page does.
It was also observed, however, that as the size of pages grew so did the difference in rate of engagement between local and global pages.
Clearly indicating that engagement on local pass still remains better than global pages as they build up bigger fan bases. But in any case, fan engagement on both, local and global, pages dives down as number of fan base grows. The average reach of a brand page on Facebook is nearly 6% and is bound to decrease further from January 2015, reportedly.
It can be explained very plainly- since local pages touch upon local topics, latest happenings in the area, burning topics, know the taste of the people and their psyche, the availability of products, etc. they are in a better position to touch a personal chord with them- whether the fan base of a community or a brand is small or large.
And as the community gets bigger, the level of engagement gets better- I, for instance, am more likely to like a deal or go through a promotional offer by XYZ brand, when I see 27 common friends from in and around MY city or country like it or comment on it than I would if I saw people from, say, Finland or Brazil do the same.
Case Studies on KitKat, , Visa, Nivea, KFC and Nissan
A detailed case study was carried out on some well known brands with a Global presence.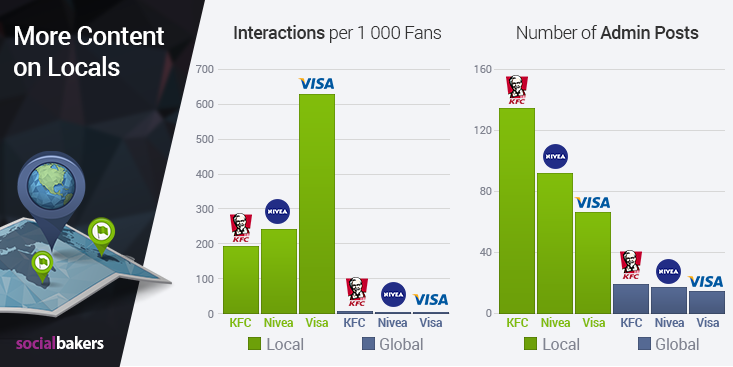 It was observed:
KitKat: This world renowned chocolate-covered-wafer maker had more or less same posting frequency over its Local Pages and over its Global Page, but the average level of interactions on local pages was much higher than that over their Global Page. 132.7 per 1000 likes for Local Pages as compared to only 1.4 over the Global Page.
Visa and Nivea: All the Local Pages of the popular credit card provider and skin care product manufacturer posted more frequently than their Global Page and all of these Local Pages got more likes, comments and shares as compared to the Global Page.
KFC: The posting frequency of the Global Page of this Kentucky (USA) based fast food chain was lesser than all but two of its Local pages. Inspite if that, all but five of the Local Pages fared better than the Global Page.
Nissan: The post frequency on the Global Page of this Japanese automobile manufacturer was much more than the average posting frequency on its Local Pages. Inspite of that, it got only 3 interactions, on an average, per 1,000 fans on its Global page whereas the Local Pages got 276 interactions.
Local Pages Performed Better Even With Promoted Posts
The study also observes that local pages generate greater return-on-investment ROI as compared to global pages, when it comes to paid promotion of post, or call it Boosting. Both, global and local brand pages, examined for the study, promoted almost equal number of posts – 13%. Interestingly, the post engagement on local pages was found 60% higher than those on global pages.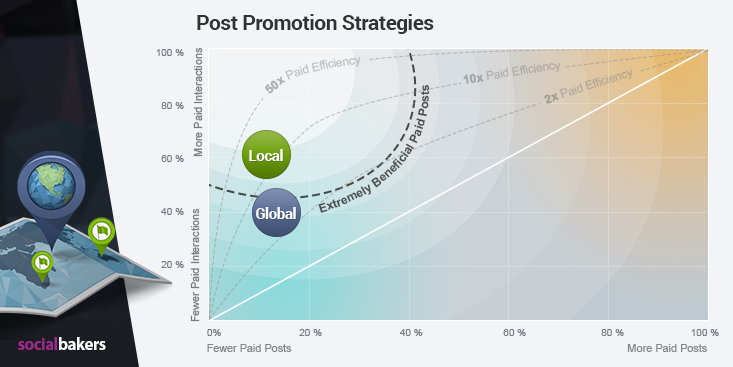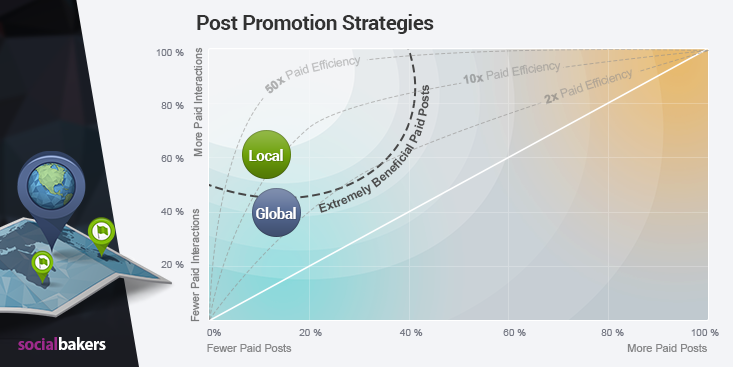 The better performance on this front could again be attributed to the same logic- those running the Local Pages will know their target audiences better, be able to tell them of the best offers and deals at their local outlets, the occasions when the audience is more likely to splurge, the time of the day at which the posts are most likely to be noticed and, thereafter, liked, shared, etc.
Takeaway
No matter how HUGE the Global fan base of any brand is and irrespective of the product they are selling, leveraging themselves across Local Pages is sure to get any brand owner a better return for the time, money and effort spent on building that audience.
Though all brands need to maintain a Global Page, the level of engagement and interaction over Local Pages is a clear indication that brand owners with a Global presence will have to pitch in harder and keep aside some of their resources for promoting themselves over a number of Local Pages as well.
Localized content with that peculiar flavor and perfect timing is likely to resonate better with audiences across this site. And since the same holds good for promoted posts as well. "Ad dollars are far more effective used promoting content on local pages than on Global pages", as pointed out.
All brand owners looking forward to making the most out of their presence across social networking sites now know that it is better to leverage themselves across local pages.