In an announcement which is bound to have a significant impact on the organic reach of Fan pages, Facebook Inc. (NASDAQ:FB) has officially announced its decision to cut down on the 'promotional content' across the site from January 2015. The social networking giant made it clear to brand owners and marketers that promotional posts will soon be edged out of their fans' news feed. Interestingly, for Facebook promotional post doesn't mean advertised content, it's a regular update coming from a brand page! So, is this just a beginning of the end of fee lunch all brands pages has been enjoying for last many years ?
Facebook is getting difficult to comprehend. While some moves by the networking giant seem to give the signal that it is going out of the way to endear itself to people – like Zuckerberg holding an open Q/A session for the first time, explaining why they made the Facebook messenger a standalone app, making the privacy policy shorter and simpler to understand, others make it more than obvious that they care two hoots for the people who make up the site!
Let us talk in detail about what they said over the last weekend and what impact it might have on our News feeds in the days to come.
Backdrop
In good old days of yore, any business owner, celebrity, sport star or website owner could reach out to a wider audience by creating engaging and interesting content. As time went on, the site owners started seeing their huge user base in terms of revenue generated by them and went on to introduce complicated algorithms using which they were able to control users' news feed. Through a remote control device, THEY will now determine what posts appeared on users' news feed and which ones went unnoticed.
Facebook users were shocked and dismayed, but could Facebook care lesser?
Slowly and gradually, the organic reach of Facebook pages started declining. Based on the premise that most a large number of site users get irked by over-enthusiastic over sharing over the social platform, they filtered out content in which users had shown little or no interest in the past, giving it the name of EdgeRank algorithm.
The catch here: Cash-rich companies could enhance their organic reach by pumping in $$$.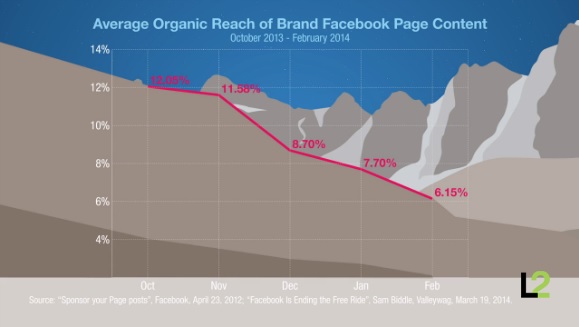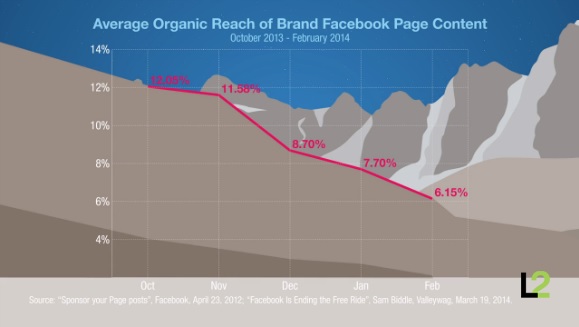 The organic reach of Facebook pages which was officially put at 16% in April 2012, nosedived to a dismal and abysmally poor 6.15% by February 2014 for fan pages with lesser fans and an even poorer 2.11% for pages with more than 500,000 fans. TWO years was all it took for the site owners to virtually obliterate business pages and promotional content off users' news feed.
Analysts predicted that brand owners might soon have to start paying in order to reach out to their fans- and their worst fears were not unfounded after all because while the organic reach of pages on the site was falling with every new algorithm roll out, that of sponsored posts was on the rise.
Another study found out that 77% of Pages' reach has been achieved with Promoted Posts in 2013, up from 71% in 2012. Most impressively, between July 2012 and July 2013 paid reach increased by 221%, where organic increased only 74% during the same period.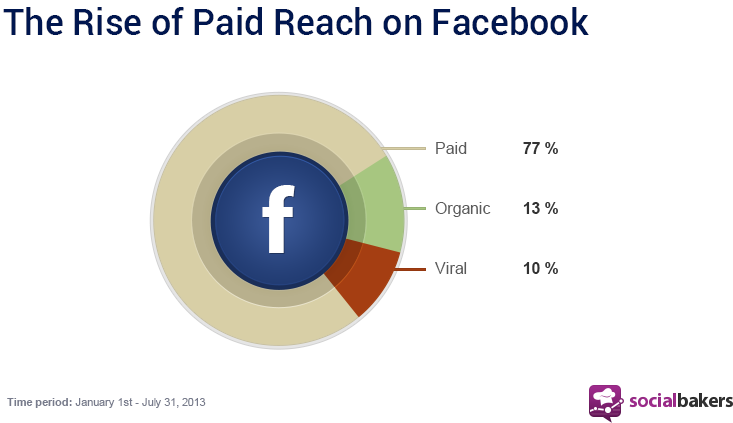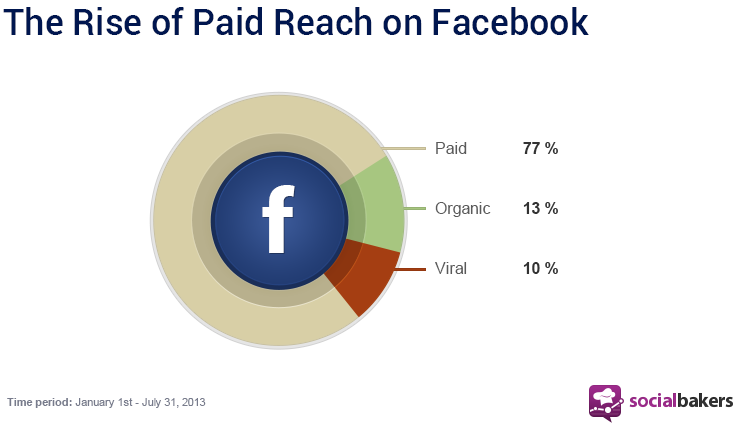 The networking giant urged brands to invest heavily into building huge communities on their platform, only to ask them to pay later for accessing their fans. Perhaps the "biggest bait & switch in marketing history", as mentioned here in a previous write-up.
Facebook Message To Page Owners: Pay Now or Go Home !
In yet another announcement over the last weekend, Facebook wrote, "Our goal with News Feed has always been to show people the things they want to see. That's why we often look to people on Facebook to tell us how we can improve. As part of an ongoing survey we asked hundreds of thousands of people how they feel about the content in their News Feeds. People told us they wanted to see more stories from friends and Pages they care about, and less promotional content."
Promotional content or posts, according to Facebook, refers to all content which is aimed at stimulating readers to buy a product or service, install an app, enter a contest, etc.
Two examples of 'promotional posts', according to Facebook, are:
Roughly translated, it means that Facebook users will see lesser promotional content on their news feed beginning January 2015. "All of this means that Pages that post promotional creative should expect their organic distribution to fall significantly over time," Facebook writes.
As Jordan Bitterman, Mindshare NA Chief Strategy Officer, puts it, "Facebook is basically saying that their algorithm will be the arbiter of what's promotion and what's not promotion."
While the site owners have gone on to elaborate that a greater percentage of pages will not be affected by the proposed changes and that only pages which spam the news feeds of their fans or followers will be hit, they obviously do not mean that.
The clarifications issued by them are being seen as cleverly worded statements to guise their actual intent of making brand owners pay for making their content seen. A signal to all those planning to use the popular platform to promote their business: Be ready to loosen your purse strings if you want to reach out to your followers. We're not going to let you promote YOURSELF across OUR site unless we also get to make some money out of it!
What This Means For Brand Owners On Facebook ?
Let me, as a causal surfer, try to elucidate my POV first.
Why do we like pages? Why do we follow communities or brands? Obviously because we want to receive updates from them regularly. We want to know about what they have to offer and most of the time, we don't seem to mind if it is promotional content as well till they begin to spam our walls. If that happens, we can and will Unfollow or unlike them. The site owners should trust their users to be smart enough to manage that.
Now from the perspective of a brand owner, why on earth would anyone go on and build a huge community if he ultimately has to pay to be able to reach out to his followers? And while talking on that plane, we refer not only to the monetary aspect of it but also the time and effort that goes into developing a bustling online community. The economics, of course, is the major underlying cause of concern because most brands are working on ever shrinking budgets.
"Business participation on Facebook will most likely become more challenging. It would seem that we will be forced to either join the "pay to play" environment that Facebook has become, or be happy with the crumbs that Facebook allows us," as pointed out by an analyst.
The sole purpose of businesses and brand owners leveraging themselves across social platforms is to give more exposure to their brands. Why would businesses and brands be present on a site like Facebook for any reason other than promotional, after all?
They certainly could not have had charity in mind when they started pumping in money and other resources to get people to like or follow them in the first place.
Any post on a Facebook page is, in one way or the other, promotional. Infact, even a post about a charity is promotional in the sense because that would amount to promotion of the cause. I fail to understand how Facebook will draw the thin line between promotional posts and others. Besides that, "one person's promotion is another person's inspiration," as pointed out by an expert.
Many analysts see the new change as an effort to boost Facebook's revenue stream. In the last few quarters the growth in Facebook user base is largely driven by APAC region, where new internet users are coming to Facebook but with empty pocket. Despite growth coming from APAC, the largest chunk of Facebook's revenue coming from nearly saturated US & Canada and Europe market. Besides, with 65% of share in Q3 2014, revenue coming from mobile users have become cause of concern for Facebook, considering APAC the largest hub of mobile users in the world.
In the wake of this recent announcement by Facebook, businesses and brand owners across the site will be left with only two options:
To produce unique, interesting and engaging content which will resonate well with their followers. Content which will be liked and shared by the fans and on which they will like to leave behind comments.
To cut down on promotional activities on their pages and refrain from spamming the news feeds of those who had initially liked them.
Essentially, this will mean lesser exposure than they had been getting in the past (read that as going from BAD to WORSE), but then do they have an option but to play into the hands of Facebook Inc?