People love it, hate it but they just can't ignore Facebook Inc. (NASDAQ:FB). This has been proved once again after the recent statistics on Social Login Trend Q3 2014 is out. Despite all privacy concerns and reports on young internet users abandoning Facebook, Facebook once again emerged as the most favorite social login provider among internet users in the third quarter of this year.
Janrain – a leader in social tools industry – has just released its social login trend report for the third quarter of this year. Earlier in 2013, the company has carried out a comprehensive research as a part of their effort to consumer attitudes and to know whether social login is a valuable tool that supports personalized digital interactions. They had surveyed nearly 600 U.S. consumers and came to the conclusion that social logins are now a preferred option for consumers to sign in to their most loved websites. More than 50% consumers now use the social login option.
Though there have been privacy and security concerns from businesses and consumers about signing into websites through their social networks, most experts feel such fears are unfounded and misplaced.
Social login for businesses has always been a tool for making it easier for the consumer to sign in to their websites. "Neither the results of that consumer experience nor any additional consumer data collected by the brand are shared with identity providers like Facebook or Google. In fact, doing so would violate the terms and conditions of many brands," points out Jamie Beckland.
The average consumer these days is wary about sharing too much information about himself with anyone over the internet and most of them do think about HOW their data will be used by various sites when they give too many permissions to any app or website. In doing so, they only want to make sure that their personal information will not be used by anyone or share anywhere without their permission. However, Janrain has found out that 77% of the consumers prefer to login to websites through their social sites rather than opting for the traditional registration process.
An overwhelming majority of consumers (64%) who often leave websites due to forgotten email address associated with it, their password or other login information, etc say that social login should be offered as a solution. Not only that, 9 out of every 10 consumers who sign in to sites using their social networks they are satisfied with their experience and have little to complain, if at all.
In the wake of these findings, it is imperative for businesses and brands to stay in sync with the social login trends across the web space.
Social Login Share of Various Sites for Q3 2014
Janrain analyzed the social logins for Q3 2014 and saw put the share of various leading networks as:
Facebook, the king of networking sites, continues to account for the maximum social logins- to the tune of 46%. Nearly half the social logins to various sites were through this most popular site. With a 1.35 billion monthly active user base, that should not come as a surprise.
The only other network which accounted for a respectable share when it comes to social logins was Google Plus, with as many as 34% of the logins being affected through the network owned by the search engine giant.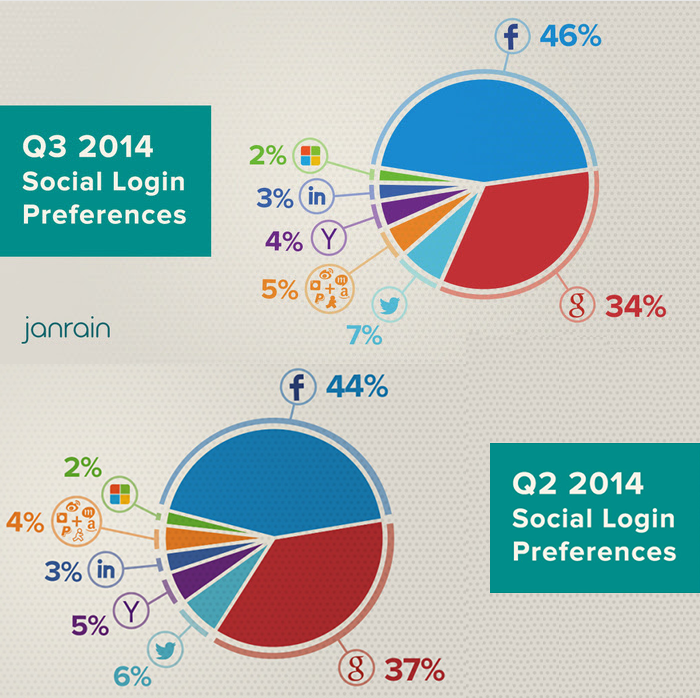 Twitter Inc. (NYSE:TWTR), the number three site that accounts for social logins, continued to account for a single digit share- managing to get only 7% of the web users to sign in to other sites through their network.
Amazon, PayPal and Instagram together accounted for 5% of the social logins for Q3 2014.
Yahoo accounted for a very negligible and forgettable 4% share.
Q-O-Q Comparison of Social Logins
Comparing the Q3 social logins with those of the previous quarter, the following changes and trends were observed:
As we compare the Q-O-Q social login share, the following becomes evident:
Not only is Facebook already colossal, it continues to grow in terms of size as well as in terms of importance to businesses and website owners. The social login share of the site has risen by 2% over the last three months. That means a second consecutive quarter of growth for this site. It had earlier suffered setbacks towards the beginning of the year.
Google Plus share of social logins has fallen by 3%- it was only 34% for Q3 as compared to 37% for Q2 2014.
The gap between the two leading sites has widened. The gap which was only 7% in Q2 is now as wide as 12%.
Twitter has recorded a minor growth of 1%, though it is still far behind the two leading sites. And continues to languish in single digits.
The performance of other smaller sites like LinkedIn, Yahoo, etc can be seen in detail in the following graph:
Social Logins across Vertical Sites for Q3 2014
Facebook performance: The most popular site has had a mixed fortune across vertical sites. While its share has fallen over media and B2B related sites, it has registered sharp increases over the music and entertainment fronts. This increase has come largely at the expense of Twitter and Yahoo. Analysts believe that this growth comes from increased Facebook logins to music sites like Pandora, Spotify and Beats Music.
Google Plus: Though Google Plus share of social logins to media related, consumer brands have increased steadily, its share has improved sharply over consumer brands and B2B segments. Lesser percentage of people, however, are now accessing music, gaming and entertainment related sites through this network.
Twitter: This microblogging site has also accounted for an increase in the percentage of share of social logins for B2B segment and consumer brands vertical.
Besides these, Michael Olson from Janrain has some more important observations to make. He says, "PayPal and Amazon also perform well on niche websites. On select retail, banking and financial services sites with sensitive transaction-related use cases, PayPal's share of preference can exceed 60%, while Amazon can command 25-35% share of logins on e-Commerce sites that partner with the retail giant. Consumer preference also varies widely across the world. VK is one of Russia's most popular social networks, and on some Russian sites, commands as much as 70% of all social logins. In China, networks such as Sina Weibo, Renren, Tencent Weibo and QQ are popular. In Japan, many choose Mixi."
With such details, marketers can now know better which sites they need to focus in for getting the best results along various verticals.
The detailed analysis above also makes one thing very clear- that in spite of being written off more than once by critics and rivals, Facebook is one site which no business can afford to ignore if it wants to give its people the option to log into its site through a social network.