Premium priced products, unique market strategies and an undeterred loyal consumer base are what has come to define Apple Inc. (NASDAQ:AAPL). The brand speaks of reliability, credibility and trust. The 2014 list of "The World's Most Valuable Brands" by Forbes speaks for the same. The list of brands is compiled on the basis of three years of earnings and allocating a percentage of those earnings based on the role brands play in each industry. Apple continues to top the chart with a brand value of $124.2 billion. The figure is way far from that of Microsoft's $63 billion brand value which was running flat for past three years. Apple's brand value jumped to 11% backed by its transition to the mobile world.
Coca-Cola was the only one from the beverage industry to make to top 5 list dominated by technology brands. This, however, did not blur the fact that it was dethroned by Google making it slip to one position to fourth in the list. Facebook, with one-year brand change of 74% stood out from the rest with such a staggering figure.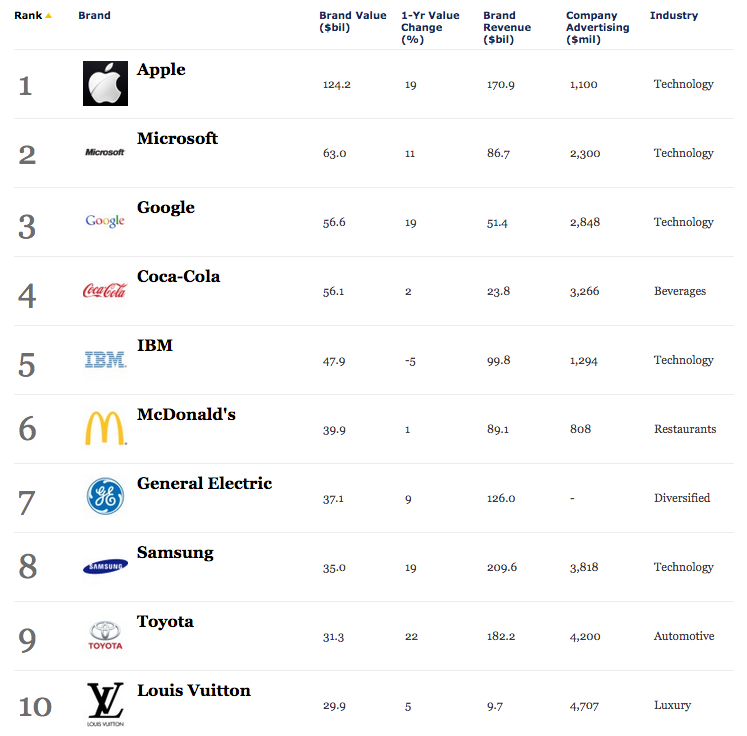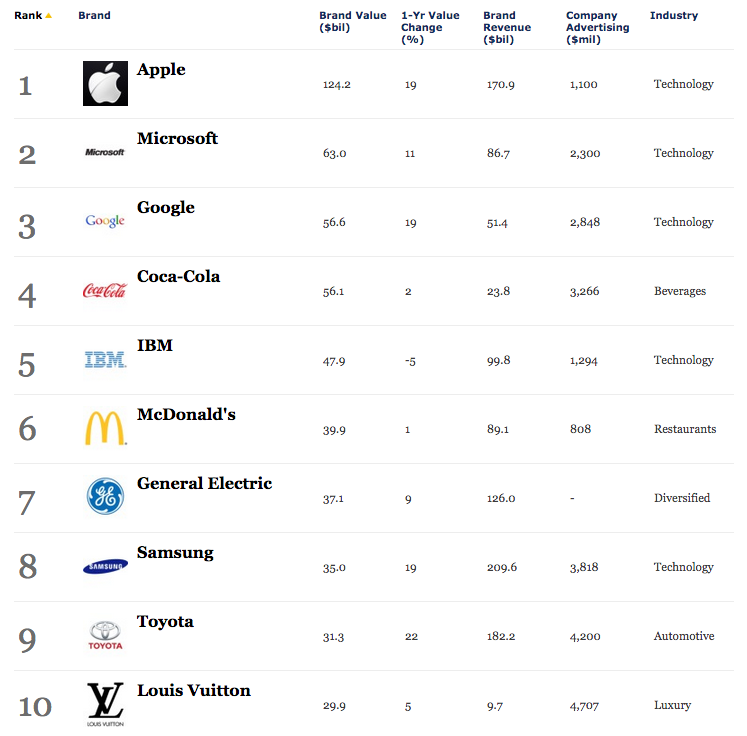 Apple Is More Than Just A Brand, Brand Value Grows 19% Over A Year
As per the report, Apple's brand value was worth $124.2 billion, up by 19% over last year. Apple reportedly sold 39.3 million iPhones in the previous quarter, a record for the sales of July to September that compensated for the disappointing sale of tablets Though its high priced products primarily cater to high-end users in economically developed countries giving its products an exclusivity unlike any other, it has managed to bring on board loyal customers with its innovative tablets and smartphones.. Unlike its competitors, Apple makes both hardware and software for all its products, helping to maintain an undiluted image of top quality. Excellent, holistic customer service for both existing and prospective customers is another notable characteristic of the Apple experience, differentiating it from the other big brands. With every product launch, we can see throngs of people lined up outside the Apple stores for days. So compelling is the brand that people want to attach themselves with the brand of Apple and what it represents- sophistication and a minimalist aesthetic figure. Consistent delivery of quality products has vindicated consumer trust, winning new customers while retaining a faithful roster of old ones.
Microsoft Grows With Change In Priorities, Google Dethrones Coca-Cola
Microsoft Corporation. (NASDAQ:MSFT) retained the number two position, and also grew in brand value by 11%, after being flat for three consecutive years. For the makers of Windows, it has been a question of shift of priorities. It has started to move away from PC and software licensing centred business to a more mobile world, which has put it in direct competition with Apple and others. Most notably, its recent deal with the NFL requiring use of Surface tablets for live play was met with some confusion from players and officials who thought they were iPads! In any case, Microsoft remains a fringe player in tablets and phones, and it is clear to the top management that this is where the challenge lies.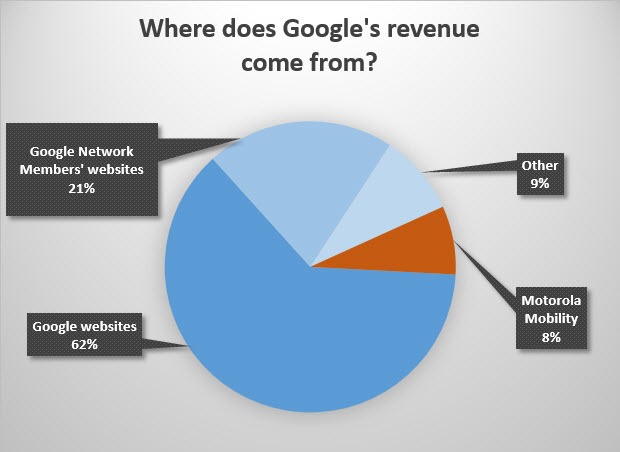 Google Inc. (NASDAQ:GOOGL) saw its brand value growing to $56.6 billion, a rise of 19% over last year. Over past one year, this brand has been able to generate $16 billion in earnings before interest and taxes. With its increasing penetration of the smartphone market via Android, it is already giving a terrible time to big guns like Samsung and Apple. The company's few latest initiatives focused on local and small smartphone vendors, which is resulting in jaw-dropping prices are a significant factor in its fast increasing user base worldwide. Android One project, which is seen as a major threat to Samsung, was already hailed as a milestone in the smartphone market and with the unveiling of Nexus 6 tablet and Nexus 9 phone, it is convincing market analysts that Android-powered devices are not meant to lose their shimmer anytime soon. It finds its major revenue from search business and its ad-driven business.At $12.8 billion, the advertisement was one of the biggest ad spenders in tech in 2013. Its vision for the year 2014  a wide range of devices.
Facing the challenge of changing dietary habits, Coca-Cola (NYSE:KO) slipped a position to number fourth. Its value did rise 2% to $56.1 billion over last 12 months.
"When you are selling sugar and water, your brand better be very important," says Reibstein.
Standing at number 18, the showstopper of all was Facebook with a remarkable 74% increase in past one year. Despite increased competition from that of social networking sites like Twitter etc., it still boasts of 864 million daily active users as per data available till September. For the previous quarter, revenue growth jumped 59%. A lion's share of this revenue is attributed to advertising that holds 92.5% of the total revenue.
Amazon.com (+45%) was another star gainer in the list of top 100 brands. Starbucks (+25%), Toyota (+22%) and Nike (+22%) were other gainers in the list. Whether these brands will continue to grow over time is something to ponder, but they do not slip down in quality will have to be looked after by the brands themselves. In the time economic slowdown, this will be a challenge in itself.