Rate of ballooning of the mobile handset industry had long back convinced industry experts of the future it beholds. Latest numbers reveal an even more interesting tidbit of this competitive market. The latest report on Mobile handset shipments in Q3, 2014 and Smartphone shipments in Q3 2014, from a research firm Counterpoint, puts it on a promising front. While Apple Inc. (NASDAQ:AAPL) recorded 16% year over year growth in Smartphone shipments, Xiaomi's unprecedented growth of 267% in the smartphone segment surprised everyone. Surprisingly, mobile and smartphone market leader Samsung Electronics Co, Ltd. (KRX:005930) emerged as the only vendor that lost its market share in both segments and most of it was grabbed by chinese vendor Xiaomi.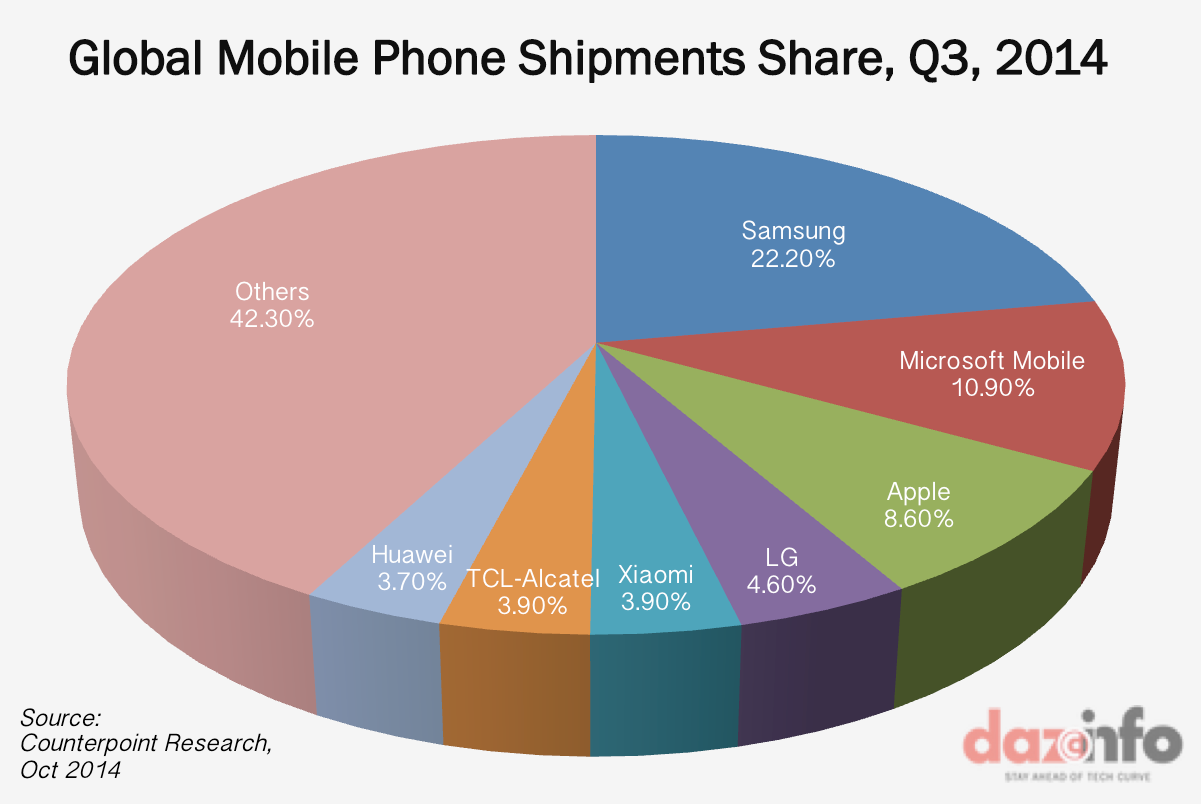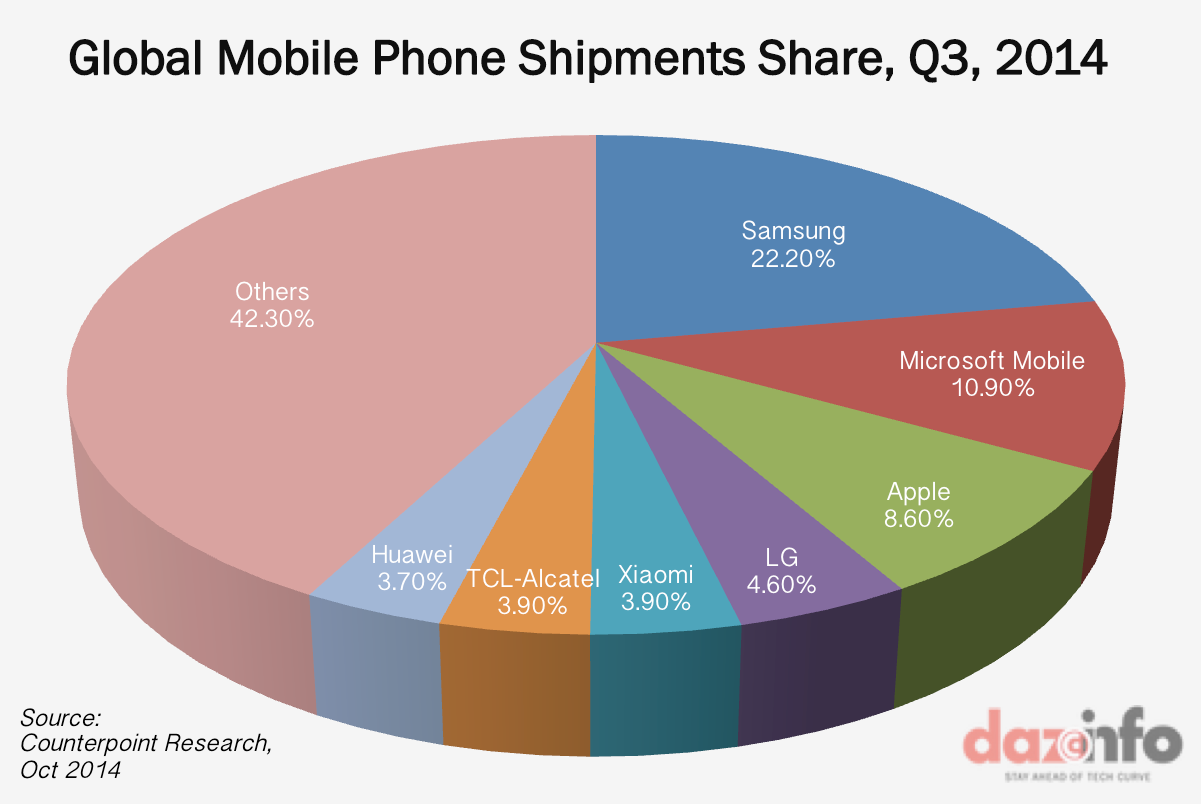 According to the report, mobile handset shipment witnessed a Year-Over-Year growth of 4 percent with shipment volume touching a new high of under half a billion units for the Q3 2014 quarter ending September. Smartphone garnered close to 72% of this reported volume compared to 62% in the same period of 2013. Smartphone market recorded a staggering year on year growth of 21% in Q3 2014 with shipment crossing 300 million mark. On the contrary, continuous decline of feature phones was observed, thanks to narrowing price-gap with smartphones. Emerging Chinese vendors like Xiaomi, Lenovo, Huawei etc. are been seen as likely contributors for the overall modest growth during the quarter.
Behemoth Samsung, with 101.5 million phones, still boasts of largest smartphone shipment share though its handset shipment volumes declined. To quantify the report, Samsung's mobile handset shipment volume shares fell to 22.2% in Q3 2014 from 27.2% in the same period of 2013. Its arch rival Apple, however, noted elevated levels of growth (16% of annual growth) with iPhone shipment volume reaching 39.2 million units in the third quarter. LG, which was lately in the news for its highest Web-User-Traffic share was among the fore-runners here too. Though far behind Samsung and Apple, LG managed to churn out an impressive 21 million units this quarter, a growth of 16.7% compared to the previous quarter. Emerging manufacturers Lenovo and Motorola have shown promising results with their annual smartphone volumes growth of 31% and 132% respectively. But it was Xiaomi that shook the industry with its annual growth of 267% in this quarter.
Flagship Smartphones Backed The Increase In Annual Growth
Samsung sales have boosted primarily by the sales of Galaxy S5 which was quite a hit the market. The summer discounts too helped the company put impressive figures on the front. However, Galaxy Note 4 could not match up with its expectations and received low warmer response as compared to the sales figure of the previous quarter. Due to the increased shift to mid-tier smartphones overall revenue, ASP (Average Selling Price) and operating margins were affected during the quarter closing September.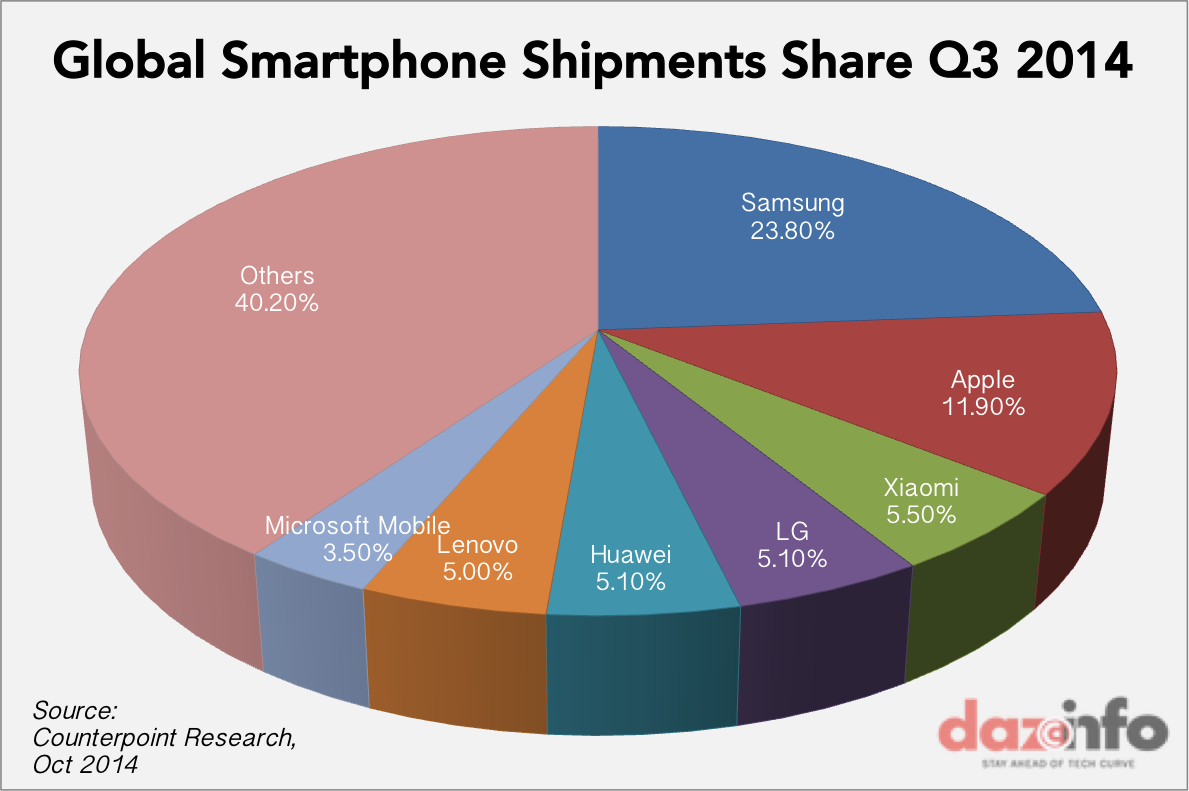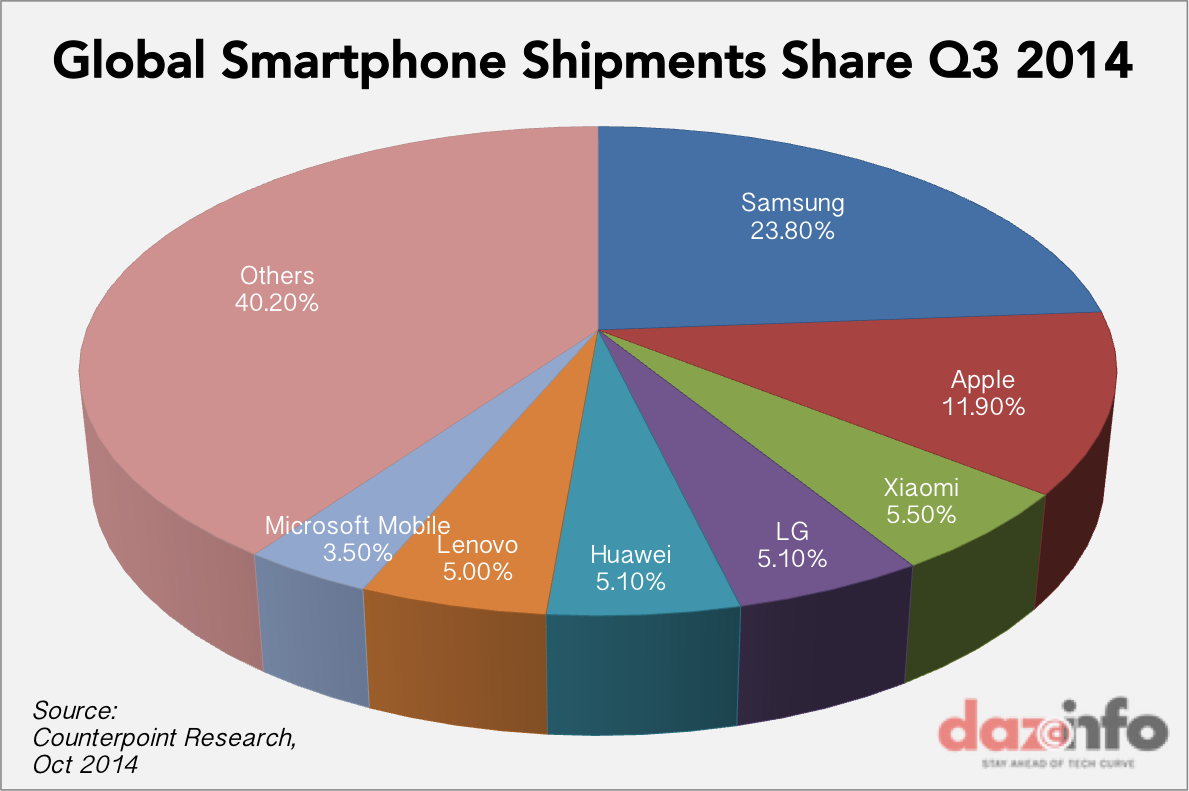 iPhone 6 and 6 Plus have without doubt put Apple on the front line when it comes to revenue and sales. The rapidity of this increase in sales was however held back by their limited supply which would have elevated the shipment volumes to 42 million units in the last quarter. China too could not add on to the shares as iPhone 6 series has set foot in the mainland only in the ongoing fourth quarter. LG, however, did not face any of these issues; Its flagship smartphone, LG G3 remained strong in the market both in revenue and demand as compared to previous launches. Xiaomi's Mi3, Mi4 and Redmi models have not disappointed and grabbed the market instantly by the low-end consumers who are looking out for affordable smartphones with new and advanced product features.
Big-Guns Facing Tough Competition From Emerging Vendors
Though Samsung and Apple have been facing stiff competition from the likes of Xiaomi and Lenovo, yet the demands of the latter were restricted to certain economies. They challenged a long time dominance of Samsung and churned out an impressive model of smartphones but faced tough time competing the demands of the low-cost smartphones by Lenovo and Motorola. Markets of China, India, South East Asia and a major part of Europe were the ones highly affected. Meanwhile, Samsung failed to gain any significant traction from its flagship models. Xiaomi has now expanded its market across China in more than five countries, which has helped the giant remain profitable for another straight quarter. It still needs to work upon on mismatch in demand supply and after sales services. According to the latest reports, the Chinese smartphone vendor is looking for US$1 billion in funding at a valuation of anything between $40 billion and $50 billion.
Lenovo and Motorola too stood strong in Latin America, USA and Indian market expanding slowing in Europe. Apple quashed all issues of customer loyalty and maintained its growth in high-end markets, especially the developed economies.
ZTE, Sony and Coolpad too ended up in top 15 smartphone vendors and continue to grow in their respective markets. Brands like Lava, Celkon, Gionee, Oppo, Vivo, Qmobile witnessed a modest increase in their growth while there are others which saw a dip in the share too.  Sub-$100 market is witnessing toughest competition due to its competitive pricing strategies and razor-thin profit margins.
Regardless of the time scale the change in market preference can already be observed. Low-end markets are being locked by Chinese vendors, Asian OEMs and domestic players, thanks to their jaw-dropping prices and dedicated marketing strategies.Whether or not these players maintain their growth in the coming quarter is yet to be seen, but it has ensured that new and innovative planning is the need of the hour.