Speculation is rife in the industry as to why Google Inc. (NASDAQ:GOOGL) is not making Android L updates available for any other Nexus devices. Android 5.0 or Lollipop was launched on Tuesday and is available on Nexus 9, Nexus 6 and Nexus Player, and has stirred quite a wave among the OEM's like Samsung, HTC, Sony, Motorola and LG who have begun the sprint to release Lollipop run devices. But why the update isn't available for Nexus 4 or Nexus 5 is the big question mark hovering over industry heads.
According to multiple sources, the probable cause of delay is a bug reported to significantly affect battery life in Nexus 5 when Wifi is active. The bug is causing miscellaneous battery uses, which is causing a fully charged battery to be drained within four hours or less. The issue seems to be fixed when Wifi is switched off. Though there are no concrete indications of the existence of the bug but Android Engineers have come up with a sort of acknowledgement that there are some technical issues which are causing out delay in the roll out of Android L update for Nexus 5 and Nexus 7 which are slated for an update. The issue was reported by a number of developers on the official forum and finally Google Android Senior Developer Trevor Johns released a statement confirming the issue.
"Android Engineering is aware of an issue affecting Nexus 5 users running Android 5.0 which causes significant "Miscellaneous" battery usage while WiFi is enabled. This appears to be caused by an abnormally high number of IRQ wakeup events. We are continuing to investigate this issue." says Trevor Johns. 
It is yet to be confirmed if the issue persists for other Nexus smartphones and tablets and if the devices will receive the updates prior to Nexus 5.
With Lollipop, Google aimed to address many key issues, and one of them was enhancing the battery life. Project Volta was an inclusion in the Android L which focused on improving the battery life, and earlier iterations of the OS managed to increase battery life by almost 30% in tests performed with Nexus 5. The battery life draining a bug is a severe blow to the initiative, and it will be the only hurdle before a successful update is rolled out for patiently awaiting Nexus device owners.
Android 5.0 is a major update as Google has taken the game a notch higher with many innovations and advancements with this version that will improve the user experience.
The much anticipated RAW image support, a feature which lets users get the full, uncompressed version of each shot taken instead of suppressing it to JPEG format and the inclusion of KNOX security framework for improved enterprise security, extended support for gaming, a brand new UI are some of the cherries on the icing.
How OEMs are responsible for Android L adoption: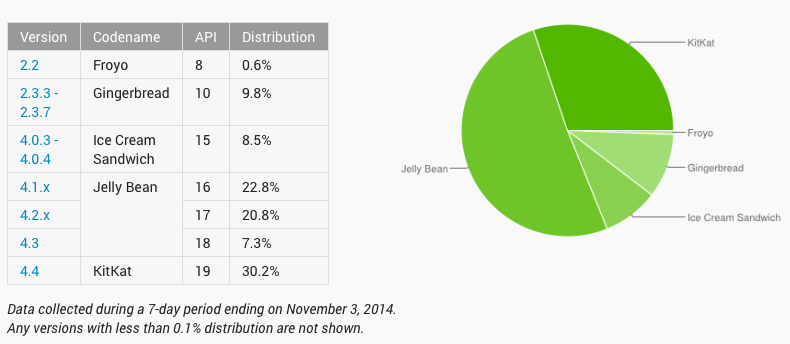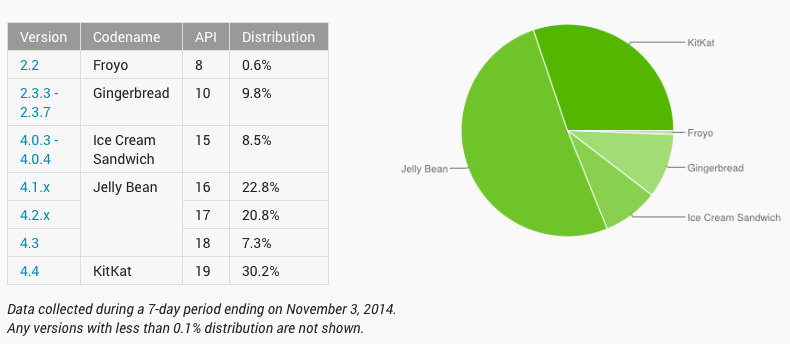 As numbers suggests, even after two years of release the Jelly Bean version of Android still occupies half of the entire Android market, followed by KitKat, which occupies around 30% of the market. With Lollipop coming into the market, how these figures are going to change is still to be seen.
While the stalwarts of the mobile industry like HTC and Samsung will be seen coming up with Lollipop devices but the players like Xiaomi, Huawei might come up with new devices enabled with push updates for Android 5.0. This might result in an increase for the market share of KitKat.
Lenovo owned Motorola might come up first with devices running on Android 5.0 as it has minimal customizations in comparison to Samsung and HTC. The later has much to work on its customized UI layered upon the original Android and have assigned 90 days starting from the source code release date for Lollipop devices hitting the market.
The market penetration of Lollipop greatly depends on the OEM's because unless and until they push the updates into their devices it will be impossible for Google to reach the desired user base with Lollipop.