There are no ironclad rules for earning via ads on your website. But, there has to be a sense of structure to how you advertise. Taking hold of the user's attention and making them to hit that all-so-alpha button has to be an endeavor governed by a sound approach, one that knows where it's going. And a genre of advertising that fits the description just right is native advertising.
If you happen to be just another blogger who vents out his/her personal idiosyncrasies through an online blog, you can afford to live without advertising! But if being known as a serious publisher is your instrument to earn big bucks, advertising is likely to be on the agenda.
The marketing realm keeps reinventing itself with a rhythmic charge every now and then, and with every reinvention, there is something more newfangled, more innovative, and even more user-centric element that is a result of a marketeer's going-for-broke ambition. Native advertising, meanwhile, takes a conventional route, and remodels it with its own set of exclusive rules.
The digital space has witnessed a transformation of sorts with native advertising as it has triggered some unique ad types and given marketeers more opportunities to drive consumer engagement in a way that fetches abundantly improved ROI.
Almost appearing to be a part of the content, native ads do not scream for the user's attention, and still manage to well and truly grab it. They are part of a website's content environment, fuelling brands to curate consumer-centric content. Its relevancy stays bona fide across diverse channels and devices, largely owing to the fact that there is nothing flashy about the native ads. No large fonts, no gloss, no blings. Everything is most natural, most real. It is a part of the digital environment that a customer is expecting, not the environment that he gets.
Native Ads: Why Was it Needed
To begin with, emergence of native advertising is a direct result of the recent lack of impact of the traditional ways of advertising.
The print ads have been heading south in their effect on the end user for quite a while. And that's where marketeers needed something that would be reliably stable, and bring in the results with a greater degree of success and urgency.
As for the ads that pop up on your computer's screens out of nowhere, we are so accustomed to their designs and appearance, they hardly 'catch' our attention. If they are pushed right into our face, looking for the close button is our first instinct. And if they are displayed on the sidebar, we really don't give a damn!
Native advertising made its foray at just the right time. Marketeers needed a platform that could elevate them to a place wherefrom they could address a larger width of consumers in a way that they could really pull in their attention. Native advertising has indeed proved to be the remedy.
How Does it Make a Difference
Let's face it, digital marketing has for a long while being about a lot of strategy making and creative pursues. Native advertising helps marketeers glide past them, if only partially. The ad units in native advertising are far richer, domain-relevant and more attuned to the consumer sensibilities.
Native branding is different than the traditional as well as the more "state of the art" marketing approach in the sense that it delivers on both – branding and generating revenue. While on one hand it makes users click on ads with a greater probability and effect, it can also be used to broadcast the brand message in an apt manner.
A recent survey, conducted by a native advertising platform provider Polar amongst leaders at world's largest publishers, examined some of the benchmarks of native advertising and shed lights on established revenue growth opportunity native advertising presents. To understand how exactly native ads are creating their impact on readers, here are some statistics that break down native ads benchmarking by device and vertical.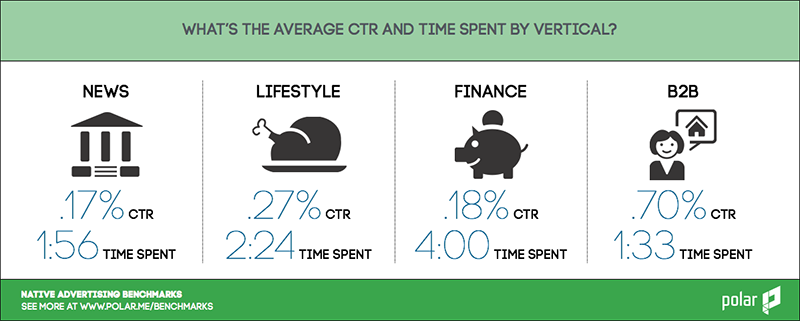 For mobile publishers native advertising is a must-to-adopt strategy. As below data shows, the majority of leading publishers have a deep focus on native advertising to monetise their traffic when it comes to executing their sponsored content program. Infact, native advertisement is becoming the most preferred choice for most of the publishers as readers are shying away from display banner and adopting device-based and network based ad-blocking mechanism to avoid banner advertisements.


Some more stats that advocate the use of native advertising over the other methods are:
Close to 30% of the general Internet audience notices the native ads more than they do a banner ad.
The rate at which native ads are looked at in terms of frequency is more than 50%.
Native advertising is not about indulging in hard slog, per se. it is about placing your ad at the right place, and with a right tone. It may or may not have brought new blood to the genre of advertising, but it surely has taught us how to advertise with impact.
Here is an interesting video on native advertising that explains why, how and which way publishers and HBO is trying to leverage upon native advertising. The video after this break:
Author Signature: Lucie Kruger is a Senior Content Editor and IT consultant for Mobiers Ltd. She is fond of sharing information rich content that is related to latest mobile technology.