Global smartphone shipments have exceeded the 300 million mark for the second consecutive quarter, according to preliminary data released by the International Data Corporation (IDC) Worldwide Quarterly Mobile Phone Tracker for Q3 2014. A total of 327.6 million units of smatphones were shipped during the quarter, resulting in a 25.2% year-over-year growth when compared to the 261.7 million units shipped in Q3, 2013 and 8.7% sequential growth above the 301.3 million units shipped in Q2, 2014. The exploding smartphone industry is driven by strong demand for low-end phones in emerging markets, where local players have posted growth, backed by local demand and competitive pricing.
"We've finally reached a point where most developed markets are experiencing single-digit growth while emerging markets are still growing at more than 30% collectively. In these markets, smartphone price points are making mobile computing possible where we once expected feature phones to remain dominant. This is great news for overall volumes, but the challenge has now become how to make money on devices that are quickly becoming commodity products. Outside of Apple, many are struggling to do this." said Ryan Reith, Program Director with IDC's Worldwide Quarterly Mobile Phone Tracker
Samsung And Apple Continue To Be Clear Leaders
Market leader and Korean major Samsung Electronics Co. Ltd. (KRX:005930) has maintained its dominant position with the highest market share of 23.8% in the third quarter, but has reportedly declined in terms of shipment volumes as well as market share both. Its mid range and low-end models are major contributors in up-ticking the market sales. Samsung is currently struggling to compete with competitive priced devices which are being churned out at a rate never heard before. This rapidity of slowdown had made its production planning quite tricky. Its high end market is being locked up by Apple and a handful of domestic vendors and Chinese vendors are on their way of locking down the low-end market too.
Apple Inc. (NASDAQ:AAPL) witnessed its largest third-quarter volume ever backed by strong sales of its flagship iPhone 6 and 6 Plus. 39.3 million units of iPhone shipped during the third quarter resulted in 12% share of global smartphone shipments. Its first weekend 10 million sales had already created buzz in the company boardrooms. It is noteworthy of the fact that this figure does not include China's share, one of its major markets, where these two new launches just made a debut. Known to cater to high end users, it does not seem to face issues of customer loyalty. However, an evident increase in the sales of iPhone 5S and 5C post new launches is something which has attracted curious attention.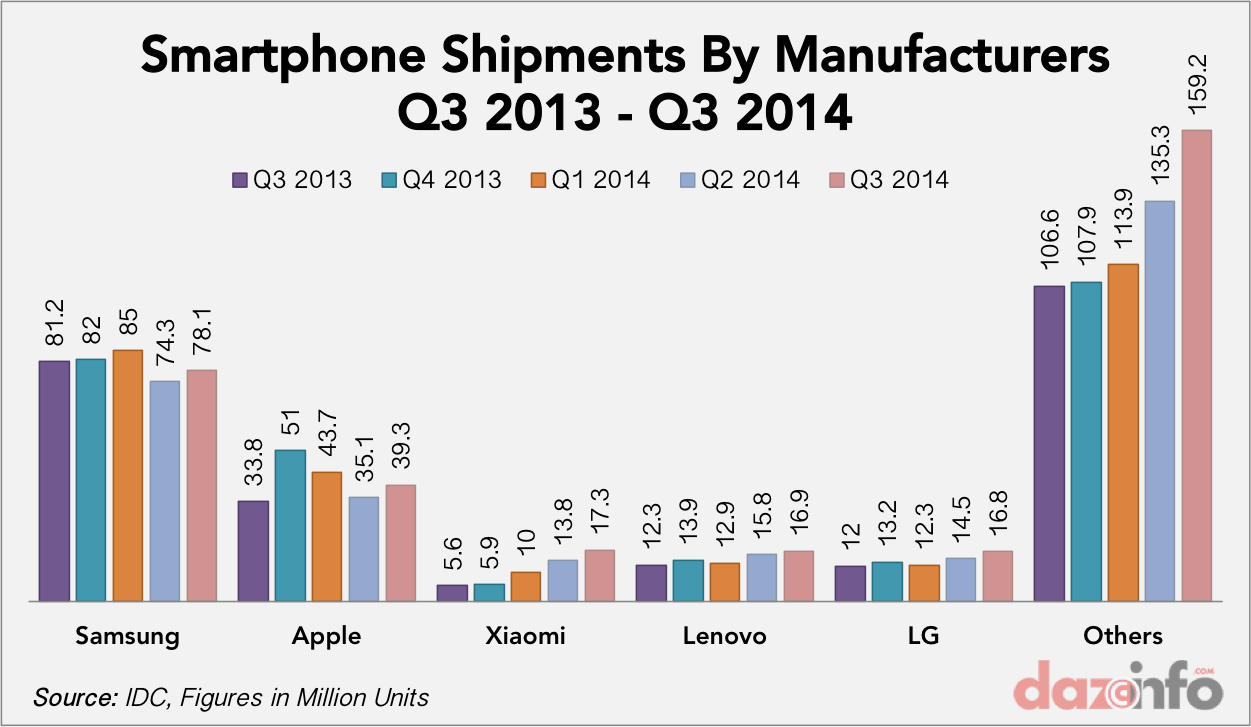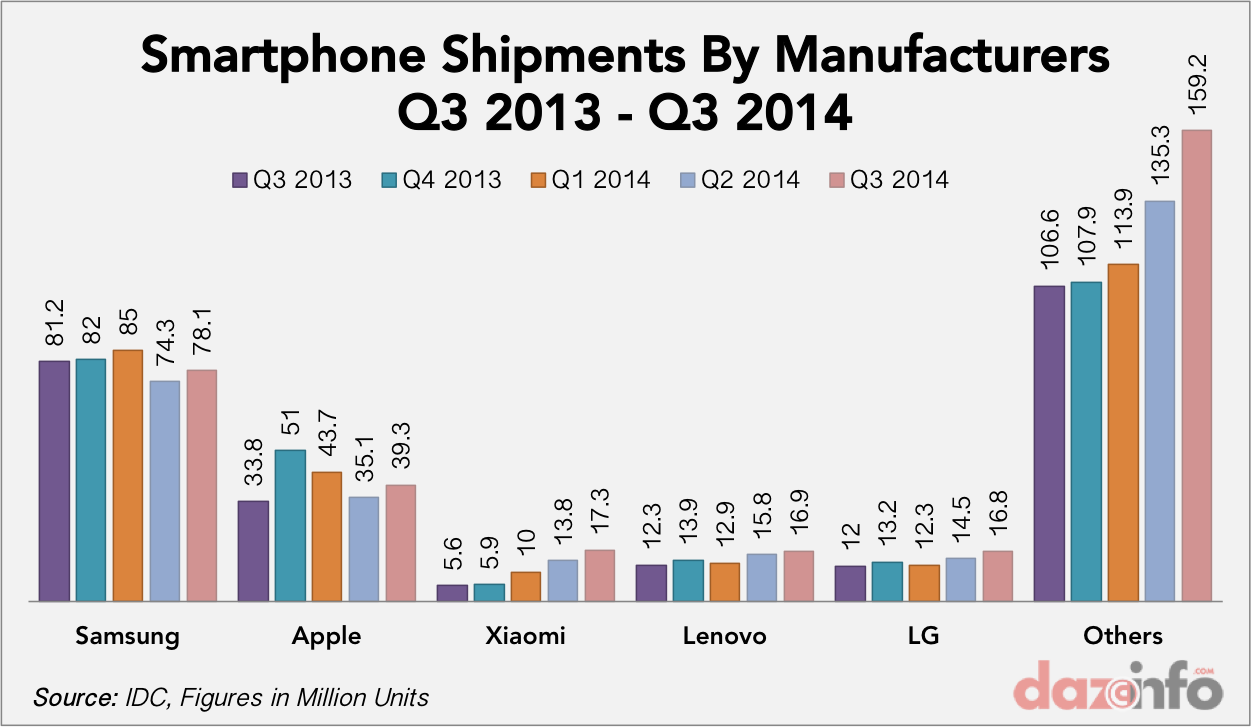 Differing Market Strategies Drive Sale of Non-Apple, Non-Samsung Smartphones
Telecommunication giant and emerging smartphone startup, Xiaomi led the pack of vendors trailing market leaders Apple and Samsung, that posted phenomenal growth figures in the third quarter of 2014. Xiaomi jumped into the global list of top 5 smartphone vendors for the first time at the number 3 position owing to its focus on China and adjacent markets, which resulted in an astounding 211% year-on-year growth. It's also interesting to know that Xioami has replaced its Chinese competitor Huawei to grab this position. Key to Xiaomi's success was the launch of Mi3 in other emerging markets, likes of India, in early third quarter, followed by Mi4 smartphone in mid of the quarter in China, which was positioned as a high-end alternative to the status quo. The growth of Xiaomi has been phenomenal considering company not only grabbed the top position in China by dethroning Samsung but also how quickly the company expanded its sales and operations in other emerging neighboring countries including India, Indonesia and Singapore.
Compatriots Lenovo in contrast to compatriots Xiaomi, focused on cheaper units to drive volume and share in markets local and abroad. Lenovo also posted a healthy growth of 38% in year-on-year shipment numbers, riding on the back of a steadily increasing share in the local market. Also, their share of non-China shipments rose to hit 20% in Q3, 2014, up from 9% a year ago. Sub-US$100 smartphones like the A369i and A316 drove volumes from emerging markets in Asia/Pacific and the Middle East and Africa. Domestically, it launched a number of 4G handsets, with some at lower price points.
Korean giants LG Electronics, Inc. (NYSE:LG) have mixed up strategies, and have tried to court both the low-end market with their F-and L-series smartphones that have earned a warm reception, within both emerging and developed markets and the high-end market with newer models. This focus on cheaper smartphones has paid enough dividends to push its total volumes past the 15 million unit mark for the first time in the company's history. LG also released its flagship G3, touted by some as the "best LG phone yet",  to maintain a presence in the high-end of the market, lifting the company's overall LTE footprint.
Smartphone Industry Untouched By Global Slowdown, Competition Is Expected To Increase Over Time
To summarize, the smartphone industry is apparently untouched by the global slowdown crippling the rest of the economy, and growth in volume has shown a consistent, steady increase. Encouraging numbers like these seem to be driven by rapid growth in emerging markets in Asia and Africa, where market penetration is on the rise. In this race to capture and consolidate in these new markets, the major players Samsung and Apple seem to have made initial progress, but are increasingly being challenged by local players. Samsung in particular, faces the stiff challenge of having to compete with the likes of Xiaomi and Huawei that offer cheaper, more feature-laden alternatives. Apple seems to have made progress in creating a loyal base, but still faces competitive pressure from both Samsung and other, local players whose high-end products pose a challenge in the continued expansion of the fabled loyal base.