The supremacy of Facebook Inc. (NASDAQ:FB) over all other social networks is unquestioned, as the social giant continues to drive nearly 5X more traffic to websites across the world than any other social site worth a mention, as disclosed by Shareaholic in its Q3 2014 Social Media Traffic Report.
Shareaholic studied the referral traffic from eight leading networks over a four month period (June- September 2014) to see how much traffic each of these has been sent over to publishers, marketers and website owners across the web. The data reveals what percentage of social traffic of more than 300,000 sites of various sizes which have a combined global audience of more than 400 million unique monthly visitors.
The eight leading networks that managed to send traffic to various small and big websites are Facebook, Pinterest, Twitter Inc. (NYSE:TWTR), Google Plus, YouTube, LinkedIn Corp (NYSE:LNKD), StumbleUpon and Reddit.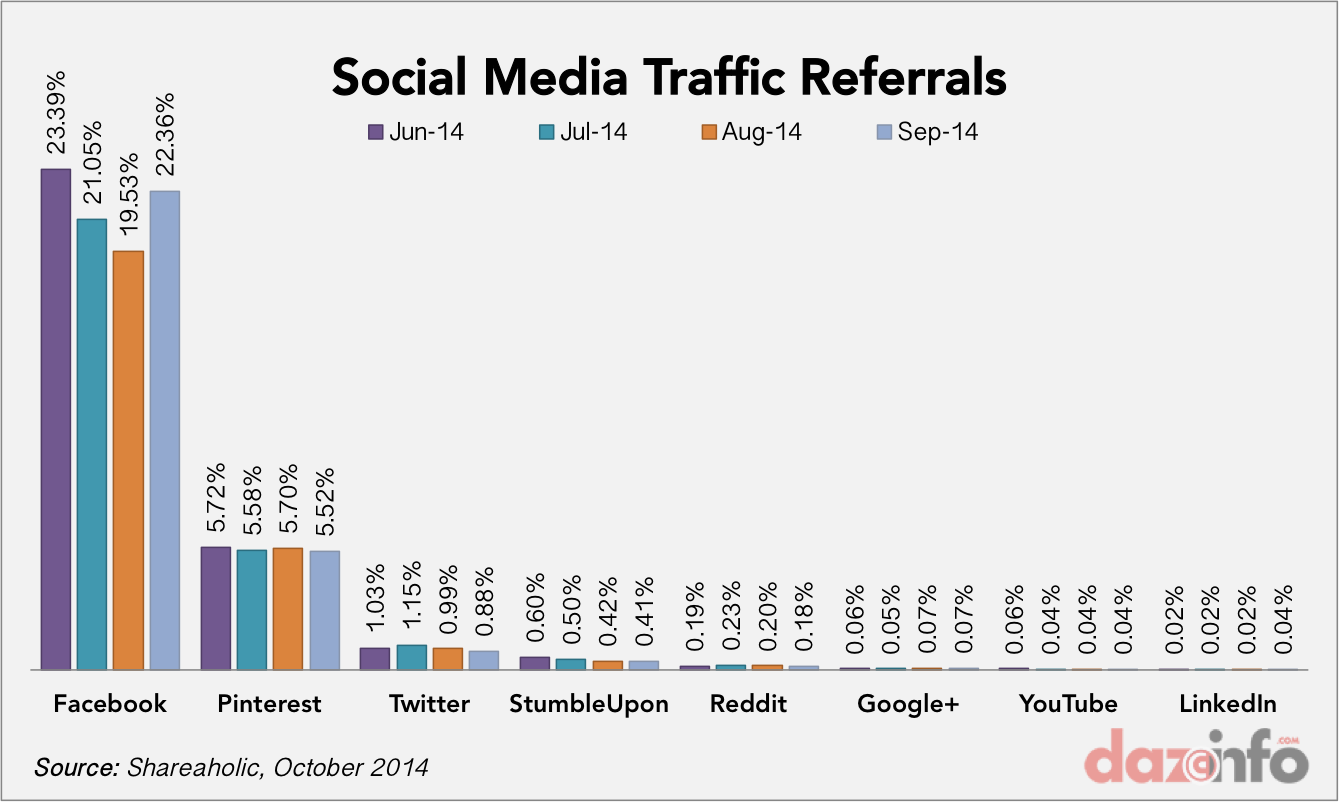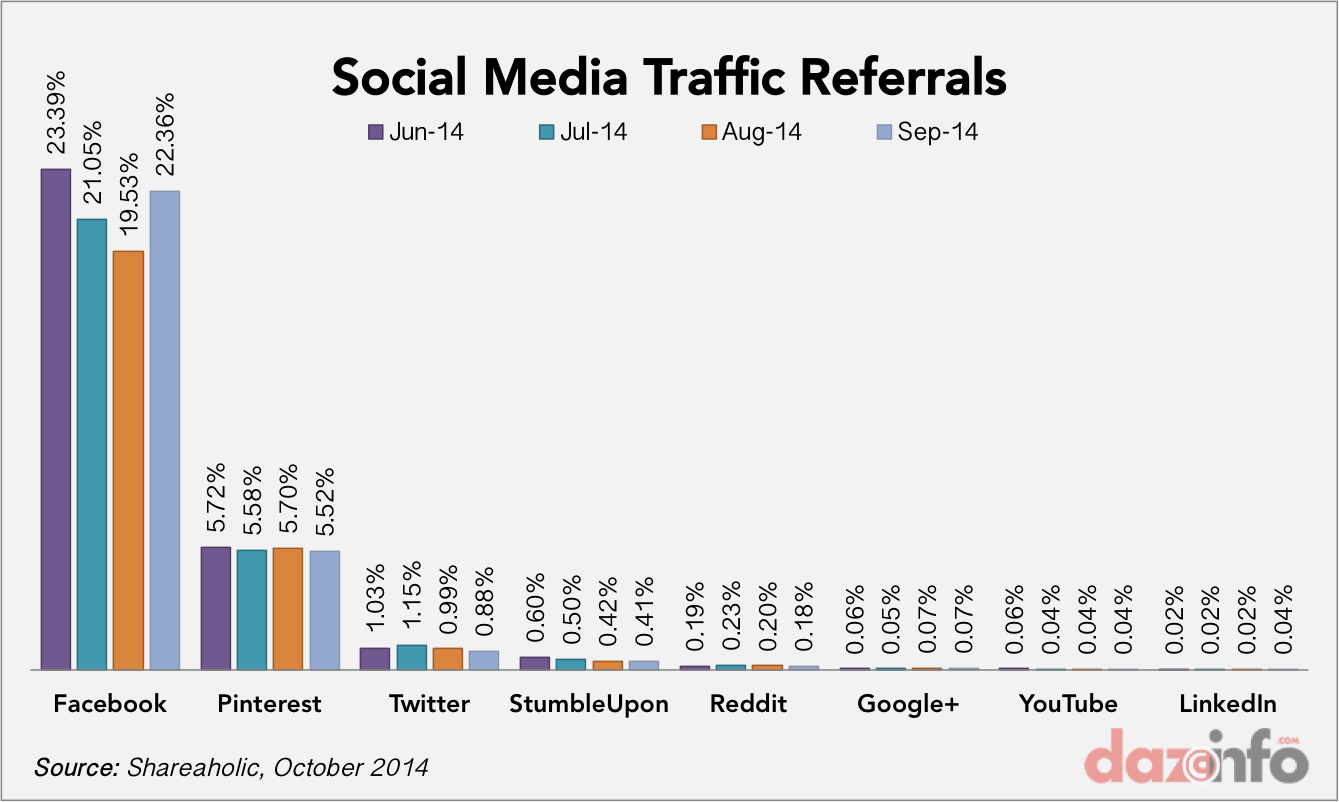 Facebook Continues To Be At The Top Of The Table
With a 22% of referral traffic in September 2014, Facebook continues to be at the top of the table. Though the share of Facebook in driving social traffic to a site has fallen marginally over the four-month period being discussed here from 23.89% in June 2014 to 22.36% in September 2014, it still towers above any other social site in terms of clout and influence. The numbers clearly state that one out of every five visitors coming to the site via online social channel comes through Facebook. And why not; Facebook currently has the largest database of 1.38 billion internet users.
The dominance of Facebook in referral traffic could be understood with the fact that Zuckerberg and company are driving four times the amount of traffic than its nearest rival, Pinterest to any site. It is a significant 115.63% increase over its 10. 37% social media referral share of traffic in September 2013.
No wonder, why almost every brand wants to adopt Facebook-First strategy immediately after they implement and invest in any kind of social media strategy.
Pinterest

Becomes The Second Largest Source Of Referral Traffic
70 million users make Pinterest the second largest source of referral traffic in Q3 2014.
The pinning site accounted for 5.52% of the social referral traffic in September 2104, which is a 50% increase over its 3.68% share in September 2013. Its share has, however, fallen from a slightly robust 5.72% in June 2014.
A much smaller user base as compared to the social referral supremo, Facebook, and the fact that nearly 80% of its users are females do not quite make it a challenge for the social giant but certainly, make it a site which cannot be brushed off.
For publishers and website owners aiming to reach out to a female audience, THIS is the goldmine. A site which was popular mainly with American females first is now gaining popularity globally, which probably explains its steadily improving figures.
Twitter Sinking Into Oblivion
Twitter's share of referral traffic fell to less than 1%, a sad pointer to the fact that it is "losing influence and clout."
Already hovering around the 1% mark in September 2013 (at 1.17%), the months of August and September saw the traffic from this site touching new lows, as its share of referral traffic got less than 1%. A fall of almost 25% over last year.
Pinterest

And Google Plus The Only Two Gainers Besides Facebook
The only two networking sites apart from Facebook, whose share increased over September 2103 and through June 2013 were Google Plus and Pinterest.
Google Plus – in spite of 1 billion users – is not a source of traffic on which publishers and website owners would like to spend their time, money and energy since it got only 0.07% share of social referrals. That apart, it has improved by over 57% as compared to September 2013 (0.04% share).
YouTube The Biggest Loser
The site which has lost maximum ground since last year is the most popular online video sharing platform, Google owned YouTube.
Its share of social referrals has fallen from 0.29% in September 2013 to 0.04% in September 2014. Its share has also dropped rapidly through the June-September 2014 period.
With YouTube executive Susan Wojcicki proposing an ad-free, paid model of the popular site recently, the share could fall even further, though it is too early to predict yet.
Five Forgettable Sources Of Traffic
Reddit, StumbleUpon, LinkedIn, Google Plus and YouTube have been mentioned by Shareaholic as 'forgettable' sources of traffic for website owners since they together make up for less than 1% of the social referrals.
The report clearly highlights the fact that with a user base larger than the population of China, Facebook is one social site publishers and website owners cannot afford to ignore. Inspite of a slight fall in its share of social referrals over the Q3, 2014 period, it accounted for almost one-fourth of the total referral traffic and is four times as capable of delivering as its nearest rival, Pinterest.