The undisputed social media mogul Facebook Inc. (NASDAQ:FB) recently released its revenue records for Q3 2014. Though every year is a good year for Facebook as it continues to scale greater heights every time, surpassing expectations and continuing to grow inspite of having been written off and being much hated for its ad-stuffed UI.
With every new network that appearing on the scene, analysts start predicting the beginning-of-the-end for Facebook. Even WhatsApp, which was acquired by Facebook in early this year, was seen by many as a rival to the networking giant at one point of time.
The third quarter financial figures released last week, however, suggest, that it continues to grow with every passing year and every passing month. Every day, infact!
Love it or not, you just can't ignore Facebook. Can you?
The king of networking sites earned a revenue of $3.203 billion in Q3 2014, beating all profit projections for the period comprehensively and crossing the $3 billion mark for the first time since its birth nearly a decade ago.
Growth of Daily And Monthly Active Users In Q3 2014
Facebook recorded an increase of 13.78% in Daily Active Users (DAUs) and 2.5% increase in Monthly Active Users (MAUs) Over the Last Year.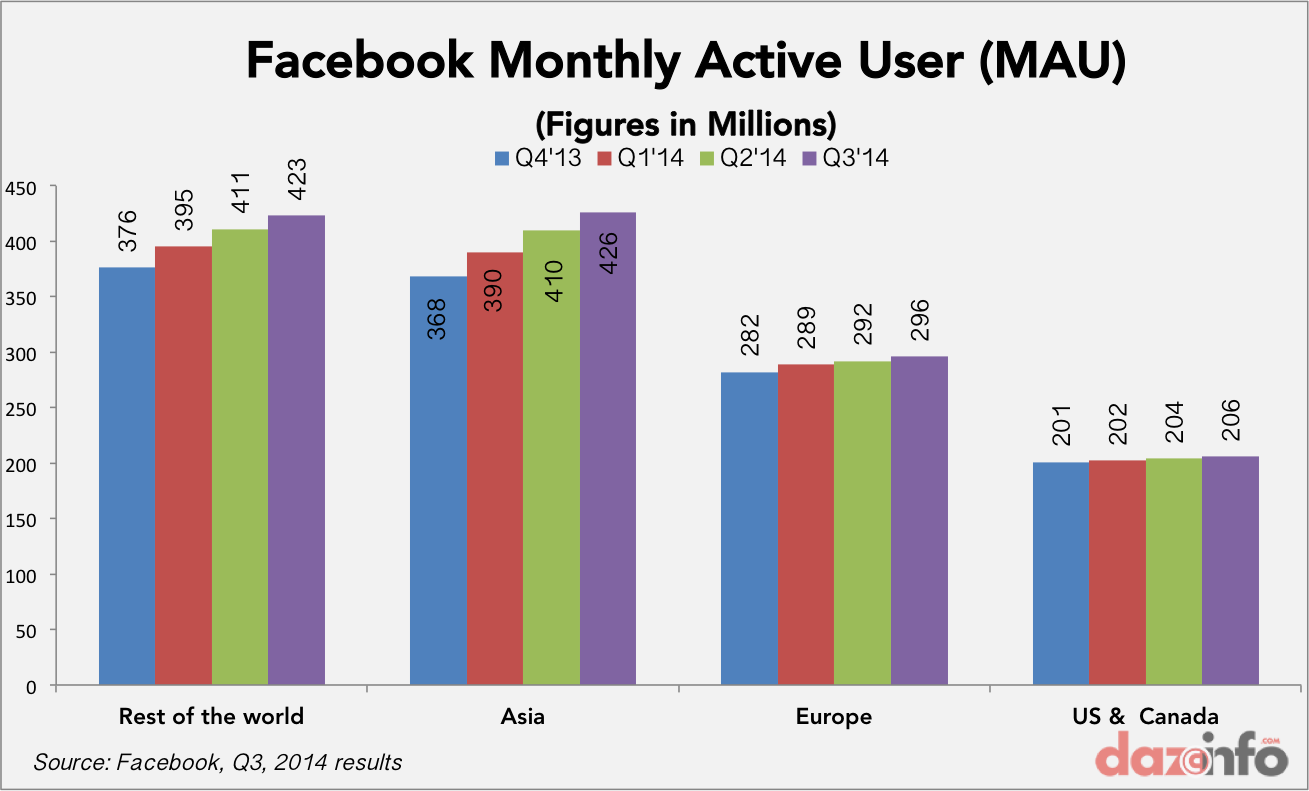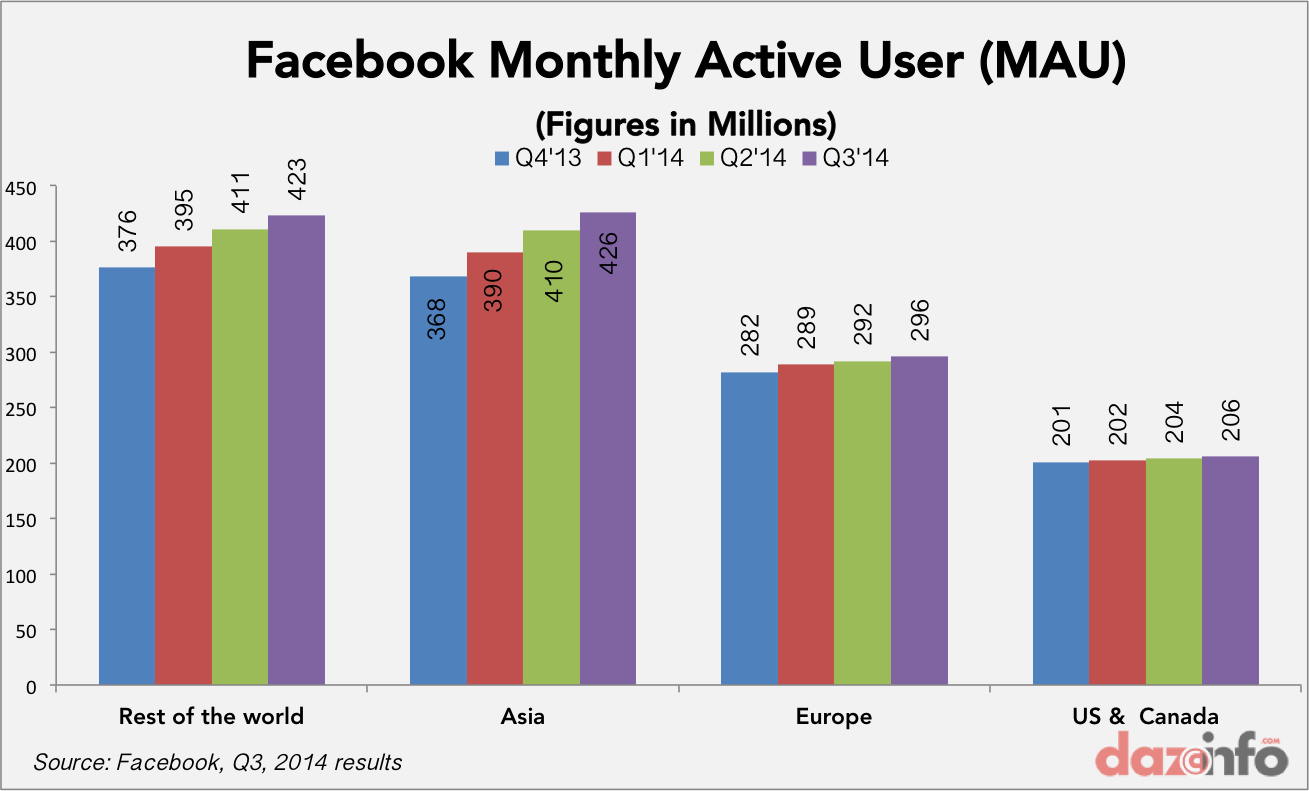 Daily Active Users of this hugely popular site grew at a rate of 4.21% in the quarter that just ended. The greatest growth (6.14%) has come from the Asian region, with their DAUs increasing from 228 million in Q2 2014 to 242 million in Q3. It was followed by the Rest of the World. Growth rates were much lower for Europe, USA and Canada.
An overall growth rate of 13.78% was observed during the last year, since the number of DAUs over Q3 2013 was a much lesser 757 million.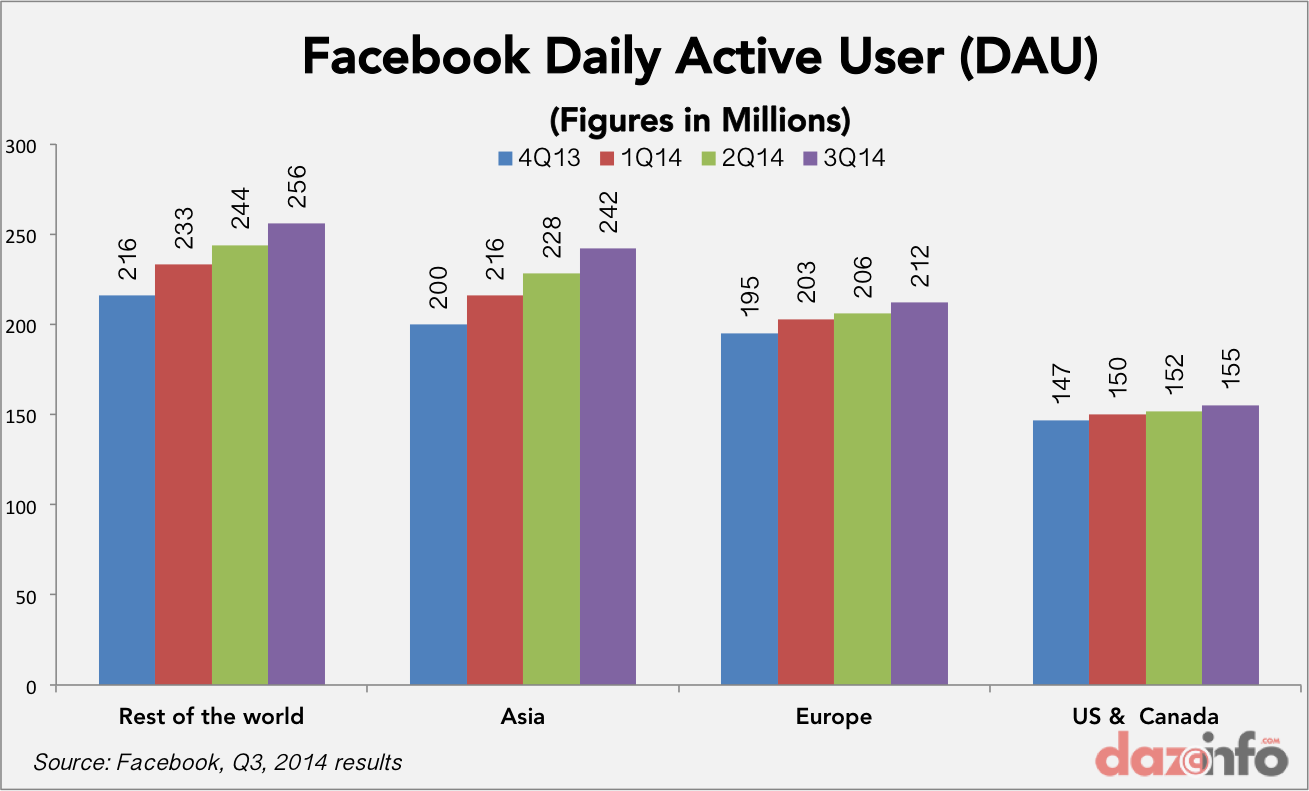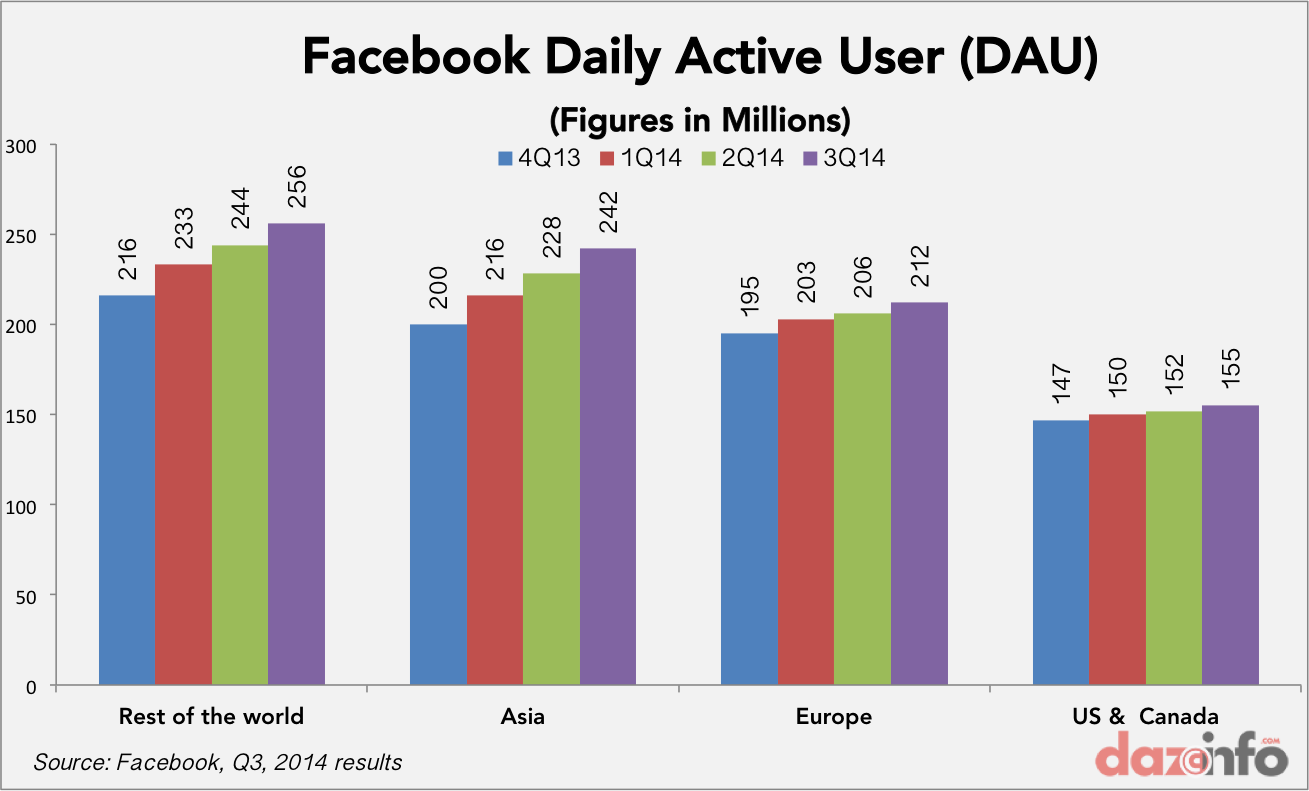 The MAUs of the site also, in a similar fashion, grew by only 2.50% over Q3 2014 as their numbers increased from 1,317 million to 1,350 million during the last three months. But the annual growth figures were higher- a 13.54% increase over last year's 1,189 million. Here too, the healthiest growth was seen in Asia and the Rest of the World (which includes Africa), while US & Canada and Europe portrayed a stagnating scenario once again.
39% Increase in Mobile DAUs and 28.60% Increase in MAUs as Compared to Q3 2013
 The number of mobile DAUs (Daily Active Users) has increased by 49 million over the last three months. By the end of Q3, 2014 there are now 703 million mobile DAUs as compared to 654 million in June 2014. That also means an increase of nearly 39% as compared to Q3 2013. The number of mobile DAUs in Q2 2013 was only 507 million.
Similarly, the number of mobile MAUs has also increased from 1,070 million in Q2 2014 to 1,124 million in Q3 2014, an increase of 5.04%. The increase over the last year has been 28.60%, as they increased from 874 million in Q3 2013 to 1,124 million in Q3 2014.
Mobile only MAUs Almost Doubled Over Last One Year Period
 The increase in the number of mobile only MAUs has been noticeable with the former jumping from 399 million to 456 million over the last quarter, and almost doubling over the last year. The number of mobile only MAUs in Q3 2013 was only 254 million.
Facebook Revenue Crosses US$3 billion Mark for the First time Ever!
With an ever expanding user base, Facebook continued to roll in the millions, quite literally!
Though the year 2014 did not begin on a very positive note for Facebook, as its revenue dipped from $2.59 billion in Q4 2013 to $2.50 billion (it had registered a similar dip in Q1 2013 as well), the growth thereafter has been encouraging. The revenue increased by 16.4% to touch $2.91 billion in Q2 and though the rate of growth (10%) has not been as encouraging as the previous quarter, it has risen nevertheless to cross the $3 billion mark for the first time in Facebook history.
That also means a whopping 60% growth over the $2 billion revenue in Q3, 2013.
The lion's share of advertising revenue continues to come from America and Canada. Almost half ($1,514 million) of Facebook revenue for Q3 2014 came from this region. From its home-markets, so to say.
Only 15.86 per cent ($469 million) of ad revenue came from Asia, though the region is one of the largest, demographically speaking though the growth over Q2 was a robust 15%. Since this figure is higher than the overall growth rate, that should be taken as a positive signal.
The noteworthy observation here is that while Facebook continued to register a faster growth in less developed and underdeveloped regions of Asia and Africa, the revenue comes mainly from the developed countries, with America and Canada accounting for a greater share than Europe.
This could be attributed to the fact that smartphones are catching up faster in these areas and internet is also reaching out to more users. Developed countries have already been saturated.
Average Advertising Revenue Per User (ARPU) growth also received a setback, though it did grow from 13.08 percent last quarter to 15.91 percent this quarter in the US and Canada to reach $1,362. This might be indicative of the fact that news ad offerings like premium video and Audience Network are gathering momentum in the USA & Canada region.
Facebook earnings have surpassed the analyst's prediction of $3.12 billion, though Zuckerberg, we are sure, is used to it by now- this is the ninth time in a row that his company has silenced its most formidable and vocal critics in the best possible manner- by delivering results!