Analyzing a casual surfer's behaviour has always been a conundrum. And though it is difficult to generalize or predict what eggs on people over the internet to log in to certain sites or click on the mentioned links, it has clearly emerged that Facebook Inc. (NASDAQ:FB) still rules the roost among all the networking sites.
Victor White of Gigya recently pointed out in a detailed infographic that surfers are signing in to websites and apps through social media sites increasingly. While Facebook continues to rule the scene, Google Plus has steadily held on to the second spot for the July- September 2014 period.
Facebook Consolidates its Lead While Google Plus Share Falls Below 25% for the First Time in a Year
The popularity and supremacy of Facebook as the dominant player in social login for the quarter July- September 2014 is unquestionable. It impacted more logins than all other networks combined together during this period, which speaks volume about its size and reach.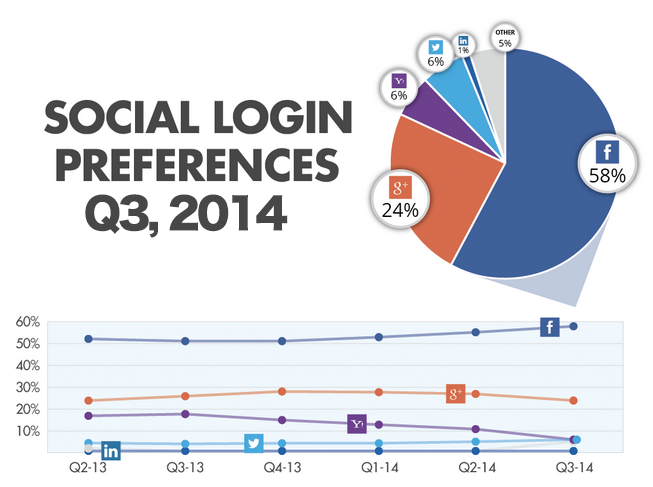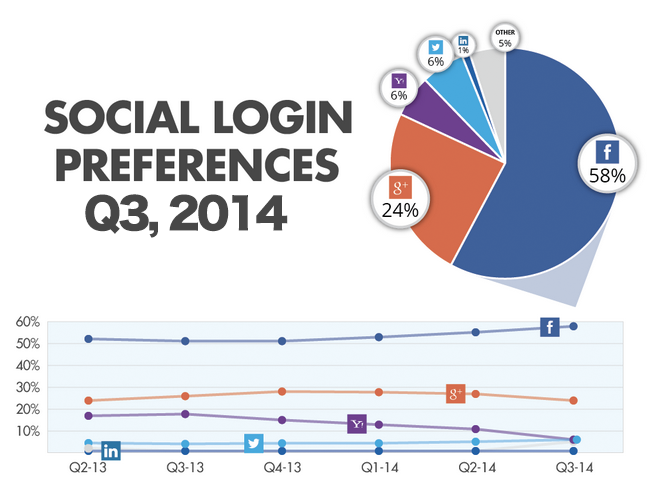 Google Plus, which accounted for 27% of the logins for the month period ending Q2 2014, saw a fall in its login share. It fell down from 27% in Q2 to 24% in Q3, 2014. Google Plus share has dipped below 25% for the first time in a year.
The other search engine, Yahoo, which has been reeling in single digits when to comes to the overall share of social logins for quite some time, but managed to stage a comeback in Q2 with an 11% share again staged a loss on this front and could manage to account for only 6% social logins.
Twitter, the only other network worth a mention here, 'improved' marginally from 5% in Q2 to 6%.
LinkedIn, meanwhile, continued to languish at the lower end of the table, managing to account for only 1% social logins.
Pinterest, Instagram, etc. together accounted for only 5% of the social logins, though one must concede that it is an improvement over the 1% share they accounted for in the previous quarter.
Now, the lad Facebook is taking over its nearest formidable rival, Google Plus, has not only been reasserted but also further consolidated.
"The social network's updates to Facebook login earlier this year seem to be making a positive impact on Facebook identity across the web wit users now able to select the data they share with sites and apps with line-in-line controls", says Gigya.
Mobile Logins: Minor Gains for Google Plus, Small Setback to Facebook
As regards mobile logins, though Facebook continued to stick to its numero uno position, its share of market logins fell slightly from 64% over the last quarter to 62% during the period being discussed here.
Google+ fared better on this front and improved from 25% to 28% in the current quarter.
Yahoo, which accounted for a tiny 5% share of mobile logins in Q2, 2014 fell down to an even more deplorable 1%.
Facebook Stumbles Slightly on the
E-commerce

Front but Continues to Lead on Media/ Publisher Sites and Apps

Though the social titan's supremacy with social logins is unchallenged, even with e-commerce sites and media or publisher related sites/ apps, some interesting changes have been observed.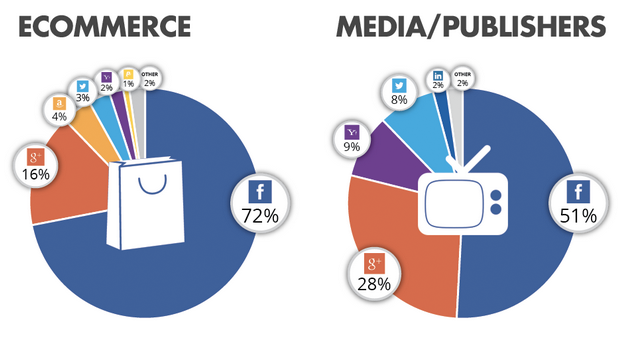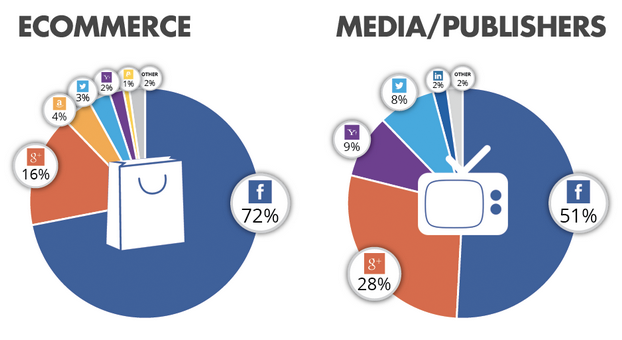 The Facebook share of login to e-commerce sites fell from an intimidating 75% in Q2 to 72% in Q3 2014. Google Plus reigned steady at 16% while all other networks continued to reel in the single digit figures.
Amazon, interestingly, has improved from a not-so-impressive 3% to 4% over this period, which is its highest ever share of social logins ever since the release of Login with Amazon in May 2103.
As regards the publishing sector or media, Facebook again continued to consolidate its lead at the cost of others. It improved from 49% over the previous quarter to 51% during the current period- which means that the Zuckerberg owned network controls 51% of the social logins with media.
Google Plus share, however, fell from 29% to 28% during the same period.
Yahoo, which has been under the bludgeon in other fields as well, continued its race to the bottom of the table here as well, its share falling from 11% to 9% during the past three months.
Facebook and Google Plus Continue to Dominate Social Logins for Consumer Goods, Travel/ Hospitality and Education
Consumer Brands: Facebook continued to account for almost 2 out of every 3 social logins in the consumer brand sector, though its share fell very marginally from 67% to 66%. Google Plus (19%) and Twitter (9%) almost maintained their respective positions.
Travel/ Hospitality Industry: This segment of the market almost maintained a status quo. Facebook with 29% and Google Plus with 18% continued to account for most of the social logins. Other, smaller players were hardly worth a mention.
Education/ Non-profit Sector: Facebook share of social logins in the education/ non-profit sector fell down by 2% and came down to 77%, while Google Plus continued to hold on to its No. 2 position with a 12% share.
Social Login Preferences across the World: Africa Becomes the Bed of Major Upheavals, only to the Benefit  of Facebook
As regards social media preferences across the world, the social giant is again the top influencer.
Facebook impacted maximum social logins in South America (accounting for 80% of them), followed by Asia Pacific (76%), Africa/ Middle East (71%) and Europe including Russia (62%). It had the least impact on social logins in North America, where it affected only 55% of them. Talking of trends, the African share has fallen from 82% in the previous quarter to 71%. No other significant changes were observed.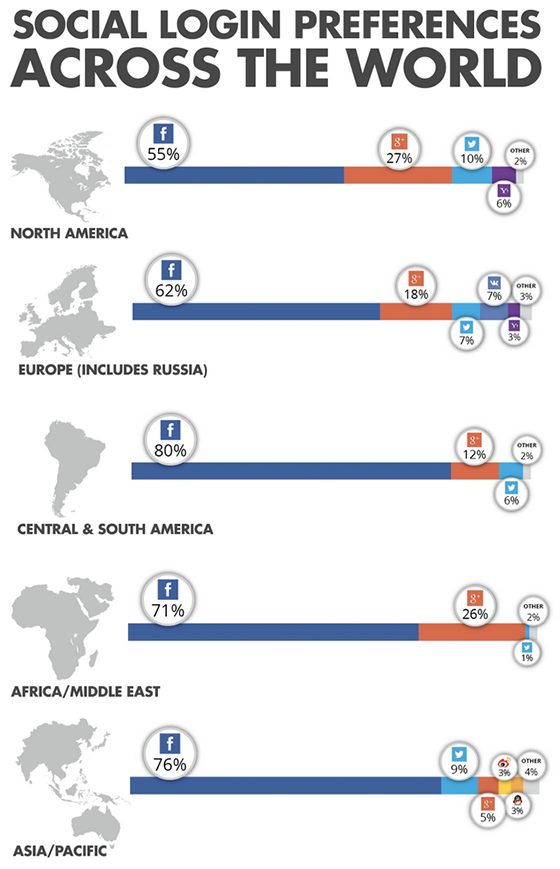 Facebook's loss seems to be Google Plus' gain. The search engine giant controlled network accounted for 27% of North American social logins, which is the highest for any continent. That is followed by Africa (26%) and Europe (12%). G+ made the least impact in Asia Pacific region with only 9% share of logins. Here again, African share of social logins has increased from 8% in Q2 to 26% in Q3, 2014.