Online retail sales in the US are expected to register an increase of 8-11% in the approaching holiday season and might touch a record figure of $105 billion, according to estimates released by Shop.org, the online sales division of the National Retail Federation (NRF). The NRF is the largest retail trade association in the world and includes grocers, specialty stores, wholesalers, street merchants, discount stores, online retailers, departmental stores and chain restaurants from more than 45 countries, including the USA.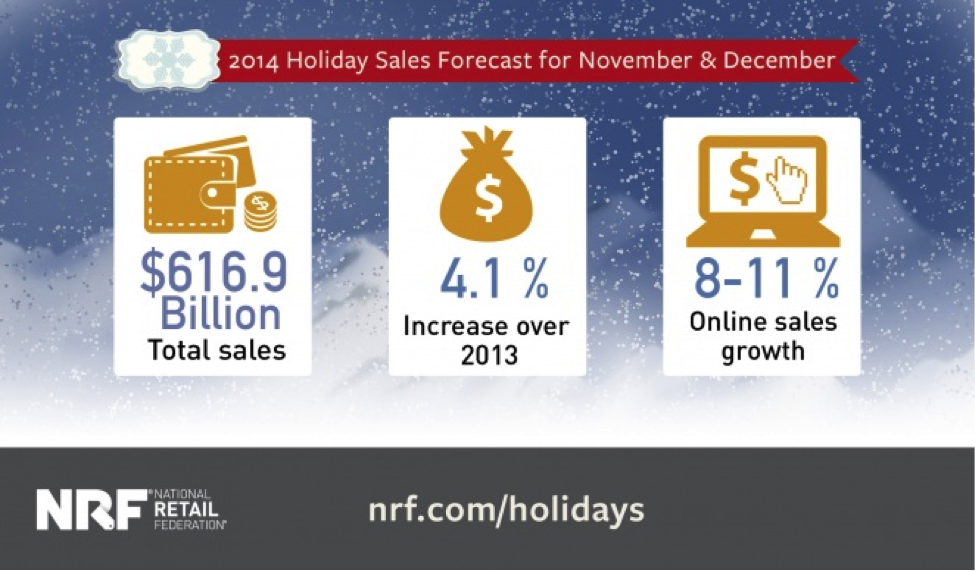 The figures released by shop.org should help put a smile on the faces of eCommerce retailers in the US, since the overall retail sales growth rate in the season (online + offline) has been pegged at 4.1%. Though online sales in the US still account for less than 20% of the total sales made during the Christmas season, the increase in the growth rate is being interpreted as a boost for the online industry. The total sales figure (forecasted on the basis of government data, including disposable personal income, consumer credit, etc.) is expected to be about $616.9 billion.
If we consider the findings of another research firm eMarketers parallel to Shop.org report, it's interesting to learn that projected holiday sales growth rate of 4.1% in 2014 is higher than the 3.4% increase during this period in 2013. However, according to eMarketer, the growth of retail holiday season sales is expected to remain 5% in 2014, beating the estimation of shop.org.
"Though we have only seen consumer income and spending moderately – and erratically – accelerate this year, we believe there is still room for optimism this holiday season," said NRF Chief Economist Jack Kleinhenz. "In the grand scheme of things, consumers are in a much better place than they were this time last year, and the extra spending power could very well translate into solid holiday sales growth for retailers; however, shoppers will still be deliberate with their purchases, while hunting for hard-to-pass-up bargains."
Holiday sales grew at an average of 2.9% over the last decade and will account for 19.2% of the total retail sales ($3.2 trillion) for 2013, according to the NRF report.
"Retailers could see a welcome boost in holiday shopping, giving some companies the shot in the arm they need after a volatile first half of the year and an uneventful summer," said NRF President and CEO Matthew Shay. "While expectations for sales growth are upbeat, it goes without saying there still remains some uneasiness and anxiety among consumers when it comes to their purchase decisions. The lagging economic recovery, though improving, is still top of mind for many Americans."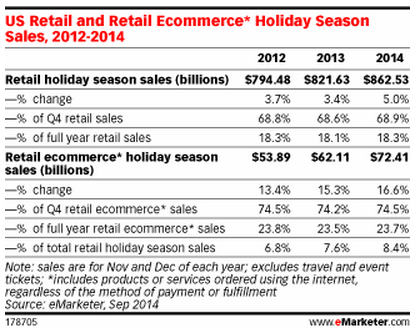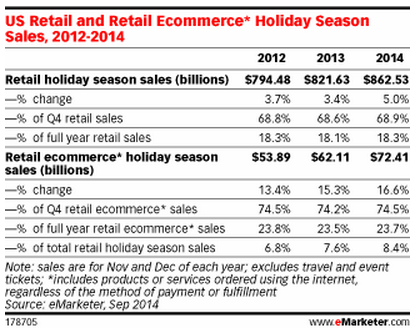 The estimates released by NRF, though auguring well for the overall economy and the online retailers in particular, do not look as promising as compared to a growth rate of 16.6% and sales figure of $72.41 billion predicted by eMarketer. Furthermore, the following are a few of the strong predictions for holiday spending over Christmas in the US this year:
33% Of Online Holiday Sales In US Expected To Come From Mobile eCommerce
An increase in the number of smartphone users and faster mobile internet will together lead to almost one third of total eCommerce sales being processed through mobiles and tablet devices, according to a report released by Custora, the predictive analytics platform provider.
"These shifts are reflected in ecommerce browsing: at the start of 2010, only 3.4 percent of total visits to ecommerce sites came from mobile devices (phones and tablets). Now, four years later, 36.9 percent of site visits are from tablets and phones," said one of the authors of this report.
70% E-Retailers Expected To Provide Free Shipping
Well aware of the fact that people love freebies, almost 2 out of 3 online sellers will boost their sales by offering free shipping facilities to their customers over the Christmas season, American online stores in particular.
SMBs Will Face An Uphill Task Competing With E-Retailing Giants
To compete with online giants like Amazon, small and medium businesses (SMBs) will have to work harder. SMBs will have to start out early and use the social and print media strategically to hold the ground against big-box retailers. Using email lists and rewarding regular customers by using loyalty coupons could help them too.
"With more dollars moving online for the holidays, smaller retailers will need to find new and innovative ways to keep up with the largest names in the market," said Olivier. "By planning out their major sales and promotions now, including Black Friday and Cyber Monday, SMBs can work to take a bite out of Amazon's market share during these critical selling months."
Another interesting observation has been that the mobile ecommerce boom is not expected to work out to the benefit of SMBs.
"One thing to keep in mind, however, is that mobile accounts for less than 15% of SMB ecommerce sales, with the overwhelming majority of purchases still coming from desktop devices, so retailers should focus on their overall brand and user experience to make the most of the 2014 season," said Jason Woosley, VP of Product at Volusion, Inc. in an interview.
Holiday Spending Will Generate Employment
NRF also expects the holiday season boom to generate greater employment opportunities this year, with the demand for seasonal workers expected to be between 725,000 and 800,000.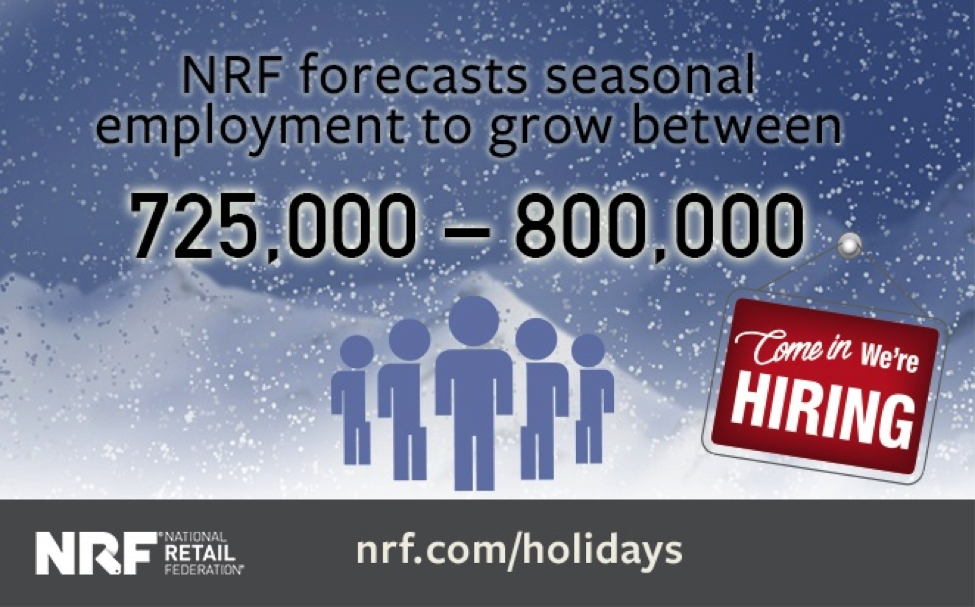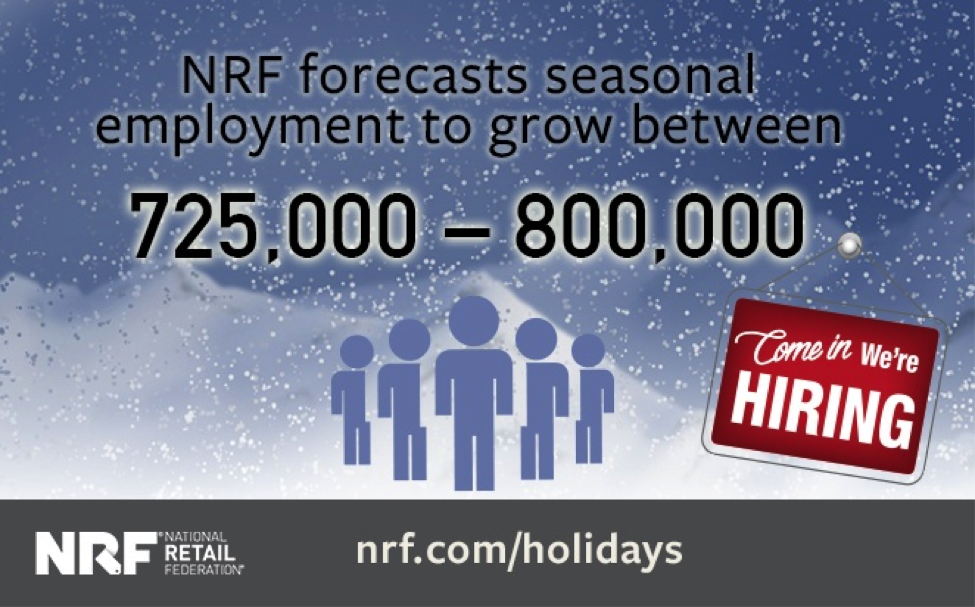 "These holiday positions offer hundreds of thousands of people the opportunity to turn their  seasonal position into a long-term career opportunity in retail," said Matthew Shay – President and CEO, NRF.
Videos Will Play an Important Role
Armando Roggio, business analyst from PracticalEcommerce, also mentions that videos will begin to play a very vital role in influencing consumer behaviour and fetching more business since they are a very powerful medium of communication.
"Separately, there is good data that product videos increase eCommerce conversion rates and helps retailers sell more. During the 2014 Christmas shopping season, look for more retailers large and small to begin including product videos on product detail pages and to begin producing more video content generally", says Roggio.
Overall, its evident that upcoming holiday season is going to keep online retailers in the US on their toes. The upcoming holiday sales figures are estimated to be  nearly 74% of total eCommerce sales in the fourth quarter and most of the eCommerce players in the US are gunning for the largest chunk of the pie.