With regard to the different ad formats used in the mobile sector, mobile display ad format is turning out to be the single biggest category of ads, and is expected to remain so throughout the next five years. According to the latest projection report from eMarketer, mobile internet ad spending will account for 20.2% of all digital ad spending in Asia-Pacific and 5.5% of total media ad investments in the region this year. The total mobile internet ad spending in Asia-Pacific region will surpass $8.36 billion in 2014, and would reach to $25.38 billion by 2017. With a total mobile internet ad spending growth of 210% in 2013 and 2014, China has proved its ever growing dominance in the industry. Specifically in Asia-Pacific region, China will see a share of more than one third of all mobile internet ad dollars, surpassing Japan for the first time. Japan, with its ever growing industry and technology craving population had uptil now ensured that it had half of mobile internet ad spending in the entire region.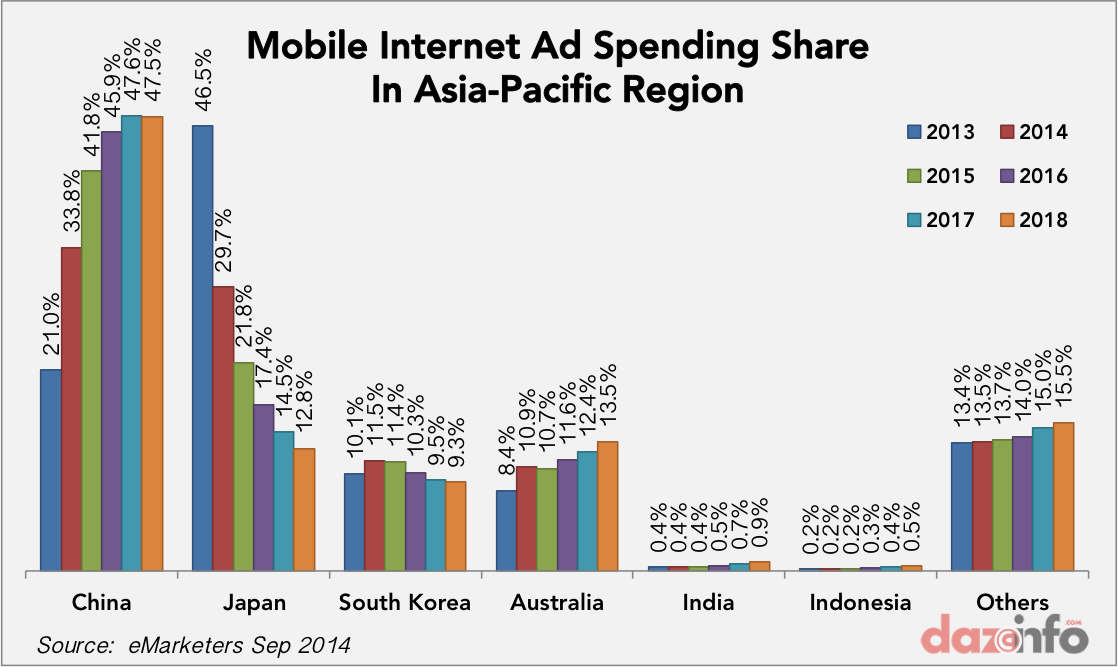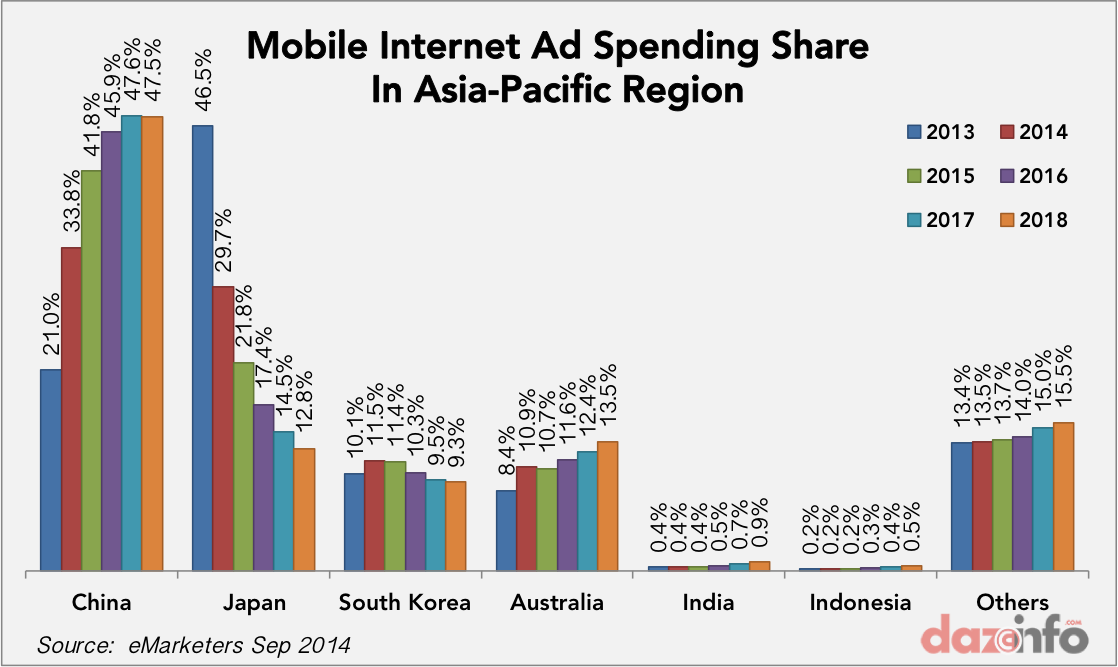 China to enjoy triple digit growth in ad spending: Display and Search ads' contribution

on

rise
According to the latest estimates of eMarketer, in China spending on mobile internet ad will more than triple this year. The country's increasing population and its mobile internet user base has helped it to claim the top spot in mobile internet advertising. It is predicted that contribution of Search and Display ads in the total mobile internet ad spending will reach more than $2.83 billion this year, an increase of $1.83 billion from the previous year. If the current rate of growth is sustained, this figure will surpass $12 billion by 2017.
Behind China, leading the chart are Australia and South Korea with the ad spending growth of 150% and 120% respectively. Spending levels is expected to double in India and Indonesia too. However, it is Japan which needs to work upon its market strategies as the estimates show its growth rate to be significantly lower, at 23% this year.
The growth rate and share of mobile internet as spending in India between 2014 and 2018 portrays an interesting scenario. The country is known to be the third largest and fastest growing smartphone device market, after the China and the US. Many other countries in Asia-Pacific region, such as Japan, Australia and South Korea, lags behind India when it comes to the number of mobile phone users. India has more than 157 million mobile internet users, and the number is estimated to rise up to 519 million by 2018 fiscal. In spite of all these India's contribution to the region mobile internet ad spending does not see a boost in coming years. By 2018, country's contribution is projected to stay less than 1% and the year-over-year growth rate is projected to decline to 60% in 2018 from 88.2% in 2014. The figures depict the fact that mobile internet users in India may not be the active adopters of mobile advertisements, and mobile internet advertising companies can't really rely on the domestic market to scale up their business.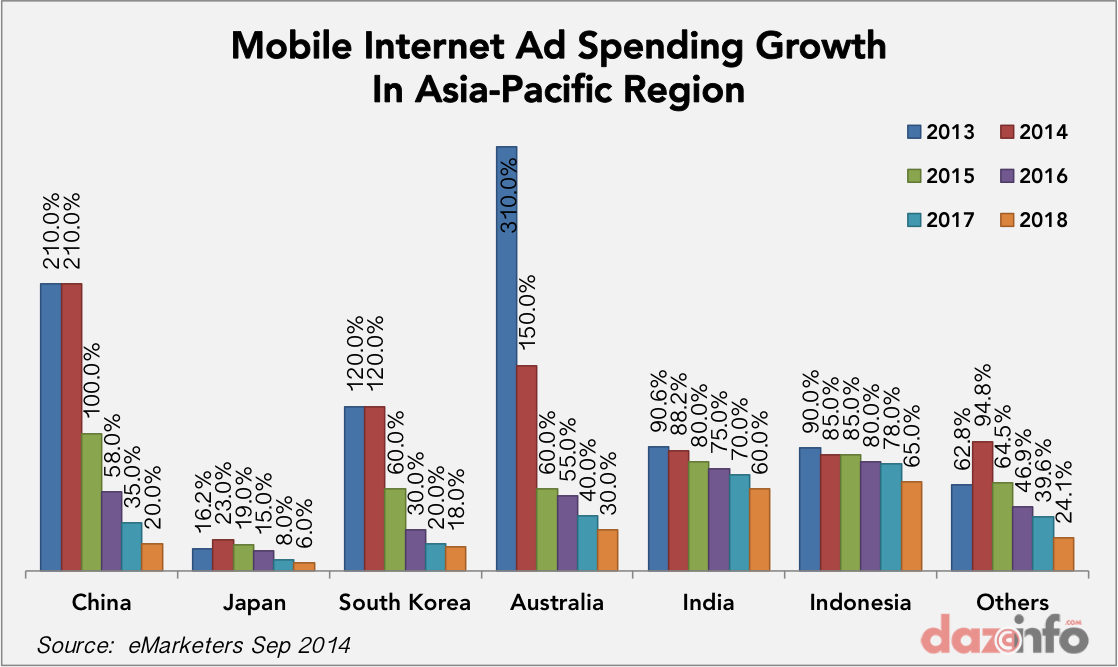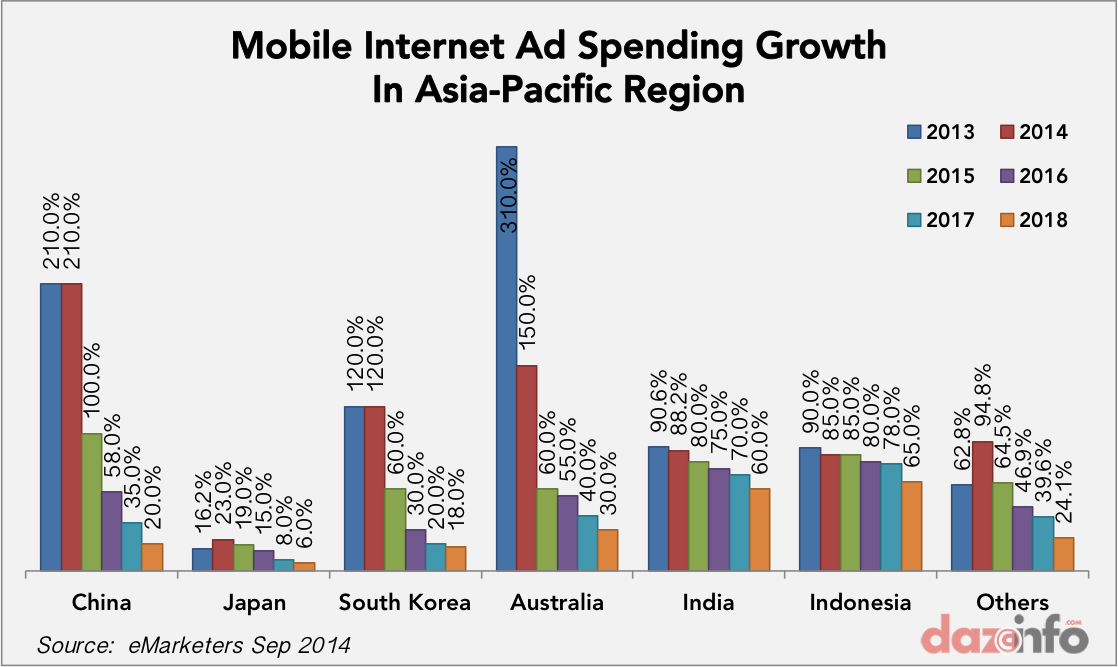 The growth in the rate will slow down as mobile website and application number soars
Due to ad space inventory supply growing faster than the demand, growth in mobile advertising spending is expected to slow down. According to analyst firm Gartner, it is due to the fact that mobile websites and applications are increasing faster than brands request ad space on mobile device screens. However, a shift to mobile web display can be seen after certain years of higher growth in app industry. Moreover, with people preferring to opt to mobile for smallest of reasons, as minimal as to look out for nearest destinations, small industries are targeting mobile ads to advertise about their products/services. This number will grow each year owing to the growth in the market and innovations in technology that China has been long known for.
Mobile population and Internet users back China's claim to the top!
By the end of 2013, the number of smartphone users in the country touched 700 million and it's expected to grow phenomenally in 2014 due to staggering growth of homegrown low-price smartphone manufacturers Xiaomi and ZTE. People of China are looking out for new technologies as they are seeking out smartphones with features that cater to their desire to pace up with changing times. It is the demand among the general population that saw the growth of low-cost smartphones. Today there are smartphones worth $50 and Android tablets with prices around $200 in the country.
According to the reports of semi-official China Internet Network Information Center, China had 632 million Internet users as of the end of June. What makes the number eye popping is that it is just slightly more than double the entire estimated population of the US. The number is somewhat near to the estimates from internetlivestats which puts the number around 641 million.
"The Internet continues to play an increasingly important role in China and the biggest revolution currently underway on the Internet is the shift to mobile. Traffic to social networks, online video sites, and search are all beginning to cross the 50% mark. In 2014, brands will attempt to keep pace by funneling more advertising spend into cross-screen mobile search and mobile video campaigns. Mobile display will also continue to ramp up as brands spend more on hero app ad buys and in-app ad networks." said Andrew Carter, President of Trading and Knowledge, GroupM China.
China will continue to provide most promising market for mobile landscape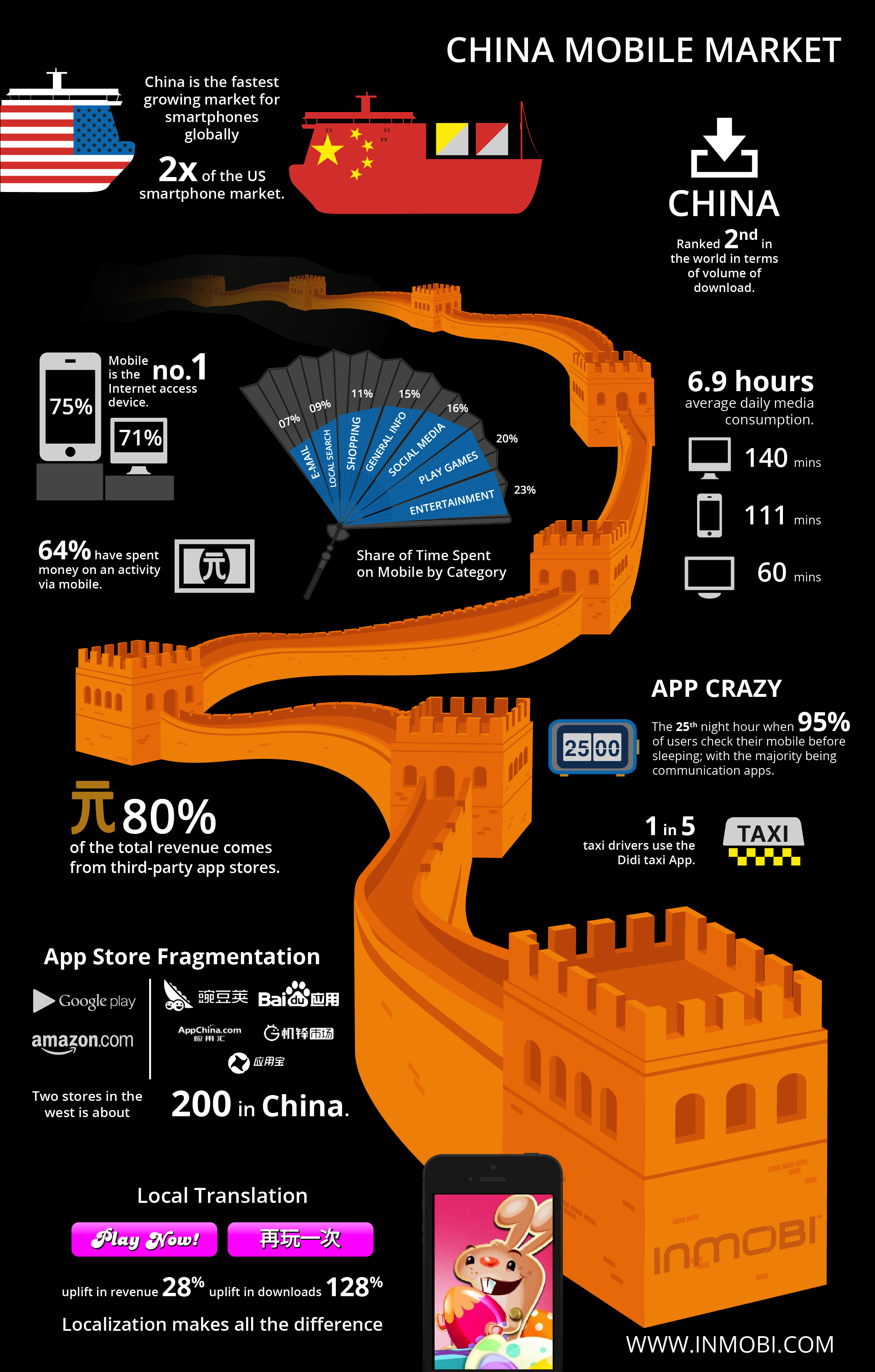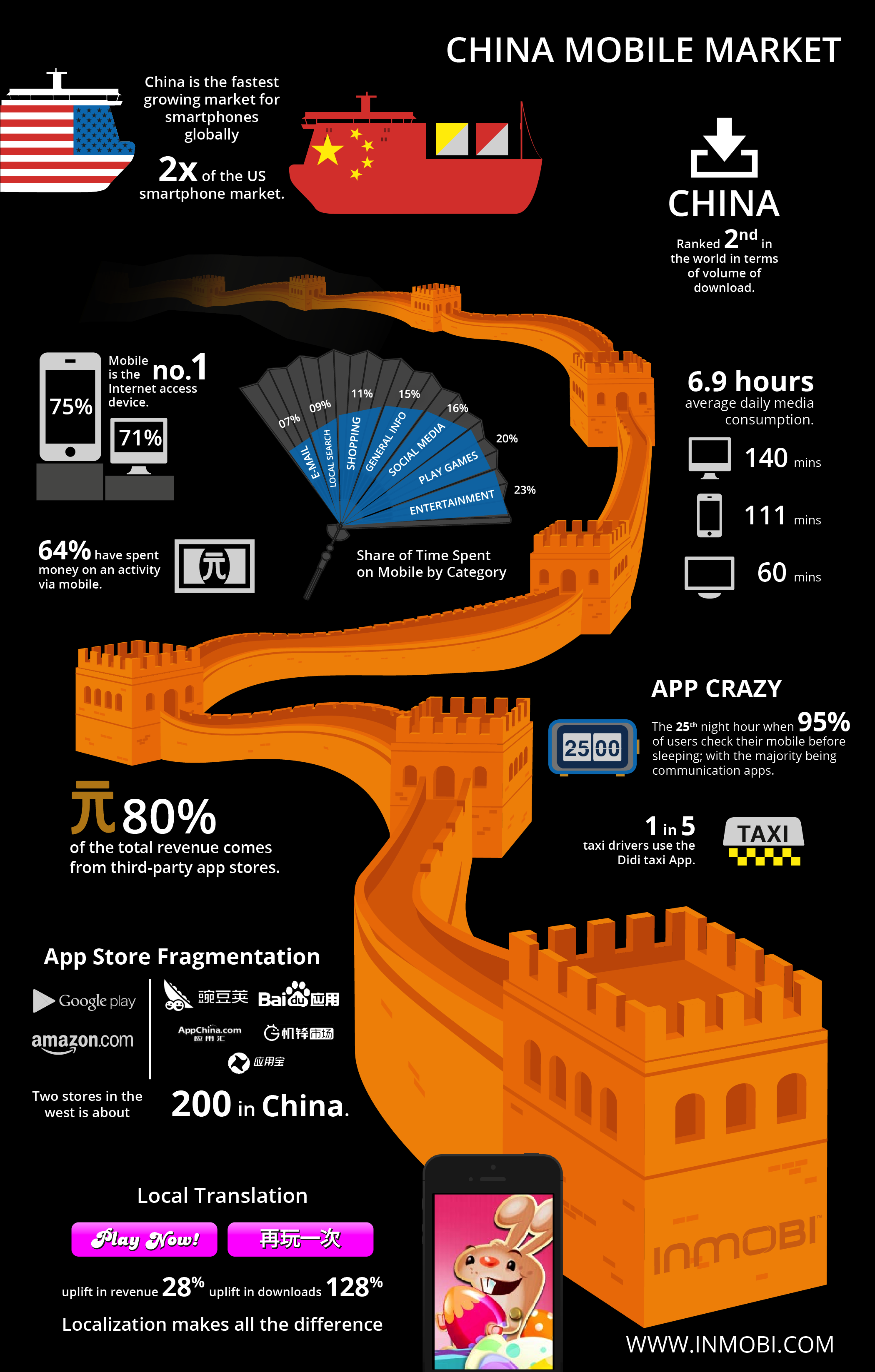 With smarter technology in place, mobile sector is already counted as one of the most promising sectors in China. There is a continued demand of makers like Xioami and companies like Intel are setting up their centers in the country to proliferate their market. No wonder the existing figures have already taken the analysts by awe, it is the future which holds the reality if China can really be show-stopper in years to come.
In 2014, mobile internet ad spending in Asia-Pacific is estimated to contribute 17.7% of the region's total digital ad spending. As the number of mobile devices and mobile internet users are bound to increase in the next few years, the contribution is projected to double, reaching 35% by 2018.