Retargeting campaign – also known as remarketing campaign – combined with Google Inc. (NASDAQ:GOOGL) Search ad campaign and Social Media campaign, especially with Facebook Inc.  (NASDAQ:FB), brings more engagement and results in greater ROI, claims the recent study.
In the last report on Retargeting we analyzed its successful competence to drive positive ROI which has made it an integral part of digital marketing strategy along with the highlights of the plentiful challenges associated with this emerging trend. But the report of Marin Software deduced further that these impending challenges and trends took a different perspective when the search campaigns of remarketing were managed alongside social campaigns which yielded substantially better performances.
Google's RLSAs drove higher CTRs and lower CPCs
The comparison of Google RLSA (Remarketing Lists for Search Ads) and non RLSA campaigns gleaned that CTRs generated by RLSA campaigns was 2 to 3 times higher as compared to non-RLSA campaign CTRs. Taking into account the three month's performance level between the two campaigns, a number of factors were inferred that contributed to this performance gain; Marketers could have improved their audience segmentation efforts by creating more targeted, actionable segments, they could have optimized budgets by increasing spend on the higher performing segments, and reducing spend on worse performing segments; or they could have refined their creative strategy and messaging to drive better results.
Another interesting finding in the report was that not only did RLSA campaigns have higher CTRs but they also achieved higher CTRs while delivering those leads at a lower CPC2 compared to non-RLSA campaigns. Hence RLSA have been delivering astounding performance which has not only given the marketers better engagement, but at the same time decreasing the cost of each engagement.
The combination of

retargeting

on both Facebook and Display yielding better performance for marketers
The analysis of data of advertisers on the Perfect Audience Platform cogitated that a multiplied effect was obtained when marketers holistically optimized their running of search and social (non-retargeting) campaigns and a similar data was obtained when they choose retargeting on both Facebook and Display channels as compared to only retargeting on one of the channels.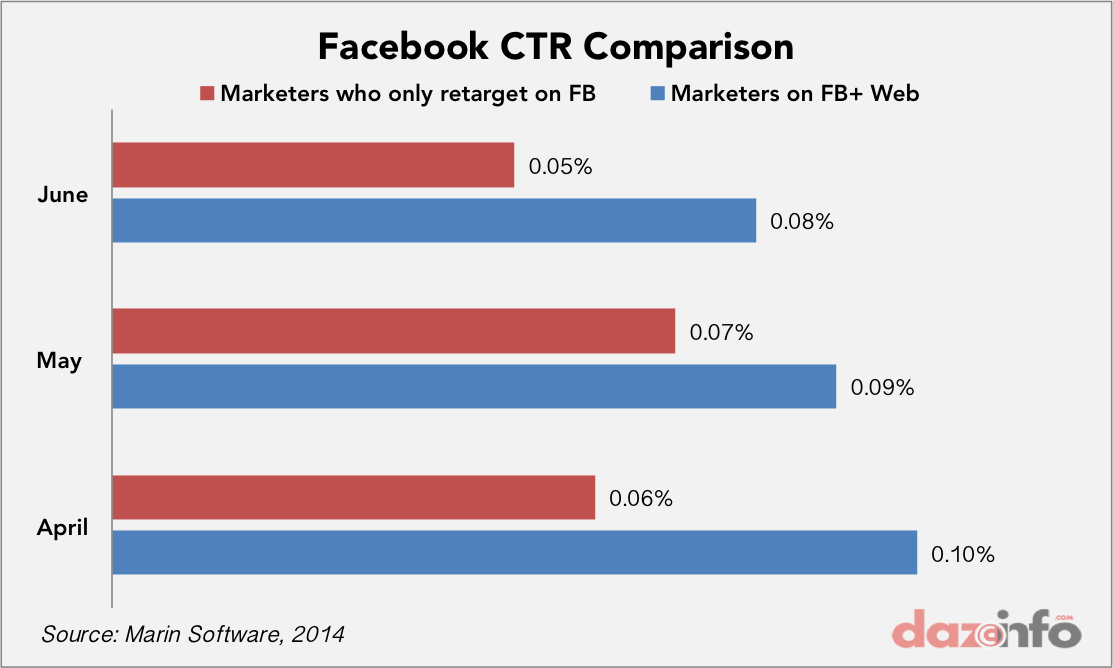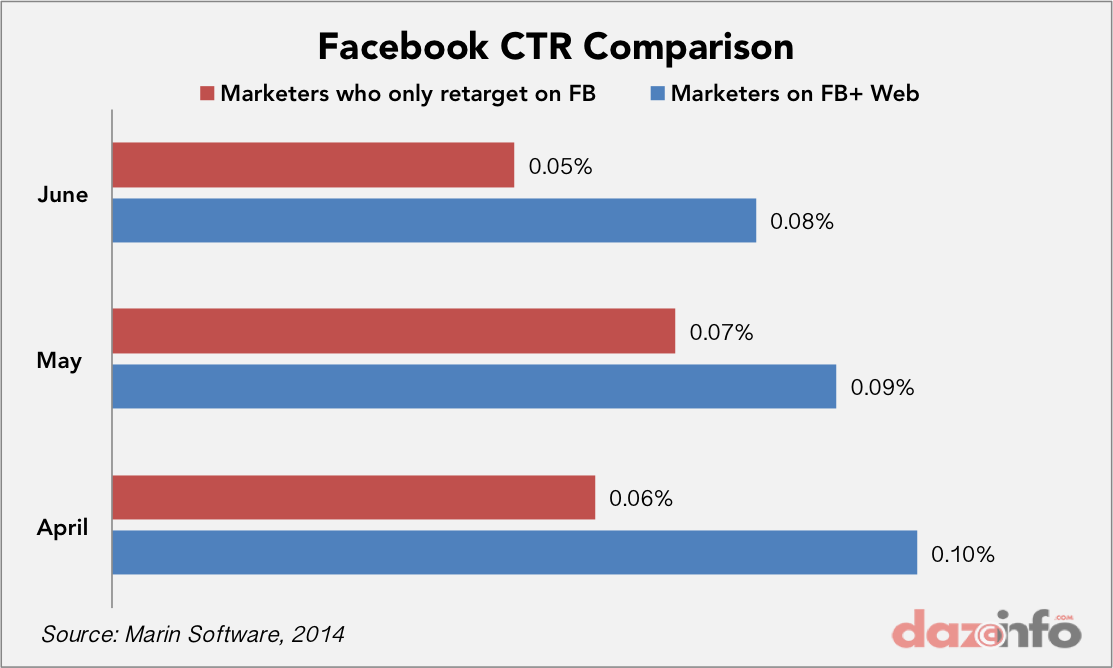 The above graph shows that marketers who were simultaneously retargeting on Facebook and the Web enjoyed higher click-through rates on Facebook compared to a cohort of similar marketers who were retargeting only on Facebook.
The findings were similar for marketers who simultaneously retargeted on both Facebook and the Web, compared to similar marketers who were retargeting only on the Web. In this case, the performance gap for display retargeting was even higher than the performance gap for Facebook.
The best practices for Retargeting across channels
The use of search intent to build better cross-channel intelligence is one of the effective ways in cross channel retargeting campaigns through which marketers can leverage search intent data to create more targeted, higher-value retargeting lists. Without intent, a marketer can't be sure what the right message should be, what creative elements to include, or whether the user is worth targeting at all. However, if you can overlay search intent on top of your basic retargeting lists, you can segment and refine them to give you more insight and increase the likelihood of conversion. Also, the search intent data can be used by the marketers for grouping certain search terms together develop broad user personas, even without the assistance of third-party data. By doing so, the marketer can then leverage gained insights when they retarget these users across search, social or display.
 A common use case for Google RLSA involves increasing visibility to past site visitors by broadening the keyword list an advertiser might bid on. Hence, by maximizing the reach and optimizing returns by selectively combining retargeting and negative retargeting can be termed as another effective method for retargeting across multiple channels.
For example- When a travel retailer bids on a high-cost generic term like "NYC hotels" on Google then the advertisers need to bid on the keyword to attract new customers, but they would prefer to avoid incurring multiple clicks on the same high-cost ads from the same users. Therefore to achieve that, a marketer could bid on the initial click and pay the high CPC fees. However, once the user has clicked on the ad and visited the advertiser's site, the marketer could immediately start negatively retargeting that user on Google to minimize costs. Simultaneously, the marketer could start retargeting to this user on the web through the display ad exchanges, and on social channels through Facebook and Twitter. This allows the marketer to achieve a significant increase in reach and frequency, and stay top-of mind with the potential of customers while doing so most cost effectively than if the marketer had relied only on the search.

By taking the insights from each of these channels and combining their impacts, the marketers can get a complete overview of who their potential customers are and how they're interacting across all of their marketing campaigns, in order to drive increased returns. Retargeting is a powerful branding and conversion optimization tool, but it works best if it's part of a larger digital strategy. Retargeting works best in conjunction with inbound and outbound marketing or demand generation. Strategies involving content marketing, AdWords, and targeted display are awesome for driving traffic, but they don't help with conversion optimization. Conversely, retargeting can help increase conversions, but it can't drive people to your site. Hence the best chance of success is combining one or more tools to drive traffic and retargeting to get the most out of that traffic.