Known for being one of the most prolific markets for market giants like Apple Inc. (NASDAQ:AAPL), Samsung Electronics Co. Ltd. (KRX:005935 ), Nokia, India is witnessing the growth at a pace making it one of the fastest growing smartphone market in the world. A recent report that took a closer look on Android users in India, released by Opera Software called 'Opera Software's State of the Android Mobile Web report' revealed that The Opera Mini user base in India has increased by 25% over the past year. Its smartphone user base has surged by 120%, report stated. 47% of all its users have migrated to smartphones. Android smartphones, with their affordability standards, are leading the graph with its user base increase of astounding 160%.
"Opera Mini's basic phone users are upgrading to Android smartphones at a pace we haven't experienced before," says Sunil Kamath, Vice President for South Asia at Opera Software.
With prices as low as low as 2K, Android is turning out to be consumers best bet
No wonder market giants like Apple, Samsung etc have had a monopolistic control over the smartphone market for long, but certainly "non-so-well established" manufacturers are putting up a good fight with the big guns. With their state-of-art features, highly affordable prices, irresistible designs, they have become the best bet for consumers. We have previously covered this promising sector of under 20K smartphones. At a time when Apple's new iPhone 6 Plus has taken its price tag comparable to MacBoook Air, it will be interesting to see the shift in consumer preferences in coming years.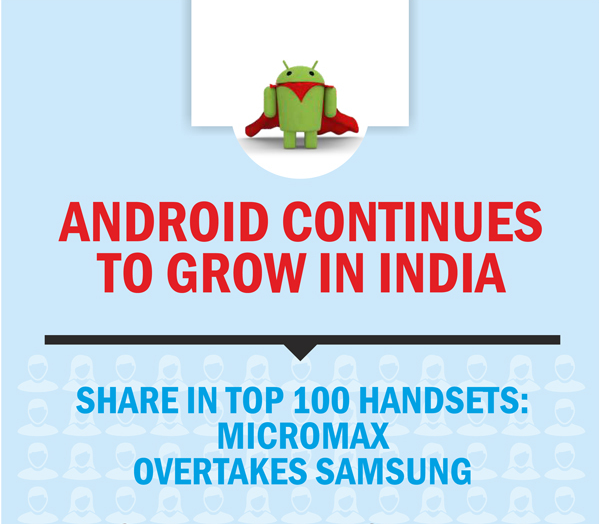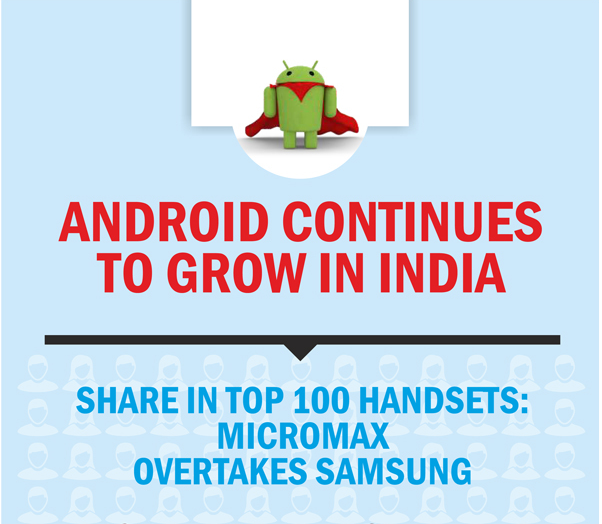 The latest report from Opera highlights few keytrends that are defining and describe market shifts and help to visualize the smartphone market scenario in India in coming years:
On Opera Network, homegrown Micromax enjoys the largest chunk of the smartphone pie with a 30% market share, followed by Samsung (25%). However, Samsung beats Micromax with distinctive margin in data consumption on a smartphone. Samsung users consumed nearly 56% of data on Opera Network as compared to just 21% by Micromax users. This clearly indicates that the majority of Micromax smartphone users are still confined to basic features of Smartphone and are first time smartphone users.
On Opera Network, Facebook is the most popular website, which is driving the growth of mobile data consumption. Around 70% of users to Opera Mini come from Facebook. The finding depicts that social media, especially Facebook, is the main reason behind the growing adoption of mobile internet in India.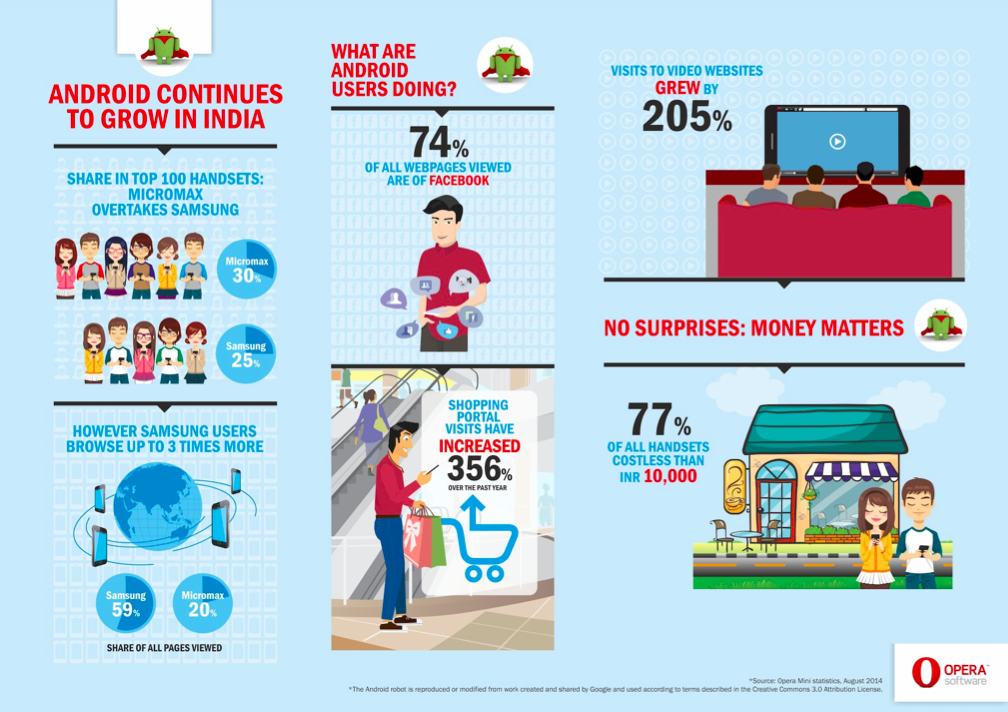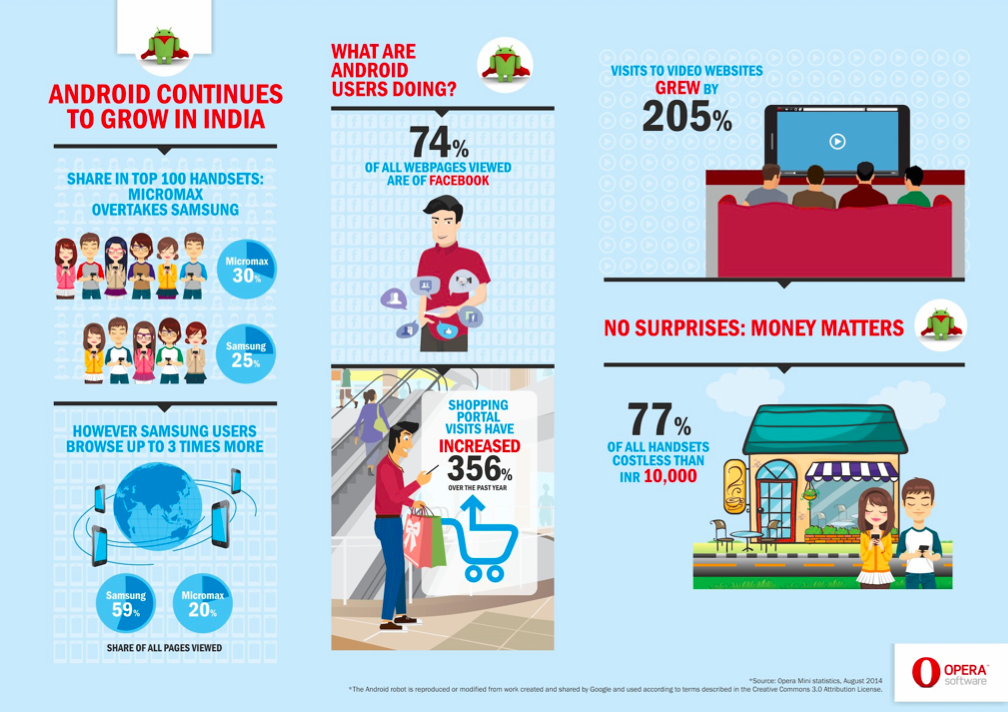 Mobile shopping is witnessing an unprecedented growth in India, as recorded by the Opera report. Number of user visits surged by 356% in last one year, Flipkart being the most popular among Opera Mini users.
The consumption of video on mobile is on the rise in India, as recorded by Opera. The video consumption on Opera Mini grew by 205% in the last one year. YouTube remains the most popular video sharing network, followed by DailyMotion and MetaCafe, registering an impressive growth in its users on Opera Mini by 175%, 450% and 205%, respectively.
With 7.9 % growth in internet user base, Android is making best use of the growing demand
Worldwide internet user base is growing at the rate of 7.9 %. Right behind China and United States, India is the quickest-expanding smartphone globally, according to Britain-based consultancy Canalys. "India is a market that offers huge potential as hundreds of millions of users have yet to upgrade", said Jessica Kwee, an analyst at Canalys. With a population of 1.25 billion, 9.58% of share in world's internet users and projected annual smartphone sales growth of around 40 per cent for the next five years, India is providing promising figures encouraging global brands to turn to Indian markets to increase profit.
Micromax,

Karbonn

and Xolo lead the competition at the low-end spectrum of the market
Intex cloud FX—at Rs. 1999 is the latest entry into India's cheap smartphone market. This smartphone of Caifornia based Mozilla joined hands with Indian phone-maker Intex to join the league of brands competing to lure consumers with their prices. Firefox-powered Spice Fire One Mi-FX 1 for Rs. 2,299 is the closest rival in the market. Some of the around 10K smartphones, which are user's favourite have been compiled as under:
Micromax Canvas Fun A6: Priced around Rs.5,000, this smartphone with 4-inch display with an internal memory of 4GB runs on Android 4.2. It provides 2G, 3G,Wi-Fi facilities.
Xolo A500S Lit: This dual sim phone powered by dual-core 1.3 GHz Cortex-A7 processor and 512MB RAM, id priced around Rs. 5000. Running on Android 4.4 it offers 2G, 3G,WiFi facilities.
Intex Aqua Y2: Supporting dual sim cards, display of 4-Inch, it runs on Android 4.2. Available at Rs. 4,700, one can access internet facilities through 3G and WiFi.
Celkon A35K Campus: Powered by 1 GHz single core processor and 256 MB Ram, it runs on KitKat-the latest Android version Available at around Rs. 3,600, it offers 2G, 3G and Wi-Fi facilities.
Karbon Smart A11 Star: Run on Android 4.0 ( Ice Cream Sandwich) this smartphone with 4-Inch display is available at around Rs.4,500. It provides 2G, 3G, Bluetooth for connectivity
Spice Mi-436 Stellar Glamour: Priced at around Rs.5000, this dual sim phone with 4-inch display is powered by 1.2 GHz Cortex-A7 processor and runs on Android4.2 ( Jelly Bean)
The list of affordable smartphones at affordable prices is unending. Even market giants like Samsung and Nokia do not lag behind, Samsung Galaxy Star, Nokia Asha are a simple addition to the list. Lately Nokia X, Nokia XL also targeted this spectrum with its low prices.
Android One: Google's latest attempt to hit the lower spectrum!
Android One is a Google Inc. (NASDAQ:GOOGL) programme where it is partnering with local smartphone manufacturers to create "high-quality" but low-cost Android smartphone.
Partnering with Micromax, Spice and Karbonn, Android One is Google's latest attempt to cater to the growing demand of cheaper smartphones is yet to see the responses. However, the bigger question is whether the existing rivals Motorola Moto E (Rs. 6,999) and Xioami's Redmi 1S (Rs.5,999) have something to worry about? These two low-cost smartphones have become an instant hit in the market. Running on the latest version of Android (4.4 KitKat), this dual sim phone has a micro SD card, quad-core processor and front/rear camera; a feature that can make anyone grab a hand on it.
Whatever may be future, With Android One it seems Google wants to rest back the control of the Android ecosystem from its long time rivals like Samsung, Sony, and LG.
For the ones already geared up to buy the new Android One smartphones, it's right there at Flipkart!