Google Inc. (NASDAQ:GOOGL) recently kicked off its Android One initiative from India. While many analysts see the new initiative as a possible threat to dominant players likes of Samsung, of Smartphone Industry, here is an analysis why this would turn out to be a Win-Win situation for all smartphone vendors and users both.
Smartphones have penetrated into the lives of majority of population in developed markets like US, Europe and East Asia countries like Japan and Korea. According to IDC, global smartphone shipments is set to pass the 1.2 billion mark and most of this growth would lie in developing markets like China, Indian subcontinent, South-East Asia, African countries and Latin America. According to the another report by Ericsson, smartphone market is bound to reach around 5.6 billion units by 2019 and Asia Pacific is expected to capture almost half of this market.
Unlike developed nations, a majority of smartphone buyers in these markets would be price conscious. It was pretty obvious that every smartphone platform maker will focus in markets like these for further growth but Google had to make sure that it focussed the right kind of users, the price conscious ones, especially the $100-$200 price bracket.

According to the latest numbers from Strategy Analytics, Google already owns 84.6 percent of the smartphone market and it is hungry for more. When Google introduced the Android One initiative for the first time during Google I/O 2014, everyone knew that it was Google's next big step in extending their already existing lead in smartphone market share. After US and China, India is the biggest smartphone market in the world. Even though it largely controls the development of Android, due to its open nature, Google had already lost its control over Android in China due to some strict regulations against their services by the local government. Google didn't want to lose the Indian market, which reportedly has a potential to be a smartphone market bigger than China by 2016.

It had learnt its lessons from the Nexus initiative that proper distribution and sales channel are necessary for its success. Android One was all about reach for Google so this time, it launched the Android One in collaboration with multiple device vendors. The Android One first launched in India in collaboration with some of the top local smartphone brands; Micromax, Karbonn and Spice.
How is Android One beneficial for end users?
Earlier, when a consumer who wanted to jump from a feature to a smartphone would just want the presence of Android in the device but now, smartphone users have matured enough to understand the presence of the latest version of operating system as well as the importance of further software updates. One of the major selling points about Android One would be Google's promise about providing the latest version of Android for 2 years from its release.

With a price tag of around just $100, all Android One smartphones are either a match to competing devices or better than them. Even though Xiaomi is providing better hardware specifications at a similar price tag, it is to be noted that Xiaomi is able to provide a very limited number of devices to consumers and they might never outsell Android One devices. Android One devices will be available on all major online as well as offline stores. Google has already worked with MediaTek to fine-tune the user experience on Android One smartphones. Even Qualcomm is expected to provide their SoCs for the next batch of Android One smartphones. As such, Android One devices don't offer much better hardware than its competitors, but what it offers users is the trust on Android.
Android One

Xiaomi

Redmi 1S
Asus Zenfone 4 A400CG
Nokia Lumia 530 Dual SIM
Screen
4.5-inch, 854 x 480 pixels
4.7-inch, 1280 x 720 pixels
4-inch, 800 x 480 pixels
4.3-inch, 854 x 480 pixels
Operating System
Android 4.4.4 KitKat (Upgradeable To Android L)
Android 4.4.4 KitKat (MIUI v5

.

0)
Android 4.3 Jelly Bean (Upgradeable To Android 4.4.4 KitKat)
Windows Phone 8.1
Processor
1.3GHz quad-core MediaTek MT6583
1.6GHz quad-core Qualcomm Snapdragon 400
1.2GHz dual-core Intel Atom Z2520
1.2GHz quad-core Qualcomm Snapdragon 200
RAM
1GB
1GB
1GB
512MB
Storage
4GB,

microSD

card slot
8GB,

microSD

card slot
8GB,

microSD

card slot
4GB,

microSD

card slot
Primary Camera
5MP, AF, Flash, 1080p Video Recording
8MP, AF, Flash, 1080p Video Recording
5MP, AF, 1080p Video Recording
5MP, 480p Video Recording
Secondary Camera
2MP
1.6MP
VGA
Not Present
Connectivity
Dual SIM, 3G,

Wi

-Fi b/g/n, Bluetooth v4

.

0
Dual SIM, 3G,

Wi

-Fi b/g/n, Bluetooth v4

.

0
Dual SIM, 3G,

Wi

-Fi b/g/n, Bluetooth v4

.

0
Dual SIM, 3G,

Wi

-Fi b/g/n, Bluetooth v4

.

0
Sensors
Proximity, Light, Gyro, Compass, GPS
Proximity, Light, Gyro, Compass, GPS
Proximity, Light, Compass, GPS
Proximity, Light, Gyro, Compass, GPS
Battery
1700

mAh

2000

mAh

1600

mAh

1430

mAh

Price
INR 6,299
INR 5,999
INR 5,999
INR 6,398
Android One accelerates sales from local smartphone brands
Google has already decided a reference hardware platform for all the Android One devices, so vendors are restrained from investing their time, effort and money in deciding the components or OEMs that are needed in manufacturing these devices. They only need to spend their effort in optimising their distribution as well as sales channel, thereby improving the time it needs to bring a device to store shelves.
Apart from this, it would be a first incident where Google will be co-branding Android devices. Google is going big on the advertising front for Android One smartphones. When a consumer watches a TV or print advertisement about Android One device where Google is actively promoting products, it increases the credibility factor of those devices in a consumer's mind. It brings a sense of trust which they would not have otherwise. A joint marketing efforts from Google means increased awareness about Android One which in turn means more sales.

Also, due to increased credibility, local brands who are participating in the Android One initiative would be able to fend off their Android competitors from China such as Xiaomi as well as devices based on other platforms such as Windows Phone, Firefox and Tizen.
What's in it for Google?
One thing which allowed Google a huge marketshare lead over other platforms is the availability of Android devices at various price points. But these devices weren't without their problems. Thanks to low-end hardware and expectation of lower revenue, smartphone vendors did not spend much of time and money in optimising the software. This usually results in less than satisfying user experience of entry-level Android smartphones. According to the latest numbers from Google itself, only 24.5 percent of Android users are using the latest version of software. This creates an inception among low-end Android smartphones users that Android  doesn't satisfying user experience and software updates. Android One would greatly enhance a consumer's respect for entry-level Android smartphones.
Google has also promised Android L updates to Android One smartphones as soon as it gets released publicly. Not only this helps Google in stopping vendors in forking Android, it also becomes easier for Google to keep competing smartphone platforms like Windows Phone and Firefox at bay.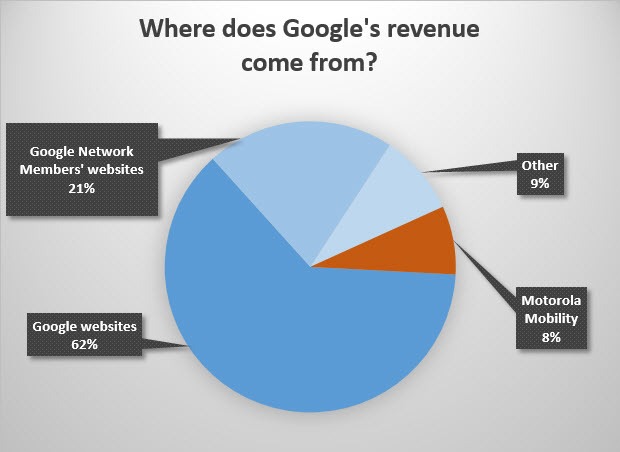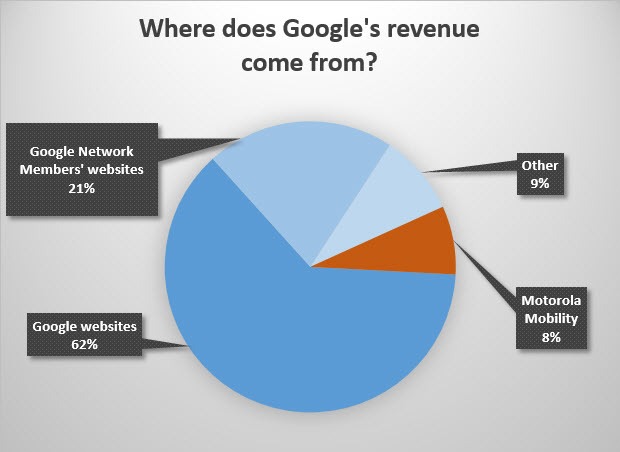 A majority of Google's revenue comes from its search business and the more number of users use Google Search, the more revenue it gets. People are increasingly moving away from desktop to mobile. It is expected that Google will work with local content providers and services, making Android One smartphones a part of people's lives. This increased market share means more clients for Google who would like to advertise on their platform. Google will be investing heavily in tying up with telecom providers to improve data connection speeds in order to make Android One buyers use Internet on a regular basis, which is a part of its "rain maker strategy".
"Access for access's sake is not enough. With Android One, we not only want to help people get online, we want to make sure that when they get there, they can tap into the wealth of information and knowledge the web holds for everyone." – Sundar Pichai, Head Of Android & Google Chrome.
In Google's official blog, Sundar Pichai explains that with Android One, their motto is to capture "the next five billion". This would not only increase Google's search market share and revenue from it, it also increases their revenue through Play Store. Play Store recently beat Apple's AppStore in terms of app downloads but not in revenue. According to a report from RadioFreeMobile, Google Play Store will beat Apple AppStore in revenue by 2018 and a large part of its reason would be Android One. In developing nations, where Android One will be launched, majority of people do not have credit cards to buy apps from the Play Store. So, Google is in talks with major telecom providers such as Bharti Airtel for carrier billing.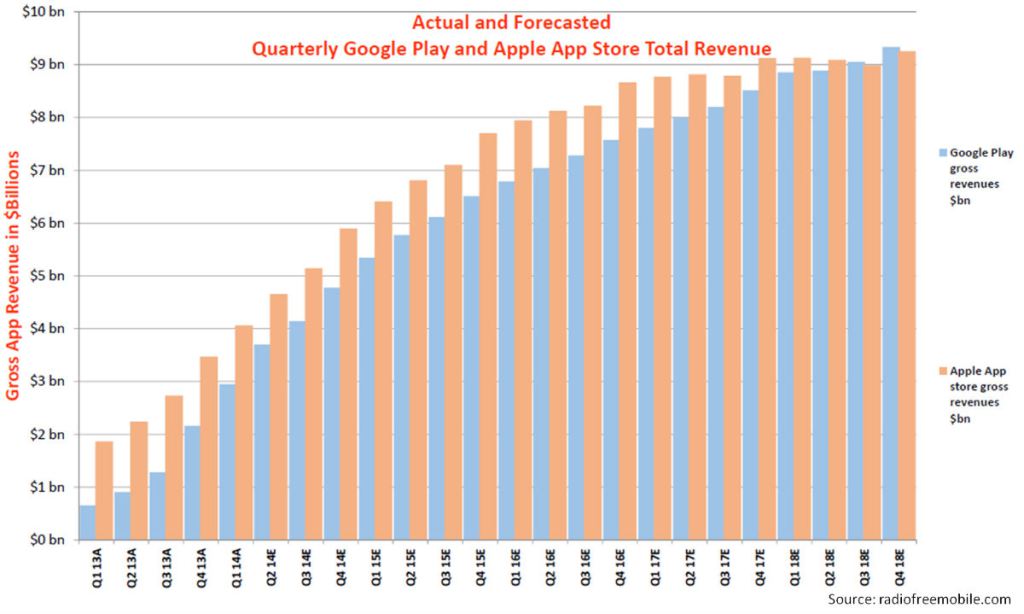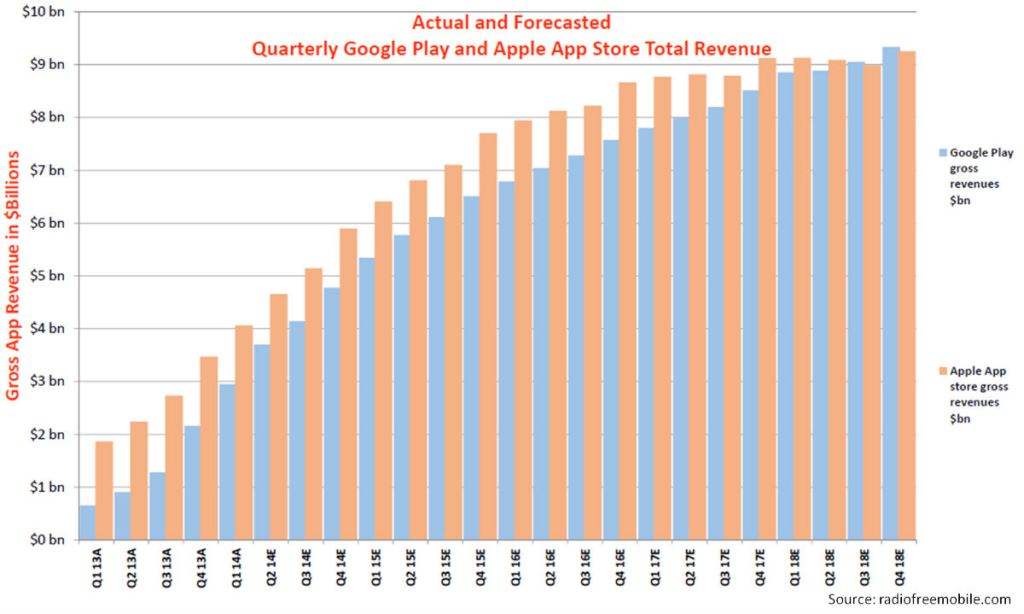 This is how Google's idea of Android One will turn into a win-win opportunity for everyone, be it the end consumers, device vendors, telecom providers or Google itself.