The iPhone 6 and iPhone 6 Plus are officially out in the market to grab starting from today and as usual people are going crazy to grab the successors of iPhone 5S. However, one of the biggest challenges for iPhone owners remains the repair of iPhone in case of any damage. We all know that getting the iPhone repaired is not only a costly affair, but also a complicated job due to the complex structure and expensive components lie under the hood.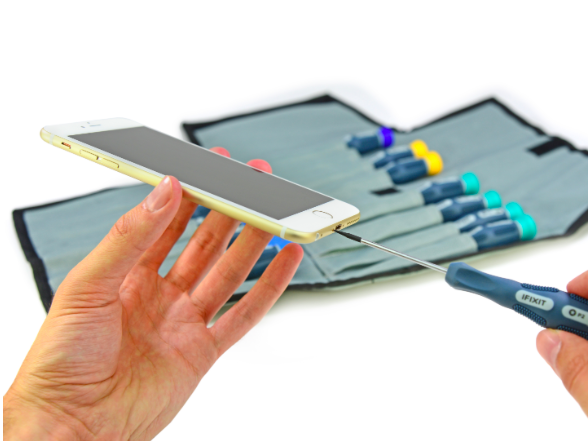 As the iPhone 6 is already out, it's time for folks at iFixit to peep inside the iPhone 6 and iPhone 6 Plus to understand the manufacturing complexity and expose the commendable job done by Apple engineers. And, the verdict is finally out; both Apple iPhone 6 and iPhone 6 Plus are designed in a manner that provides a greater level of flexibility and repairability for users. The screen of iPhone 6 and iPhone 6 is easy to remove and replace, as it has been prone to break in the past. The battery is much more straightforward accessible and exposed and could be replaced without much of efforts now. Apple has also rearranged the fingerprint wires towards the upside as it used to be the biggest obstacle and porn to damage while opening the device during the repair.
iFixit has given seven points to iPhone 6 and iPhone 6 Plus on the scale of one to 10 in terms of repairability.
But iFixit also tried to explore more about the components installed inside the Apple iPhone 6 and iPhone 6 Plus. It reveals the much discussed secret of RAM and found that iPhone 6 Plus sports 1 GB of RAM while, they failed to find it out in iPhone 6. However, its being presumes that considering the chipset and many other similar components, iPhone 6 too carries 1 GB of RAM inside the hood, but iFixit is not certain about it. This is a bit disappointing as the smartphone industry has moved above 2 GB of RAM inside smartphones and most of the smartphones of iPhone price range sport 3 GB of RAM. Anyways, the other identified components from Qualcomm, Broadcom, SanDisk (NAND flash), NXP (motion co-processor), SkyWorks and a few other manufacturers were almost the same in both the iPhones.
While we found that iPhone 6 is more repairable, an interesting incident took place meanwhile in Perth Australia. A guy named Jack, who happened to be the first person to buy iPhone 6 in the country, unintentionally and unknowingly did a drop-test of iPhone 6 within few minutes of buying right outside of the Apple Store. After grabbing iPhone 6, jack tried to open the tight packed iPhone 6 box in front of a camera, and then something strange happened that left people there stoned for a moment. Here is the complete video of Jack and his iPhone 6 unboxing: