Facebook Inc. (NASDAQ:FB)  is facing a slowdown in India as the number of monthly unique visitors declined the first time, while the rest all major social networking sites registered a growth during the same period.
Among the top 20 nations of the world in terms of the Internet population, India has the lowest web penetration of about 19%, but talking in terms of yearly growth, it is the unrivalled king accounting for 14% growth in the last one year.  At present more than 250 million people are online in this nation of 1.2 billion folks which proportionate for 8.33% of the total Internet users' in the world and hence making India an increasingly significant source of web traffic. The major contributors to this digital growth in India have been the social media platforms because a whopping 86% of Indian web users visit social networking sites and on an average spend 217 minutes daily on these networks. With no surprise, Facebook at the moment stands at the apex among the plethora of social networks prevalent in the nation and has inked India completely blue in the world map of social networks. According to a report published by eMarketer, approximately 58 million people from India visited Facebook in the month of March this year, which is almost 14 times the number of people who visited Twitter Inc. (NYSE:TWTR) in the same month.
Facebook in India alone has added 16 million users since January, 2014-that is roughly one new user every second and at present this social media giant harbour 108 million monthly active users in the country out of which 93 million visits the website through the mobile devices.  The realms of Facebook have not just been limited to the networking purpose, but it has also emerged as the most preferred avenue for checking out local enterprises and promulgating products.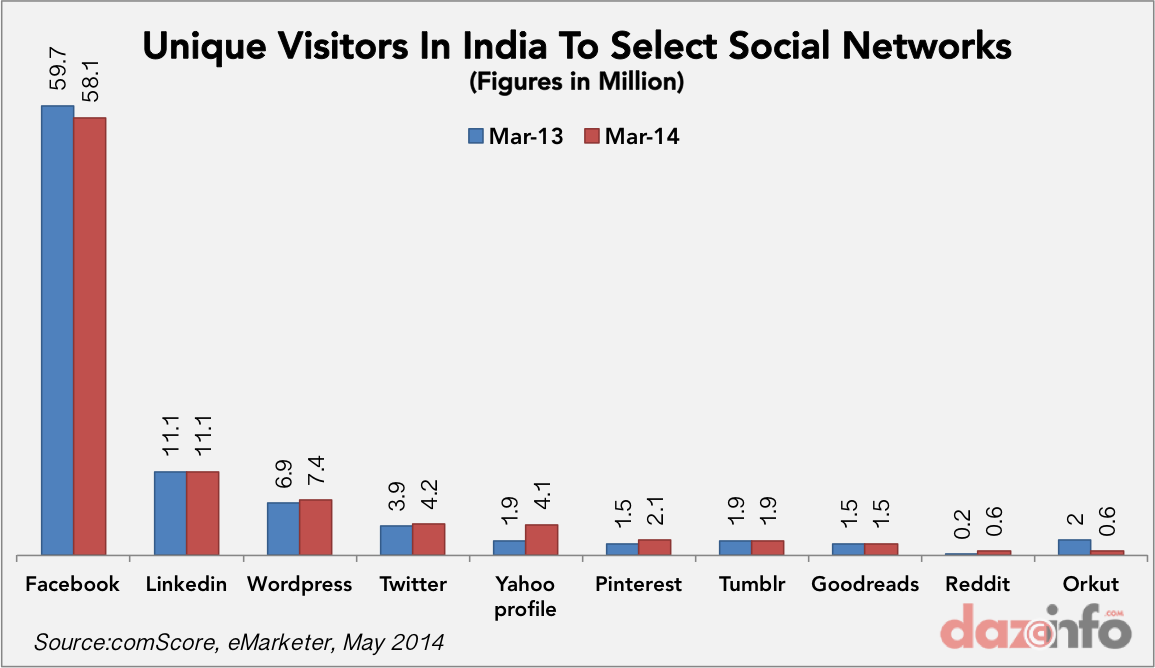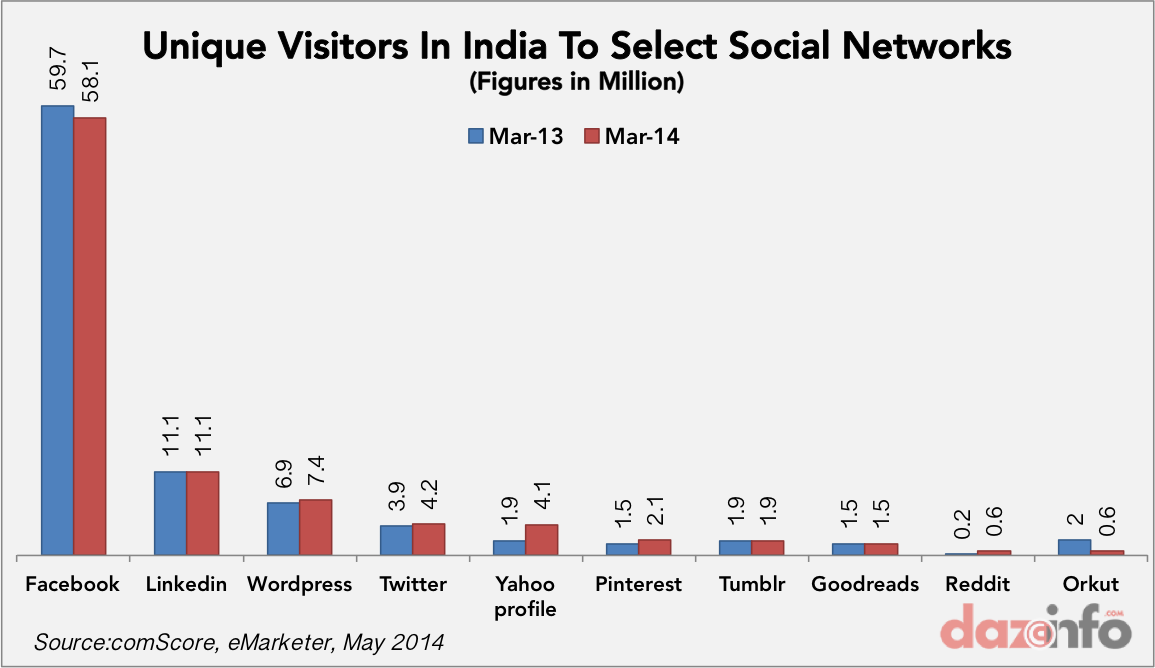 In the recent times, there has been a slight decline on Y-O-Y basis in the growth of Facebook's unique visitors in India recording a fall of 2.7% from March 2013 to March 2014 while on the other hand, the unique visitors of Twitter rose from nearly 3.9 million in 2013 to 4.2 million in 2014 accounting for a Y-O-Y growth of 8.7%. The other leaders of this social media segment also recorded a positive growth in their Indian visitors with Pinterest climbing up from 1.5 million visitors to 2.1 million (+38.8% Y-O-Y) and Yahoo profile upsurging to 4.1 million from 1.9 million (+110.8% Y-O-Y). LinkedIn Corp (NYSE:LNKD) in the list of Indian social platforms ranked second but did not witness a growth in its visitors with 11.1 million users and the most popular social giant of 1990's-Orkut continued its trend of plummet (-71.8% Y-O-Y).
Though these numbers are almost six months old, due to the absence of any official figures of these social networks make this comparative analysis more valuable to understand the growth, presence and internet users' engagement. Besides, the analysis also showcases the growing/declining monthly engagement of internet users in India on specified networks.
India has proved to be a promising market for the mobile messaging apps as well. Although these apps yet lag behind in terms of popularity in the country as compared to many other south Indian nations, their huge potential in the coming times to supersede the traditional social media platforms cannot be denied. Illustrating their impact; WhatsApp in 2014 accounted for more than 50 million users in India, which is 10% of its global user base. Other prominent international brands in this category like LINE and Viber are also bridging into the Indian markets along with domestic brands like Hike which in a span of just two years has acquired 15 million users although all of them are not from India.
The launch of Android One program by Google to acquire the large Indian mobile market with its cheap range of mobile phones is expected to benefit its frenemy Facebook also in the same ratio and hence can prove to be a driving factor in bringing back the positive growth of Facebook. Also, Facebook's second quarter of 2014 accounted for more than 60% of revenues by mobile ads and Google's earning was just limited to 12% by mobile ads in this quarter, but this disparity is expected to decline in the coming quarters with this new Android's game changer in the Indian markets.
At present Internet accounts for 1.6% of GDP share of India yielding $30 billion, but this percentage is extremely poor as compared to other developing nations of the world. The dominant reason for this staggering is the country's poor Internet infrastructure and according to the Q1 2014 State of internet report by Akamai Technologies, India continues to have the slowest average Internet speed among all the countries in the Asia Pacific region. The average Internet speed in India was deduced to be 1.7b Mbps in this quarter after an increase of 8.4% from the previous quarter and at the moment India stands at the 117 spot globally in the ranking of average broadband speed.  This has adversely affected the social media penetration in the country too and despite being Facebook's second largest market globally, the social media penetralia in India remains at just 8%.