India has already been recognised as the worlds's fastest growing smartphone market, and is now proving to be a huge gold-mine for advertisers as well. Mobile advertising volume in India has grown the fastest in the world since July 2013 by 260%, and is also the fastest growing region in Asia-Pacific with 70% year over year growth. In a report by Opera Mediaworks titled State of mobile Advertising, the recent ad-spike in India is attributed to the market place shift as users steer away from less capable feature phones to advanced smartphones.
Android Is The Dominant Smartphone OS in India
The Android platform is the leading smartphone OS in India with a mobile market share of 41.7% in July 2014, compared to 18.8% a year earlier. The exponential growth over the past year is largely due to the introduction of several low-cost Android models such as Moto G, Nokia X series and other local brands. India also has a large number of older feature phone models, which constituted 55.3% of  the market  in July 2014. It is also interesting to see that the outdated Symbian OS had a market share of 2.7% in July 2014, while that of Apple Inc. (NASDAQ:AAPL) iOS is just 0.4%.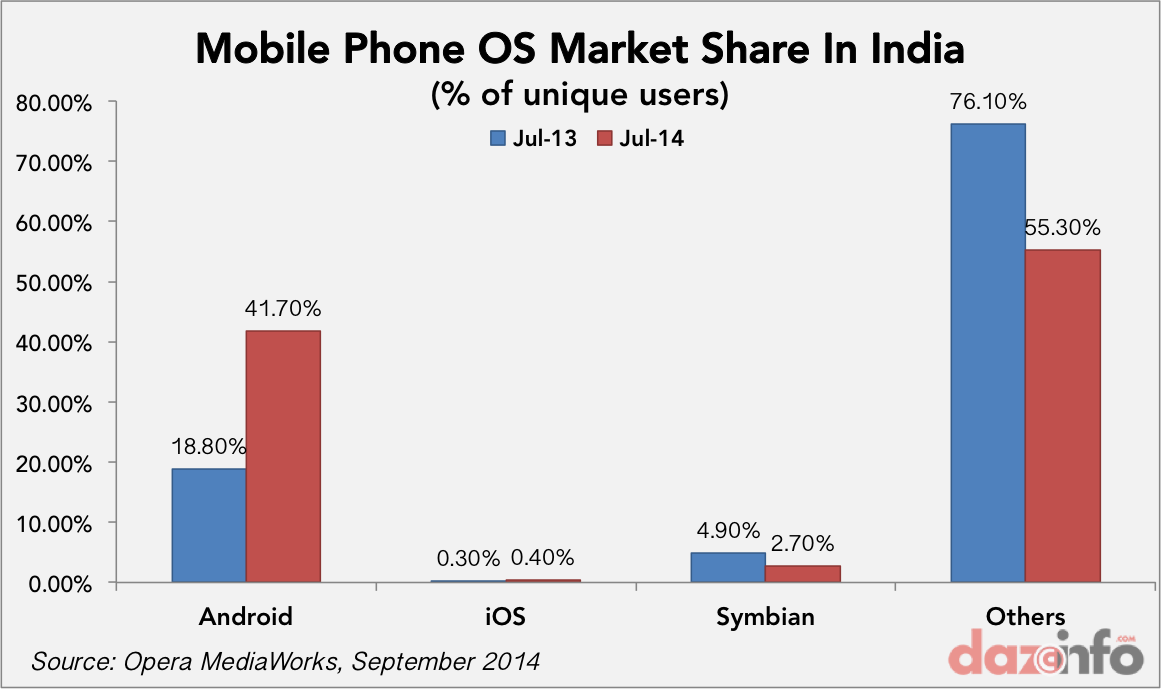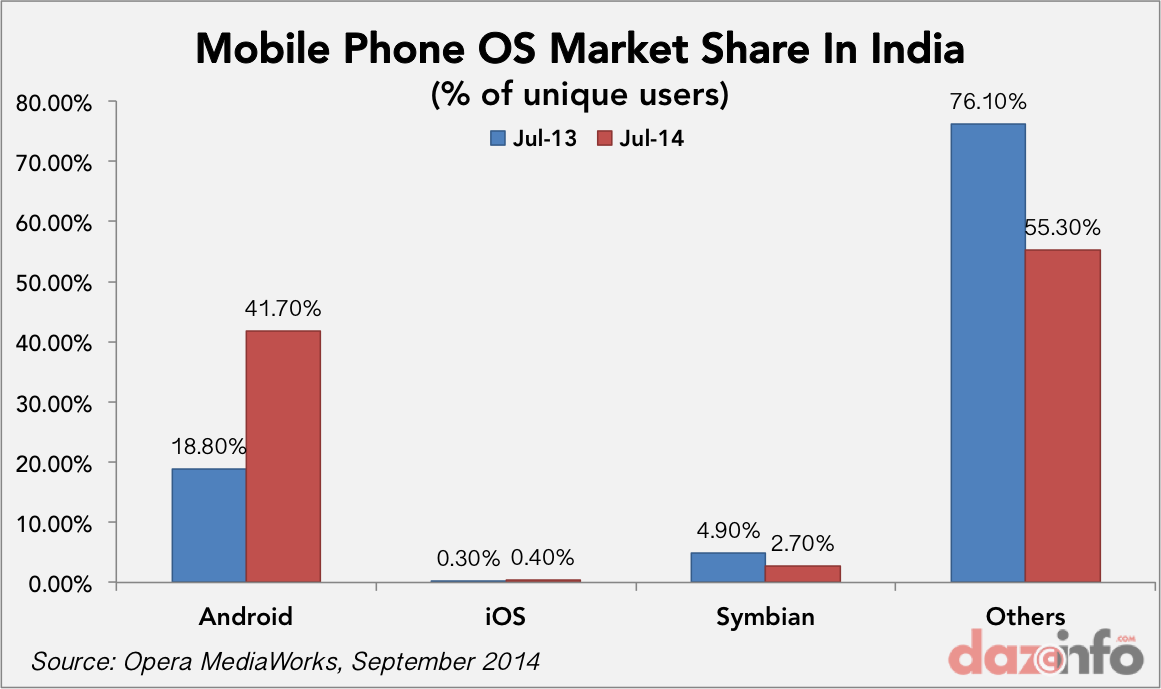 However, the market share based on the number of ad impressions served and the amount of revenue generated per click tells a different story. Android is clearly the leader  in overall ad impressions and revenue production, but Apple iOS produced 2% of total ad revenue, despite having just 0.5% of total ad impressions. Most ads are simple banners, but more advanced richer ads are emerging as a promising medium. These rich-media ads accounted for only 3.2% of impressions, but over 26% of revenues.
CEO of Opera MediaWorks Mahi De Silva, was positive on the future of the mobile opportunity in India:
"The biggest trend that we identified was really about future opportunity. Mobile users are far more interested in categories like News, entertainment, business, finance and investing than the average Indian.  Given the high monetization we've seen from these categories on a global level, it's clear that both advertisers and publishers that can deliver rich user experiences on mobile sites and apps in those categories are going to be successful in India as well. " 
State Of The Mobile Audience In India
The report also unveiled some interesting facts about the demography of mobile users in India. It was observed that the audience is predominantly young and male with 82% of the mobile audience being male. The 18-24 age -group accounts for 60% of all users and is the largest group. India's burgeoning young population is emerging as the main force driving the rapid expansion of the mobile industry.
India is also proving to be  different from other counties and regions when it comes to the top mobile site categories. Lack of trust towards app usage pushes most users towards mobile websites. Social sites and apps stores are most popular in usage, which is consistent with the overall global trend. India, however, shows a much higher usage of mobile app store sites , gaming and education oriented sites. Interestingly, usage of  music and other media streaming sites, news and information and arts and entertainment were far below the global average. Most of these apps are accessed through a mobile operator or carrier portal which is common in both Asia and Africa. 
Advertisers in India are using the mobile platform to focus on selling  games and mobile devices. Games constituted 25.5% of total ad impressions while mobile device sales constituted 22.7%. One out of every 5 ad impressions are used for classified ads such as selling of cars and bikes.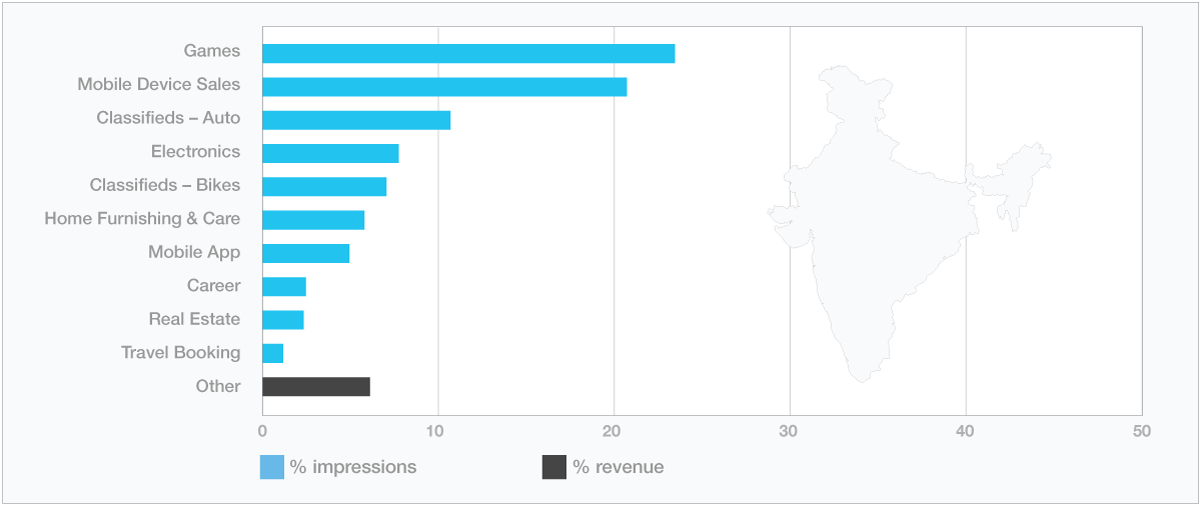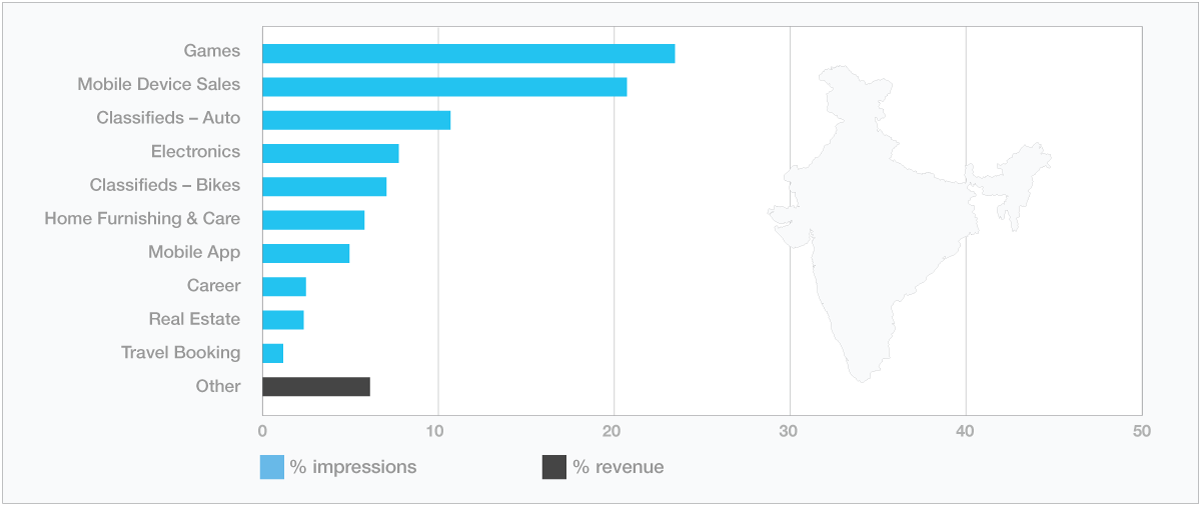 Bright Future
In

Mobile Advertising

With a total of 111 million smartphone users in India in a country of 910 million mobile subscriptions, the market is all set to grow aggressively over the next few years. The feature phone market is steadily giving way to more advanced smartphone platforms such as Android OS and Windows Phone OS. However, the country is still plagued by poor mobile bandwidth quality and lack of steady mobile infrastructure. Several smartphone models are still too expensive for most of the population.

Despite the setbacks, several smartphone OEM's In India, both national and international, have already set their sights on selling as many smartphones as possible. The emergence of smartphone vendors, like Xiaomi, Micromax, Motorola, Karbonn an Oppo, who are focused on penetrating the market with low-price-high-end smartphones, is paving a way for higher adoption of mobile advertisement. Rapid adoption of smartphone technology will in turn push the mobile advertising segment to a new high in the coming years and yield higher monetization opportunities.