India's Internet population has now exceeded 250 million and every month five million new Internet users are being added to this toll. At the present moment India stands third in the tally of maximum Internet users, but by the end of 2014 as proposed by Google India, the Internet user base of this world's second most populous country will surpass that in the US and around 500 million people would be online by 2018. Encashing this upsurging trend of the number of Internet users in India, the Digital Advertising Industry in the nation is also growing in leaps and bounds. According to a latest report published jointly by the Internet and Mobile Association of India (IAMAI) and Indian Market Research Bureau (IMRB), the online advertising market in India is expected to reach ₹ 3,575 crore (US$562.5 million) by March 2015 with a Y-o-Y growth rate of 30% and for March 2014 the Internet advertising market in India was cumulated to be ₹ 2750 crore (US$458.33 million).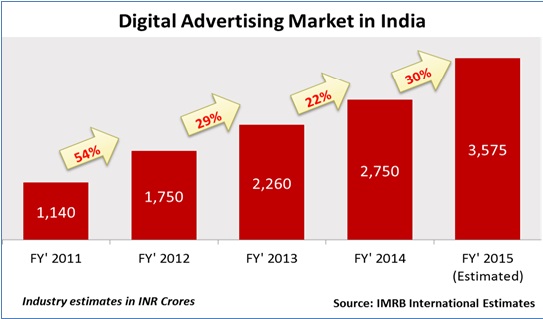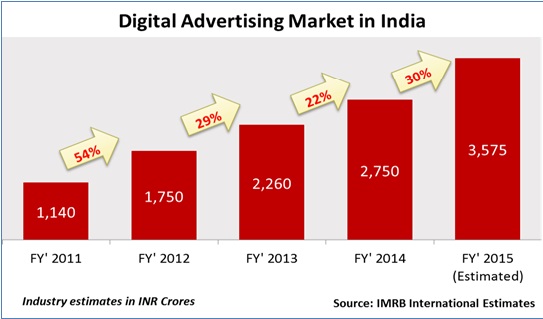 Search And Display Ads Contributes Two-Third Of Spendings
The report highlighted that in the current scenario Search and Display are the two top contributors to the total Digital Advertisement expenditure in India. Search ads accounted for 38% of the overall ad spending followed by display ads which constituted 29% and next in line was Social Media contributing 13% of the total online endorsements. India is now ranked the fourth largest audience of searchers in the world after China, US and Japan. But in 2015, this proportion of spending on search ads is expected to be narrowed down by an increase in the expenditure of emails, video and mobile advertisements. By 2015, spend on video ads is expected to grow by a Compound Annual Growth Rate (CAGR) of 56%, hence contributing 12% to the overall share of Digital Market spending. The key industry players driving the Digital Advertisement Marketing spend in India are the E-commerce, Telecom and the FMCG sector based companies. E-commerce is the fastest growing industry in India, which is expected to reach $22 billion by 2018 and so they are the leaders in terms of their digital ad-spends contributing close to 20% of the overall online ad spend in India. The percentage of digital advertisement allocation by the e-commerce industry has been growing at a CAGR of 59% since 2011 and is expected to reach ₹ 495 crore by FY 2014.
Indian telecom companies are also substantially increasing their spendings on digital advertising as their business models tip in favor of data customers. Couple of years back the online companies spent mere 5-10% of their total advertisement expenditure on the online platform, but in recent times there has been a tremendous change in this trend with some of the telecos earmarking almost 15-50% of their advertisement budgets for the digital medium with MTS being the highest digital spender(50%). Now 75% of India's total population using mobile phones, online endorsers are also focusing their attention to grab this large audience for their promulgation. Currently the percentage of digital ad spends on mobile devices is 14%, whereas on desktop PCs and laptops it accounts for 86% but this ratio is surely expected to slacken down as the growth in the number of mobile internet users has been gigantic in India with a y-o-y increase of 28%. According to the IAMAI and IMRB report Ad spends on Mobile Devices grew at a CAGR of 43% and accounted for ₹ 385 crore (US$64.16 million) in March, 2014. The digital advertisers are mainly focusing on the social network platforms to reach their target audience because a whopping 86% of Indian web users visit social networking sites and on an average spend 217 minutes on these networks. This has been the driving factor for the growth of Social Media ad spends at a CAGR of 41% y-o-y and touched ₹ 440 crore (US$73.33 million) by March, 2014. Although digital media holds a strong position in the Indian Ad segment, but with the digital media marketers expecting a 50% multi screen media spend by the year 2016, we can expect the online advertisement space overtake the traditional media in the coming 5 to 7 years.