Right from the start, fragmentation of Android has been the biggest challenge for Google Inc. (NASDAQ:GOOGL). As opposed to Apple Inc's (NASDAQ:AAPL) iOS which is known as the walled garden, Google made an almost open platform so that anyone can build anything they want in the smartphone OS and app segment. But this has turned out to be a nightmare for app developers as hundreds of new Android devices get launched every year and all of them come with various permutations and combinations of screen size, screen resolution, processors, GPUs and a varied amount of inbuilt sensors. This fragmentation is not only due to the vast amount of hardware differences, but also due to different versions of software these devices use.
The chart below shows how Android compares to iOS in terms of the device screen sizes. Samsung Electronics Co. Ltd (KRX:005930) has various Android devices on the offering starting with a screen size of 2.9 inches (Samsung Galaxy Star) to 12.1 inches (Samsung Galaxy Note Pro 12.1 Tablet). Samsung is also known to use a lot of sensors in its smartphones, especially in the flagship ones like the Galaxy S5, though they have replaced the relative humidity and the environment temperature sensors which were used in the Galaxy S4. This made some apps like WeatherSignal useless which utilised those discontinued sensors to display environment related information. This is just one such example of how app developers and even users face the issue of Android's fragmentation.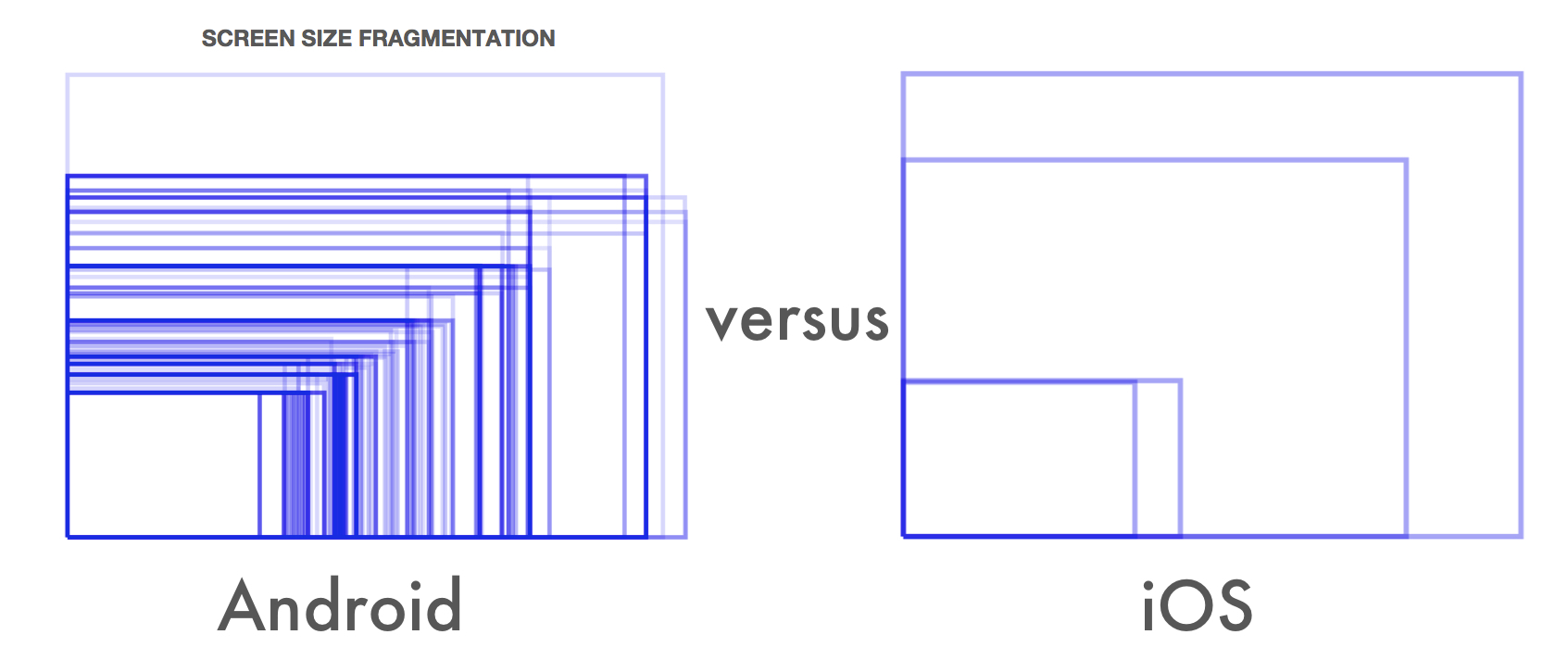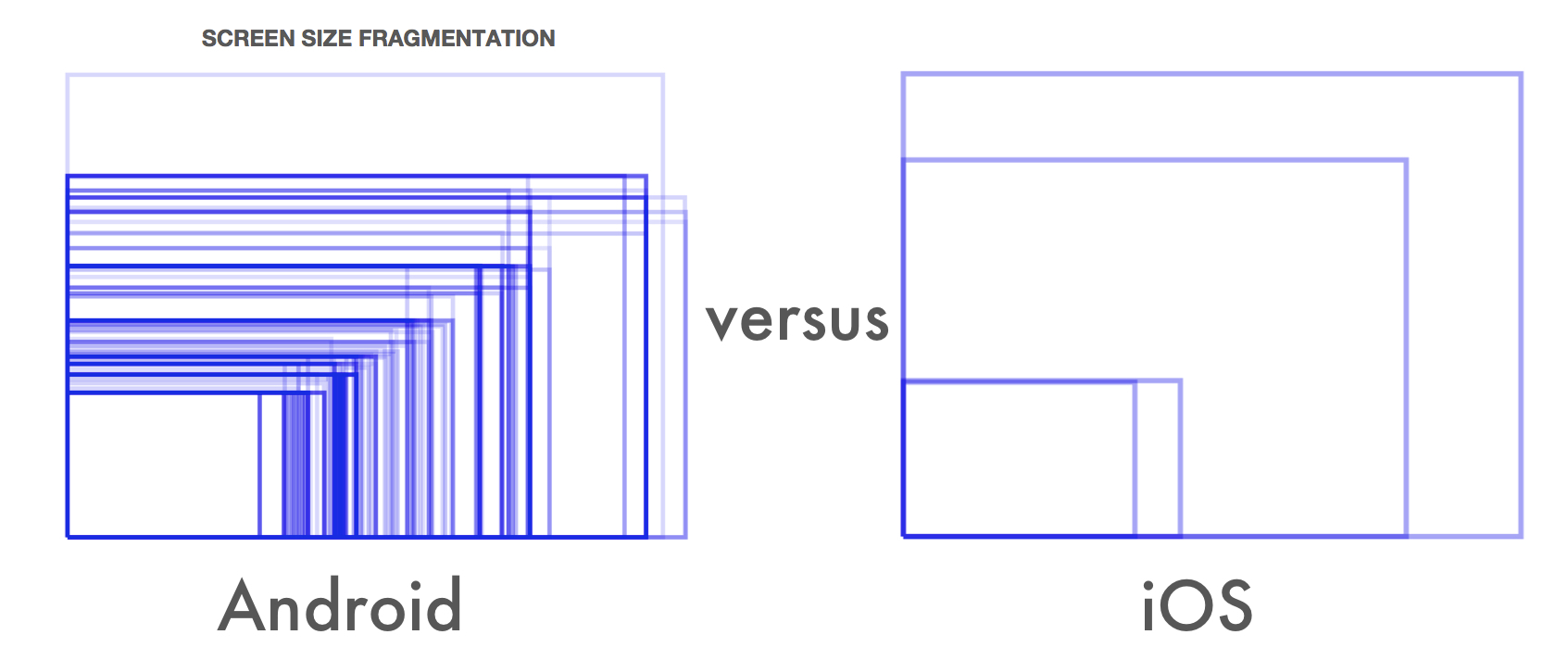 Fragmentation of Android: The most fragmented software platform in the world
According to a latest report from Open Signal which consisted of data from 18,769 different Android devices, hardware fragmentation has more than quadrupled since 2012. Samsung has made 12 of the 13 most popular Android devices, capturing around 43 percent of the Android marketshare. Even though this seems extremely large, their market share has actually dropped to 47.5 percent since last year.
According to the report, LG Electronics Inc. (KRX:066570) and Sony Corp (ADR) (NYSE:SNE) rank second and third respectively with a market share of around 4.8 percent, which shows the huge difference between the three largest Android device manufacturers. In 2013, where the top 10 Android devices captured 21 percent of the market share, this number has been reduced to just 15 percent in 2014. This becomes a great challenge for third-party app developers as they can't be sure whether their app or game will perform as expected on all of Android devices. App and game testing becomes expensive, time consuming and tedious as developers can have access to only a handful of devices to test their apps on, limiting the quality of those apps.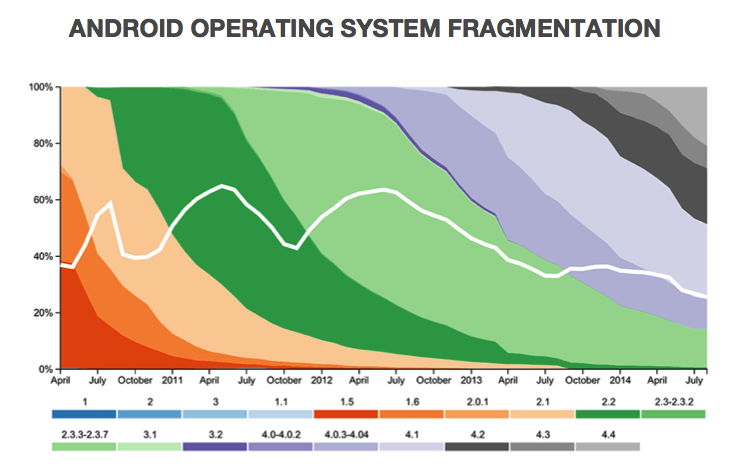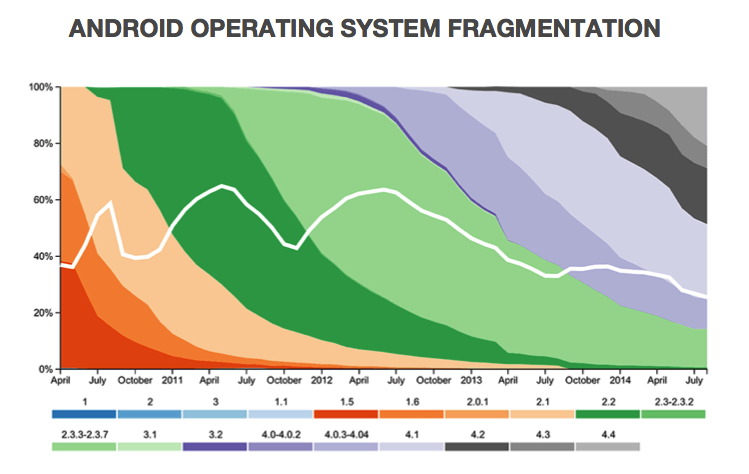 On top of that, these devices come with various versions of Android. Even though Google has made it a necessity to include the latest version of Android on all the newly released devices, we can still see some brands releasing phones with one or two version older software. Even big name brand like ASUSTEK Computer Inc. (TPE:2357) has recently released three new smartphones; the Zenfone 4, Zenfone 5 and Zenfone 6 in the Indian market with Android 4.3 Jelly Bean pre-installed on it. The above chart showcases fragmentation of Android's software versions across the timeline of over four years. Android KitKat was released almost a year ago but still, Android v 2.3 Gingerbread has almost 20 percent market share.
Not only that, there are some brands which are releasing smartphones, tablets and other smart devices based on forked version of Android, further fragmenting the ecosystem. Amazon.com, Inc. (NASDAQ:AMZN) has come up with smartphones, tablets and even smart TV box with Kindle Fire OS – a forked version of Android. Even Nokia Corporation (ADR) (NYSE:NOK) came up with Nokia X Platform for their first Android smartphones before being sold to Microsoft. Similarly, Chinese brands like Xiaomi, OPPO, Meizu and Gionee ship their smartphones with forked Android, each one with a different fork. Unlike other smartphone brands who provide the latest version of Android to their flagship devices at least, Gionee didn't bother to maintain the minimum market requirement. The Gionee Elife E7 is still stuck at Android 4.2 Jelly Bean even though its hardware is perfectly supportive and optimised to run the latest version of Android on it. The problem seems to be with their custom camera stack, which is creating problems with Android 4.4 KitKat.


As opposed to the 
Android ecosystem
where only 20.9 percent of devices are running the latest Android 4.4 KitKat, almost 91 percent of
iOS
devices
are running
the latest
iOS
8. Even Microsoft Corporation 
(
NASDAQ

:

MSFT
) 
has provided the latest Windows Phone 8.1 update to all the devices which were launched with Windows Phone 8, except for the HTC 8S for some strange reason.
Should Google try to contain Android's fragmentation?
Google is trying to contain the fragmentation issue by a number of strategies, including making a pack with top manufacturers to provide the latest software for their devices till 18 months after their release (provided that the hardware supports it), bringing a mandate to release new devices with the latest operating system and even initiatives like Android One. Along with Android L, Google has also announced Android Wear for wearable devices, Android Auto for in-car infotainment systems and Android TV for home entertainment products. Unlike the normal version of Android, Android Wear, Android Auto and Android TV have a completely closed nature and manufacturers aren't allowed to tinker with the software.
When Microsoft laid out their new Windows Phone platform before the world, they promised that its users and developers won't face the fragmentation issue which was prevalent in Android. But even after four years of its release, Windows Phone has failed to capture double digit smartphone market share. This is partly because the platform was too slow and closed for brands to experiment with and couldn't reach all the price points and capabilities to have a maximum reach and exposure in the market. This explains that the issue of fragmentation isn't as big as it is being portrayed.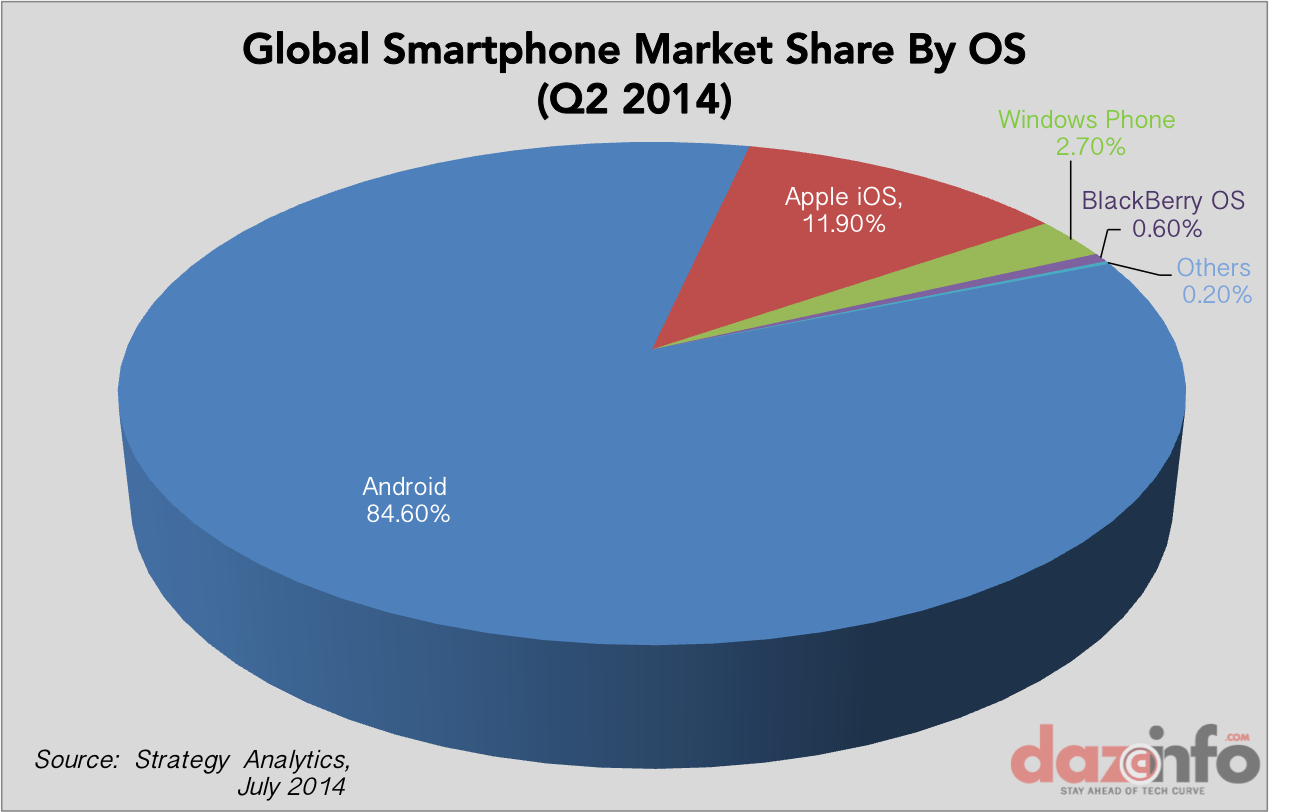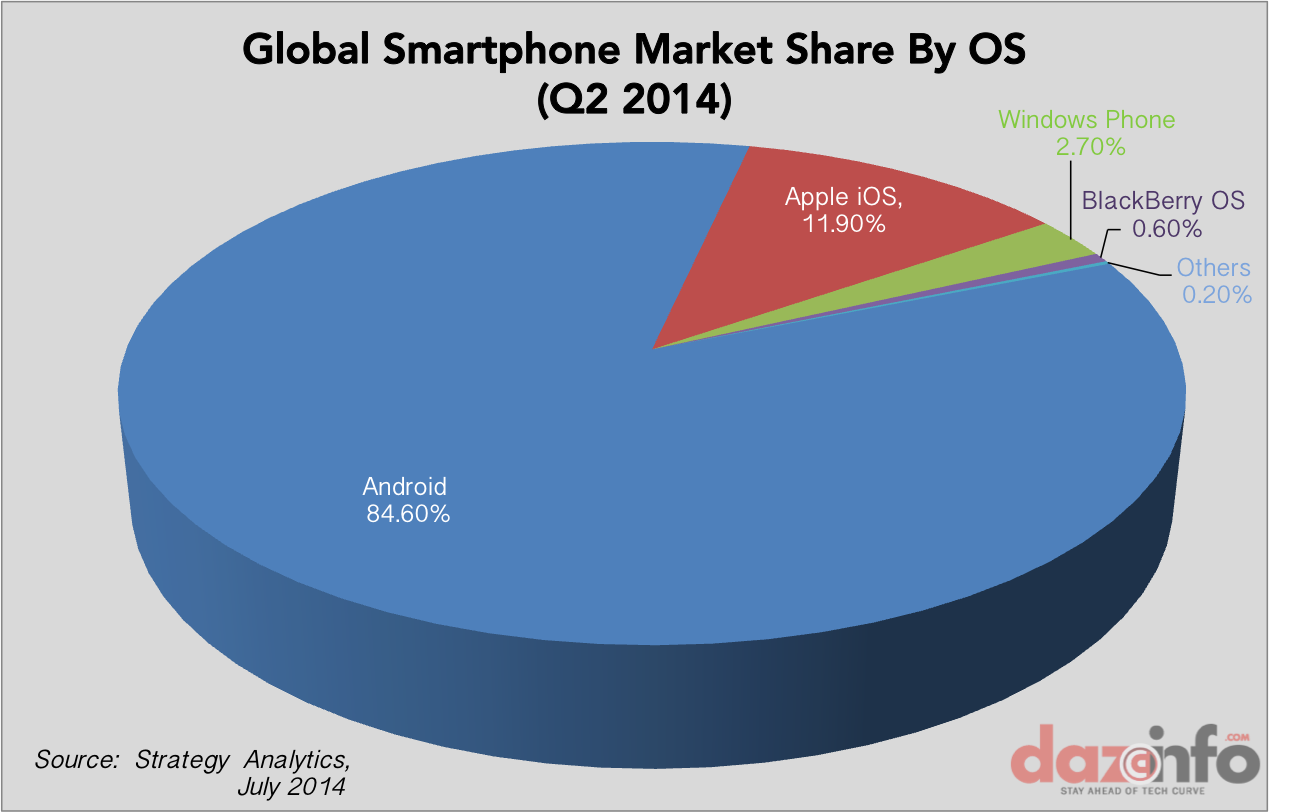 Android's fragmentation issue turned out to be both a curse, and a boon for the Android ecosystem. Even though the fragmentation is a headache for developers, it also provides the kind of global reach which other competing platforms like iOS and Windows Phone can't provide, ever. This is the reason why Android has been able to capture around 85 percent market share in the second quarter of 2014, while iOS and Windows Phone have been limited to just 11.9 percent and 2.7 percent smartphone market share respectively.