The exploded growth in smartphone industry has helped worldwide smartphone shipment to achieve a new milestone; first time in the history, Smartphone shipments crossed 300 million mark in Q2 2014, totaling 301.3 million units. While Samsung and Android played a key role in this growth, sub-400 price smartphones fueled the demand, which resulted in 25.2% industry growth as compared to the Q2, 2013, according to the latest data from IDC.
Worldwide Smartphone Shipments Q2 2014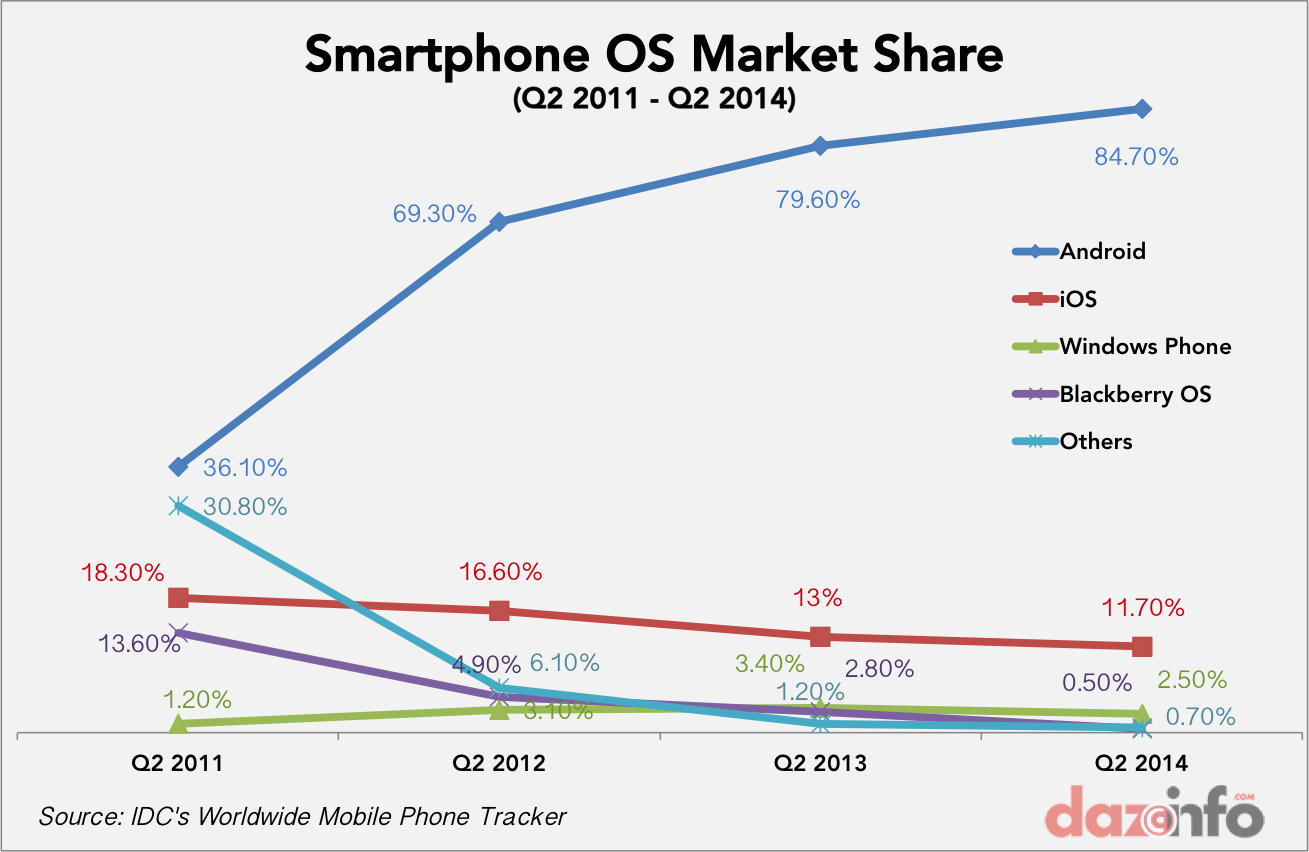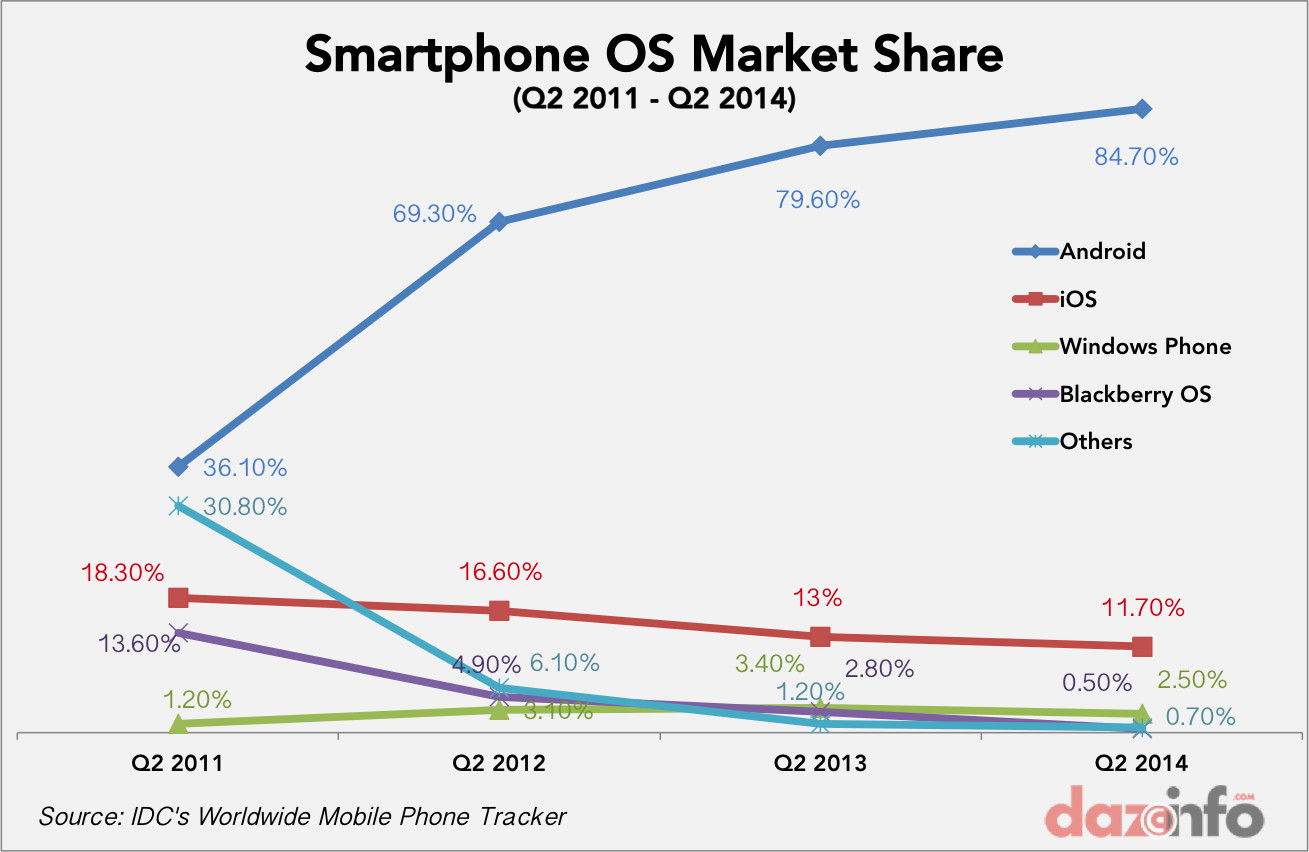 Two leading smartphone operating systems (OS) Android and iOS, together, captured 96.4% of the smartphone OS market, leaving almost no room for other operating systems. 255.3 million Android-powered smartphones were shipped in Q2 2014, resulted in a 33.3% yearly growth. The growth of the Android OS is commendable, as the OS has nearly doubled its market share in just three years. Meanwhile, iOS also closed the quarter on the positive year growth of 12.7%, despite the fact that Apple didn't introduce any new iPhone during the first half of the year. In Q2, 2014 Apple shipped 35.2 million iPhone, capturing 11.7% of the smartphone market. The growth of Apple iOS and Android both came at the cost of all the other smartphone operating systems, whose market share declined during the same period.
The growth of smartphone in Q2 2014 was reportedly driven by low-end and mid-range smartphones who controlled nearly 73% of the shipments. 216.25 million units of smartphones that were shipped during the second quarter of 2014 were price tagged with $400 or less. Interestingly, smartphones with less than $200 in price emerged as the main drivers of this growth. Nearly 51% of smartphones, shipped during the Q2 2014, belong to sub-200 USD price category. Three out of every Android and Windows Phone OS smartphones shipped in the quarter fall under USD 200-price category, while mid-price segment smartphones, priced between US$ 200 and US$400, captured 21.52%, 15.4% and 24.90% of Android, iOS and Windows OS shipments.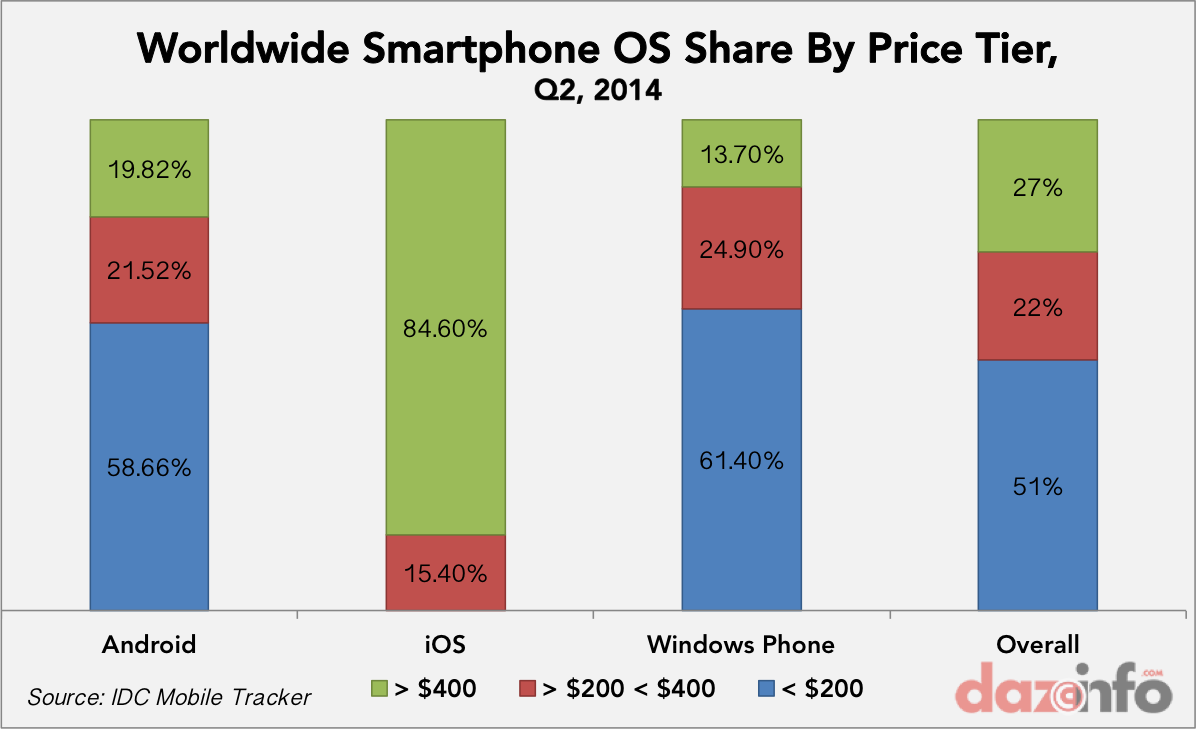 The gigantic market share of Sub-400 USD price smartphone is largely pegged to the emergence of local players in two of the world's largest mobile markets. While US smartphone market is almost stagnating, China and India are holding a key of the future growth. Local vendors like Xiaomi, Huawei, ZTE, Micromax, Karbonn are the challenging the long-haul dominance of Korean smartphone giant Samsung. While in China Smartphone market, Xiaomi dethroned Samsung for the very first time, Micromax forced Samsung to meet the same faith in India. The smartphone market share of Samsung, who is facing the music for the last few quarters, synced to 25.6% in Q2, 2014 from 32.6% in a year ago quarter.