Apple Inc. (NASDAQ:AAPL) is apparently facing tough time in world's largest smartphone markets as its market share has declined for the last few quarters. The second quarter of this year took Apple into a double-digit loss with the company's smartphone market share declined by 11% and 11.9% in the US and China, respectively. In the US and China, Android smartphones ate into the iPhone's share. The strong marketing campaign by Samsung Electronics Co. Ltd. (KRX:005930) for its latest flagship device, the Galaxy S5, drew level with Apple iPhone 5S in the race to become the top-selling handset over the second quarter in the US. In China, it was Xiaomi that not only hurt Apple the most but also leapfrogged Samsung to become the leading Smartphone vendor in the country with a 27% market share.
In the major European smartphone markets, Apple iPhone did fairly well as compared to the other markets. Apple iPhone recorded a marginal decline of 0.4% i its market share, capturing 15.3% of the smartphone market in EU5. The list of EU5 countries includes Germany, Great Britain, France, Italy and Spain. In the world's two largest smartphone markets, the US and China, Apple lost a sizable iPhone market to Android smartphones. Samsung and Xiaomi Smartphones caused the greatest damage for Apple iPhone in the US and China, respectively.
Apple Struggling on Home Turf
Android continues to power 62 percent of smartphones shipped during the second quarter, which is an increase of 20.3 percent from 51.5 percent in a year ago quarter. This is largely credited to the success of several smartphones. Android devices manufactured by Samsung, Motorola, LG, Sony and others were well received by the people. However, Apple was not fortunate to enjoy such growth and its iPhone market share declined by 25.9 percent, from 42.5 percent in June 2013 to 31.5 percent in Q2 2014. Surprisingly, despite the introduction of multiple variants of Nokia Lumia series, Windows Phone OS failed to grab new market and closed the quarter with a marginal decline of 0.2 percent in its market share. The steady market share of Windows Phone OS is attributed to their association with Nokia and the Lumia series smartphones. After a long haul of rough patch things are looking better for Blackberry as they managed to secure 2 percent of the smartphone market, up by 0.9 percent from 1,1 percent in Q2 2013.  This may be due to the release of different smartphones in the market across various segments and the introduction of the new Blackberry 10 OS.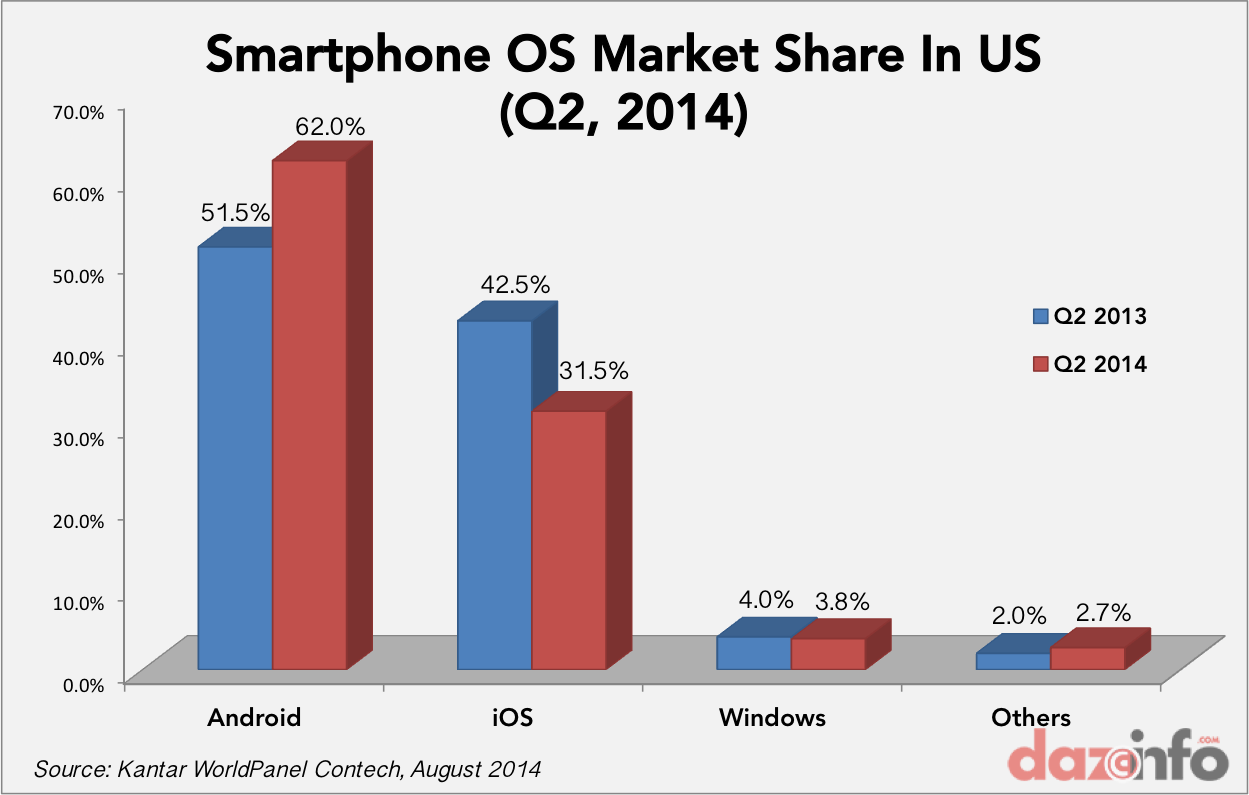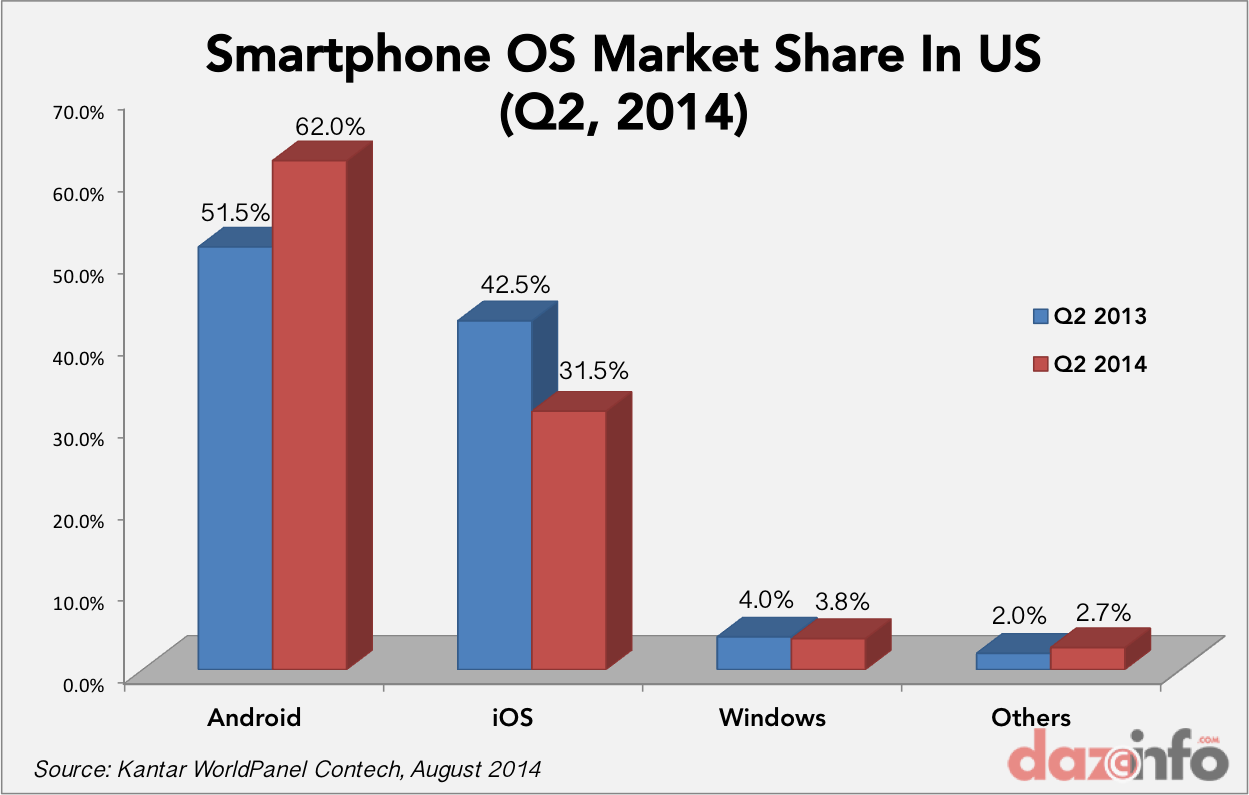 Blackberry has 0 % market share in China, Apple Slides Down
The Chinese smartphone market is growing rapidly, and this has created a huge opportunity window for smartphone manufacturers. In the second quarter of 2013, Android managed to capture 69.9 percent of smartphone market in China; in a gap of mere one year Android's share grew to an astonishing 84.3 percent, resulting in a growth of 20.6 percent. Xiaomi, also known as Apple of China, took over Samsung to drive the growth of Android in the country. In Q2 2014, Apple's iPhone share in the China declined by 11.9 percent, down from 24.7 percent in June 2013 to 12.8 percent in June 2014. Windows followed a similar trend by losing 2 percent of their market share, controlling just 0.9 percent of the China smartphone market. Unfortunately, the partnership of Microsoft with smartphone vendors failed to create any impact on the Chinese market. Blackberry, however, had no market share during the three-month period ended in June 2014. It would be very interesting to see what kind of actions would be taken by Blackberry to make its presence felt in one of the largest smartphone markets.
Microsoft and Blackberry Cannot Looses Hopes in Australia
The expansion of Android in Australia was not as explosive as what we have witnessed in the other regions during the second quarter of 2014. Android's market share grew by just 3.2 percent to 68 percent. We can say that the growth of Android in this country will be pretty slow in the future. Apple lost 1.9 percent of shares from 27.4 percent in June 2013 to 25.5 percent in June 2014. The Australian smartphone market looks promising for Blackberry and Microsoft as they gained a market share of 0.2 percent and 0.1 percent, respectively. Blackberry controlled 0.5 percent of the market during the second quarter of 2014. The introduction of the new devices running on Blackberry 10 OS seems to impress a section of the Australian smartphone users. During the same period Microsoft controlled 5.3 percent.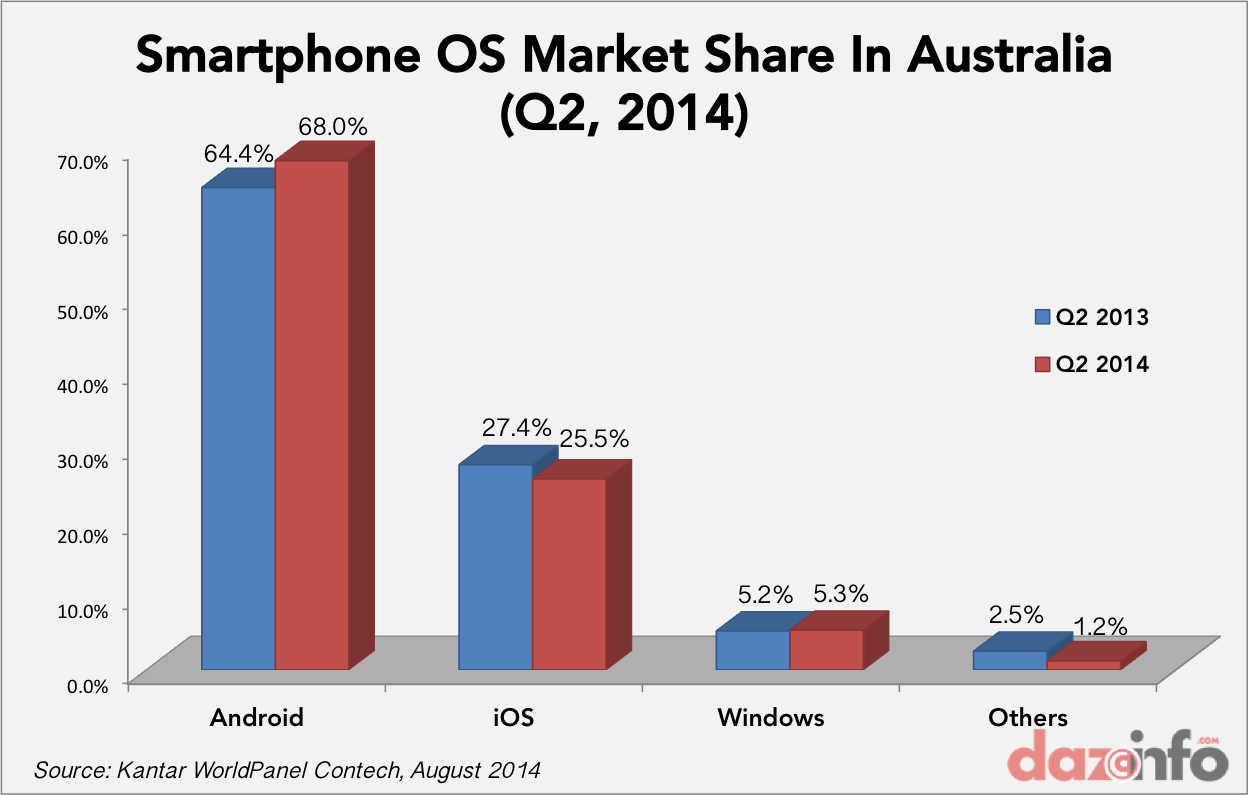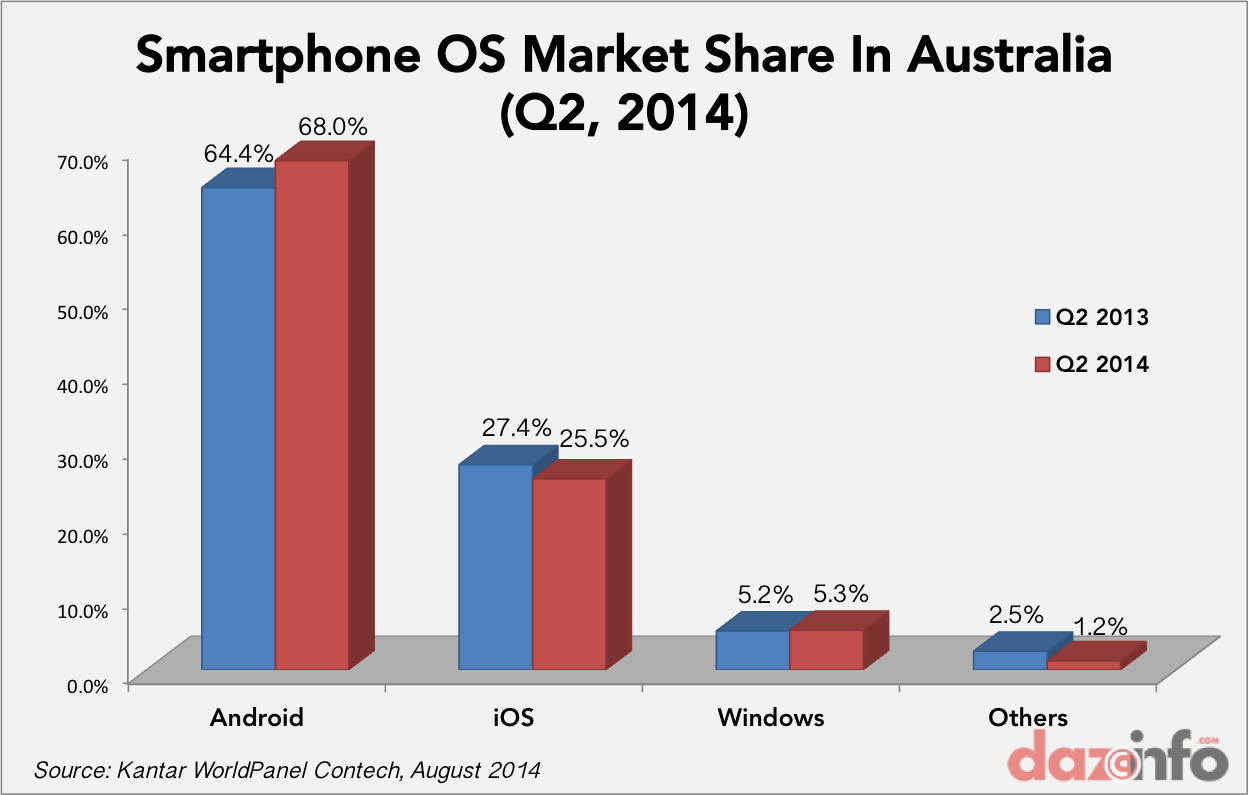 Windows Expands Silently in Europe
The big five European countries, UK, Germany, France, Italy and Spain have done their part in assisting the growth of Windows. Android continues to grow in the European Market which was fuelled by Huawei and Wiko. Apple managed to gain a few percentage points as well as lost in certain cities. European market showed mixed responses to the Apple devices. Blackberry continued to lose its market share in Europe as well.
In short Android is the King
Android continues its growth in all the large smartphone markets at the cost of Apple. However, for both, Blackberry and Microsoft, It was a mixed market response as they gained and lost market shares in certain regions.