Facebook Inc. (NASDAQ:FB) spans around 30 million small business pages to target its massive user base. A previous report mentioned that 9 out of 10 SMBs planned to invest in social media for marketing. Facebook's earnings for the last quarter indicated that, the average ad price rose by a staggering 123%. Facebook also reduced the number of ads it displayed by 25%, may be as a result of its new ad page design that took up more space, reducing the number of ads that could be displayed. But reducing the number of ads did not result in a lesser revenue, instead, rose by 67% to gain $2.68 billion on ads. If you wondered how, the compensation came from increasing the cost of each ad to be spent by the SMB owners. Along with bottle neck competition to make the highest bid to gain an ad publication on the Facebook page, cost-per-click (CPC) almost quadrupled over the quarter. Shelling out too much on ads resulted in 83% of small business owners taking a decision to invest zero on Facebook ads. However, around 14% of SMBs were still ready to spend less $5000 and only 1.3% of SMBs took a step ahead to spend between $5000 and $10000.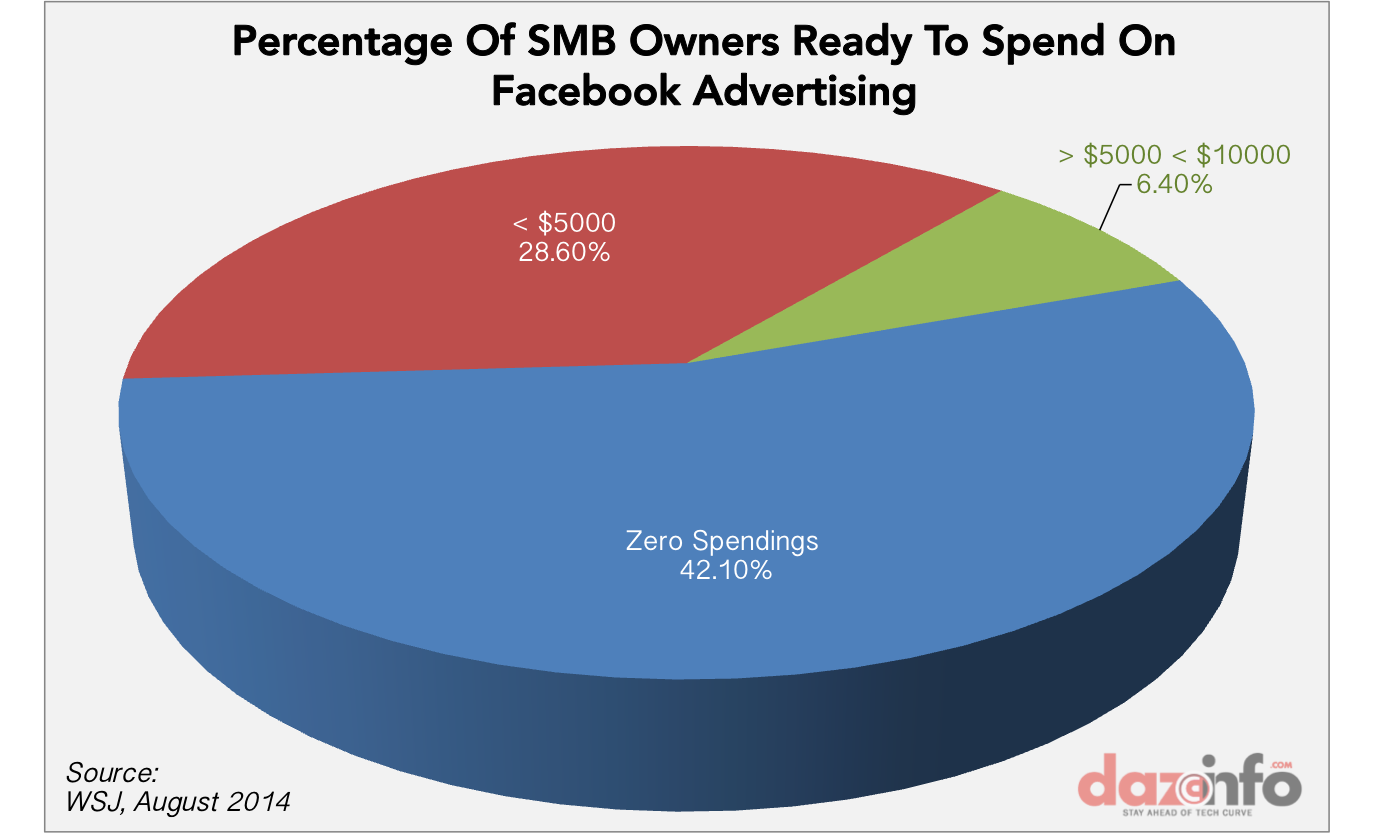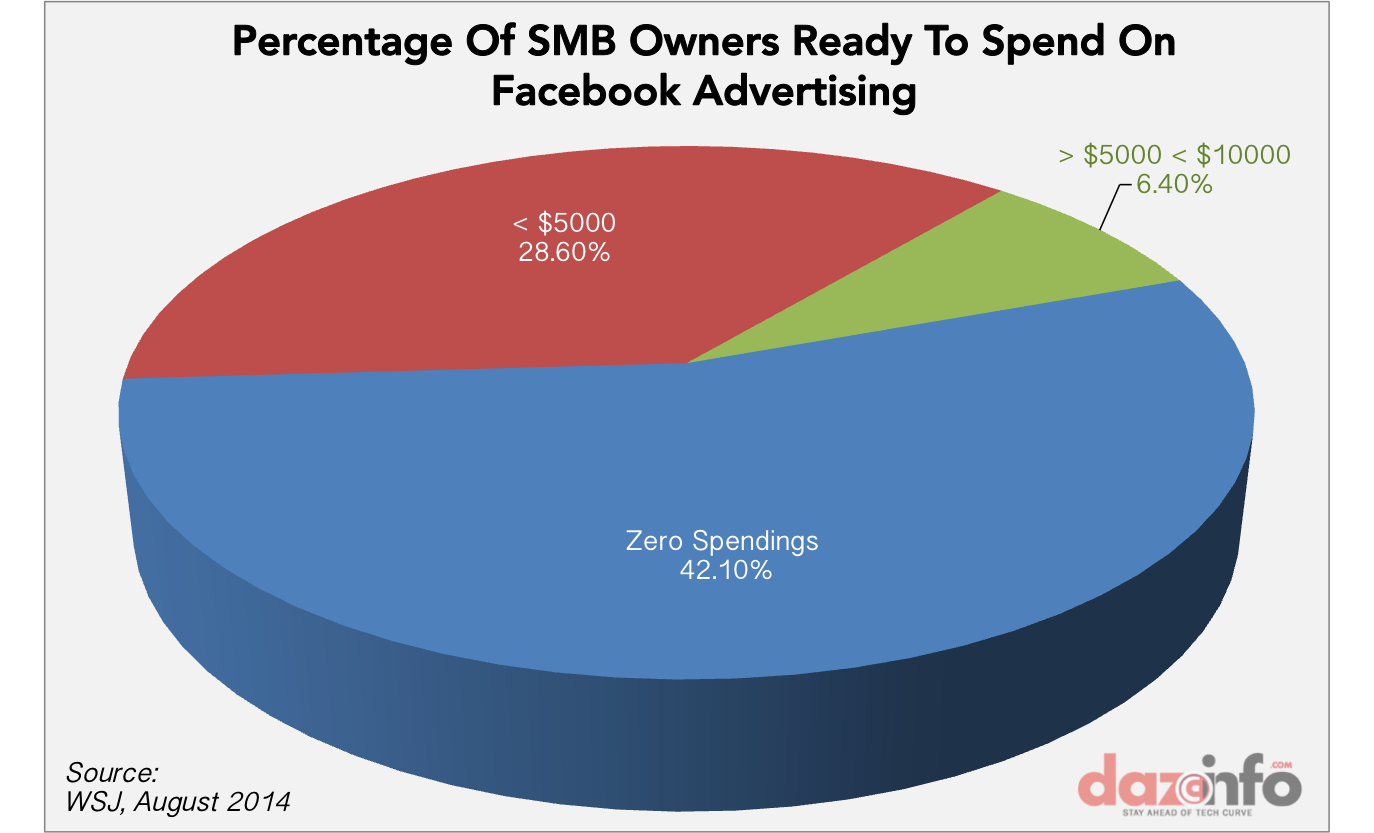 Facebook, however, claims that spending more on ads is directly related to the fact that those ads are prioritized and reflects the value that it creates. Fewer number of ads may provide Facebook's users with fewer options, the targeted ads would be the only ones the customers would go for giving no place for confusion.
While the increase in price on ads give Facebook an added advantage, it is not so for the cash strapped SMBs, who have a limited budget to carry out all functionalities. Spending more than half of their budget only on ads might not be their first choice. Sometimes it may also become fatal if their ads are not targeted properly. For instance, in India, if an SMB is supposedly dealing with insurance policies or maybe real estate, the SMB might not get the attention that it requires as 50% of people aged 18-24 are the only active users of Facebook and that SMB needs to target their ads at a more matured audience who might not be actively available on the social network. Needless to say, a number of SMBs' investment on Facebook ads has not been so effective and sometimes have incurred losses by depending solely on Facebook ads. Before spending on ads on Facebook there is a vital need to analyse if the customers, the SMB is looking for, is actually on Facebook and must also be ready to take the burden of churning out money as required on such ads.
Facebook planning to increase ad revenue in India
India is home to over 50 million SMBs and over a 110 million Facebook users. Facebook plans to focus on Indian SMBs to increase their ad revenue. Facebook also has a success story of one of India's SMB startup called Chumbak which is gaining wide popularity. Chumbak, a startup which sells artsy Indian accessories went ahead to target audience with Facebook ads alone. The result was an enormous success with Facebook generating 5x return on ad spend. Chumbak grabs a total of 35% online revenue through Facebook. Facebook also signed its first ad agency deal with India's GroupM wanting to reach the 100 million user base to improve customer satisfaction. Facebook  also announced a new feature for ads in India called 'Missed call ad' When users clicked on the ad, they get a 'missed call' button which would place a missed call to the advertised brand. In turn, the advertisers call the customers and discuss about the products or give reviews. One after the other, Facebook is devising new strategies to draw attention of the huge user base in India, which in turn will boost their ad revenues in the coming years.