Right after Flipkart announced its $1 billion funding, US based Amazon.com Inc (NASDAQ:AMZN) topped it with its CEO Jeff Bezos announcing an investment of $2 billion in Amazon India. These billion dollar investments are set to fuel the growth of ecommerce industry in India, which eventually is said to reach the $56 billion mark by 2023. In the last five years eCommerce industry in India has witnessed an unprecedented growth, growing from $2.5 billion in 2009, to $6.3 billion in 2011 and further to $16 billion in 2013. The ecommerce giant of India Flipkart, started with only a base amount of Rs. 400,000 in 2007,  has now grabbed a whopping $1 billion by its existing investors in a fresh round of investment. The company has over 15 million product ranges with over 70 categories and 22 million registered users as of now. With the fresh injection of $1 billion Flipkart valuation has soared to $7 billion apparently. On the other side, Amazon and SnapDeal, other leading eCommerce players in India, have upped the ante to counter Flipkart by bringing in more investment. Consequently, the dollar-war between these major eCommerce players is helping consumers to collect shopping benefits from both the hands.
These huge investments are accelerating the growth of online shopping industry in India, which is now picking up its pace rapidly. The growing internet and mobile penetration is attracting more number of players in India, which has 243 million internet users accounting to 19% of the total population. There were an estimated 91 million smartphone users in India by the end March 2014. The mobile audience in India is growing with 78% of shoppers preferring to shop on mobiles. In another 5 years there will be a big paradigm shift in the e-commerce industry as more retailers look for profits through selling their products online. In India there are now only around 38 online shopping portals, out of which only a handful are popular in terms of growth and investment.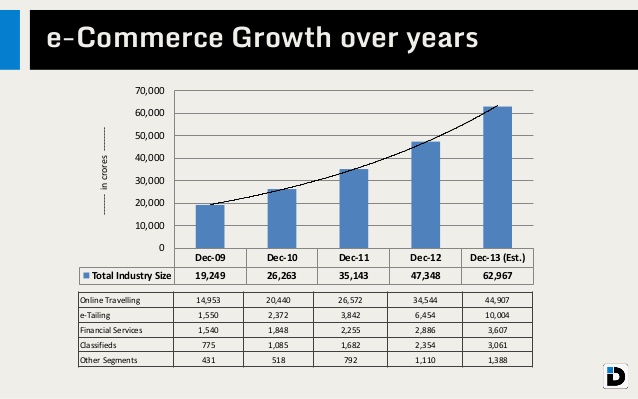 Fashion retail most popular with

70% growth rate
The major players being Flipkart , Amazon and Myntra , Jabong should thrive to grab the top spot now. Here is a fan following base of various popular online shopping portals over the year  2013 (source : unmetric inc)
Jabong's upsurge in popularity accounts to the fact that fashion and life-style product retail is the most popular category, followed by Flipkart with its range of electronic goods and accessories. Current size of the fashion market via e-commerce is $800 million and is said to grow at a rate of 70% in 2014. In May 2014 Jabong partnered with NBA to retail NBA merchandise. The online store at present carries over 1000 brands and over 90,000 products. This might be the rationale behind Flipkart-Myntra merger deal. This INR 2,000 cr deal merger created an entity with annual sales of $1.5 billion and clocked 100% annual growth. On a similar note, Amazon ventured into India as Amazon.in and a similar local Snapdeal.com came into picture. Snapdeal's platform is expected to cross Rs 2,000 crore in 2013-14 fiscal year and it maintained a growth of about 400 per cent year-on-year in the last two years. Snapdeal employs over 1,500 people and delivers to more than 5,000 cities and towns in India.
But no venture grabbed a billion dollar investment; the first being Flipkart then an announcement to raise $2 billion by Amazon. Series of such investments are required to support the growth of such portals in the cut-throat competition. There is also a need for the e-commerce industry to witness few mergers and acquisitions if the survival of few e-Stores must be ensured along with satisfying demanding needs of consumers.
 Tackling the way ahead
The colossal growth and usage of internet and its users is now the centre of innovations, research and tie-ups in the huge domain of e-commerce. These developments have generated or set the trend for major production organizations to opt for tie-ups which creates a win-win situation. More and more startups are emerging and are calling for innovative attractive and cheap modes of marketing strategies. Online retailers are now looking ahead to provide customised local language provision of their website. IAMAI reports that there will be a 24% increase in internet usage by local language websites. Snapdeal offers its customers the language of hindi and Tamil, and by the end of the year is supposed to provide Kannada, Telgu, Marathi, Bengali and Gujarathi versions. Flipkart and Jabong are working their way to offer this to their local customers. This provides customers a sense of trust and to clean shopping experience.
Delivery and Payments are another major challenges for EStores in India. Though, various mode of payments, including Cash-On-Delivery, have been introduced in last few years companies and consumers both are looking forward to have an effective and low-cost mechanism. While One-Day-Delivery is the new strategy to grab impatient customers, the additional cost associated is a bit of disappointment. Amazon intends to compete in a very clever manner. It is using the neighborhood grocery stores, petrol pumps (BPCL), as online market place for its expansion (for product pick-ups).
However, the exploded growth in Internet industry is India has forced eStores to indulge in cut-throat competition. The triggered price war and commission to eStores are forcing traditional retailers to setup an in-house online shopping portal. Retail giants such as Reliance, Future Group, ITC are eyeing for their own e-commerce websites.
With so much development and opportunity, eCommerce industry in India is now a battle of brands of various eStores with the consumer satisfaction as their goal. However, the ongoing price-war is turning evil for small and new ventures who neither have deep pockets nor hoard of cash to challenge bigwigs of the industry. For consumers, all it matters which eStore is able to offer him the best deal on desired products.