After the first quarter of 2014 where smartphone manufacturers managed to ship 281.5 million units globally, smartphone shipments in Q2 2014 reached 295.3 million units, resulting in 23.1% of year over year growth. Earlier this year, IDC estimated that in 2014 smartphone shipments would reach to about 1.2 billion units and considering the growth of smartphone device industry in the first half of this year, the actual number of smartphone shipments could over exceed the estimation.
There is no doubt that Apple Inc. (NASDAQ:AAPL) and Samsung Electronics Co. Ltd. (KRX:005935) are the best players in the mobile market. With the release of Samsung's flagship phone the Galaxy S5, Samsung would have definitely expected their market share to increase. Competing mainly against Apple's iPhone 5S, the Galaxy S5 failed to meet the people's expectations. Samsung's total shipment volume declined from 85 million units in Q1 2014 to 74.3 million in Q2 2014. The company's market share declined by 5 percentage points from 30.2% in Q1 2014 to 25.2% in Q2 2014. Due to this, Samsung's Year-Over-Year growth stood at -3.9 percent. Apple who sold 43.7 million units in Q1 2014 and 35.1 million units in Q2 2014 records the similar trend. Apple's market share declined by 3.6 percent point from 15.5% in Q1 2014 to 11.9% in Q2 2014. The decline in market share of Samsung and Apple is mainly due to emergence of homegrown and Chinese smartphone vendors in last few quarters. This could easily be attributed to the quarter over quarter and year over year growth of Others category. In Q2 2014, Others smartphone market share surged up to 45.8% from 40.6% in a year ago quarter and 40.5% in last quarter.
Chinese vendors make the most of Q2 2014
Huawei Technology Co Ltd (SHE:002502), Lenovo Group Limited (ADR) (OTCMKTS:LNVGY) and LG Electronics Inc. (KRX:066570) made the most of this quarter by releasing number of smartphones across different price segments. Huawei, riding on the success of their Ascend series smartphones, gained a market share of 2% point by shipping 20.3 million units in Q2 2014 as compared to previous quarter. Huawei observed the Year-over-Year growth of a whopping 95.1 percent.
Lenovo, despite not releasing any new devices in this quarter, witnessed an increase of 22% quarter over quarter in the second quarter of 2014. The company gained momentum in the market with their A788T and A388T smartphones. However, the rise in its market share is largely attributed to the recent acquisition of Motorola that rocked the smartphone market by introducing Moto G, Moto X and Moto E at highly competitive price. Due to this, Lenovo was account for 15.8 million units of shipments in Q2 2014, resulting in 38.7% year over year growth in its market share.
LG on the other hand, following the same trend of Huawei and Lenovo, gained a market share of 0.1% point as compared to the previous quarter. The company's sales were mainly driven by their L series smartphone and managed to sell 14.5 million smartphone units in Q2 2014, an increase of 17.9 percent quarter over quarter and 19.8 percent growth year over year.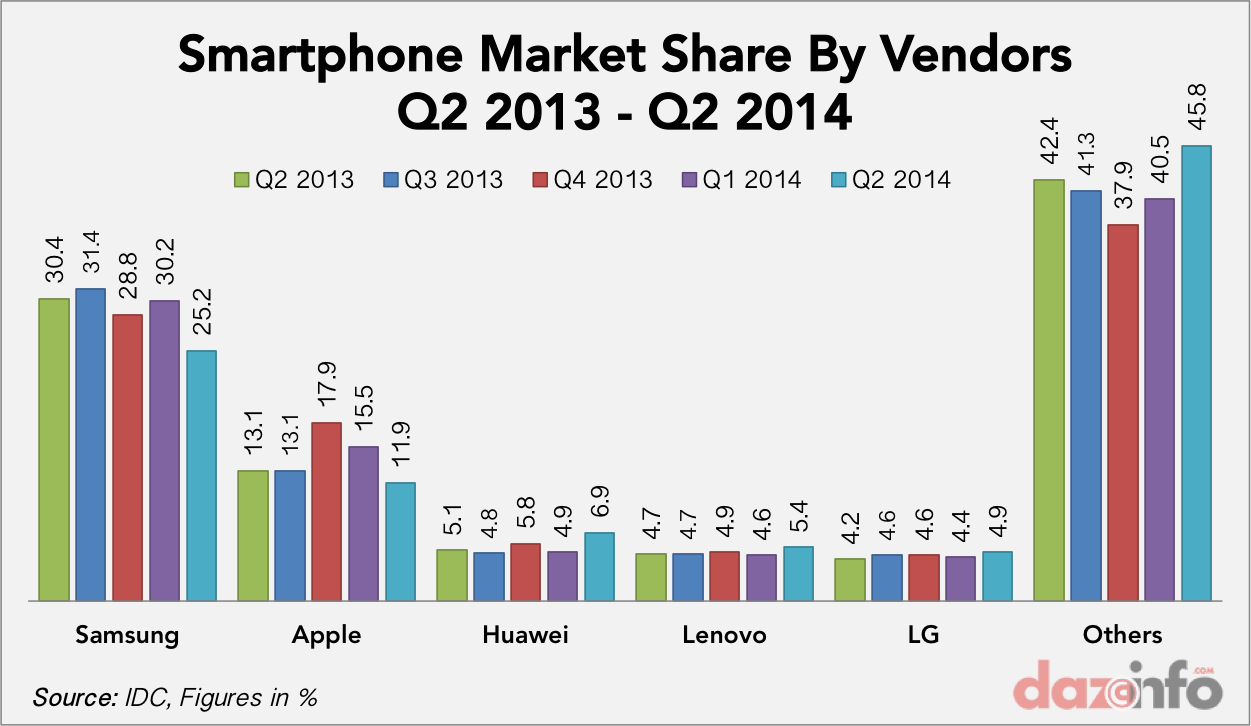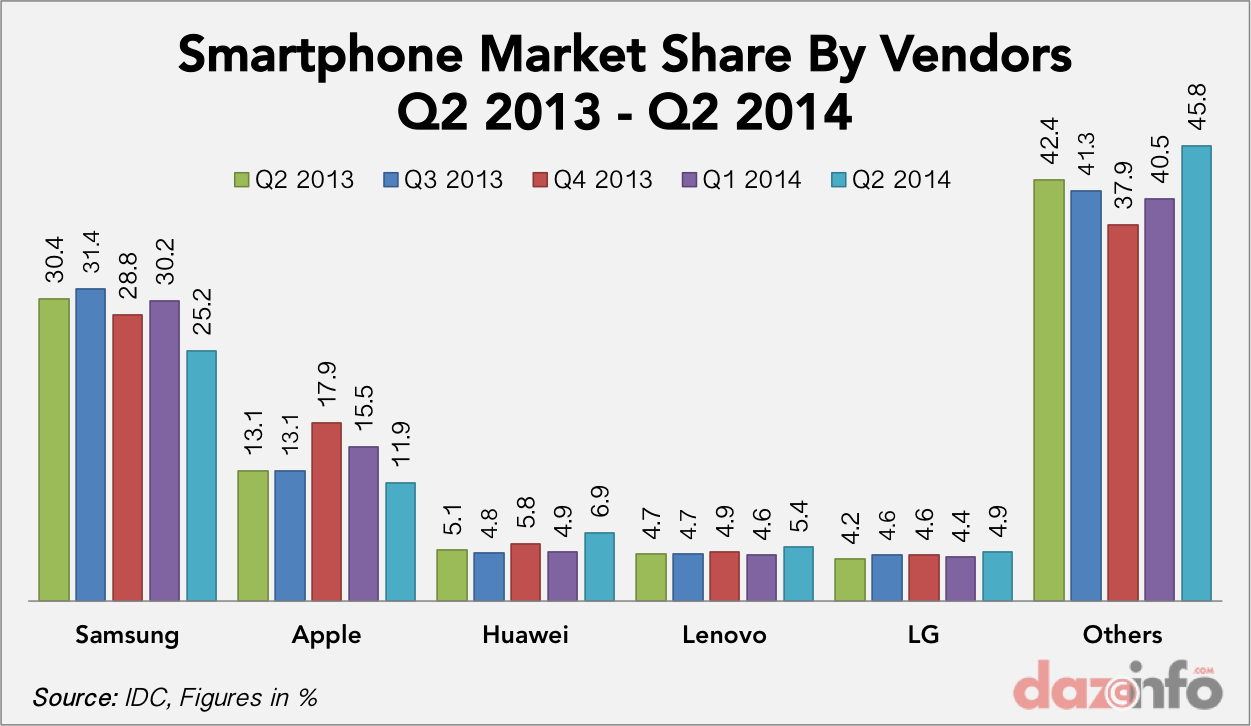 The Great Super Cheap Strategy Pays Off
This trend can be expected to continue as local players like Xiaomi, Huawei pose an immense threat to the bigger players like Samsung and Apple. In the developing market where the price plays a greater role along with the specifications of the device, the local players were smart to offer several high-end smartphones at a lower cost. However, Samsung failed to offer similar benefits despite having a number of devices across all the market segments. Interestingly, the emergence of local players and declining market share forced Samsung to slash the prices  of their flagship smartphones upto 40%.
In May alone, Apple remained the top smartphone seller, thanks to the success of the iPhone 5S. Apple reportedly sold a total of 7 million iPhone 5S in May 2014 beating the Galaxy S5 of which just 5 million units were sold after its release globally. This implies that the iPhone 5S outsold the Galaxy S5 by an impressive margin of 40% in May.
Smartphone market in developed nations has already saturated, consequently, the growth in the market is largely driven by price-sensitive developing nations. According to IDC, OEMs will drastically reduce the average selling price of smartphones by 12 percent. New strategies must be adopted by Samsung if they need to have a positive growth rate. The smartphone market is heated up as the local vendors are beginning to compete at a global level. Meanwhile, Chinese smartphone manufacturers Gionee, Xiaomi and Huawei have exploring markets beyond chinese border. Can the Chinese vendors change the mobile market with their low-cost high-end devices?