Global consumer confidence reached 50% for the first time since 2007 increasing one index point to 97 and 3 index points compared to Q3 2013. Half of the global respondents believed in upcoming job opportunities, with 1% point increase from Q1 2014. The Nielson survey spanning over 60 countries represented a global online population of 2 billion consumers. The survey was based on an online methodology to reach out to consumers world-wide and is based on the habits of the existing internet users. The survey responses are based on claimed behavior than actuality.
Every region showed positive perceptions over the local job market, except Latin America. North America projected highest job optimism with an increase of 8% points to 46%. Asia-Pacific respondents were positive on the future job market where 65% of them believed they have a year worth looking forward to. Even the Middle-East (42%) and African (29%) regions gave a positive response.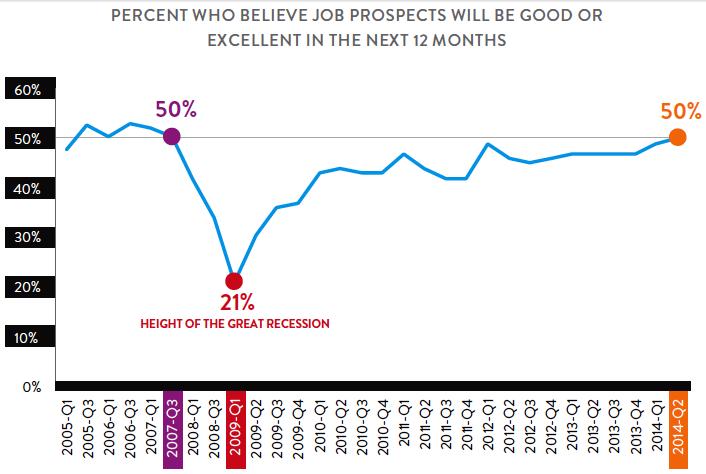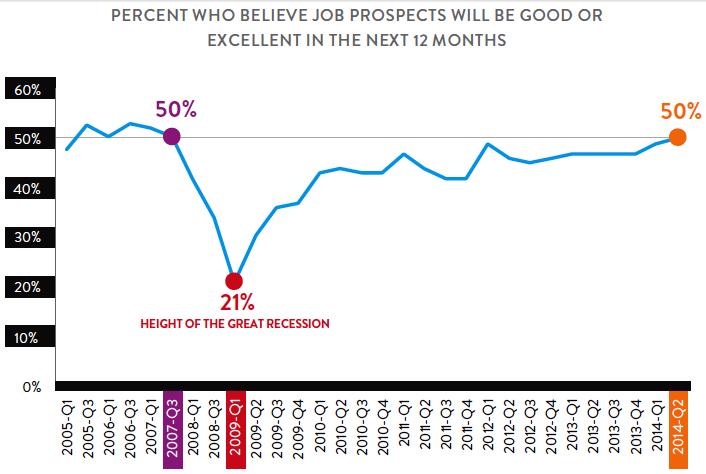 Latin America has a negative outlook on future job opportunities
Latin America drowned in points to 36% from 42% with 90 points showing lesser positive perceptions of job opportunities. Confidence in Latin America declined for a second consecutive quarter as the index score fell in 6 out of 7 countries. The job outlook declined in all 7 countries with Chile dropping a highest of 10 points, followed by Brazil and Argentina with 7 and 6 points decline respectively. Even when the economic policies of Latin America are shifting from overspending to privatization and export oriented approach, the region's overall growth is stagnant and the consumer confidence has regressed. The Latin Americans are cash strapped and hesitant in spending their money.
India shows highest consumer confidence


Indian consumers provided a positive response by reclaiming the top position with 128 points. During the pre-recession period, in Q3 2007, India was ranked second next to Norway with 133 points and during the recession in Q1 2009 it lost its place below the levels of a baseline of 100. 9 out of 10 Indians are optimistic about future jobs for the next 12 months. On a Y-O-Y basis the index points were higher by 9 points. This optimistic attitude might be the result of an expectation that by 2018, $490 billion retail industry is going to reach $640 billion. The increased level of confidence is attributed to the recently concluded general elections. Piyush mathur of Neilson India, on a factuality says that despite the ongoing inflation and setback of the monsoon rain in India is ready to shell out as it is heading towards the festive season. The recently concluded annual budget by the new government provides a fresh and positive hope to the consumer community.
Rise in North American consumer confidence
The consumer confidence in US and Canada increased, reflecting the upward trend started in Q1 2014. NORTH America scored an index of 103. The US increased a score of 4 points to reach 104 while Canada recorded three points upsurge to reach 102. 49% of Americans preferred to spend now and are very optimistic about personal finance (64%) and job prospects (46%). 62% of Canadians were positive about personal finance, however outlook on jobs declined 2% to reach 50%. In both the regions spending intentions increased on all activities while intentions to save, invest and pay off debts declined.


Europe

slowly but steadily

climbs out of recession
Europe showed 72% of consumer confidence in Q2 2014 with 6 of 32 markets reported to have fallen. The biggest increase was a 6 point increase compared to Q1 2014 with Denmark (106), Belgium (80), Romania (73), and Italy (51). U.K scored a notable 90 with Y-O-Y jump of 11 points which is the country's highest since 2007. After steady increase for over two years, Germany declined three points to reach 96. Most notable job prospective optimism came from Denmark with an increase in percentage when compared to Q1 2014. Discretionary spending remained flat on all categories in all the regions. In Europe the recovery in earnings has been an unusually slow climb. This is because of the fact that the Europe bank lending to corporates is very negative. After being through the worst of the recession crisis Europe is optimistic about recovery but at a slower pace.