In 2004, the US Ad spending achieved an all time growth of 6.7% and Google Inc. (NASDAQ:GOOG) emerged as the greatest digital contributor to this growth. A decade later – thanks to Winter Olympics and FIFA World Cup – the US advertisement industry got a push to achieve 5% growth, fuelled by digital media. After the sports season, it will be time for holidays and festival season in the United States leading to more ads, sales and shopping – a definite boost for the ad industry. eMarketer expects that in 2014 Ad industry in the US will grow by 5.3% from last year to achieve a total of $180.2 billion in spending. The growth of mobile ad industry is likely to double in 2014, outstripping the ad spending share of newspapers, magazines and radio.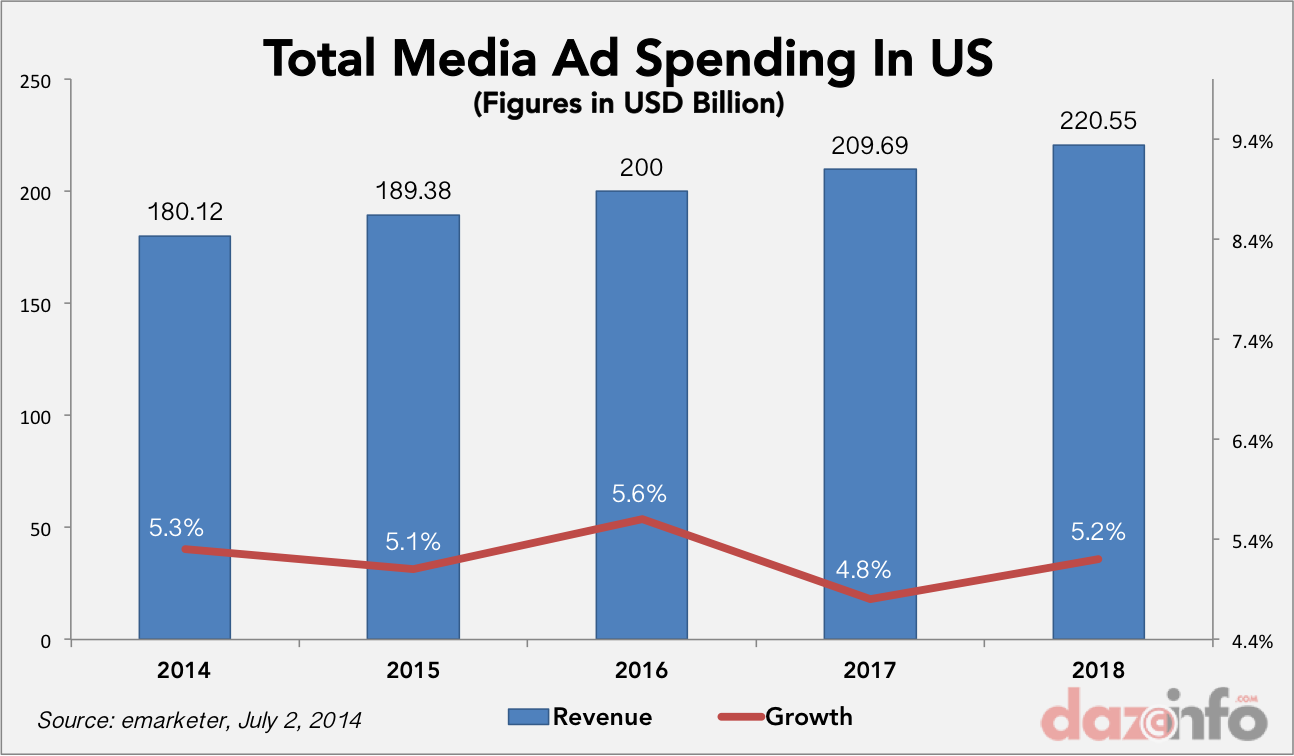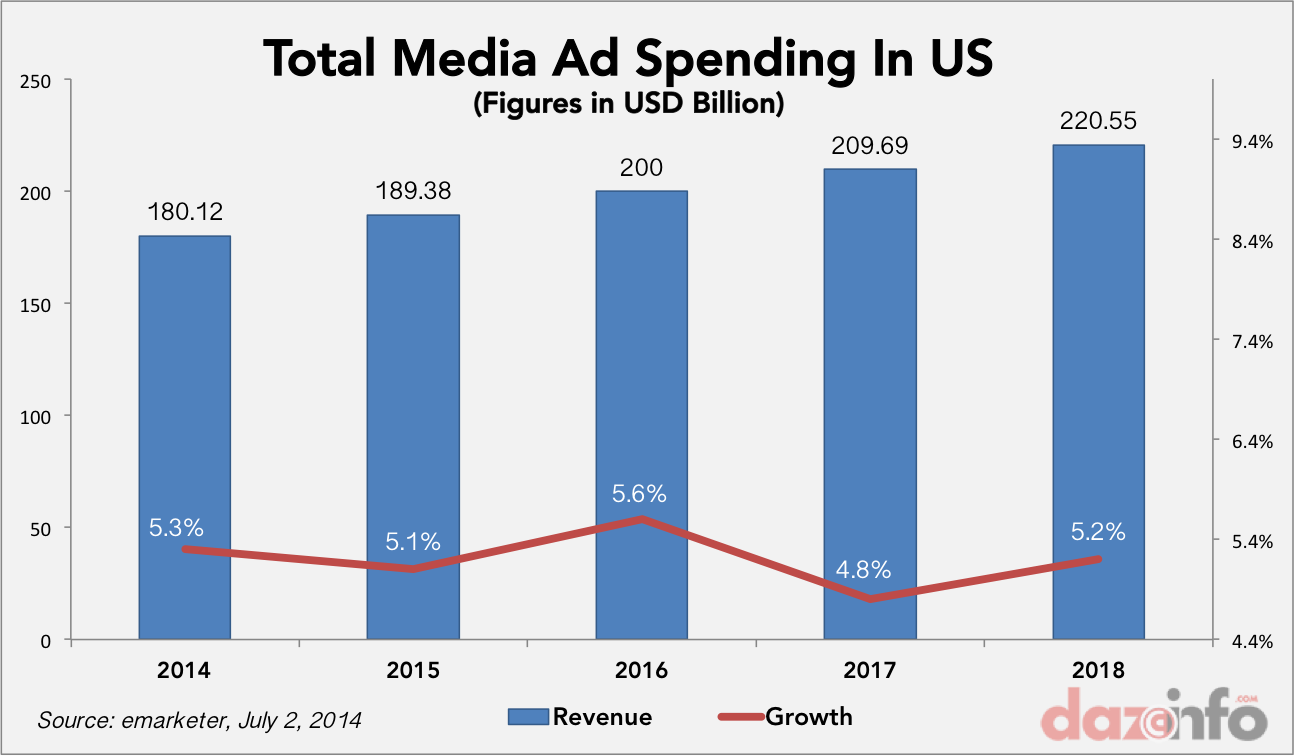 Ad Investments – A $200 Billion Industry!
The growth of ad spending hovers around 5% and is expected to become a $200 billion industry in 2016. This figure includes the digital media, print media, and outdoor advertising. Interestingly, the total ad spending share of all the mediums, except the digital media, is likely to decline in the coming years. The increasing penetration of mobile phones and dependency on smartphones is likely to fuel this growth. America is one of the few nations witnessing a rapid growth in 4G technology adoption and m-commerce. Due to the increased average broadband speed and extended reach of online e-stores the ad industry is pegged to grow at a faster pace. In just a year, the ad spending on mobile is likely to double of what it was in 2013. The digital ad spending, which includes desktops and mobile devices, is forecasted to capture almost one-third of total ad spending in the US by 2016.
Though the ad spending on mobile is growing, TV, the preferred medium for watching long-duration videos, remains the favorite medium for advertisers to launch their ads. Out of the total ad spending in 2013, Ads on television accounted for $66.36 billion.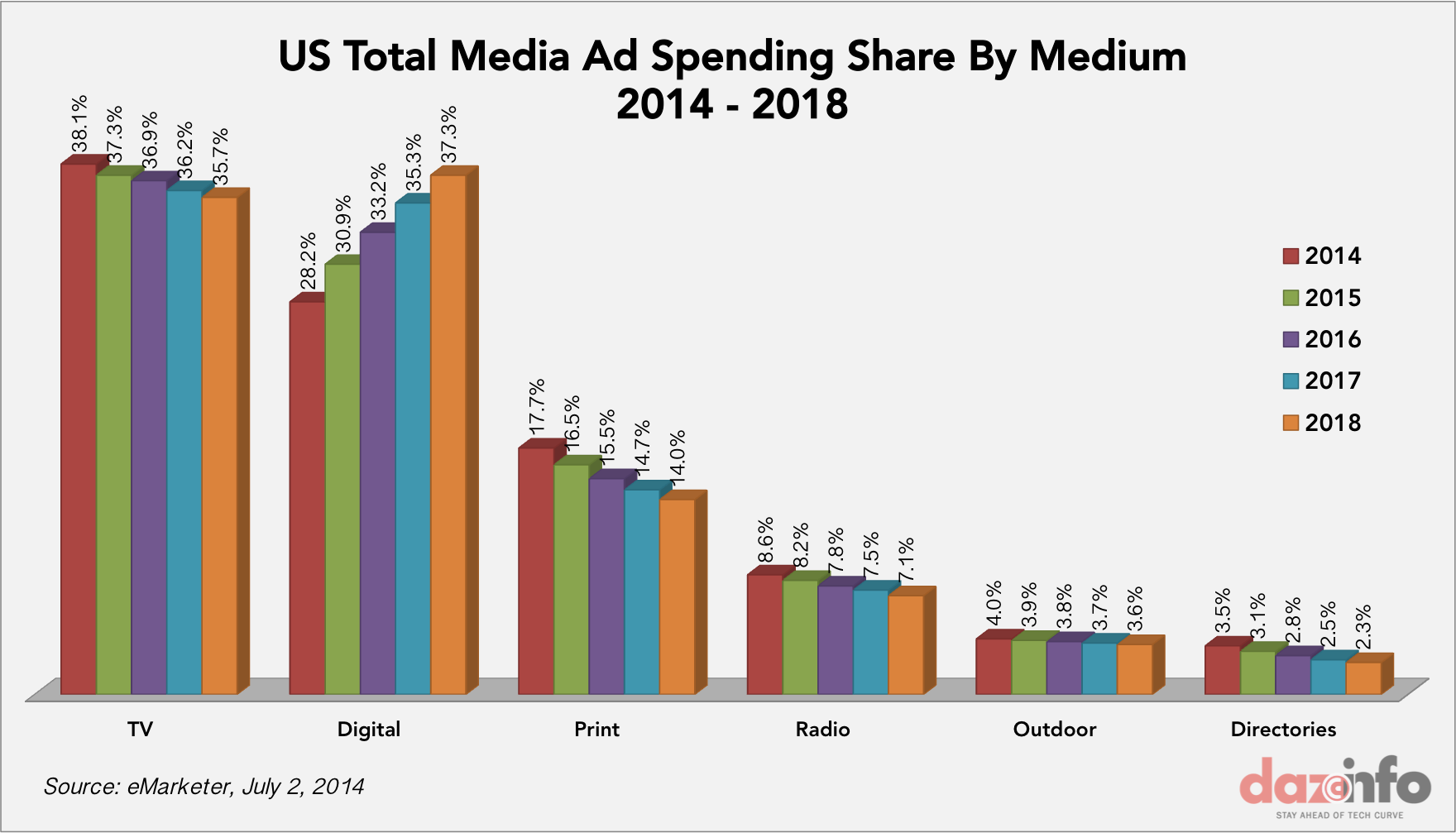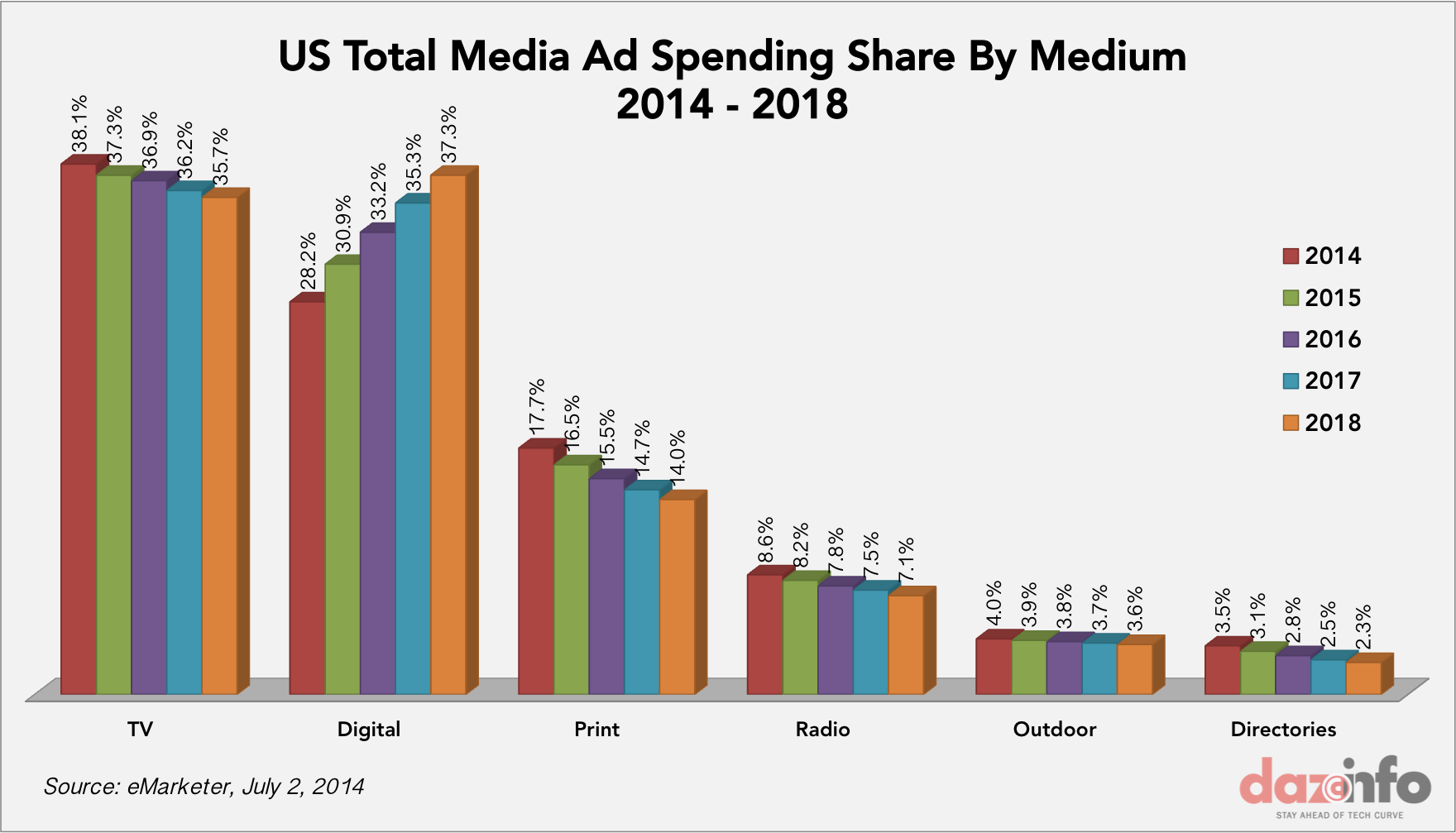 Digital Media to Become $75 Billion Ad Industry
The time spent by users on smartphones and tablets is increasing. An average mobile user spends 2 hours and 41 minutes on his mobile phone daily. As the time spent on mobile devices is increasing, the ad developers are aggressively targeting mobile apps and throwing out related ads to the users. According to a survey done prior to FIFA'14 on 5,500 global respondents, 37% of the mobile users accepted to clicking ads on mobiles atleast once a day, while that was likely to go up during the World Cup.
The first quarter of 2014 has played a vital role in boosting ad spending in the US. During the Winter Olympics, held in the first quarter of the year, the US received an additional $600 million in total quarterly ad spending totaled to $34.9 billion.
The ad spending on desktops is likely to halve in 2018 of what it was in 2013. The combined ad spending from digital media industry is estimated to reach $82.24 billion by 2018, of which $58.33 billion is likely to come from ads on mobile devices.
Google Leads in Ad Spending  Too!
The most valuable brand of 2014, Google, tops the chart of companies with maximum digital ad revenue. Mostly all the companies in the list are aggressively capitalizing on growing mobile revenues. In 2014, Digital Ad revenue will contribute a little over than one-forth of total ad spending in the US. The contribution would be led by Google with 10.6% share of total media spending, followed by Facebook Inc. (NASDAQ:FB), Yahoo Inc. (NASDAQ:YHOO) and Microsoft Corporation (NASDAQ:MSFT). Mobile ads on Facebook will total 68.0% of its US ad revenues this year, up from 46.7% in 2013. Interestingly, the share of Google ad spending is way higher than the combined contribution of other companies and despite of recording a phenomenal growth in its ad revenue from US in first half of 2014, Facebook is unlikely to reach nearly to that threshold.
The total ad spending in the US from all media is estimated to touch $180.12 billion in 2014, which is likely to account for one-third of the total global ad spending. The infiltration of m-commerce sites is enormous in the US, which convinced Amazon.com Inc. (NASDAQ:AMZN) to launch a Fire Phone that redirects user to its online retail website. This growing upsurge of ads on digital media is attracting a lot of online ad developers who are targeting this market aggressively. The biggest jump in ad industry will be visible this year, luring more consumers and add developers alike.