Microsoft Corporation (NASDAQ:MSFT) has been minting millions of dollars for last few years from Google Inc. (NASDAQ:GOOGL) owned Android. The Windows Phone OS maker owns at least 20 of  Android's key patents and has now acquired even more patents after the US$7.2 billion acquisition of Nokia. In the recent past, the Redmond Giant had forced several smartphone OEM's such as HTC Corp (TPE:2498) and ZTE Corporation (SHE:000063) to pay a licensing fee to use the Android OS for their range of smartphones. While Microsoft is on rampage to sign more number of Android vendors to make sure its Android-cash-bank gets richer, M-Cam, a global financial institution has studied several of these patents and has revealed in a report that Microsoft's claim on these patents is not as robust as previously imagined.
These revelations come to light after the full list of 310 patents was submitted to the Chinese government as part of the review of the purchase of the Nokia acquisition. This follows soon after it was concluded Microsoft's licensing power could be used to pursue Chinese smartphone vendors, most of whom use Google Android as the primary OS for their range of smartphones.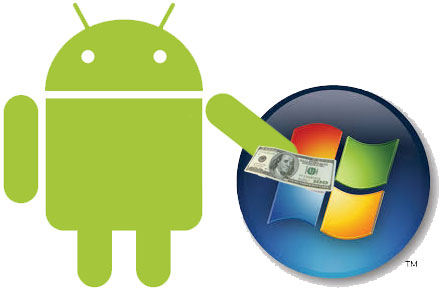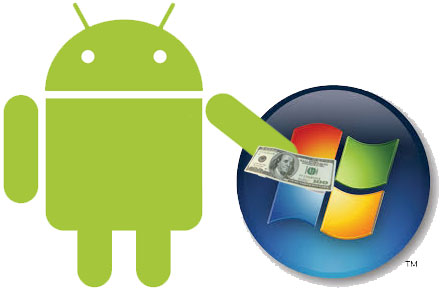 Microsoft Is Earning Billions Every Quarter Through Android
Throughout 2013, Microsoft reportedly earned a whopping US$3.4 Billion through sales of Android smartphones alone. Since 2010, Microsoft has reportedly rounded up 70% of all Android device manufacturers to pay royalty for the use of its patents. During  the same period, in Q2 2013 last year, the software giant earned a total of US$1.51 Billion from Android smartphone vendors. HTC reportedly pays a total of US$5 per Android phone sold to Microsoft,while the largest Android vendor Samsung paid as much as US$12 per Android device sold. This figure is estimated to have far exceeded the revenue generated from the sales of Windows phone devices and also allows Microsoft to recover any losses from the X-box, Skype or Surface division. It's important to note these earnings to Microsoft came from the sales of Android smartphones alone, while the company also enjoys similar royalty arrangements on Android tablet devices. Therefore, it's easy to understand that Microsoft's last year's earnings from Android, in total, would be at least 15% – 20% higher than US$3. 4 billion.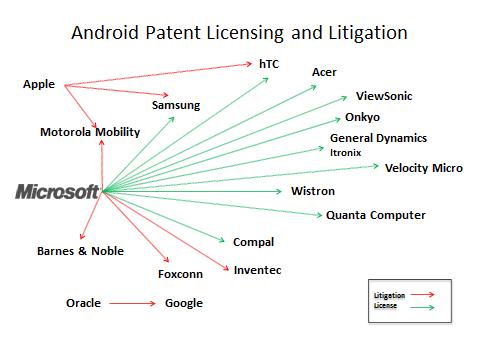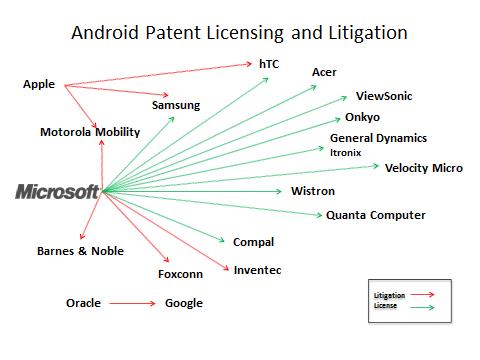 The question remains as to whether Microsoft actually owns proprietary rights to the Android OS or is it unfairly exploiting device makers through an uninformed belief in its supposed innovation. Nearly 70% of Android OEMs have willingly agreed to pay the licensing fee, as they remain wary of the costs of a long drawn-out court battle. Motorola mobility, however, has won several of these cases and has forced some major firms to reconsider their licensing agreements with Microsoft. 
Only 21% of Patents Held Had Any Commercial Relevance
Now revelations have also emerged from China, where Microsoft is facing difficulty as the country remains wary of the US technology, as recently demonstrated by the ban on Windows 8 on government computers. To maintain their profits, it is likely that Chinese Android smartphone vendors will resist paying any licensing fee to Microsoft. By making the patent list public, Microsoft may have unwittingly allowed other smartphone vendors to discover whether they have similar patents which precede Microsoft's patents. This may allow them to negotiate with the tech giant for a better deal.  
Interestingly, it was revealed that only 21% of Microsoft's patents was classified as commercial while 79% was classified as non-commercial. This implies that only a fifth of these patents was relevant, as non-commercial patents have little chance of being licensed and lack market relevance. Also, there are at least 11,000 expired patents from the Android innovation space and another 14,000 from the abandoned Android innovation space. It is believed that companies can now find free alternatives to the Microsoft licensing package.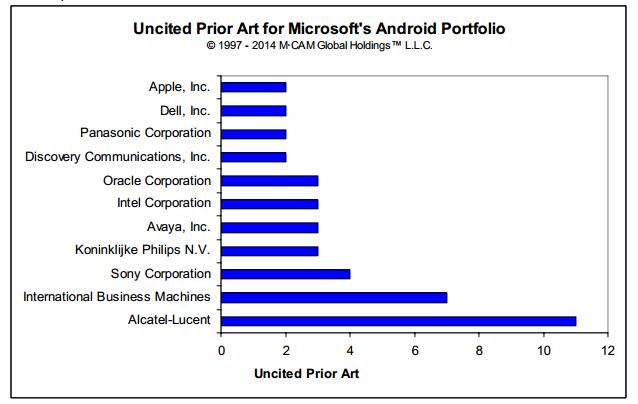 Moving on to the 127 patent agreement Microsoft holds, even more surprising results were unearthed. At least 40 of Microsoft's Android patents were proceeded by patents from other companies, which were not mentioned by Microsoft. This finding casts a shadow of doubt over the remaining patents as well. Companies such as Dell Inc. (NASDAQ:DELL), Sony Corp (ADR) (NYSE:SNE) and Panasonic Corporation (ADR) (OTCMKTS:PCRFY) had previously signed licensing agreements with Microsoft.
Microsoft May Not Be Able To Milk Android For Much Longer
The above findings illustrate that Microsoft's claim on the Android smartphone is not as strong as previously suggested. It also reveals how dependant Microsoft is on Android. As the sales of Windows phones devices and Surface tablets struggling to grow, Microsoft depends largely on the licensing fees to appease worried investors. Royalty payments notwithstanding, the Redmond Giant is also using a forked Android to power the Nokia X range of devices.
According to previous estimations Microsoft's licensing fee revenues could soar to as much as US$8.8 billion by 2017. That now seems unlikely as the next few years will see several legal and business challenges to Microsoft's Android patent portfolio. There are enough evidences suggesting that several companies, including the largest payer Samsung, are all set to oppose Microsoft's licensing deals both legally and commercially.