Google Inc. (NASDAQ:GOOGL), Apple Inc. (NASDAQ:AAPL) and Samsung Electronics Co Ltd. (KRX:005935), all have used different strategies to usher in the era of smartphone and tablet devices. Smartphone penetration has exploded by vast estimates, and now the Internet Of Things (IoT) is where all  companies are bidding to make headway. In 2014, several initiatives were undertaken to make progress in this fast growing category that promises to revolutionize our daily existence in unimaginable ways. Vision mobile and Intel have presented a report which outlines the path ahead, and the various steps and precautions needed to be undertaken if the goal of complete IoT is to ever be achieved.
Currently, there are at least 2.4 billion smartphones, almost 7.7 billion mobile devices, and the IoT phenomena promise to make 40 billion connected devices by 2020. The top tech giants, Google and Apple have already presented various starter kits and API's at their various conferences to guide developers. Just as the smartphone revolution was created through a universe of wide-ranging applications and active developer communities, technology companies will rely on different methods to reach their vision of a connected world. 
Apple Is Empowering Developers To Build Exclusive Apps For

IoT
The Apple iPhone was a phenomenal success because of the wide variety of apps which were available for the very first time. This success was largely driven by developers who were eager to make apps for the App store. At WWDC 2014, instead of the new hardware Apple unveiled two API kits – the health kit and the home kit. Although the world was expecting Apple to present revolutionary hardware such as the rumored iWatch, the company instead gave developers the opportunity to create apps to handle the enormous amount of data generated by fully connected devices. This is an area where Apple is focused on; The benefits of Apple's high-end devices pass on to end users only when the data makes sense. Sensors generate data to produce knowledge, which in turn triggers actions. During Apple's WWDC, SVP Craig Federighi made another equally important point, complaining about how data relating to health and homes was often stored, but not actually used. Hence, devices need to communicate with each other for true connectivity.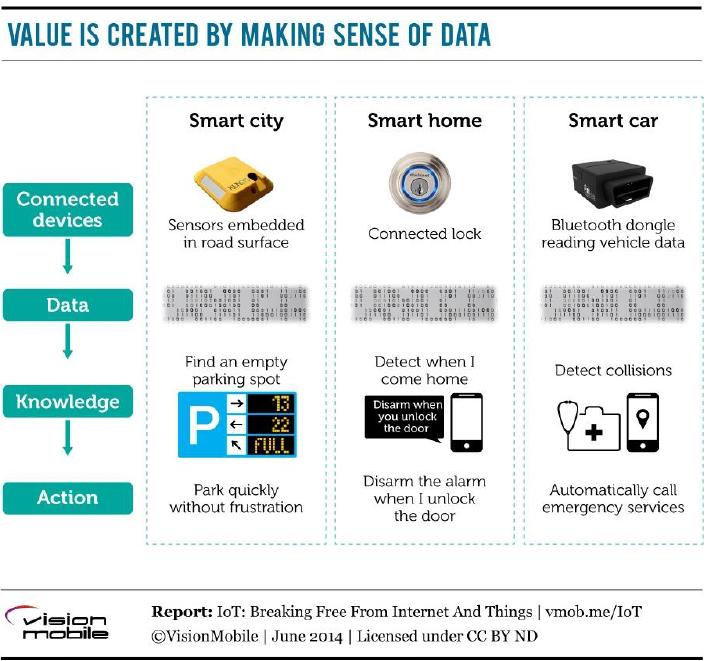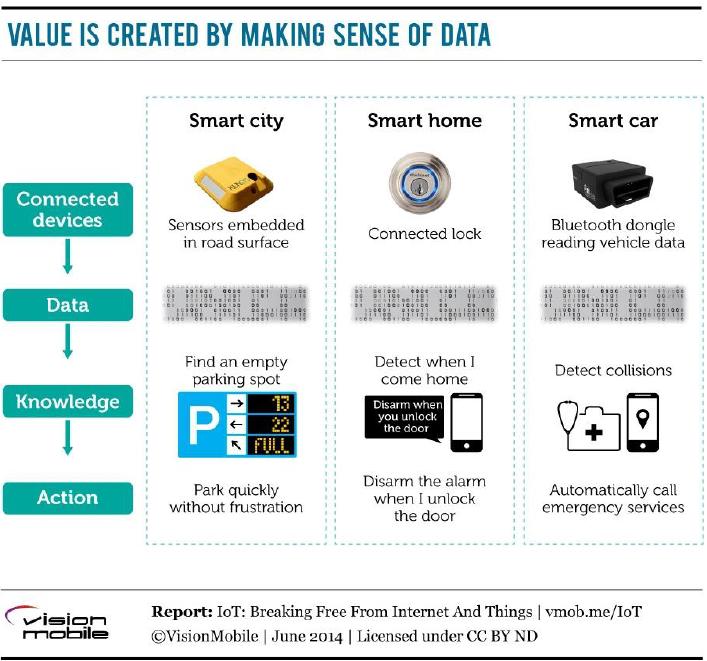 Apple's second most valuable asset is its App Store. Consumers spent US$10 billion on the App Store in 2013, which is a tiny 2% of the company's overall revenue of US$174 billion in 2013. Also, several App Store's top apps, such as Facebook and Flipboard, are free and hence the company has often reported that the App store profits were enough to just break even. Yet, Apple has succeeded by bundling its apps around its flawless hardware devices, allowing the company to boost profits and generate record-breaking revenue. In this manner, Apple can succeed in the internet of things, by building high-end devices and empowering and encouraging developers to create exclusive apps. 
Google's Advertising Power is Central to its IoT Ambitions
Google has  made the most of the progress in IoT industry by acquiring Nest technologies in 2014, unveiling self-driven cars and Android Wear. The number of Google Android devices activated in 2013 stood at one billion units, which was five times higher than the company's expectation of 200 million devices back in 2010. If Apple empowered developers, Google spawned an entire industry by empowering millions of mobile device manufacturers to innovate and ship hundreds of millions of devices every year.
Google has successfully driven the prices of smartphones to the very bottom for a very good reason. From 2011 to 2013, Android business model had caused the ASP of smartphones to drop from US$450 to US$320. Unlike Nokia Corporation (ADR) (NYSE:NOK), which generated revenue through mobile handsets, Google saw the mobile platform as an advertising business, hence the need to maximize its opportunities to show ads and collect users' information. The data giant was actively involved in providing incentives to handset makers to adopt Android OS, by following a strict set of governing rules. Hence it is clear that Google is open around devices and apps, while at the same time very closed around its core business. It was this openness around devices and apps which allowed Google to flood the market with over a billion Android devices. Google also tapped the early-stage developers during the initial period of Android OS, when there was little opportunity to earn revenue through apps.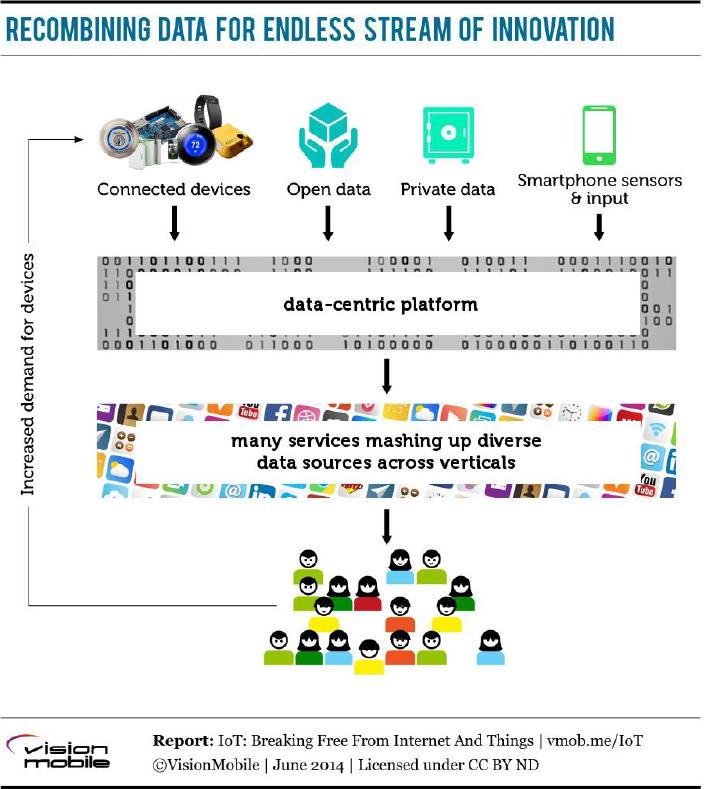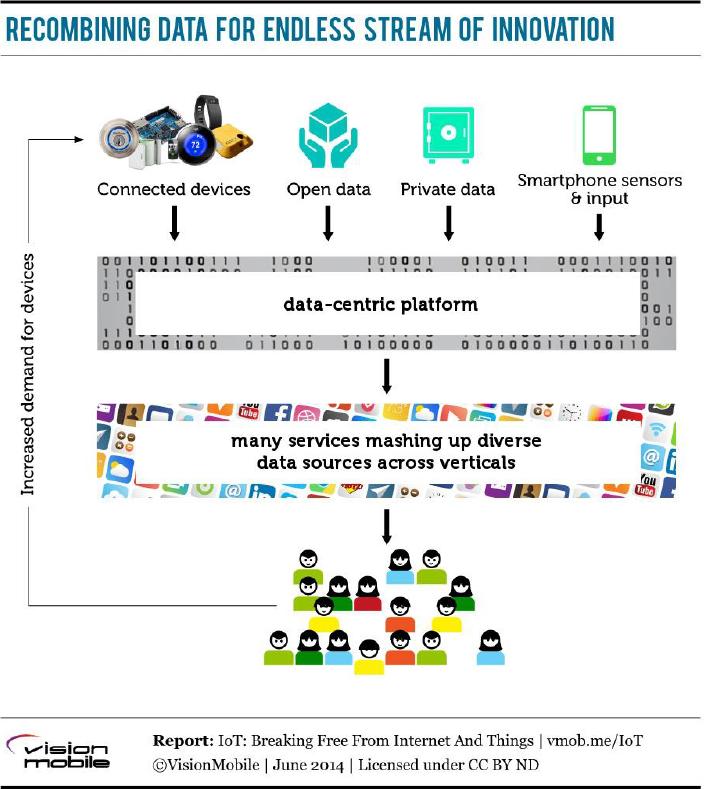 A New Business Strategy is Needed To Succeed In IoT
There are important points to be noted from both examples; A core central business of making profits is important to succeed in IoT, while at the same time foregoing profits in adjacent markets when it comes to open, free or selling products at cost. Some of the common mistakes include fragmentation, lack of marketplaces for developers and bad monetization options. Despite these challenges, rapid innovation has allowed smaller firms to catch up to the tech giants, and, already, several companies are using crowd-funding as a means of obtaining the necessary funds.
One such example of this is the home automation startup SmartThings. It essentially connects sensors and actuators around the home by connecting to a central hub using Wi-Fi. This also allows developers to design apps for SmartThings, and is a good indicator for IoT. Besides releasing API's and incentivizing developers, there are many other factors involved when it comes to succeeding in IoT.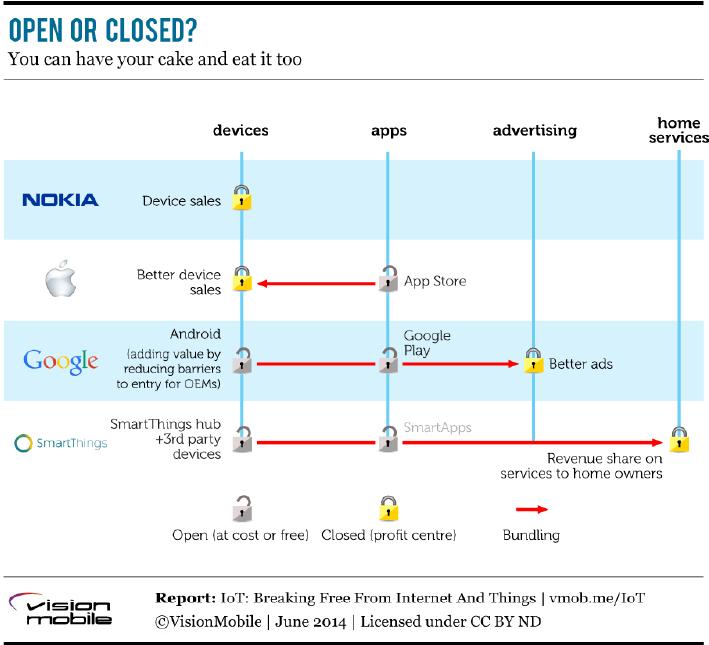 The next few years will see the rise of several new and old companies developing advanced connected devices. The potential revenue of this business is immeasurable as it extends to almost every aspect of modern life from health care to business to homes. With Google and Apple lead the way, the  phenomena of it is all set to invade our daily lives, just as smartphones have already accomplished.