With the growing social media obsession amongst internet users, marketers are increasing their social media spend to expand their brand visibility and customer base. Marketers are cleverly using innovative tactics to attract the online audience and dicing around with various paid offerings of networking sites and Facebook Inc. (NASDAQ:FB) is apparently gaining the greatest benefits of all these efforts.
In May 2014, Ad Age and RBC Capital Markets, jointly conducted their 5th Major survey amongst 1,682 executives in marketing agency and media companies for their opinions on Facebook, Twitter and YouTube. According to the data collected by the survey, marketers reported to have increased their social media spend in last 6 months or so; about 45% of respondents had allocated about 10% of the overall marketing budget for social media. Nearly 38% of respondents said that their social media spend account for 30% of their overall marketing budget. This is 10% point up compared to the prior survey that recorded 29% respondents spending about 30% of their marketing budget on social media.
About 84% Of Brand Marketers Use Facebook, 74% Use Twitter!
The majority of marketers undoubtedly uses Facebook due to a massive availability of over 1.27 billion users on a single platform. Nearly 84% of marketers said that they use Facebook for marketing, about 74% use Twitter Inc. (NYSE:TWTR) and 56% prefer YouTube.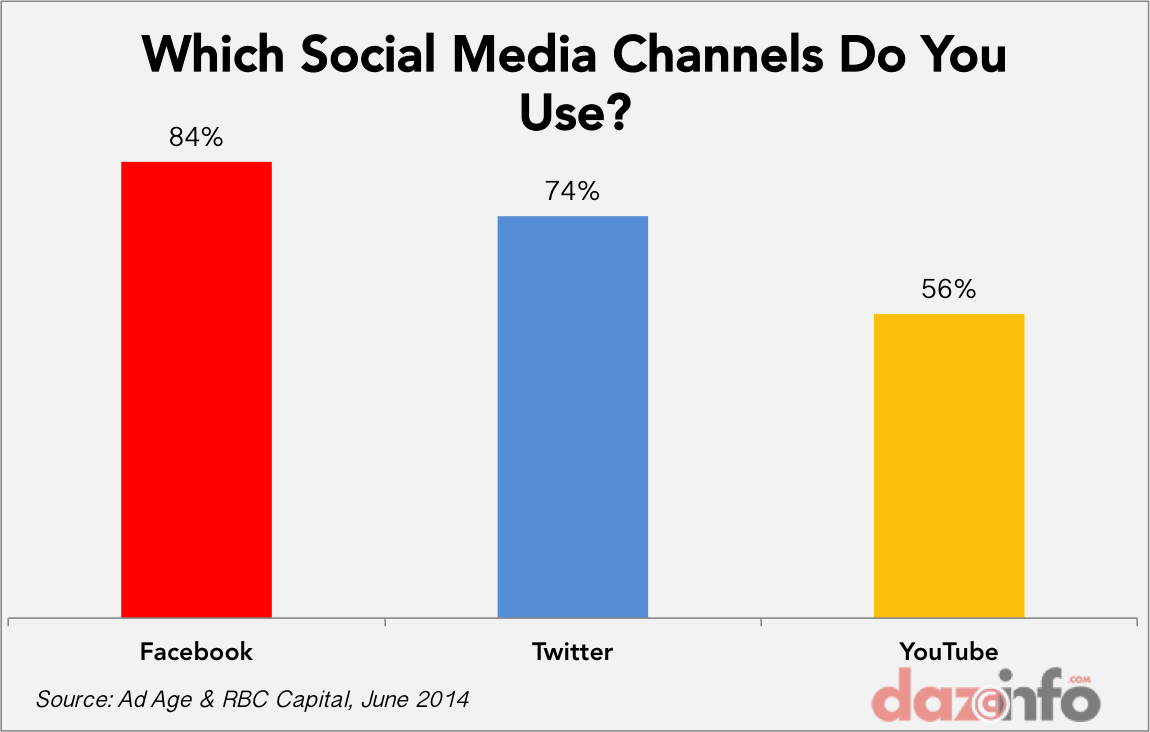 Various initiatives taken by the social media titan to suffice the demands of advertisers can be attributed to the high percentage of usage of platform for brand marketing. Marketers who are well aware of Geo-targeting of ads, custom audience feature, mobile NewsFeed ads, targeting based on gender, age, browsing activity (cookies), dark posts, news feed revamp and the PMD program are bound to be successful in gaining and engaging a greater number of users on Facebook.
The 140 char device firm Twitter, was not far behind; 74% of respondents claimed they use the platform with the dream of finding their ad-campaigns amongst the 'Trending topics' on the site. Designing cheeky tweets with rich media is likely to boost re-tweet rate by over 150% resulting in more visibility. The king of video content site, YouTube was preferred by meager 56% of users, but, this percentage is likely to soar higher with growing demand for video content by information seekers.
Marketers To Favor Twitter More Than Facebook In The Future
Although, Facebook has proved to be a successful marketing platform for most marketers, there are still a handful of them who have gained ROIs below their expectations. The reasons for this could be many; very few are actually following or are unaware of various updates in the advertising arena introduced by Facebook. Besides, after Facebook revamped News Feed to provide enhanced user experience with relevant content as closely tied up with users' interest and activities many marketers were quite concerned about the declining organic reach of their posts. This move might have diverted many towards paid advertising. Nearly 83% of respondents, up from 70%, 6 months ago, claimed to have subscribed for paid ads on Facebook. But again, there are chances of paid posts being suppressed due to the vast ocean of news feed updates trying to gain top spot in users' feed.
When marketers were asked what were their plans for social media spend in the next couple of months, more than 63% were in favor of increasing their spend on Twitter marketing compared to 59% who up voted for the increasing marketing budget of Facebook. Nearly 73% of marketers reported using Twitter's paid products at least once.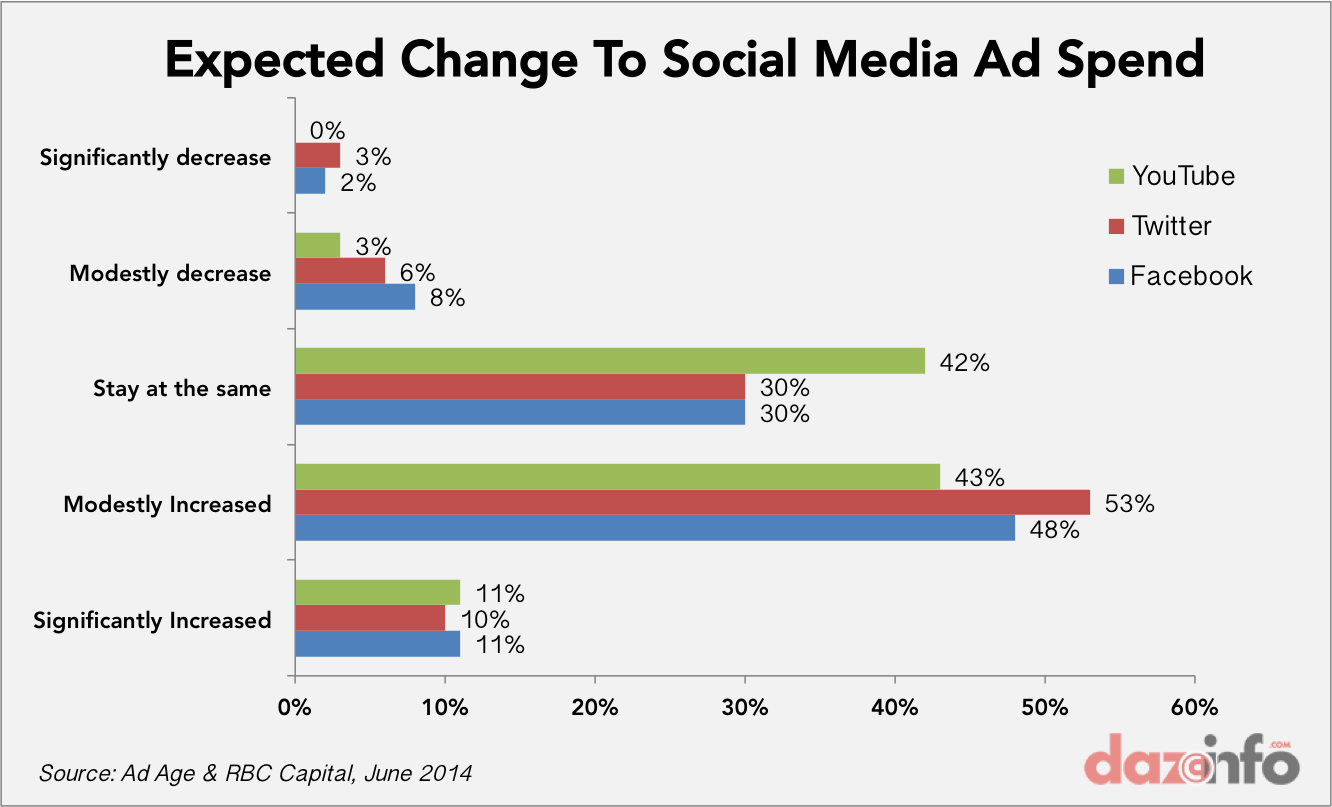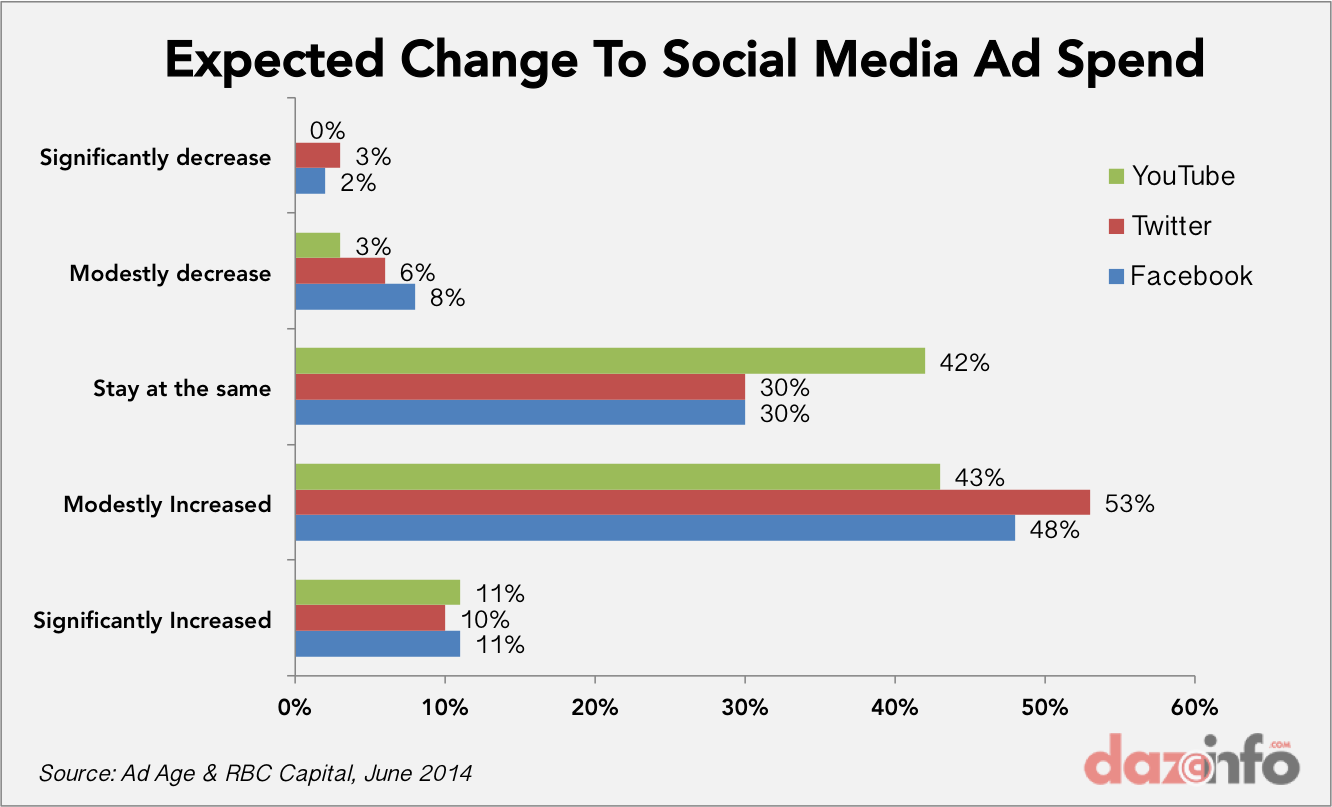 Hardly 10% and 9% of respondents were planning to decrease their social media spend on Facebook and Twitter, respectively. Although, we can see a large number of respondents claiming to spend more on Facebook and Twitter marketing, very few of them opt for paid products offered by these sites. Majority of spend occurs in maintaining the brand account and content creation. Close to 65% of respondents reported spending below 10%, or none, of their Twitter budgets on its paid products.
The findings clearly indicate that there need to be an optimum balance between marketing activity and campaigns on various networking sites. Active presence and minimum marketing activity on all major networking platforms is necessary as the social media usage trend keeps shifting from one platform to another. Subscription of paid products would be favorable if any new product or any promotional campaign is launched. Content creation must be the focused area as users look for attractive and informative content embedded with rich media.