The quote better late than never is apparently not applicable to the mobile ecosystems. The major mobile OSs, such as  Apple Inc. (NASDAQ:AAPL) iOS and Google Inc. (NASDAQ:GOOG), have emerged at the time when software platforms had already reached a dead-end and some new app-centric ecosystems were required. The Android and iOS ecosystems are the early birds in the game and have sustained themselves in the long run owing to their features and ability to deliver to users by integrating many factors together.
In the annual report titled as, Mobile Mega Trends 2014, by VisionMobile the current mobile trends and their future impact have been discussed using a variety of data points, insights and graphs.
The Success Story of iOS And Android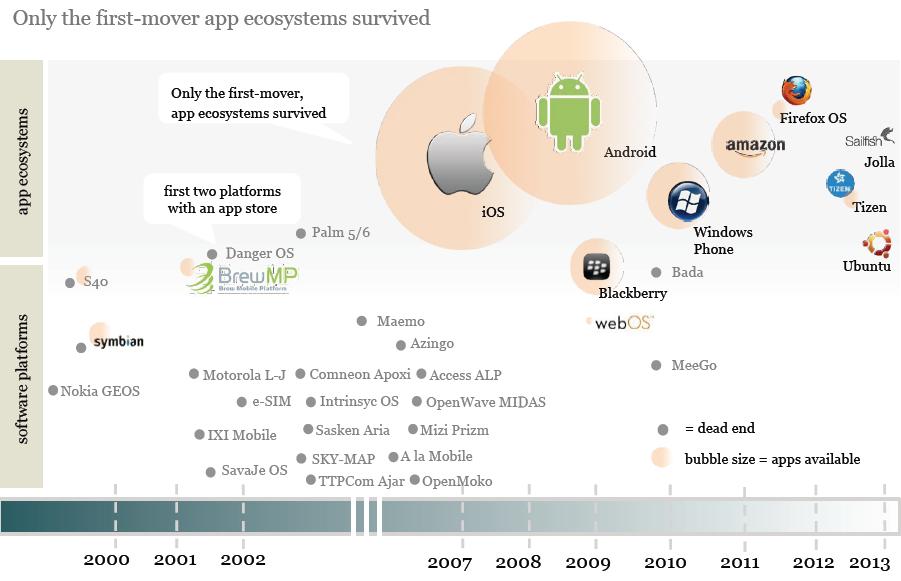 Apple and Google were not the first ones to venture into the mobile market but they were among the first players in the app ecosystem market. They achieved success when more than 20 software platforms, such as Maemo, MeeGo, OpenMoko etc, had met with a dead-end. Today, Android and iOS are the leading mobile app ecosystems globally. But, among these two, Android is preferred by both developers and users in the developing markets of the Asia-Pacific region and South America, while iOS is highly popular in developed countries such as North America, Canada and parts of Europe.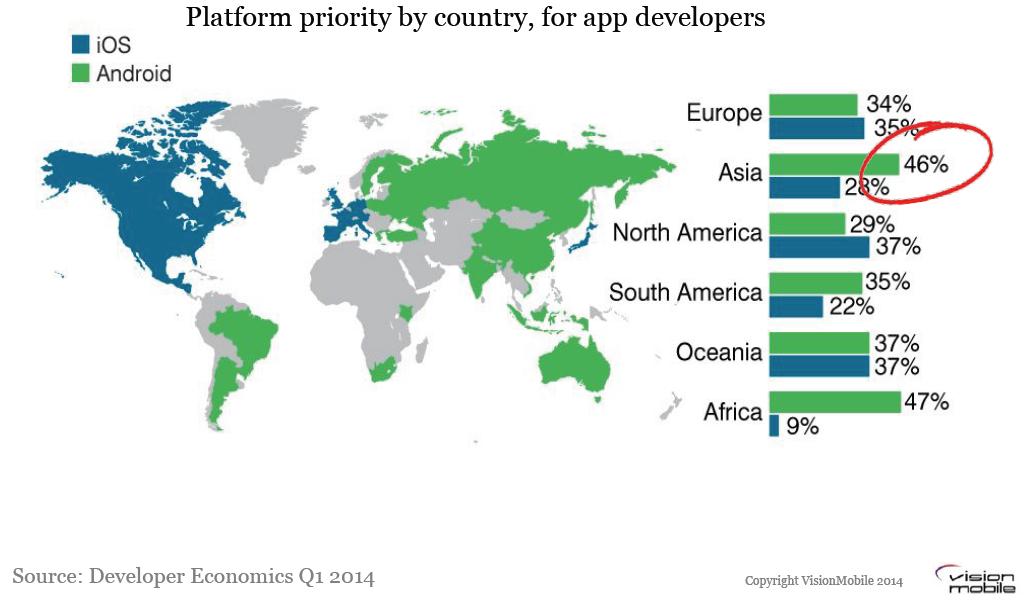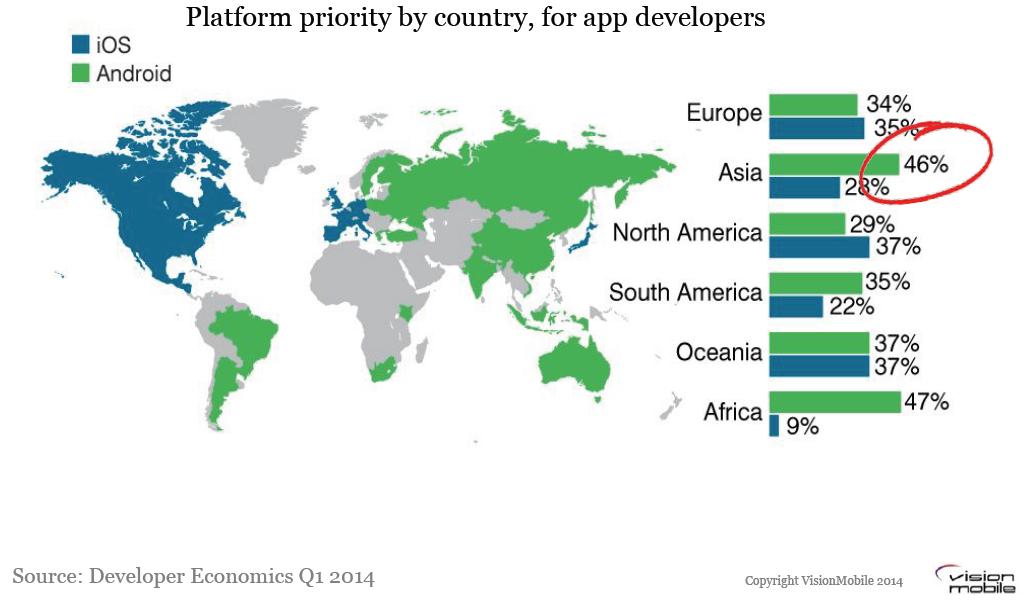 The preferences of users while choosing an OS says a lot about the economic conditions and the mindset of people who buy a gadget. The consumers in developed countries pay a lot more attention to the features of mobile phones than their counterparts in developing or under-developed nations, where price of a smartphone takes precedence over all other elements. Another reason for the success of Android and iOS is continuous involvement of various types and numbers of apps they present to user; the number of apps on Google Play Store has reached 1.5 million while on iOS, it stands at 1.2 million in 2014. Such a huge number of apps is bound to attract users and developers alike.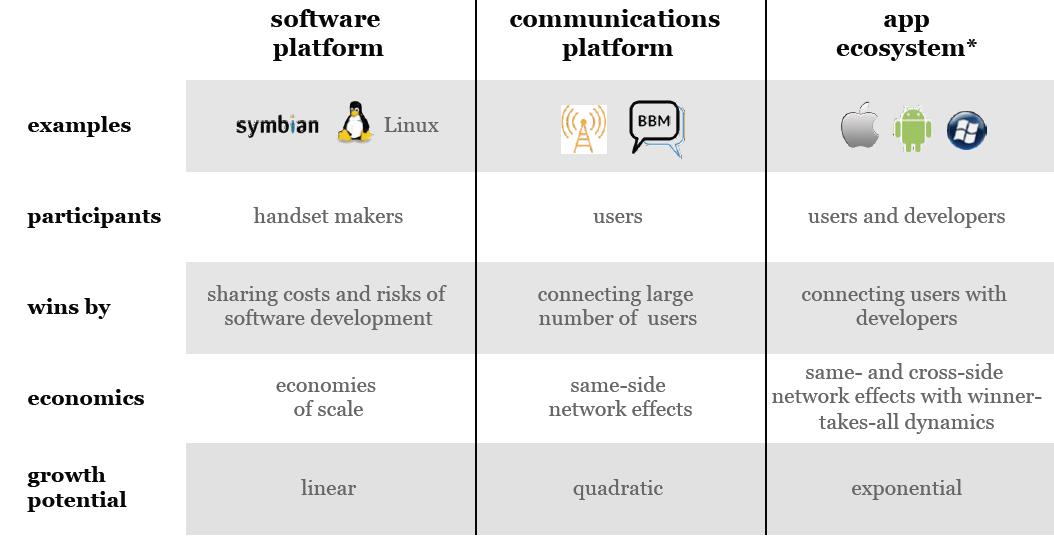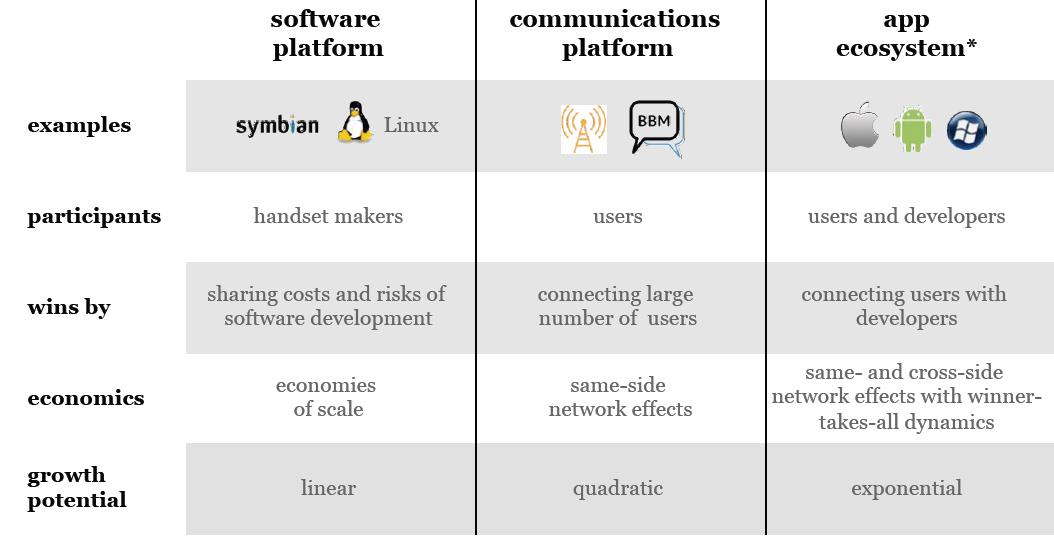 Android and iOS are not overnight-achievers, instead they have persevered for a long time with little or no competition – except from each other. These operating systems have combined the benefits of software and communication platforms to connect users and developers on the direct and indirect two-sided network effects. The same-side, or direct network effect, is the increment in the value of a thing on increasing usage. The cross-side or indirect network effect is the growth of one network on increasing the value of a complimentary network, thereby increasing the value of the original. The growth of app ecosystem combines both the effects – more users result in more developers.  Increase in number of developers results in more number of apps in store thus increasing the number of users, an ongoing circle. Unsurprisingly, the growth trajectory follows an exponential path for app ecosystems while in software and communication platform it is linear and quadratic respectively.
Apple and Google Ecosystems are More Than 100 Billion Dollar Empires
It's known for quite some time that iOS users spend more money on their apps. But iOS was found to generate more developers revenue too,  followed by HTML5. The survey done on 2,425 developers found that iOS generated 5 times the developer revenue spawned by Android developers. However, this is unsurprising as the availability of free apps is more on Android, and iOS takes precedence in the developed nations where people actively invest on paid apps.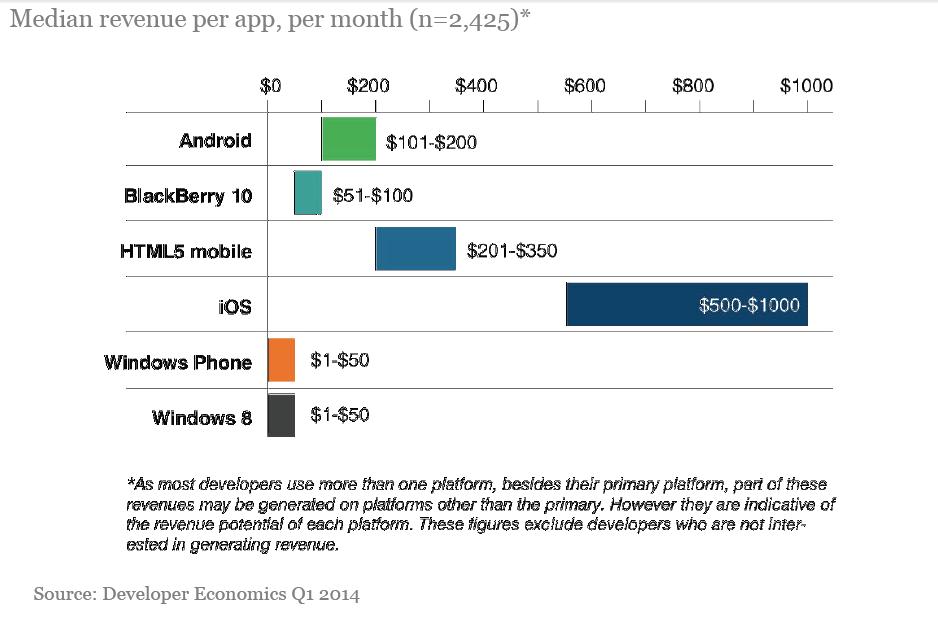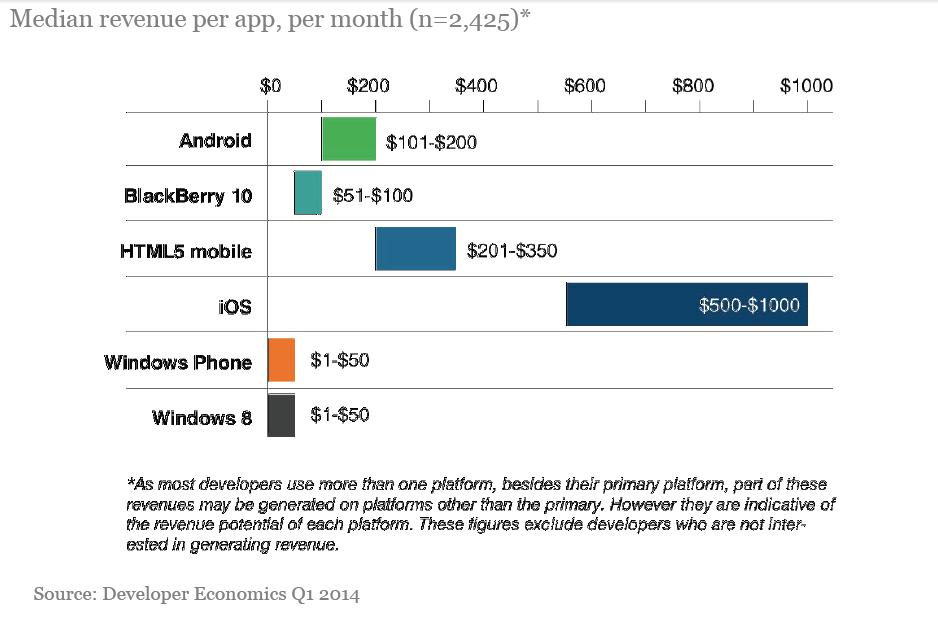 iOS: The iOS ecosystem grew to be a $163 billion empire in 2012, out of which the major revenue came from sales of iPhones and iPads followed by the apps and ads revenue. The mobile-device accessories and content like the music, videos and books also generate a major part of revenue.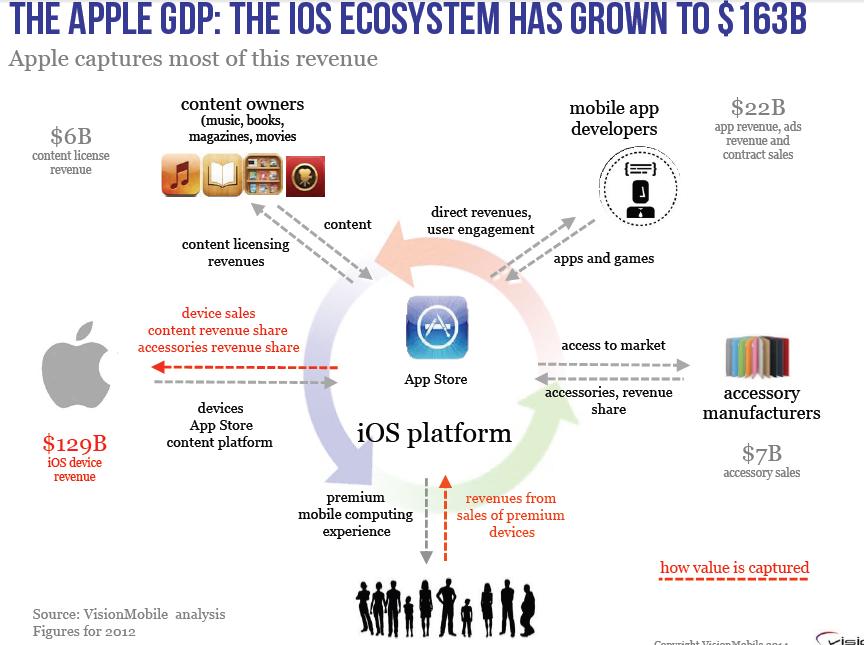 Android:  In spite of catering a larger share of audience, the Android OS generates lesser revenue than iOS. The revenue generated from Android ecosystem stood at $149 billion in 2012 out of which the maximum share came from sales of handsets. The Android offers mass computing experience while iOS offers a premium computing experience.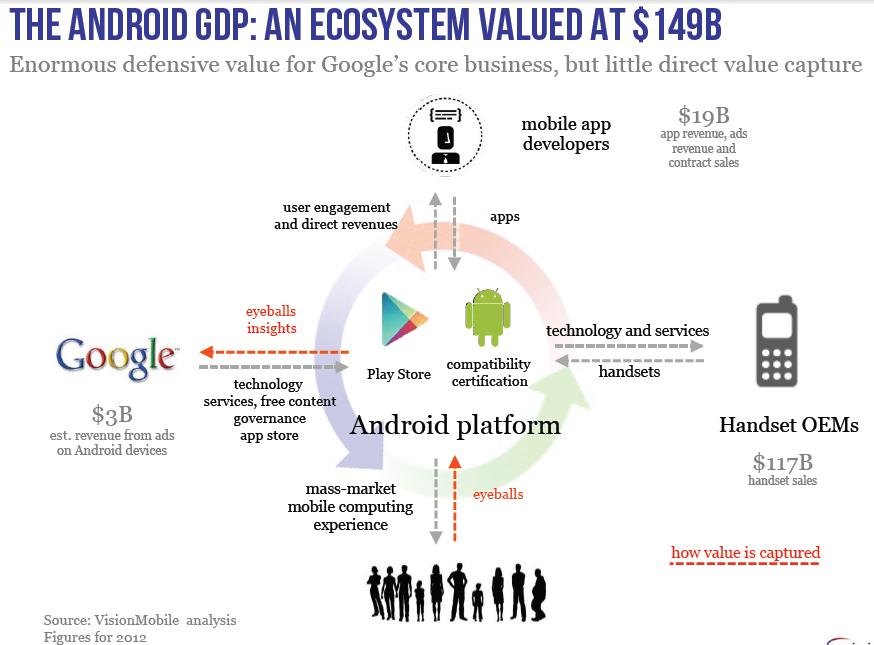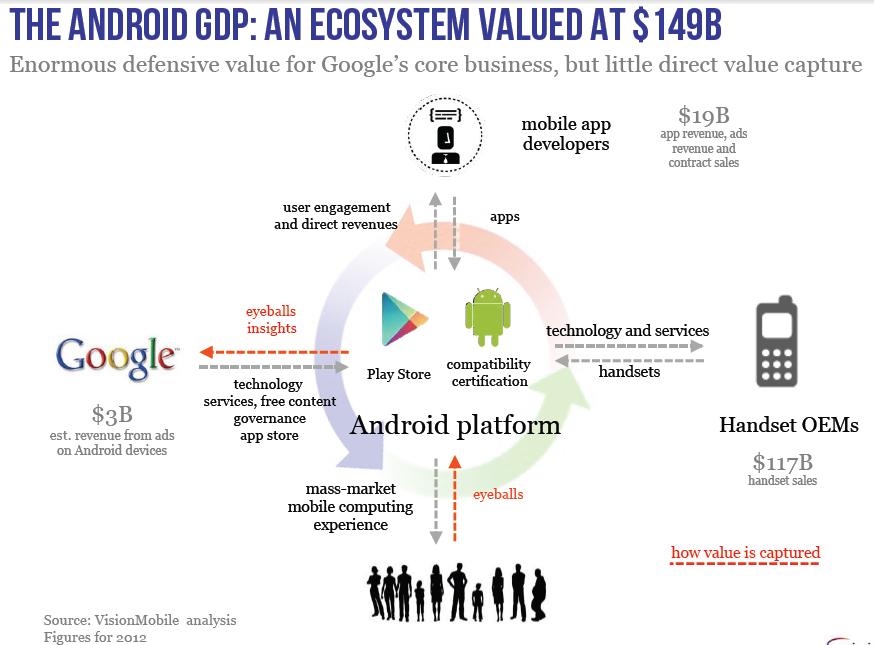 The Black Oceans of Mobile Ecosystems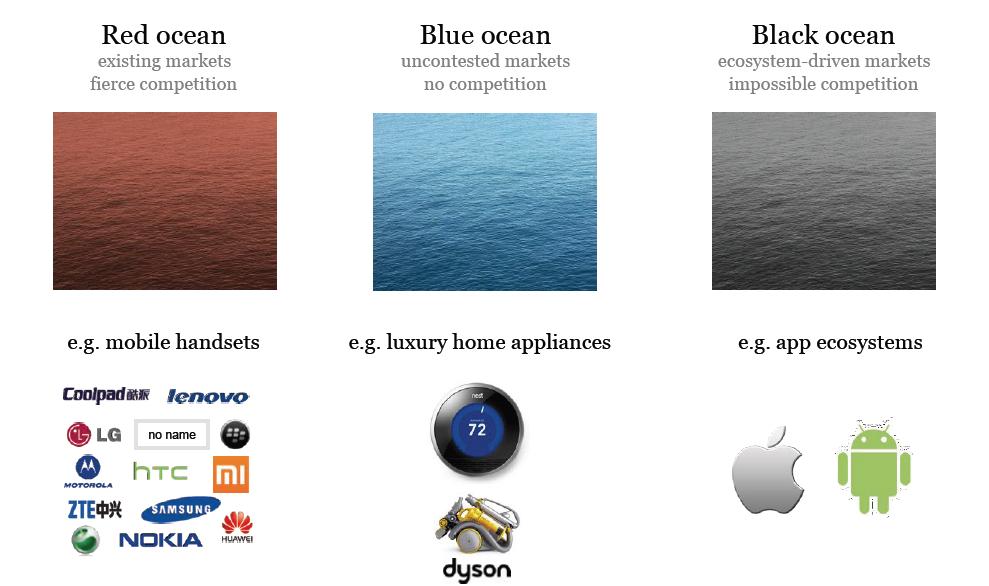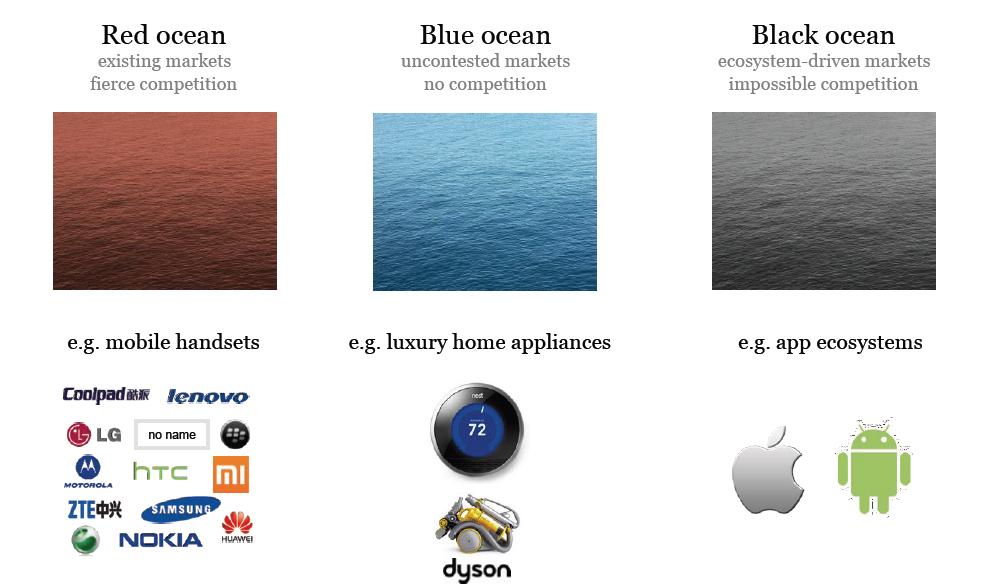 There's a cut-throat competition in the mobile handset market due to variety of vendors that launch mobile devices with all features and at all price range while the markets of  home appliance gadgets faces no competition due to lack of players. The mobile ecosystem market is app-driven where few players came, but they are either making slow-growth or are not able to sustain themselves. Apple was among the first vendors to venture into the app ecosystem market and its growth is just below Android. Though Android came late, it registered a faster growth. Blackberry OS came before Android but it is nowhere near to capturing the lost market. Blackberry is still struggling to find app developers as the growth in the number of apps has stagnated. Infact, newbie Windows Phone OS has more number of apps on its store than Blackberry.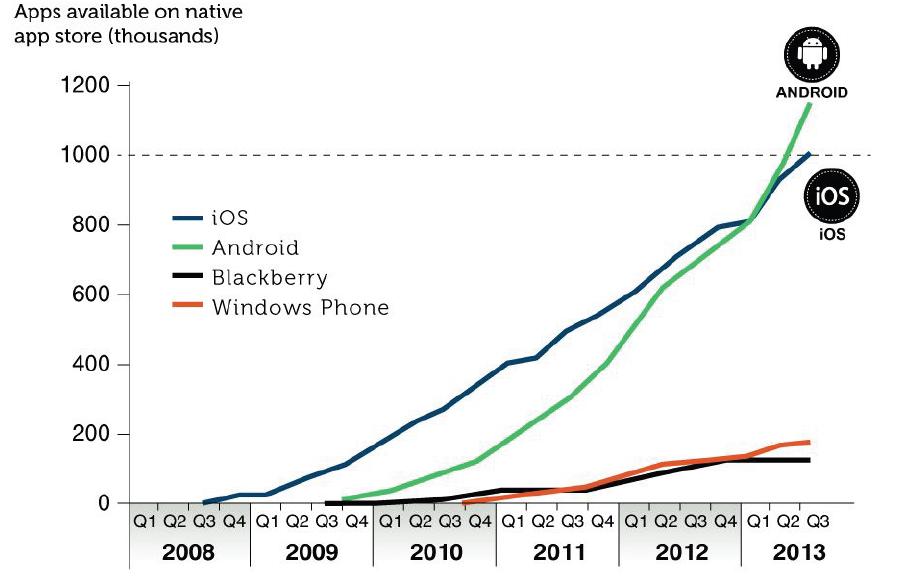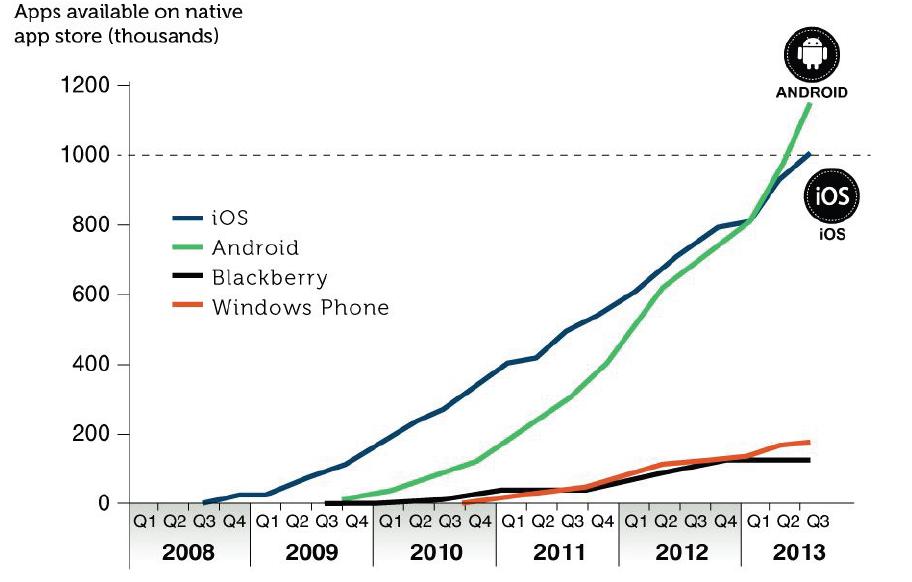 Apple and Google have combined all the cross-side network benefits to achieve the exponential growth in the five tangents namely the brand advertisers, service providers, app developers, handset makers and users. The individual and combined benefits of each tangent have helped these companies to grow. The other companies might have to achieve the cross-side benefits in a lesser time and in a better way if they want to attain a sizeable market share.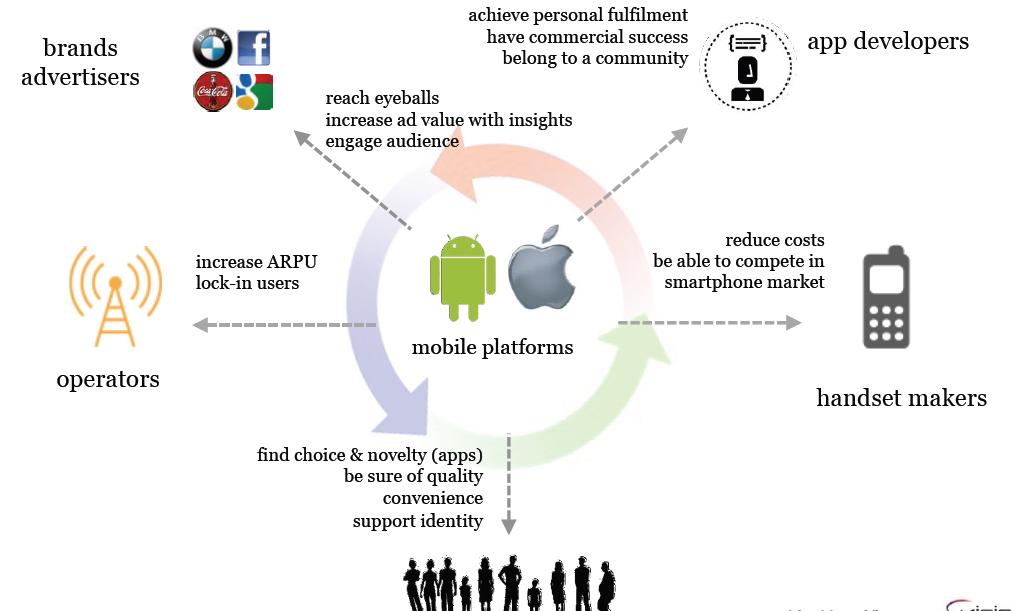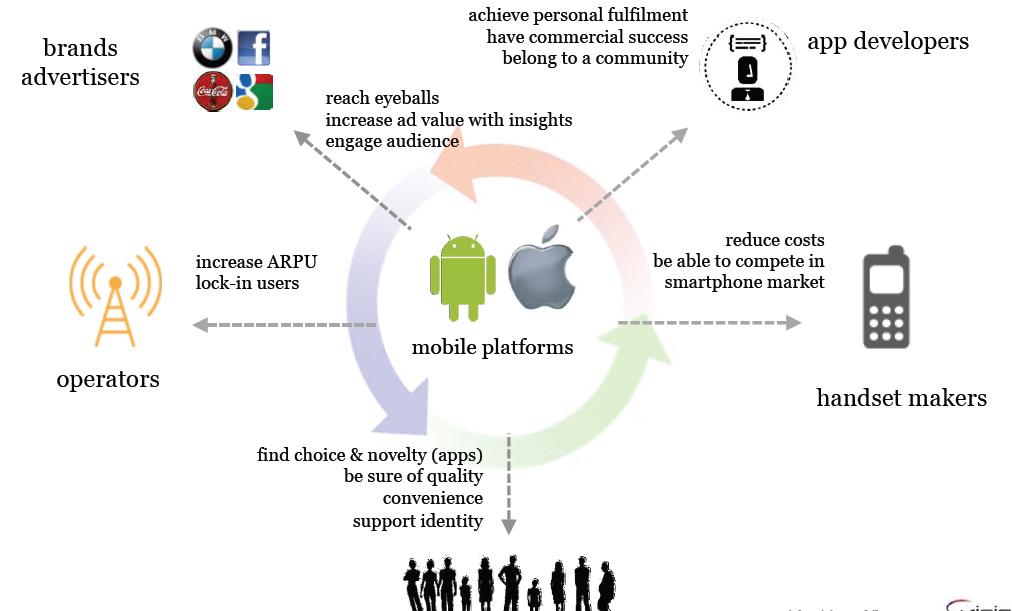 It's difficult to compete in a saturated app ecosystem market, the black ocean, but apps like Facebook haven't competed on an individual basis; instead they have tried to leverage on all platforms simultaneously, thus maintaining their dominance.
Android and iOS have captured the mobile market and are relentless to pave way for any other platform. However, few OS such as Windows Phone and Firefox OS are trying to fit in their ways. The companies such as Apple and Google have identified their key-markets and dealing aggressively there.