The debate between the two ecosystems – Android and iOS – is never unending. Every operating system comes with its pros and cons and while it is not easy to say which one is better, there are several factors that we can weigh them upon. Apart from the number of users and revenue generated by each OS, the loyalty, features, ease of use and the benefits offered are also important criteria to take into account. The revenue policy and the regions where Apple Inc. (NASDAQ:AAPL) iOS has widespread reach gives the company required dollars but the cost-effectiveness and open-source technologies put Google Inc. (NASDAQ:GOOG) owned Android a step ahead.
Seeking Alpha has targeted on various trajectories to chalk out a growth path considering the device sales, device population and app revenue from first quarter of 2010 to Q1 2014. The overall difference between iOS powered devices and Android devices is not huge; there are 310 million more Android devices are available in the market than the iOS devices but the app revenue of iOS is greater.
The Gap between Revenues of Both the Ecosystems Continues to Widen
The number of users on Android powered devices is more; 1 billion registered users are now available on Android this year. Considering the quarterly sales data and retention capacities of both the OSs, the below growth graphs can be plotted. Q4 2012 was a decisive quarter for Google as the device population of Android leapfrogged iPhones and iPads.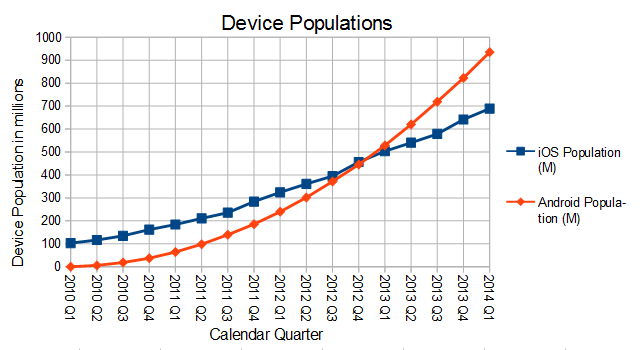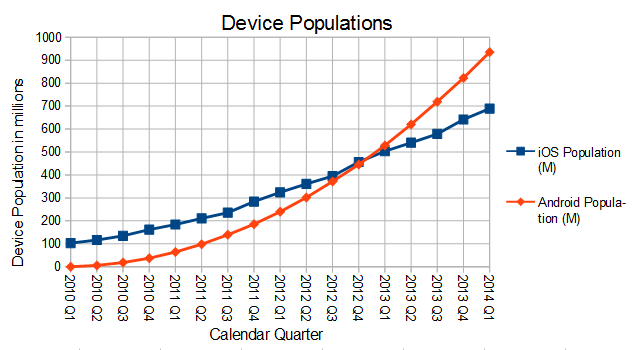 iOS has a far higher retention rate as the iPhone and iPad users are more into their devices. Even while making a switch from one iPhone to another, the device is passed on to another user and not being thrown away, thanks to Apple's aspiring brand value. However, the scenario is exactly different with Android users; Android powered devices are available from entry-level devices to high-end mobile devices, therefore most of the entry-level Android smartphones and tablets go end of life soon. Infact, often people scrap their entry-level devices after they graduates with basic usage. This leads to higher device sales number of Android OS powered devices than any other OS. In Q1 2014, the cumulative sales of all iOS devices such as iPhones, iPads and iPods reached more than 800 million while for Android, the figure was more than 1.3 billion.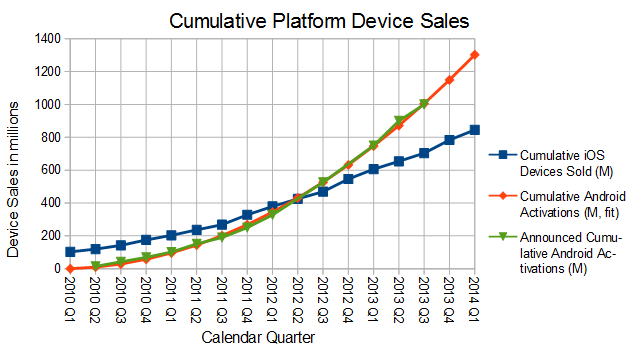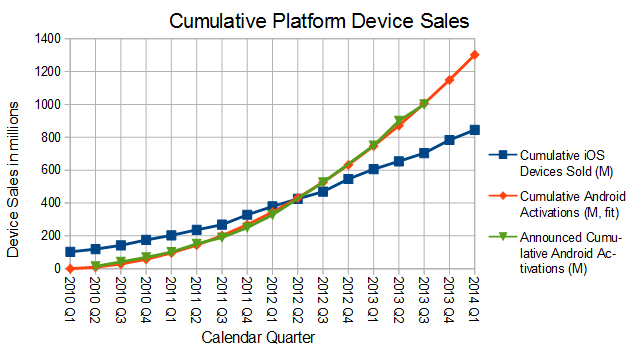 Though the number of devices on Android is increasing, it is nowhere close in terms of revenue generated. In the 12 months ended June 2013, Apple had paid $5 billion to developers while Google had paid something around $900 million, although any official figure is not available from the company. The availability of free apps in abundance on Google Play Store is somehow eating into the apps revenue of Google but that is being covered by the Android device sales. In addition to that, Android is the leading smartphone OS in almost all the regions. The open-source technology and a huge undeveloped, price-sensitive market in the APAC region are attracting a lot of vendors to deal in all price ranges. In spite of that, Apple continues to lead in terms of revenue as iOS users are less willing to depart from their platforms. Leave alone switching, even the Android users are willing to ditch their existing OS in favour of iOS.
Google Paid $5 billion to App Developers in Last 12 months
The current average price of an app on App Store is $1.5 and, as stated by Seeking Alpha, an average iOS user spends $4.25 on apps per quarter against $2.4 being spend by an Android user. This is well explained in details taking into account the payment made by Apple and Google to the developers. In 2013, the iPhone maker generated $10 billion as revenue from App Store while Google generated $7.14 billion from Google Play in the 12 months. This graph shows the widening gap between the revenue generated from iOS and Android apps.
The widening revenue gap from both the operating systems might be a threat for Google. But the availability of free apps and the customization options that Android offers attracts more consumers than Apple does. The average cost of an Android smartphone is $250-$300 while that of iPhone is $600. In the developing countries, where there is still room for growth, iPhone is unlikely to attract consumers in score due to price sensitive nature of consumers. The biggest chunk of audience for iPhone comes from the developed nations where people are mostly the ones switching from one device to another and here too, the loyalty of Apple fans turns the table in its favour.