The world is online for Americans! For every little thing, the users in developed countries refer to their smartphones. And why not, with the increasing smartphone penetration and high-speed internet, mobile browsing is bound to increase. By sampling few billion mobile pages, Quantcast found that Apple Inc. (NASDAQ:AAPL) iOS devices account for 60% of all mobile internet traffic in the US. While the share of Android is less, it's benefitting a lot from the declining share of other mobile operating systems.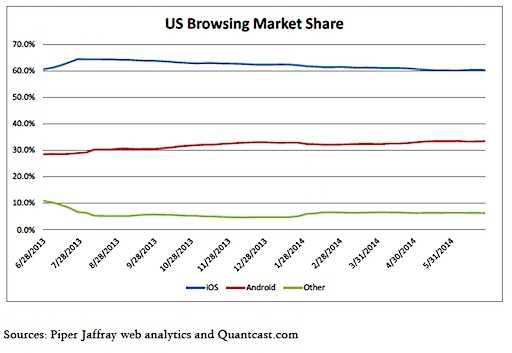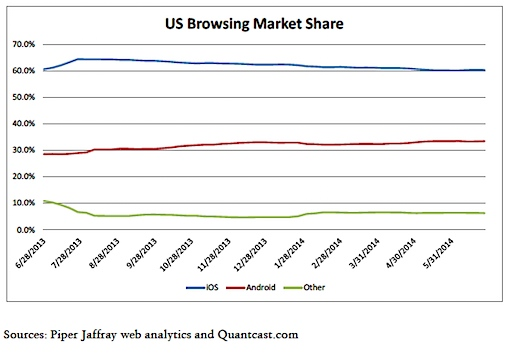 The high consumption of mobile internet on iOS devices in the US is unsurprising since Apple Inc. (NASDAQ:AAPL) is the leading smartphone vendor in the homeland, Samsung Electronics Co Ltd (KRX:005930) is catching up fast though. What's surprising is that Google Inc. (NASDAQ:GOOG) owned Android is the leading OS in the U.S. by the number of subscribers but mobile web browsing is far more on iOS devices than Android. However, the share of Apple in mobile web browsing has been decreasing since July 2013 when it peaked to 64.4% but in last one years it has marginally declined to 60.3%. Since June 2013, not much change in mobile web browsing is recorded in the US market except that Android is the only OS to witness an increase in the web browsing on mobile devices.
According to a report from Walker Sands Digital, the usage of internet on Android powered devices has gone up in over a year, from Q1 2013 to Q1 2014. Infact, the web usage on tablets has doubled in a year reaching to 4.8% in the first quarter on 2014. The total number of web visits from Android tablets is up 140 percent since the first quarter of last year. However, iOS still leads in traffic coming from tablets, accounting for nearly three times as much as Android tablets.
Android's Growth is Pegged to Budget Smartphones!
Android captures more than half the market in US but the major share among devices is not held by the flagship Android smartphones but by iPhones. This simply does not mean that iOS users are more engaged, it could also point out to the difference between sales of iOS devices and shipments of Android devices. Barring Apple, all other major smartphone vendors do not show the number of devices sold to end-user; only the number of devices shipped is made known to public. In addition to that, Apple is the only vendor competing with just a handful of smartphones while all other vendors have given plethora of options available at all price ranges. This includes the feature phones and budget smartphones that can be majorly used for text and messages with little or no advanced capabilities like the wi-fi.
This is not the case with US only. In the developing markets too, Apple users are the biggest consumers of data. Another thing worth noting here is that Apple devices are premium and cater only to special strata of society. This is the class that can afford all kinds of high-speed internet plans and wi-fi at their homes and offices. In addition to that, these people are the biggest users of m-commerce industry too, using their smartphones to make payments for all kinds of utility bills and shopping online. Taking into account all these factors, the internet usage on iOS devices is bound to have a larger share of web traffic on mobile. But the budget smartphones now come equipped with all the important features and that is likely to shift the mobile web traffic in favour of Android.