Website traffic through organic search is one of the major factors which drive online users to brand pages. Although, social media referral traffic is on exuberant rise still significant amount of marketers invest on Search Engine Optimization (SEO) as internet users visiting via organic search are more prone to buy/engage with the website. Search giant Google Inc. (NASDAQ:GOOGL) undoubtedly rules the 'search engine traffic' arena with over 94.37% of total share of organic search traffic to a website whereas, other competitors like Yahoo Inc. (NASDAQ:YHOO), Ask and Microsoft Corporation (NASDAQ:MSFT) Bing together account for less than 6%. Despite all such facts, social media marketing is hitting the influence of sear engine on internet users as organic search engine traffic share of total website traffic declined to 32.89% from 40.18% in last six months, claims a recent report.
Organic Search Traffic Account for Mere 32% Of Overall Website Visits
Search's golden days are nearly coming to an extinct with emergence of Social media. Leading online marketing tool provider, Shareaholic had analyzed data collected over the last six months (December 2013 – May 2014) that aggregate organic search traffic numbers from 300,000+ publishers reaching an audience of more than 400 million monthly unique visitors. According to the study, search engine traffic accounts for mere 32.89% of overall traffic to a website; this figure has decreased significantly from 40.18% in Dec 2014. This decline could easily be attributed to the growth of online social media networking sites, which has reflected clearly in its referral traffic growth rate to brands' website. While organic search traffic to websites has declined by nearly 8% point, the social referral traffic registered a growth of 110% between 2012 and 2013.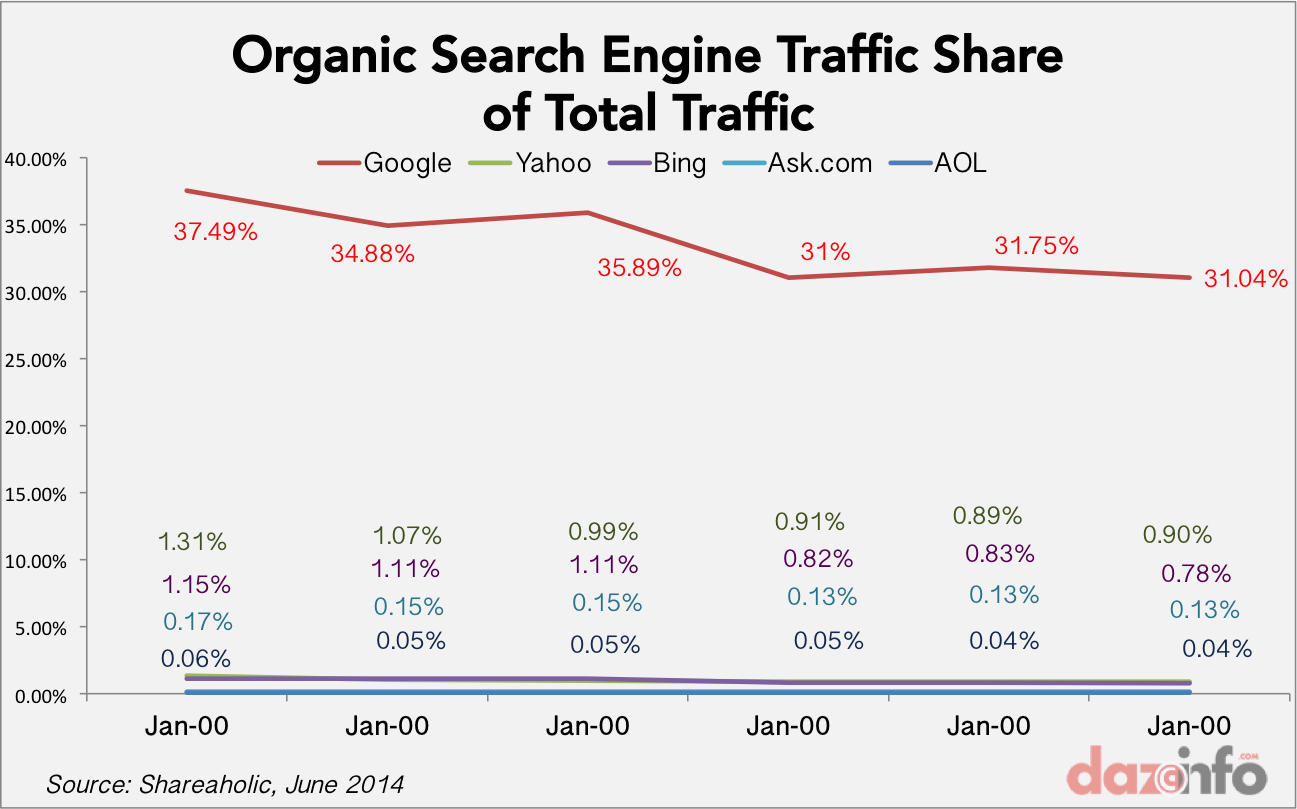 Of the overall traffic generated by different search engines to brand websites, search-giant Google outplayed the rest with massive 94.3% share. Rest of the search engines like Yahoo, Ask, Bing and AOL account for under 1% each. If we compare the trend over last 6 months, Google's share decreased by 17%, Yahoo's share by 31.17%, Bing by 31.65%, Ask by 27.24% and AOL by 32.01%. Google delivers about 17 times the traffic sent by rest of search engines (list of search engines mentioned above) combined.
In above graph which depicts organic search traffic of top search engines of the U.S (except Google), we can see that the share of each of them is continuously decreasing in last 6 months. Search channel is inching closer to saturation due to stiff challenge from social networking sites. Nevertheless, search traffic will still exist as web users usually prefer browsing for required information on search channels which will indirectly promote traffic to websites.
Website Visits From Bing, Yahoo And Ask Offer More Engagement Than Google
The understand the search traffic trend in a better manner, Shareaholic further dug the quality of traffic/audience delivered to websites by different search engines by analyzing 3 key metrics – average visit duration, pages per visit, and bounce rate. This has resulted in few key findings:
Search engines like Ask, Yahoo and Bing although drew lesser audience, but offered most engagement when compared to Google.
Average time spent on website for Yahoo (148.1), Bing (169.05) and Ask (190.53) were significantly higher compared to Google (145.5).
Even the Average pages/visit for Yahoo was around 2.51, Bing 2.75 and Ask.com 2.69 in comparison to Google's 2.34.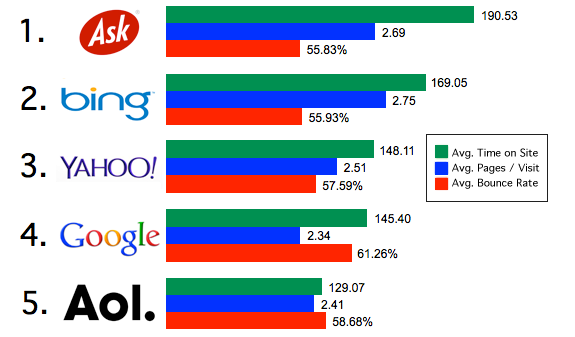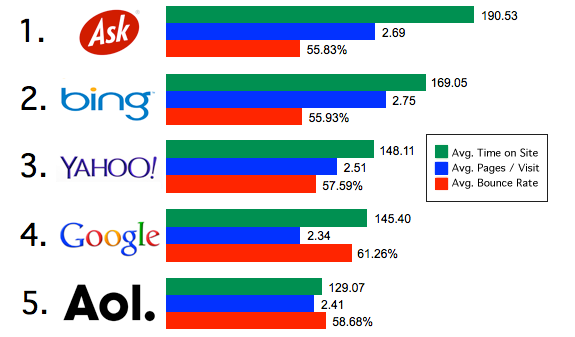 Average bounce rate was highest for Google at 61.26% whereas for rest of search engine bounce rate was lesser than 60%. Google searchers are least patient and quickly swipe through different web pages if they find the webpage info irrelevant. They hardly prefer staying on particular web page for longer. Even though, the latter 4 search engines deliver quality audience, the amount of traffic generated by them is not sizeable compared to Google. The extent of audience delivered through Google's search engine might somewhat compensate for the higher bounce rate, lower average time spent and lower average page/visit.
While speaking about referral traffic rate in general, social referral traffic is definitely going to eat up share of organic search still the search channel will remain prominent and drive sizeable number of users to brand sites. It would be advisable for marketers to invest both on search engine optimization and social media marketing.