Windows 8 OS might have been unable to turn the desktop OS market in its favour but Windows Phone 8 is doing a great job in the Windows Phone mobile devices market. The combination of Lumia series and Windows Phone is definitely a good news for Microsoft Corporation (ADR) (NASDAQ:MSFT) and Nokia Corporation (ADR) (NYSE:NOK). Nokia Lumia 520 continues to capture the Windows Phone device market, while Windows Phone 8.1 improves its smartphone market share, up from 5.2% in May 2014 to 7.7% this month, according to the latest AdDuplex report. The report is based on data collected over the day of June 23rd, 2014 (UTC time) from 4,311 Windows Phone apps running AdDuplex SDK version 2.0. in 10 countries.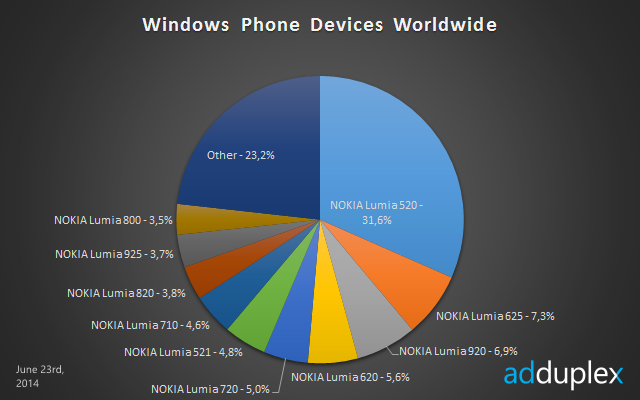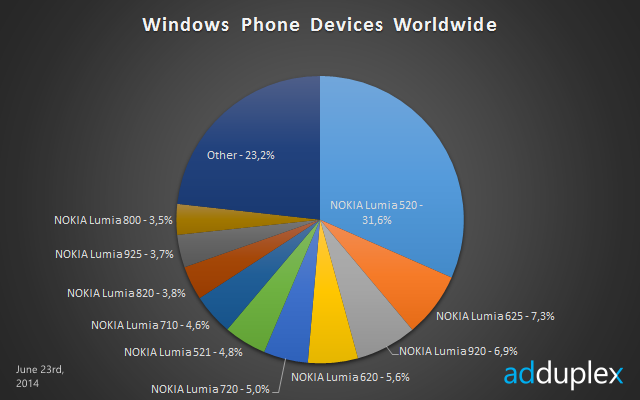 The adduplex June report is very similar to the report we addressed previous month with respect to Windows Phone devices. The entry-level and mid-range smartphones continue to be high in demand. Nokia Lumia 520, Lumia 625 and Lumia 920 continue with their top-3 positions respectively, though some swapping is clearly visible in the devices capturing the Windows Phone device market with low share. Even in the top-3 positions, a marginal change in the market share is visible. The Windows Phone device share of Lumia 520 went down from 33.7% in May, 2014 to 31.6% a month later. Lumia 625 and Lumia 920 witnessed a negligible increase of 0.6% and 0.7% in their market share respectively. However, the top-10 Windows Phone devices remain the same. The newly-launched device Nokia Lumia 630 is catching up fast since it jumped from 30th position last month to 20th spot this month.
Nokia Lumia 520 Gets New Kids on the Block
Last month there were only 4 major manufacturers dealing in Windows Phone devices but this month, we witnessed an influx of new OEMs though they failed to capture any market. Micromax, Panasonic and Prestigio launched their Windows Phone smartphones in this month. However, the failure to capture any market can not be seen as their loss. The increasing demand of budget smartphones is likely to fuel their sales in the coming months.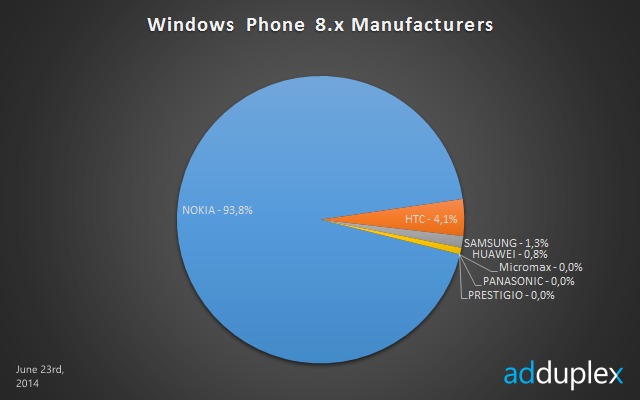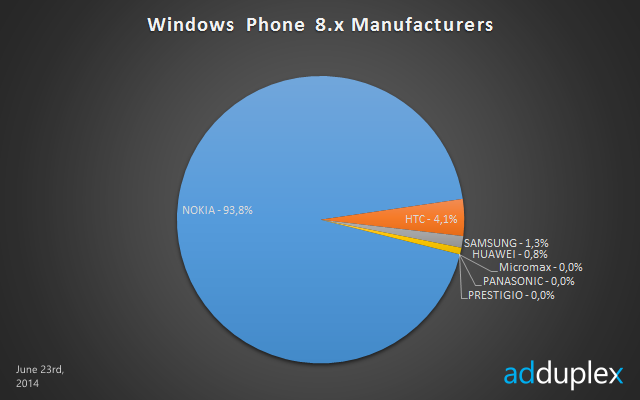 Nokia and Samsung Electronics Co., Ltd. (KRX:005930) managed to improve their market share in one month at the cost of HTC Corp. (TPE:2498). Windows 8.1, though in its infancy, is already attracting the customers. The notification bar and Cortana are some of the features that go a long way in making it user-friendly.
Nokia Lumia 52x Still Remains a Favourite Among Users
Out of the ten countries surveyed for the AdDuplex, it's only the United States that was covered in May and June report both. The June report covered Windows Phone device market share in Australia, Chile, China, Mexico, Ireland, Germany, Italy, Netherlands United States and United Kingdom. Though the U.S. has been tracked for the past 2 months and Mexico has been covered after a span of 9 months, the Windows Phone device market remains almost unchanged. Nokia Lumia 520 and Lumia 521 continue to capture more than half the Windows Phone market in US, while in Mexico, Lumia 710 jumped from third position to second and Lumia 520 captured more than one-third of the market.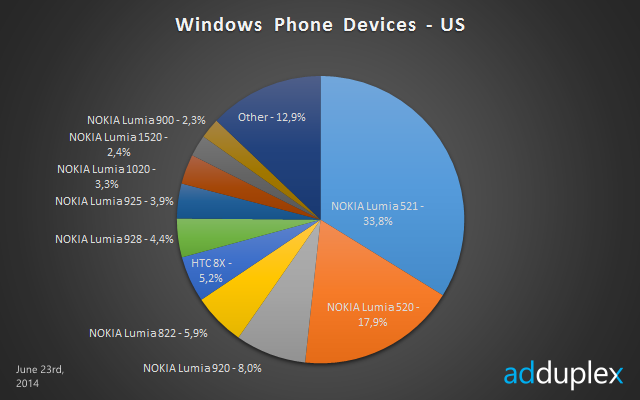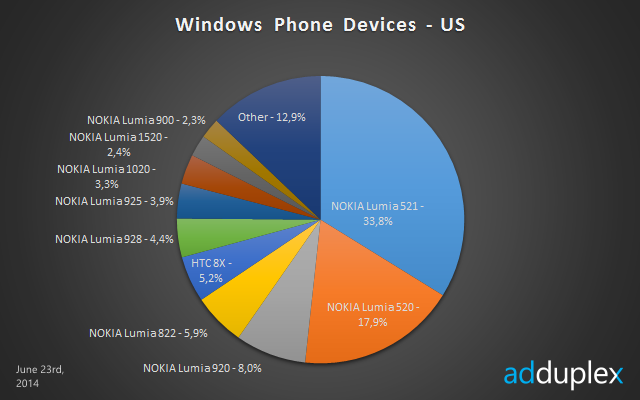 China is the only country where a device, other than Lumia 52x, is leading the Windows Phone device market. Nokia Lumia 920 captured almost one-fifth of the Windows Phone smartphone market in China. This is surprising since home-grown vendors are more famous in China and the country is largely known for supporting budget-smartphones, whereas Lumia 920 falls under the premium-price smartphone category. Infact, for the past four months, Lumia 920, Lumia 520 and Lumia 925 continue to hold the nearly 40% of China market in top-3 spots.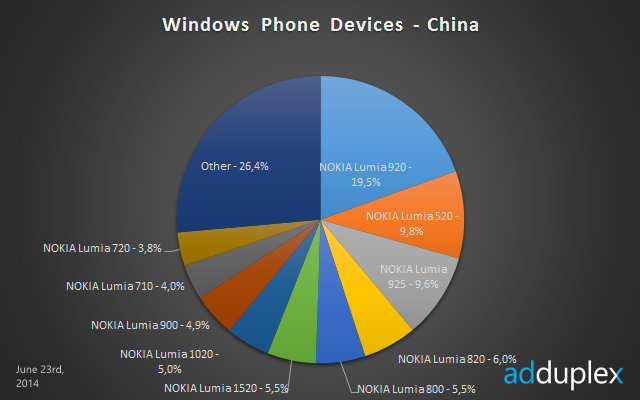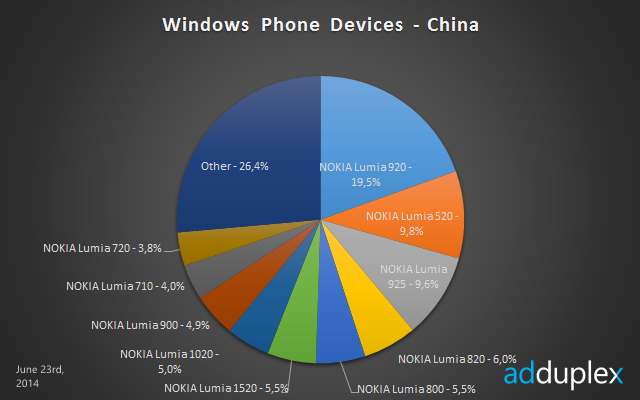 Nokia Lumia 92x and 62x Seize a Sizeable Market Share
In all the countries tracked by AdDuplex, Nokia Lumia 920, Lumia 925, Lumia 620 and Lumia 625 boasted of almost one-third market share combined. The 92x and 62x series captured 32.8% Windows Phone device share in Australia, 28.6% share in Ireland, 35.2% in Germany and 36.6% in Italy. All of these three Lumia devices fall under mid and high-range smartphones category and have a greater appeal in developed nations.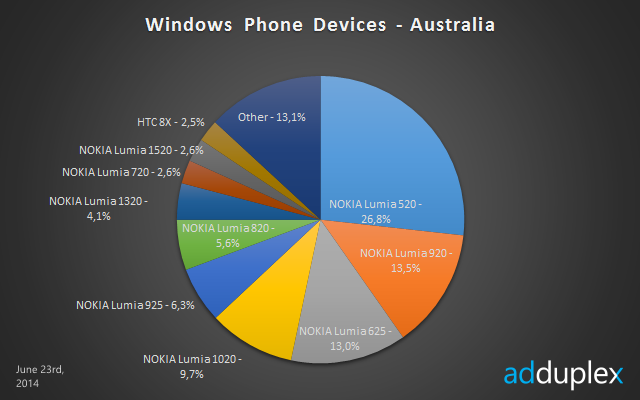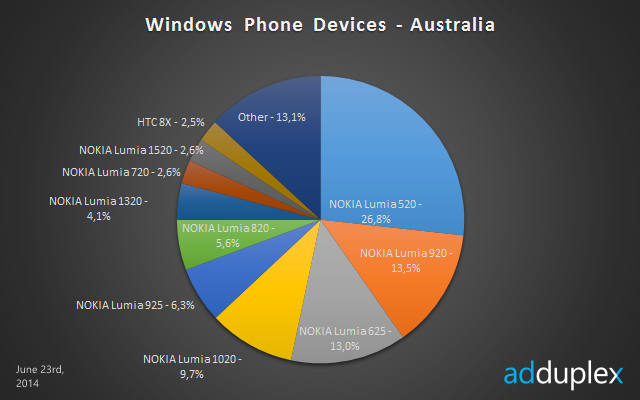 The report covered Chile for the first time and, here too, Nokia Lumia 520 captured almost half of the Windows Phone devices market. Similar to Chile, Lumia 520 boasted of a market share of 46.4% in Ireland too. Lumia 520 has been hogging the market at first position since October in Ireland.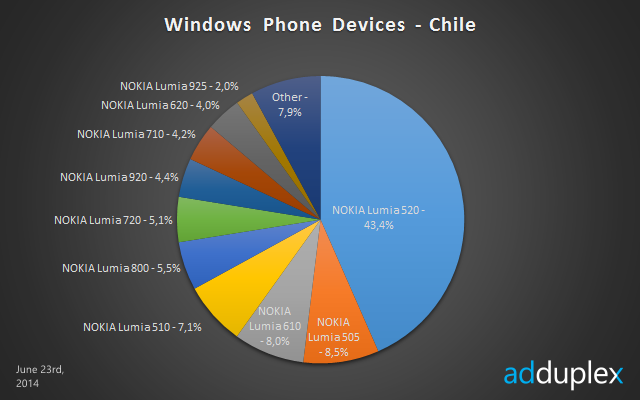 Almost all the devices that feature in the Netherlands graph are new entrants but the market phenomenon is very much similar to other countries.  Nokia Lumia 925, Lumia 625, Lumia 1020 and Samsung ATIV S were recently added in the list while HTC 8S, Lumia 710, Lumia 900 and Huawei W1 failed to make their presence felt in the market and failed to feature in the top-10 list.
Largely driven by Nokia, the Windows Phone devices hold a small share in the global market, but with the influx of smartphones at all price ranges and with the advent of new players this trend is likely to change. The global market share of Windows Phone smartphones is expected to almost double from 3.5% in 2014 to 6.4% in 2018. Inspite of being available in few devices and developers version, Windows 8.1 is doing a great job, the improved features are attracting customers. In addition to that, the budget phones have a higher appeal with the consumers but the mid-range and high-end Windows Phones are also appealing the users.