Move over wearable gadgets; health and fitness apps are more accessible on smartphones. The desire to stay connected and healthy is growing exponentially globally. In recent Opera Media Works insight, Canadians were found to be most engaged with health and fitness sites and apps while Russians were least interested. Apple Inc. (NASDAQ:AAPL) iOS users are more in-sync with the health and fitness apps than users on any other platforms. The study, done before world's biggest advertising award show Cannes Lions, focuses on mobile advertising and use of health and fitness applications and sites. It is based upon 500 million monthly impressions on 400+ sites and apps focused on health and fitness industry, and a survey, which was completed in May, 2014.
225% More Health and Fitness Traffic In Canada
Mobile and internet users in Canada and Australia seems more engaged and conscious towards their health. Both the countries generated more engagement towards health and fitness compared to other countries. To understand this engagement the study compared the ratio of traffic, coming from health & fitness sites and apps, with impression ratio from each country; less traffic but more impressions. Canada topped the list of highly engaged health & fitness countries with 225% ratio difference between traffic and impression. United States, though, generated the maximum ad impression but whence compared to traffic it fall behind Australia and United Kingdom. The developing nations, like Brazil, India and Indonesia, didn't show well with health & fitness engagement. Russia emerged as the worst country where mobile and internet users are apparently least bother about health and fitness. Considering the smartphone penetration and 3G and 4G technologies in the developed countries, this is not surprising at all. Besides, people in developing and poor nations are least likely to seek medical help online.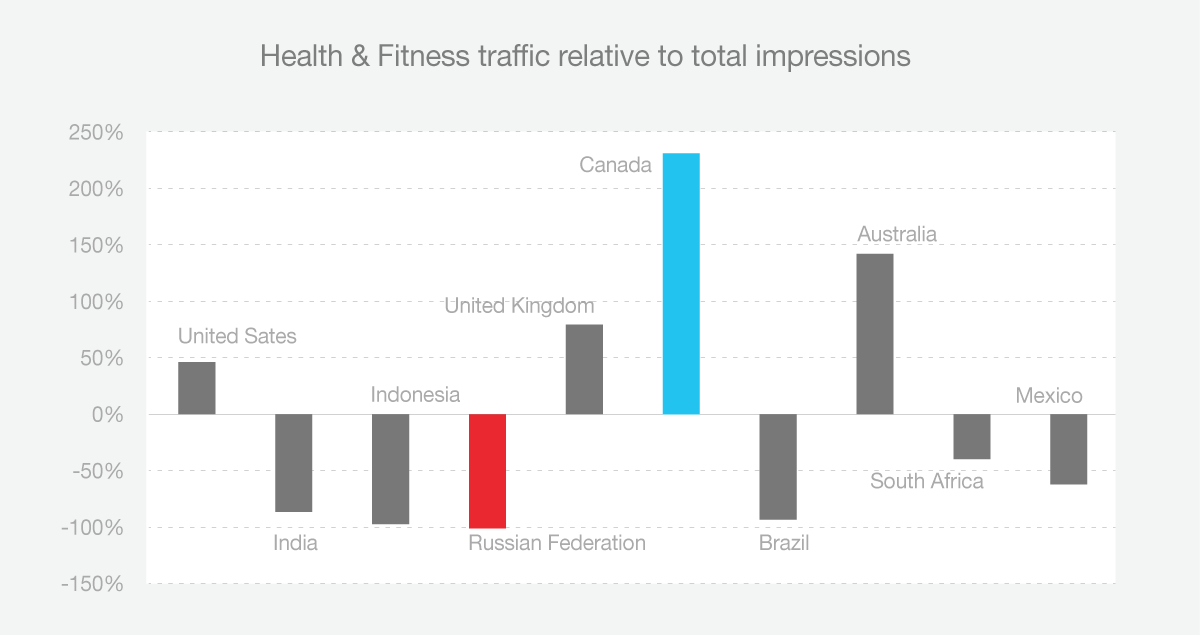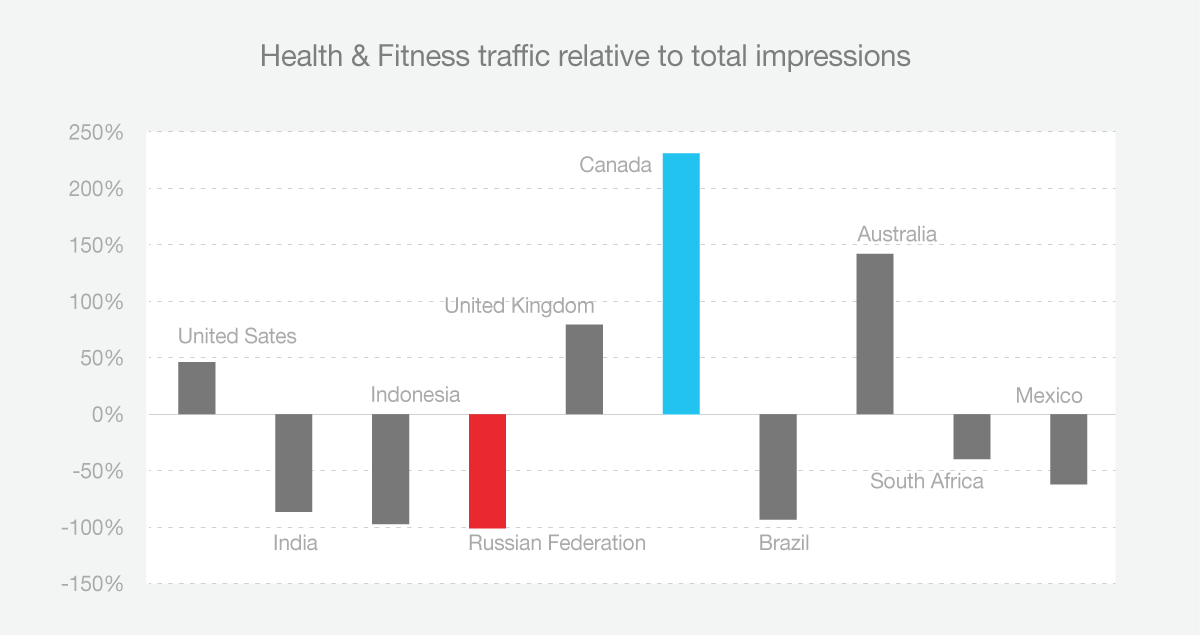 Opera Media Works went on to define the terms Health and Fitness. Health sites and applications are the sub-categories focusing on medical and healthy lifestyle whereas fitness sites and apps cater to issues such as exercise interests or weight control. Compared to the most countries where health and fitness go hand-in-hand, a diverging relation was found in some countries. Based on the medical facilities offered in a country, few cases were designed where health and fitness app quota is less than the total impression. These countries are segmented on the basis of number of doctors for every 1000 persons.
The countries where doctor per capita is more, users were more aware and indulged in more health and fitness apps, accounting for 67% health and fitness impression. But nations with lowest number of doctors, users consumed less than 1% of the health and fitness apps. Taking into account the low smartphone penetration, lack of medical facilities and awareness about the health issues, this data is unsurprising, but troubling. However, for the app developers, this reveals a huge opportunity window of untapped users.
Apple iOS Users Are More Health Fanatics
Against the total impressions from all sites and apps on iPhone, health apps and sites are browsed more than double the total usage of all other categories. In another report, the health and fitness app usage on iOS grew by 62% compared to the total app usage growth in 1H 2014. Retention rate and app usage of iOS users is significantly higher than Android users. But the health and fitness app users prefer using these more on iPhones than the iPads. Considering that 4-inch iPhones are handier than iPads and nature of apps, it's a justified move.
However, a disturbing phenomenon was observed with the Android users. Though the global market share of Android is significantly higher than iOS, the health & fitness apps and site impressions on Android is low. The penetration and usage, both, of iPhones and iPads is high in the developed nations, which also recorded higher health and fitness app and site impressions. Usage of Android-powered devices is more in the developing nations where the health and fitness app impression is low. The impression of usage across both the platforms is significantly low on tablet devices. This can be partially attributed to the declining growth of tablets in Q1 2014.
Pharmaceutical Ads Generate the Maximum Revenue
The lofty impressions recorded in some countries are a way for developers to monetize from ads. Food & Drink ads vertical caters to both health and fitness industry and generates 0.61% and 63.2% ad revenue for the industries, respectively. In the fitness segment, apparel ads also attract the users, while in the health segment pharmaceuticals generate maximum revenue of 88.3%. The other parameters are significantly lower in the health section.
The usage pattern of both the health and fitness industry is contrasting. While the usage of fitness apps and sites was recorded more in post afternoon session – from 3 pm to 10 pm – the health apps and sites were used more in the morning session – from 9 am to 3 pm. The peak hours for health apps also vary; 12 pm to 1 pm for health apps and 9 pm to 10 pm for fitness. The usage of health related sites is more during day while that of fitness is during evenings and night. However, the usage of both the industry was found to be maximum in mid week like Tuesday and Wednesday, while least in the weekends.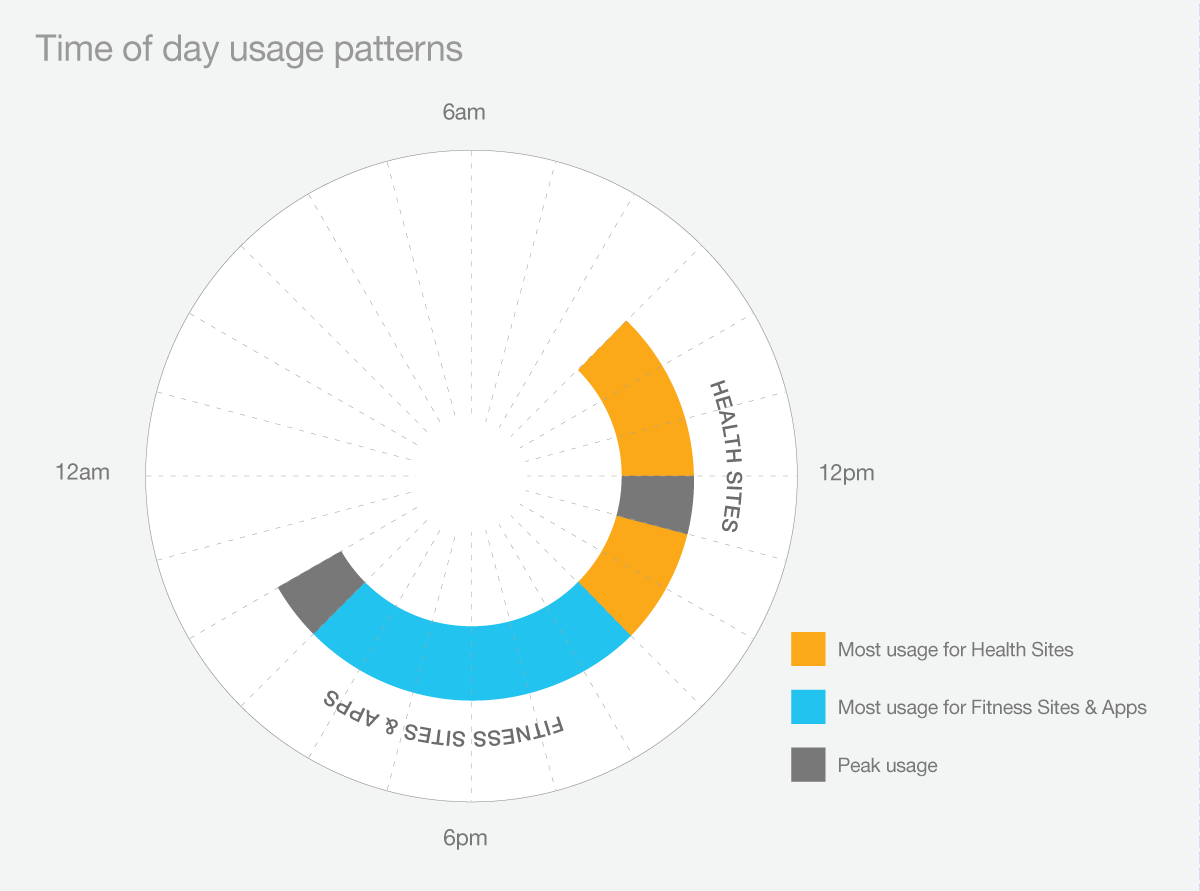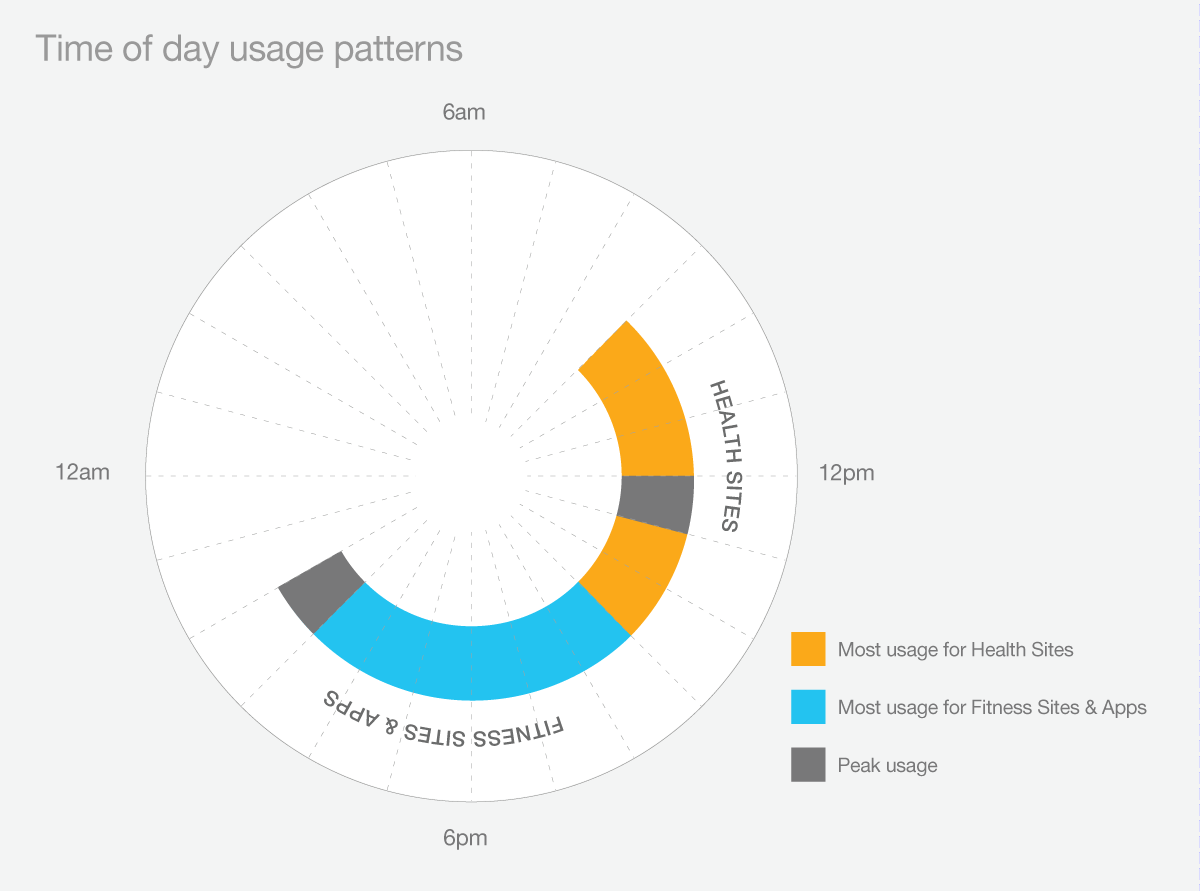 Interestingly, the app usage is maximum during the lunch and dinner hours on weekdays. Moreover, health and drink ads attract both the health and fitness usage. It's a good opportunity for ad developers to monetize this and throw more related ads to the audience. The distinctive growth of health and fitness app industry offers lucrative benefits for the ad developers and publishers. But the publishers need to focus more on Android devices and cater the audience in the developing countries as well.
Take Aways:
Canada and Australia must be the prime focused market for health & fitness focused sites and app developers.
Health & Fitness product companies must spend more marketing dollars on Canada, Australia, UK and US.
Health & Fitness content publishers strategies their marketing efforts more on iPhone and iPad to reach more consumer as compared to Android.
Apps and sites focused on fitness activities must kickoff their marketing quite early in hours on weekdays. However, Health information is more like knowledge, which people like to consume in during the off hours of the day.