Remember the Spain vs. Netherland match where the on-ground crowd went berserk. A similar phenomenon was observed with the mobile users all over the world. Smartphones are playing a crucial role in the ongoing FIFA World Cup, and it's not limited only to users but also for advertisers and app developers. To stay updated about the sport has become the norm of the day with almost half the respondents using their smartphones for checking scores, watching live matches and sharing details with their friends. A recent survey, 2014 World Cup: A Global Mobile Perspective, done by Interactive Advertising Bureau (IAB) brought out some interesting scenarios pertaining to the smartphone connection with the World Cup. The survey was conducted on 5,500 respondents spanning over 11 countries including Australia, Brazil, France, Italy and USA. The survey asked Twenty questions to these respondents between 22nd April 12th May 2014 –  just a month before FIFA 2014 world cup.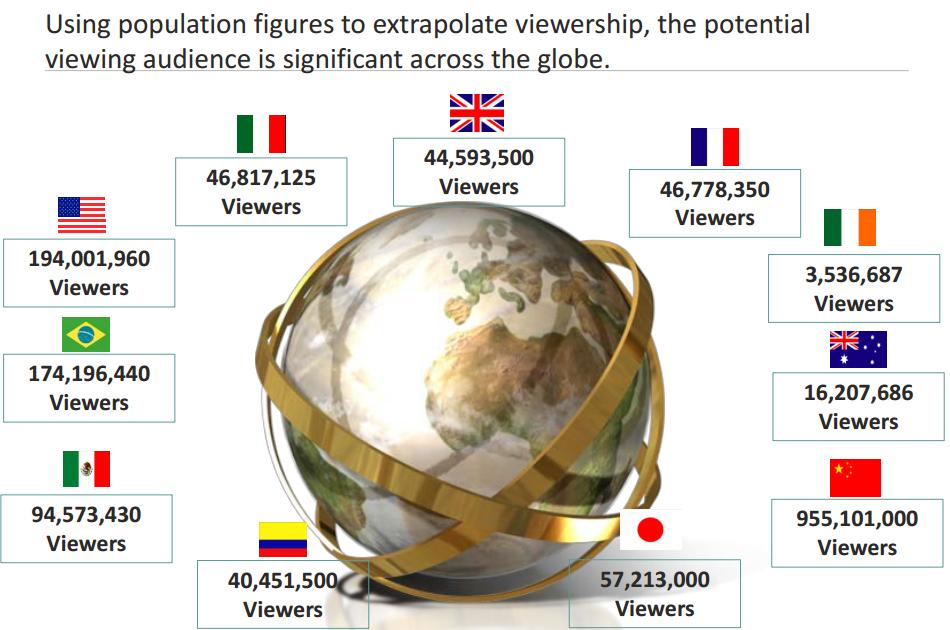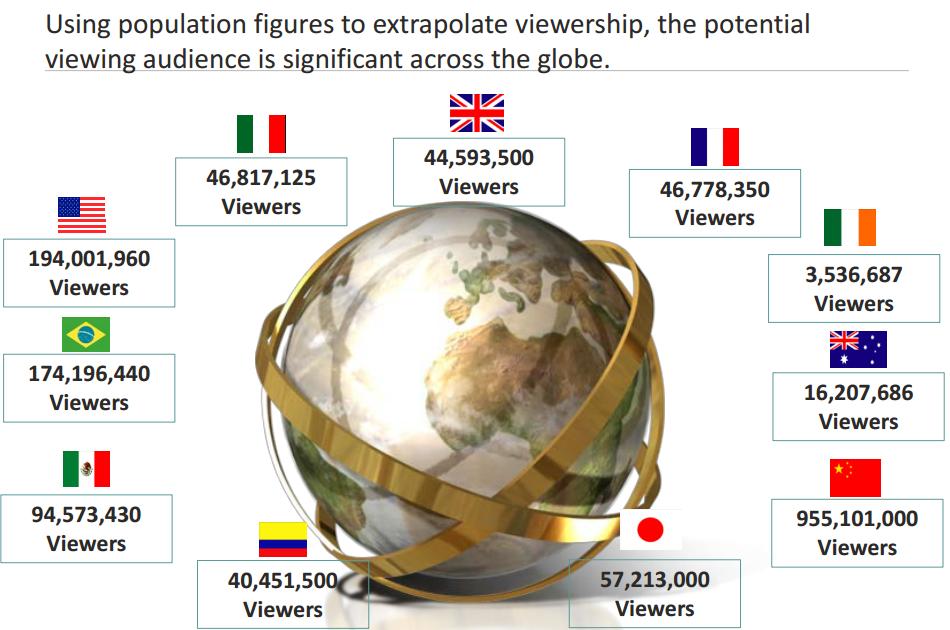 Key Take-aways of The Survey
19% respondents claimed they will use smartphones to follow the match making it the second primary device.
90% of users said they will share their world cup experience through Facebook, Twitter or other social messaging apps like WhatsApp.
50% of football enthusiasts click on advertisements.
40% of females were found interested in football matches.
36% of males stated they follow matches irrespective of the team, league or country.
Italians were found the most dedicated football fans with 70% viewers closely following the matches.
69% of the viewers prefer to watch football at home.
68% consumers claimed they are willing to pay for World Cup content.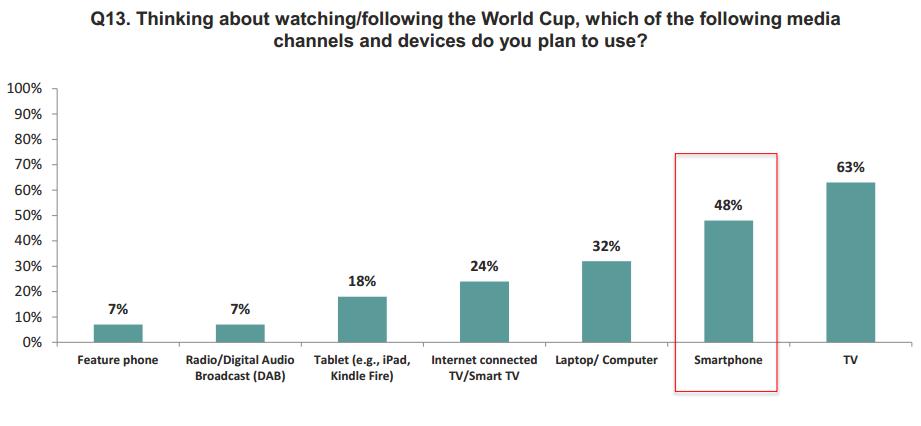 After TV, Smartphone is The Most Widely Used Media Channel and Device
There is no equivalent of watching a sport on big screen. 63% of the viewers prefer watching matches on TV while 51% listed TV as their primary device. However, almost one-fifth of football fanatics chose multiscreen – watching one match on TV and other on smartphone. The majority of people claimed they will use their smartphones for checking the latest scores. On-the-go live streaming of matches is also an important usage of smartphones allowing users to watch matches as they commute.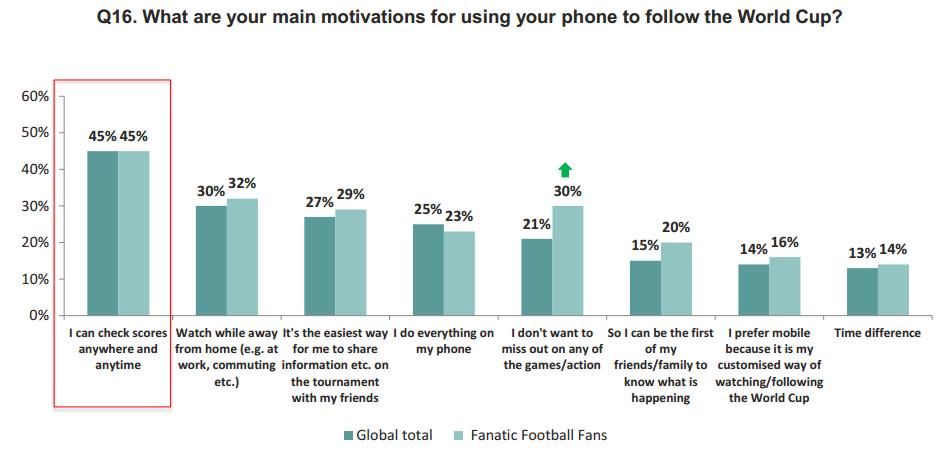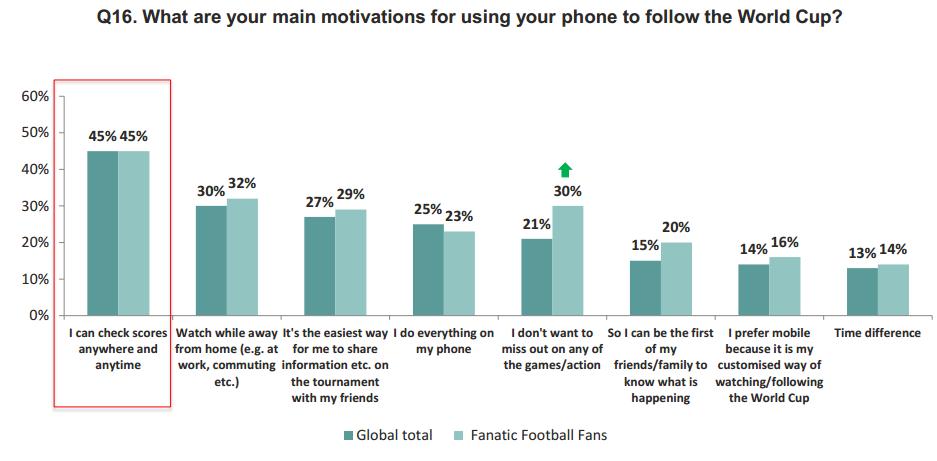 Viewers are increasingly sharing their experience with their friends and peer group. 90% of users accepted to sharing World Cup related news, goals, match updates and selfies with the friends. Facebook tops the media with 45% votes. Demographically, Chinese viewers are the most inclined to share football related stuff on social media. Mexico and China rank high in excitement to share stuff with 95% and 97% respectively. China has the maximum mobile subscriber base and that contributes to such a lofty figure for sharing.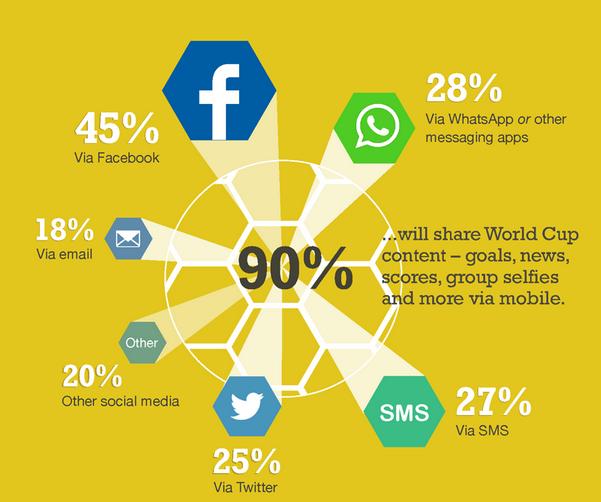 70% of Football Viewers Are Under The Age of 35
FIFA World Cup is perhaps the most awaited sport event ever. More than half the viewers, globally, watch any match irrespective of team, country or league. Surprisingly, 39% women are also avid followers of football while the average dedication to follow matches is 51% worldwide. The majority of viewers are under the age of 35 as the working class can't afford to spend more time on watching the sports.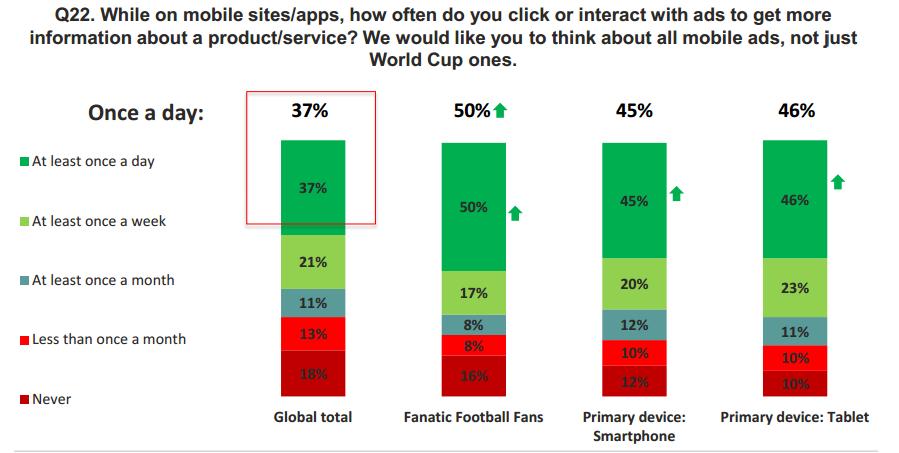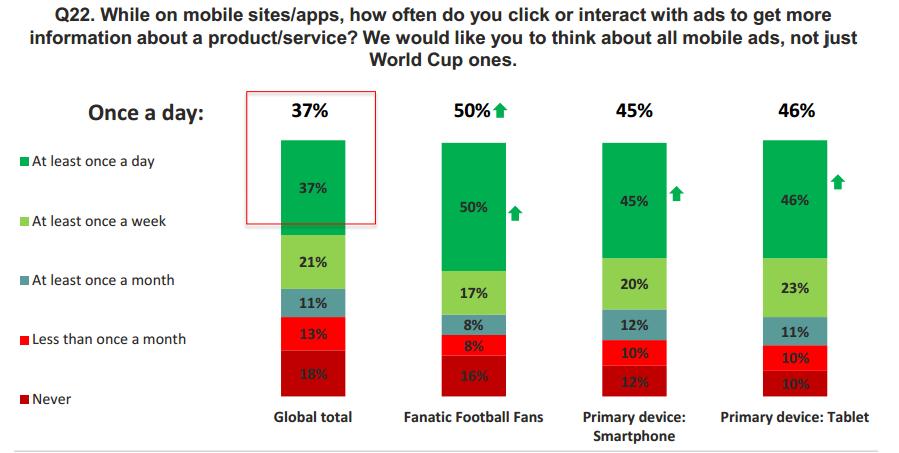 37% of Global Viewers Interact with Advertisements Daily
Football fever is the in-thing these days. Users are willing to pay for exclusive content about their team, download football related apps and click on ads that are more entertaining. Advertisers have a good time to monetize from apps. The app usage is more during the start of game, goals scored, half-time, penalty kick and end of game.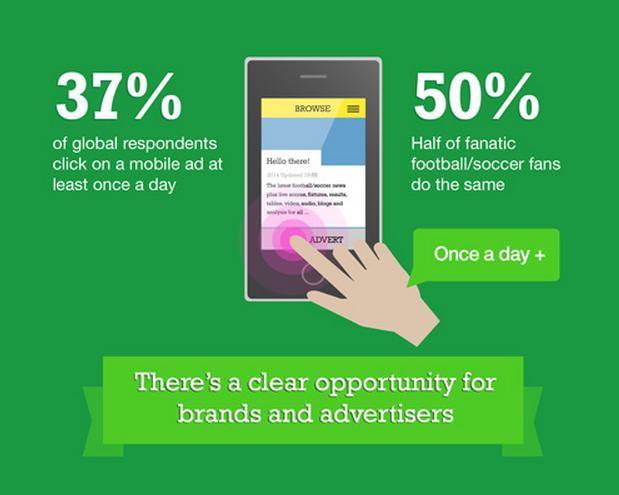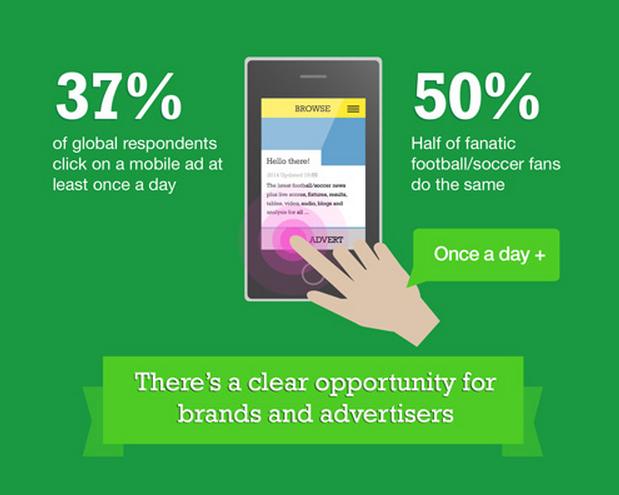 The users are more inclined towards the ads that provide them with special deals or coupons. Viewers in Australia, Mexico and UK are willing to pay for access to live games. Interestingly, though the Chinese and Italian users are most excited about the game, they are not willing to part with their money. Ads featuring an athlete or from official World Cup Sponsors are unlikely to get response. The ad developers have to drill down into the football fanatics ways to attract them for monetization. With such a widespread user-base, there are innumerable opportunities for developers. Social media access is likely to witness an all time high during this period and companies can work on that to create better deals for users.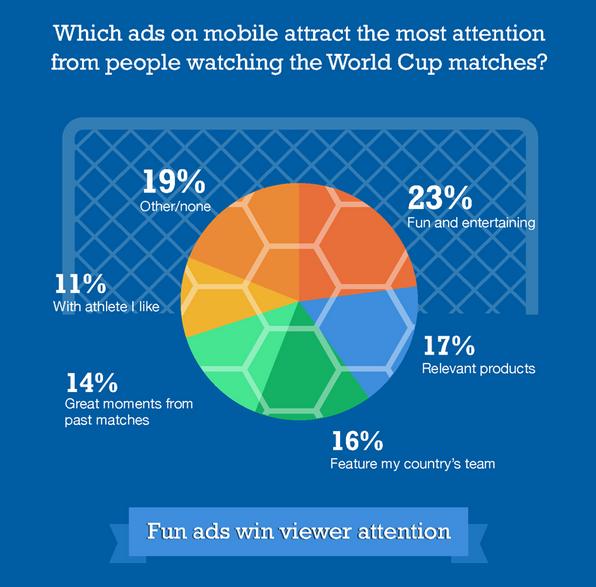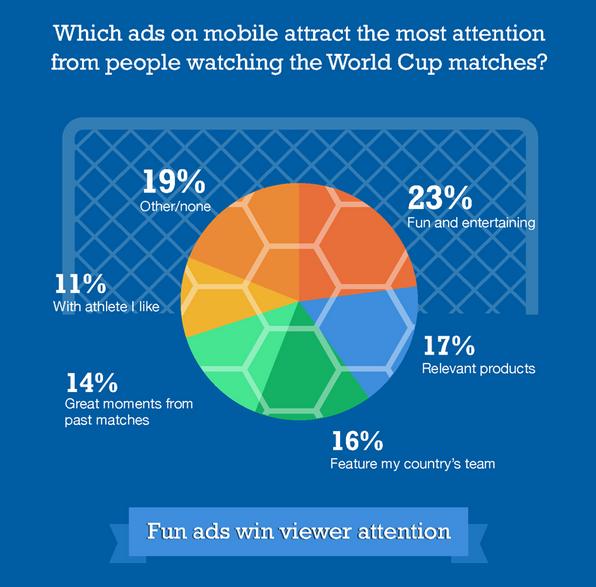 A close study on the given figures present a huge opportunity to reach the soccer fanatics through various channels of mobile marketing. The viewers are open to spending money if they get lucrative Returns-On-Investments. Moreover, the video content with some ads is a viable option to create money from the viewers.