The current generation is hungry for rapid evolving technology and the latest gadgets. The gadgets started off as fashion fad but slowing becoming an inseparable part of our daily life and smartwatch, among all these gadgets, is the most favorite. The domination of Samsung Electronics Co. Ltd. (KRX:005930) on smartwatch industry looks far from the end, despite of upcoming strong competitors. The Korean electronics giant accounted for 34% of smartwatch units sold worldwide last year and in the last 8 months, Samsung Galaxy Gear accounted for 78% of total smartwatch sales revenue in the US – the largest smartwatch market as if now. A recent report by NPD Group has tracked down the sales of smartwatches and revenue generated by them in the U.S. for a eight-month period starting from October 6, 2013 to May 25, 2014. Nearly 3 million smartwatches were shipped worldwide and in last eight months. In U.S. half a million smartwatches were shipped during the last eight months and one-third of of these were sold during the holiday season alone. The total smartwatch sales in the U.S. generated $96 million as revenue since the last calendar quarter of 2013.
The recent report also inherits few findings that were recorded during the month of January. The aggressive marketing strategy, introduction of mid-range smartwatches are contributing to the general fluctuations in the average cost of a smartwatch. However, the current average cost of a smartwatch is roughly around $189. According to the study conducted in January this year, more than one-fifth of the U.S. consumers showed a keen interest in purchasing a smartwatch but the high cost of the device is a limiting factor. Almost one–third of 16-24 years of age and a quarter of the 25-34 year olds were interested in buying a smartwatch. Interestingly, women are more inclined to buy wearable gadgets as 58% women were found favouring to own it. Although only a narrow segment of society is fascinated by a smartwatch, the awareness of wearable gadgets has reached to a considerably high-level within short span of time.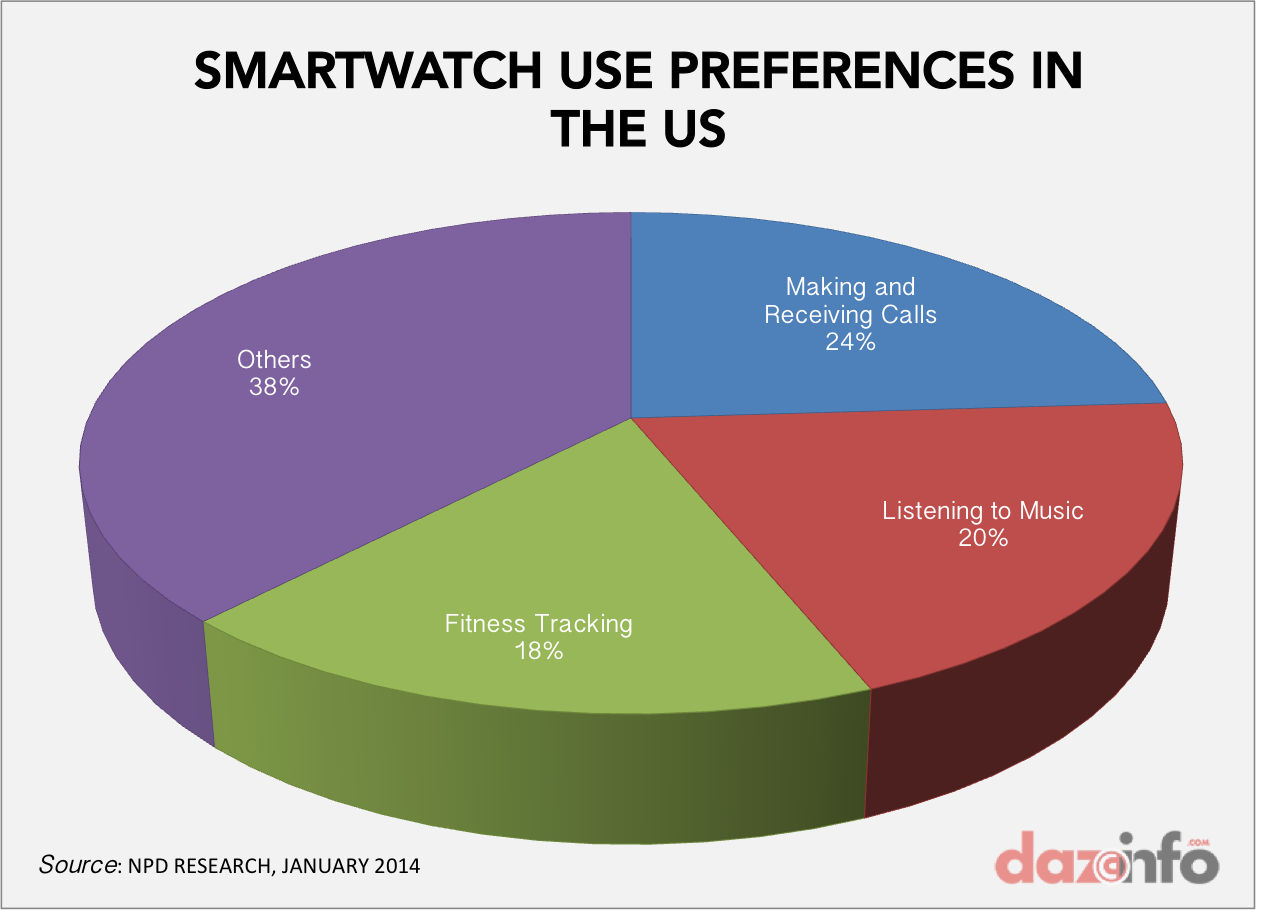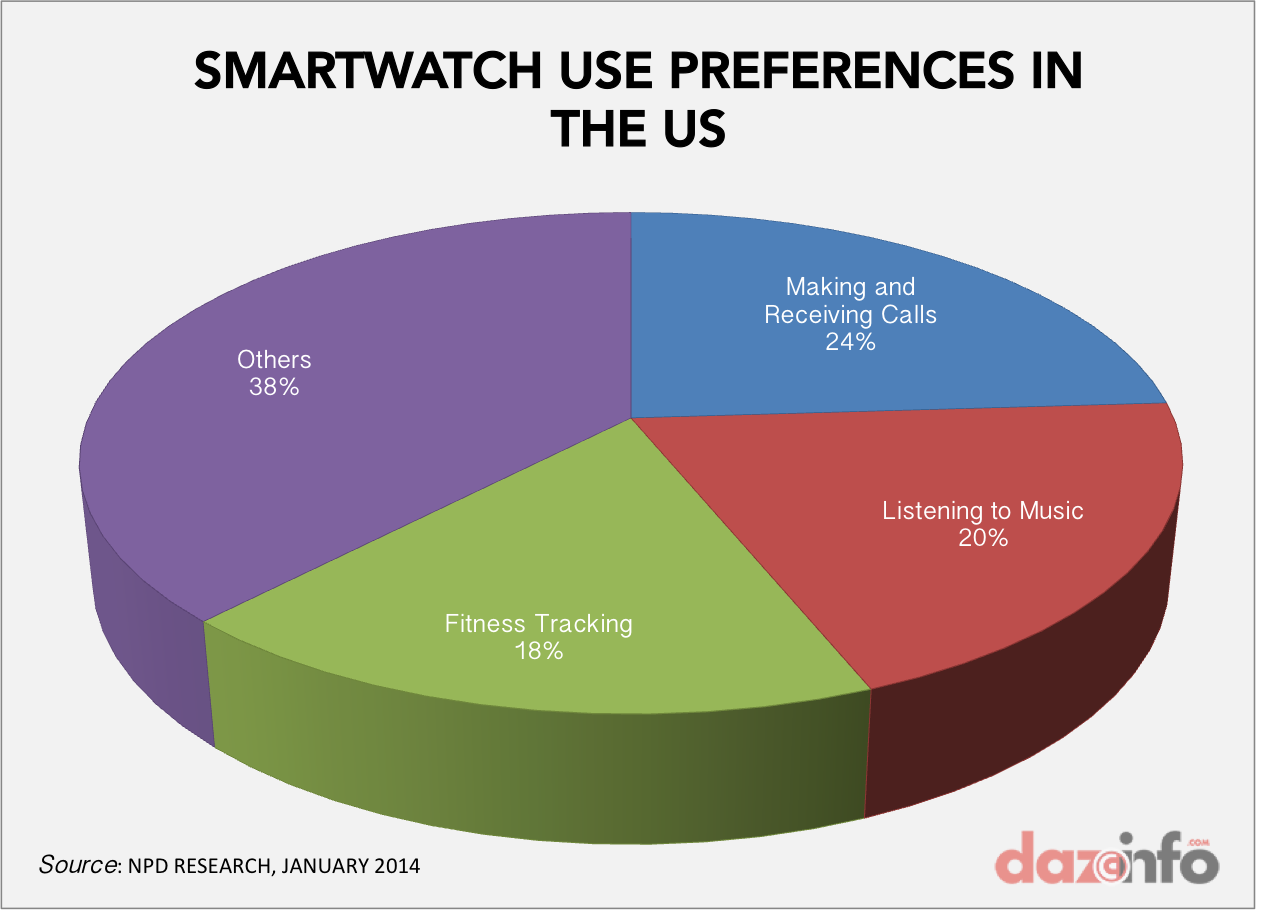 The January report also tracked the awareness parameters in the US. More than half the consumers were found aware about a wearable technology and one out of 3 people were looking forward to buy one such device. The smart glasses had have the maximum appeal among the early adopters while a simple wearable fitness tracker apparently was not all that in demand with only 36% early adopters going for it; the smartwatch had the same percentage of consumers. The users had different preferences while going for a wearable gadget; they might prefer it for making or receiving calls, listening to music, taking photos, web browsing or counting calories. The designing and look was found to be a key aspect for consumers making a decision to buy a wearable gadget. The above statistics might have changed in last 6 months, but it help understand the adoption and users' perspectives towards smartwatches in the U.S.
"Design has always been a key motivator for technology purchases, but for wearable devices there is a greater focus because the devices are worn externally," said Ben Arnold, executive director, industry analyst The NPD Group.
Smartwatch, or for that matter any wearable gadget, is not restricted to it being used as a fitness tracking device. Though, many health-apps are being developed and 50% of consumers prefer using wearable fitness trackers for counting calories, wearable gadgets are increasingly being used for making or receiving calls, web browsing and many more productive activities. This will lead to greater demand of smartwatch apps and create more jobs for smartwatch app developers, estimated to grow up by 300% by the end of 2014.
The smartwatch shipment is expected to reach 373 million by 2020. Apple Inc. (NASDAQ:AAPL) is venturing optimistically in the market with iWatch. Samsung and Pebble are already making their presence felt in the market.
The period from 2014 to 2015 is going to be interesting and decisive for the smartphone industry. The smartwatch industry is estimated to witnessed a ten-fold growth this year. The vendors' penetration is not all that high and companies like Samsung and Pebble got a quick head-start. Samsung was the leader in global smartwatch shipments in the second half of 2013 with Pebble in the second lead. Samsung's strategy in bundling Gear smartwatches with Galaxy and Note smartphone looks like a clear market winner.