Despite of having more than 1.2 million apps and 300 million visitor to App Store every week, Apple Inc. (NASDAQ:AAPL) iOS is failing to keep users engaged in a sizeable number. In 2014, only 35% of iOS apps are been used for more than 11 times in last six month, while Google Inc. (NASDAQ:GOOG) owned Android leads with 45% apps used for more than 11 times during the same period. But on the larger picture, more than 50% of apps available on both mobile OSs fail to entice users. In contrast, the overall app retention and loyalty has also increased by 50% over the period of last four years.
According to a report by the mobile analytical firm, Localytics, only 26% of apps were visited more than 11 times in 2011 but this number has gone up significantly. Now 39% installed apps are opened more than 11 times, while the share of apps being opened up only once has gone down from 26% in 2011 to 20% in 2014, a definite good sign for app developers. Moreover, users remain more hooked to social networking and weather apps. The findings are derived from studies that measured the app usage through the apps that were downloaded in the third calendar quarter in last four years and tracks down the number of times they were opened till March 15 of their following year.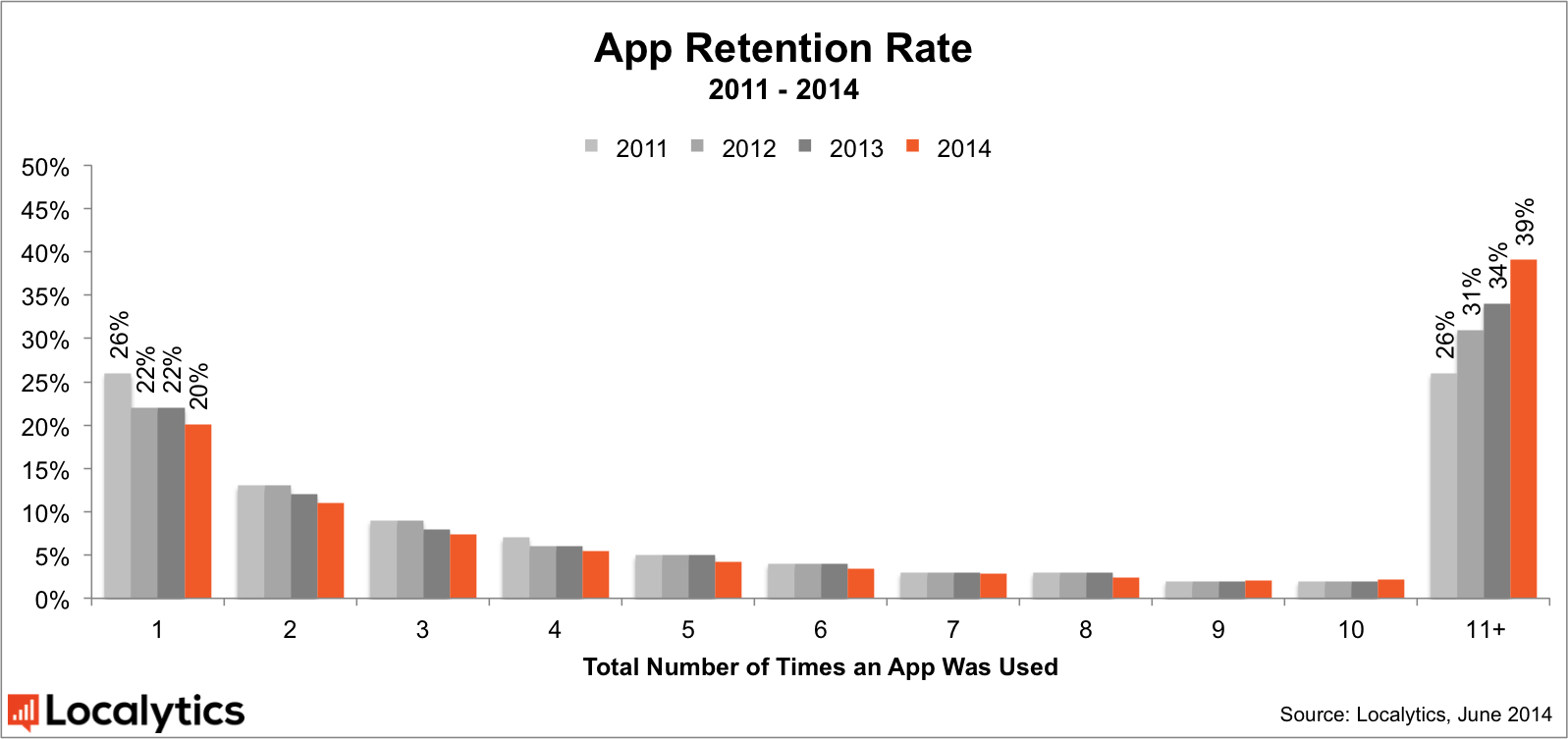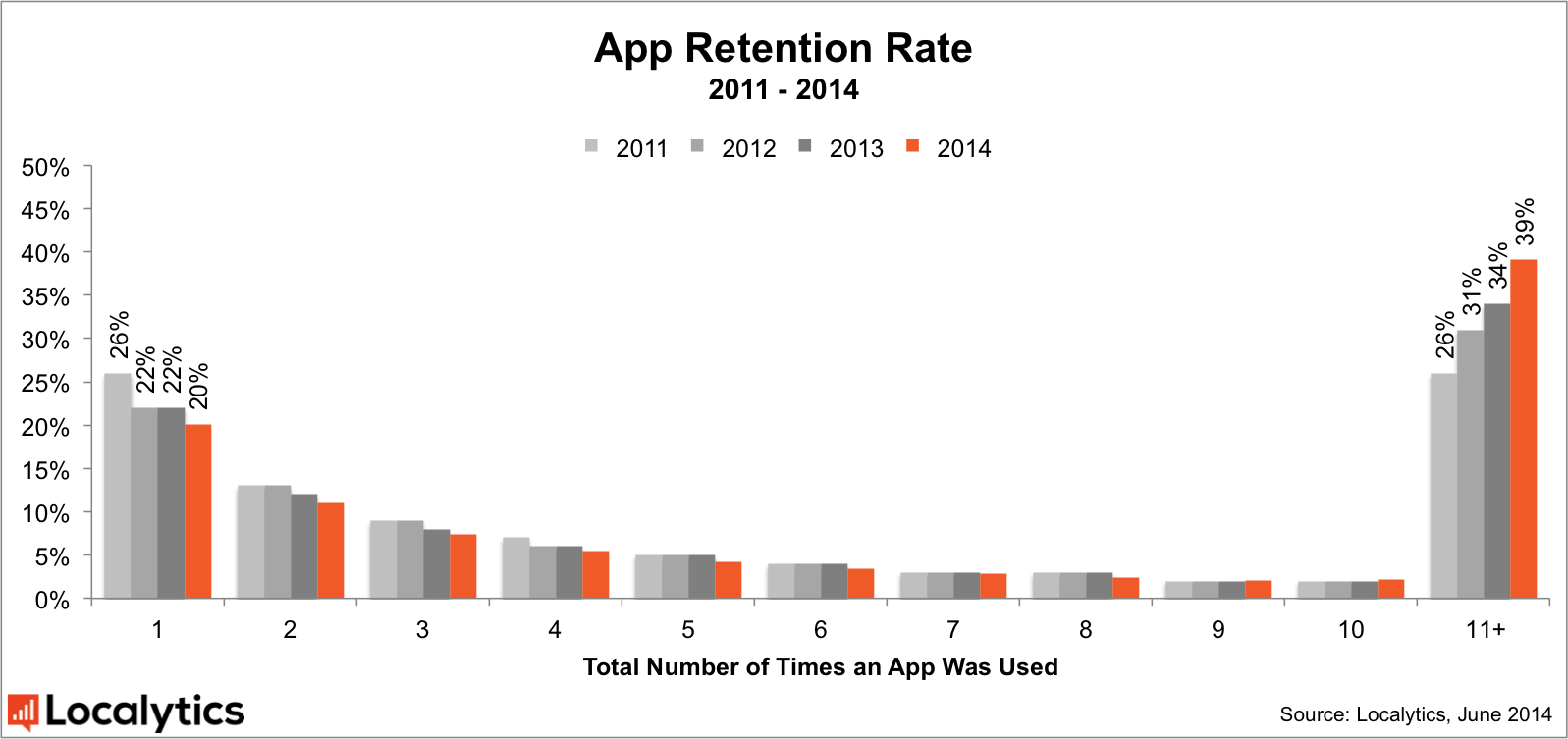 Smartphone and tablet users are more aware about the choices that they make now compared to the initial days of the mobile devices. They mostly used the hit-and-trial method for knowing the fuctionalities of an app, whereas now the users are more sensitive about the information stored on their devices and taking all precautionary measured to avoid growing malwares. The app users download an app and uninstall it after the first visit if they are not satisfied with it. The 11+ visits are the apps that have gained long-term loyalty with the app users, like the Facebook app or Whatsapp, due to their features, better user interface and customer satisfaction.
Why is Android Performing Better Than iOS?
Almost one-fourth of iOS apps are likely to be opened once and then never visted again. However, Android apps retentivity is much more visible. Almost 45% Android apps were opened for 11 times or more as against to 35% iOS apps. However, these figures contradict another report which claims that iPhone users generated more mobile traffic than Android, in 2013.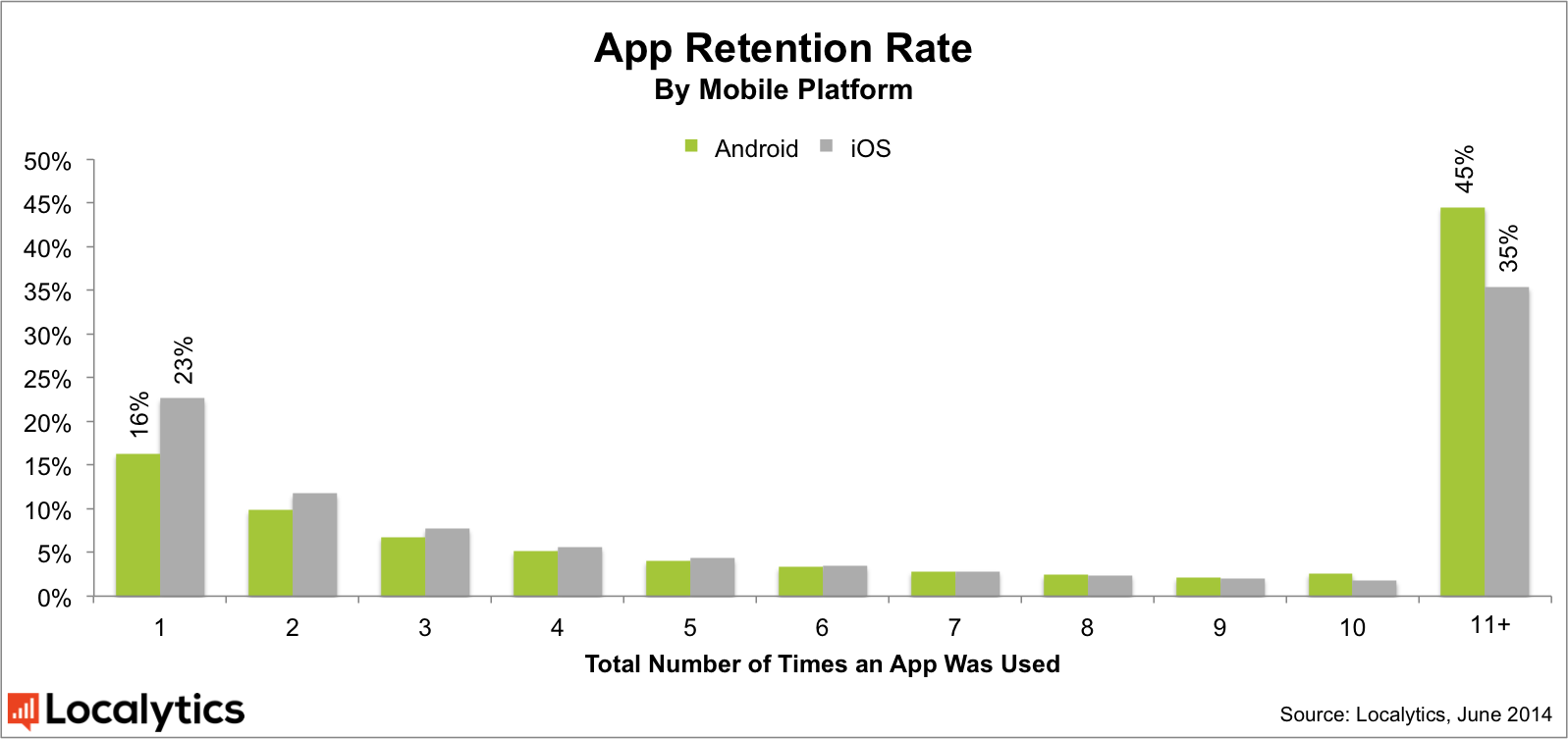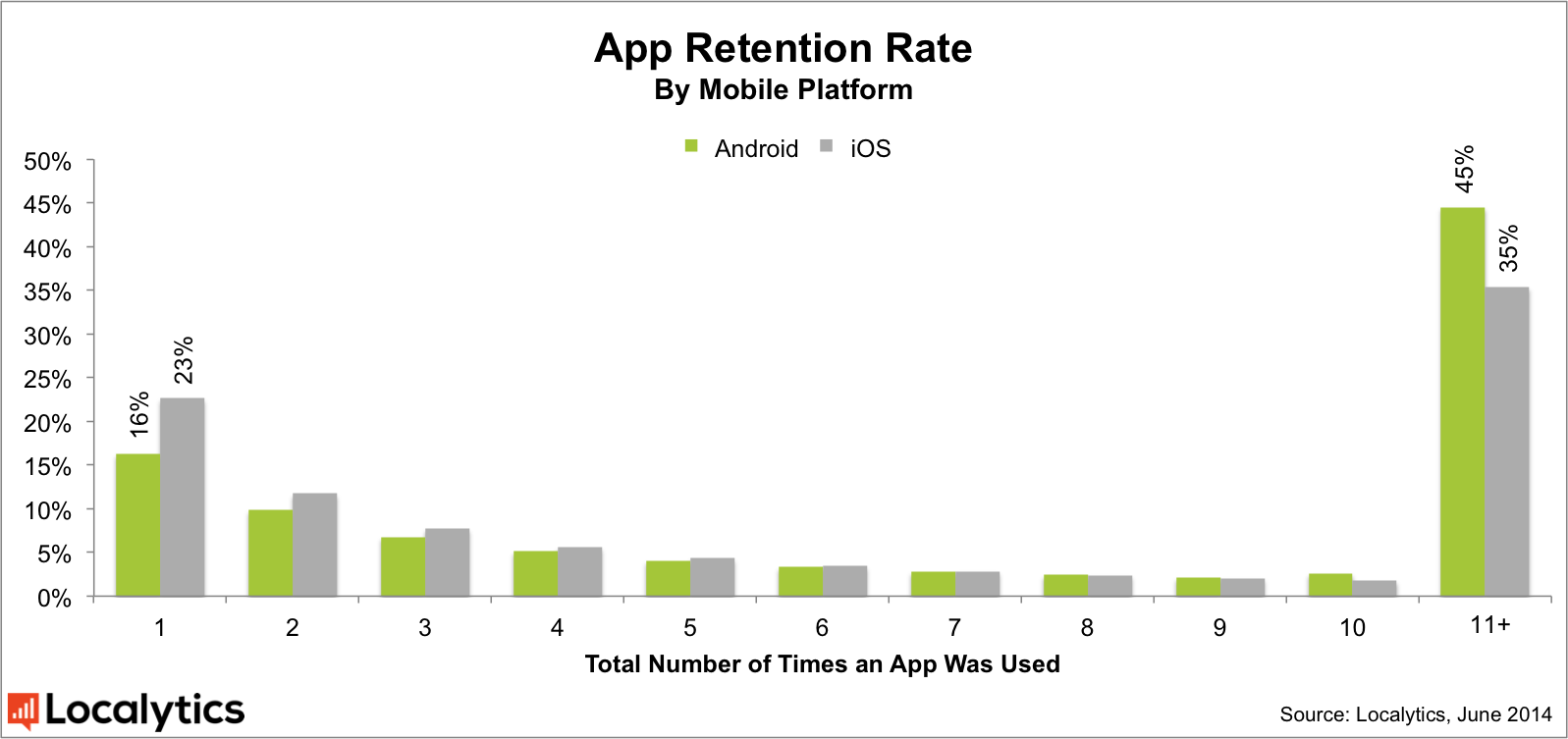 Better user interface, high availability of free-apps and larger screen in  Android powered devices can be important reasons for higher retentivity. However, the soon-to-be-launched, 4.7-inch iPhone 6 might change the current trend of users' towards retention of apps. Higher retentivity of Android apps can be a disturbing phenomenon for iOS app developers but on the flip side iOS rakes in more money from its app users. Apple Inc. (NASDAQ:AAPL) users are more likely to pay for their apps or make in-app purchases.
Weather Apps Users are The Most Loyal
The desire to remain connected virtually is one of the main reasons for people holding back on to social networking apps. Weather apps and social networking apps have the least amount of abandonment rates while sports and gaming apps have the highest. A poor first impression prevents the user from returning back to a game and going for its competitor. A gaming app has to be fast, use less amount of RAM, be engaging and should have greater appeal. All said and done, gamers prefer to spend a larger part of their gaming session on smartphones and tablets. More than one-fourth of the users preferred to go for games on mobile devices.
The utility apps contend their users by performing a simple function properly. The users chose not to go into their details like the user interface much therefore these have a lower abandonment rate. Health apps and productivity apps too have a higher retention rate. However, the growth rate of business and productivity app market can be alarming. By 2016, the app market is expected to double while the business and productivity app market is likely to be $58 million worth.
The growth of app market risks is in direct proportion to the app market. Google Inc. (NASDAQ:GOOG) though boasts of more number of apps and market share, it also battles with the 2 million malicious apps on Android. But the app retention continues to grow among users. Developers are more focusing on user satisfaction and user engagement. The app market is flooded with personalized apps dealing with all kinds of problems and offering solutions on the go.
Take Aways:
Light weight apps are able to generate more user engagement. UI is another factor that has an effect on engagement and app usage.
Developers must focus on ad monetisation model for their apps. All highly usage apps are free but generate revenue through ad-display. Number of time users interact with the app, revenue counter will go up.
Developers must focus on Android OS due to higher retention rate.