Windows 8.1 has finally overtaken its predecessor Windows 8 in terms of monthly market share. According to Net Applications research, for May 2014, Microsoft Corporation (NASDAQ:MSFT) maintained its dominance in desktop operating system market with 90.87% share, while Windows 8.1 leapfrogged Windows 8 to achieve the fourth spot with 6.35% market share.
Where Are Windows XP users Moving To?
Despite Microsoft urging users to switch over to Windows 8 or 8.1, market share of Windows XP declined marginally. In April 2014, it accounted for 26.29% of overall desktop OS market, while it declined further to 25.27% in May, 2014. Users are certainly not willing to shelve the most successful OS ever produced by Microsoft. It boasts of a run of 13 years since its debut. In spite of Microsoft cancelling any technical and security support to Windows XP, it has grabbed the second spot in the desktop OS market. Millions of users all over the world are still using vulnerable machines. Users are opting for Windows 7 or Windows 8.1 more than drifting towards Windows 8. The recent stats prove that Windows 7 has managed to retain more than half the market alone with 50.06%. Few people who are migrating from Windows XP devices choose either Windows 7 or Windows 8.1. The shift, however, towards the latter could also be attributed to the fact that new PCs are pre-loaded with Windows 8 that could be upgraded to Windows 8.1 for free.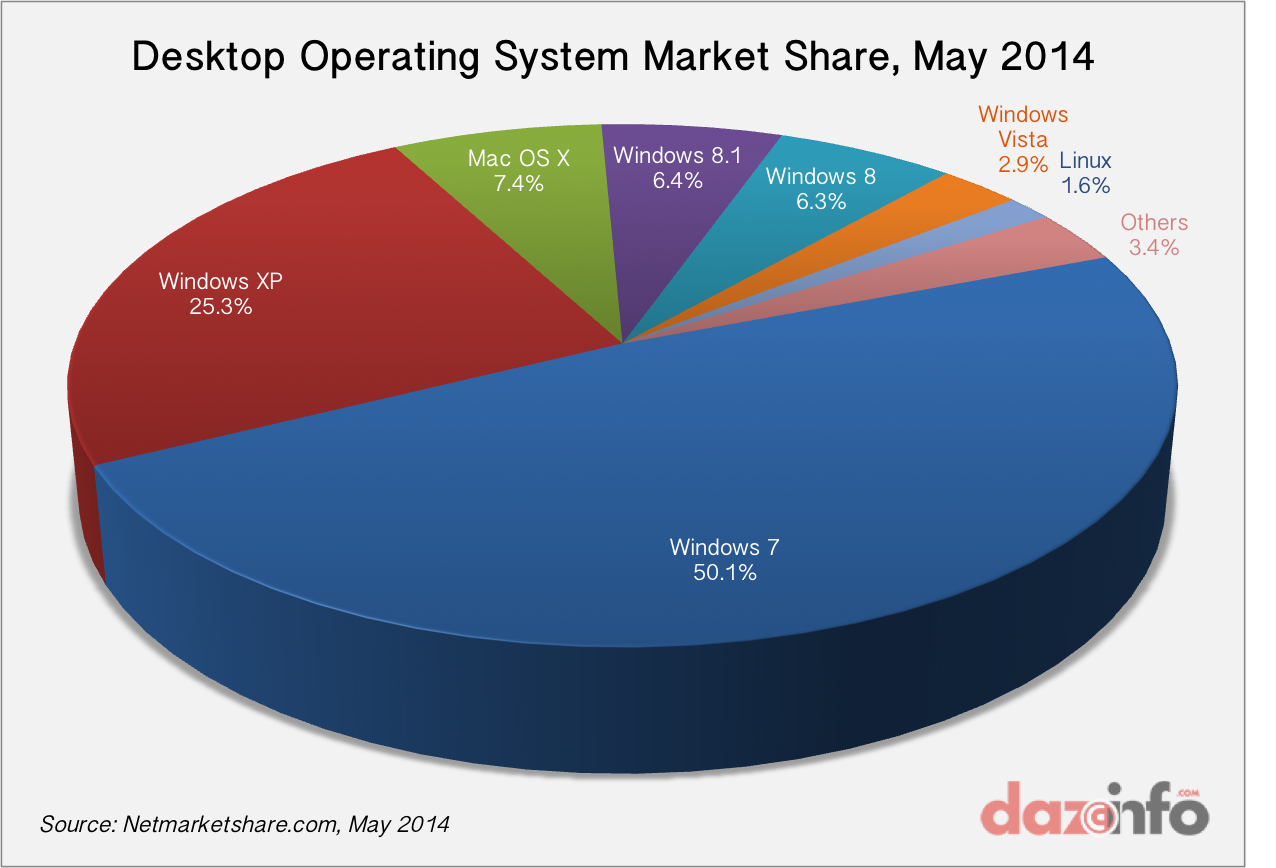 Windows 8, which debuted in 2012, failed to gain a sizable chunk in the desktop OS market. In April 2014, it had a market share of 6.36% and a month later it has further declined to 6.29%. In China, the authorities have put a ban on the use of Windows 8 on government devices. The high cost of Windows 8 licensing, necessary hardware upgrades and unfamiliar user-interface are the serious issues faced by the users, resulting in frustration of the Redmond company. Windows 8.1 comes loaded with several features, which were notably missing in the previous version. Introduction of the start button, boot-to-desktop option, provides for better sky-drive integration hence improving the overall performance of the latest OS.
Windows Vista did not witness a big change in its market share that went down from 2.90% in April to 2.89% in May 2014. A similar, but reverse, trend was observed in Linux whose desktop OS market share went up from 1.58% to 1.62% in the same period.
OS X 10.9 Mavericks, the latest version of Mac OS X, failed to bring any radical design changes. Combining this with the high cost of Apple Inc. (NASDAQ:AAPL) products, it's sure a loss for the Cupertino-company. Although Mac OS X 10.9 managed to increase its market share from 4.07% in April to 4.15% in May 2014, the overall market share of Mac OS X dipped from 7.62% to 7.38% in the same period. In its ongoing WWDC Conference in San Francisco, Apple has unveiled a next version of Mac operating system, Mac OS X 10.10, dubbed as Yosemite. The new OS boasts of biggest design and functionality changes since a long time. Probably, this could fascinate more users to switch to Macs and MacBook Air seen a steep price-cut in last few months.