Initiatives or changes brought in by World's largest micro-blogging platform, Twitter Inc. (NYSE:TWTR) to attract world-wide users is bearing them fruits in baby steps. According to a report by eMarketer user base of 140-char limit micr-blogging network is likely to surge by 24.4% in 2014 and with over 10% growth in successive years it will embark the 400 million mark by 2018. Major share of user base is likely to be from Asia-Pacific region, where Twitter is yet to strengthen its foothold.
Twitter added about 14 million users in Q1 of 2014, taking its overall users tally to 255 million monthly active users. Although, the user base is showing continuous improvement year-over-year but the figures are not up to the expected level, especially when compared to growth rate of other contemporary networking sites. The micro-blogging site is undoubtedly tweaking in many changes to attract users but its confined niche, limited visual effects and mere 140 characters limit seem to turn major share of registered folks into wayward users.
 Twitter's User Base Growth Likely To Decline For Next 4 Years
Twitter's user base is predicted to increase for next 4 years and reach closer to 400 million by 2018. However, CAGR (Common Annual Growth Rate) is projected to decline, resulting in slow growth of its user base in next few years. By the end of 2014, about 24.4% increment is likely to be observed in user base growth. This trend would be followed by 18.5%, 15.1%, 12.7% and 10.7% growth in 2015, 2016, 2017 and 2018, respectively.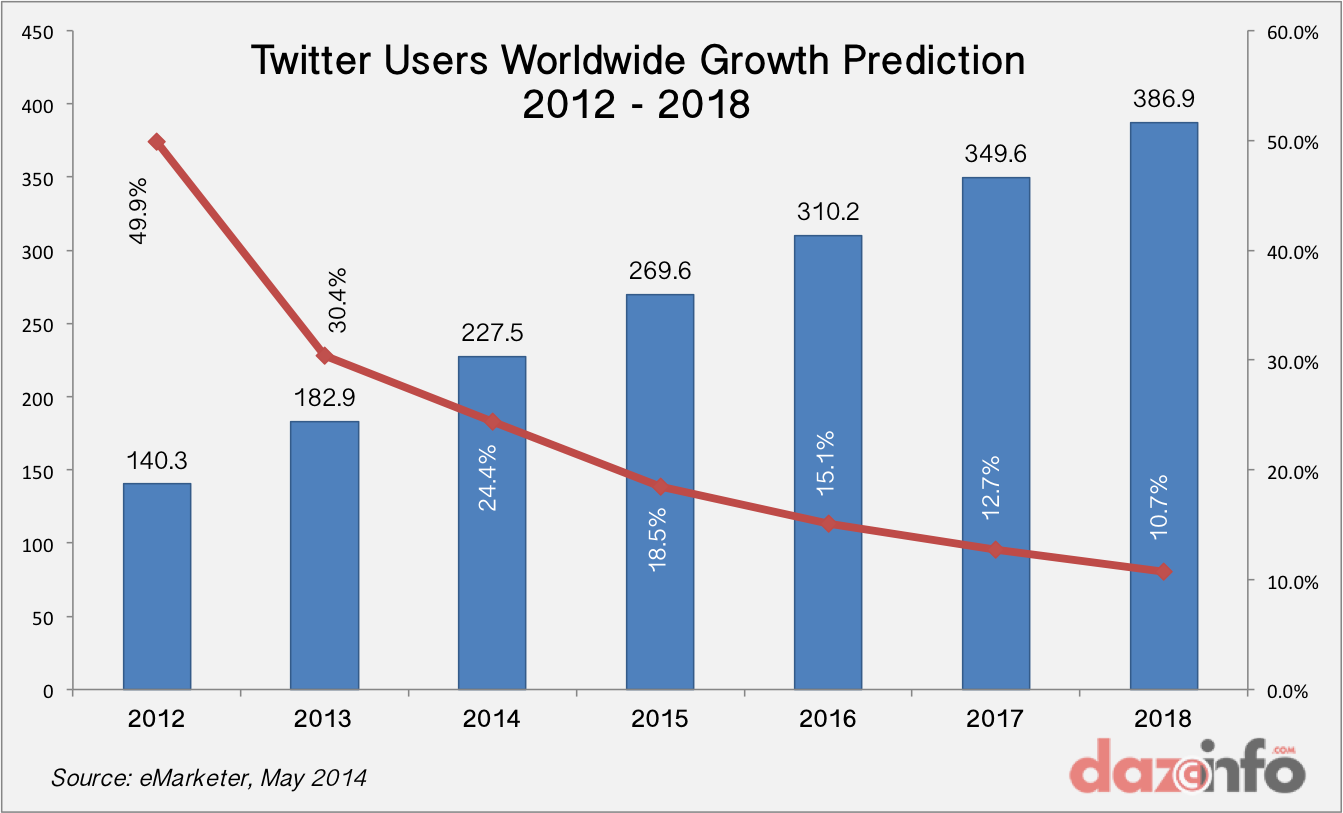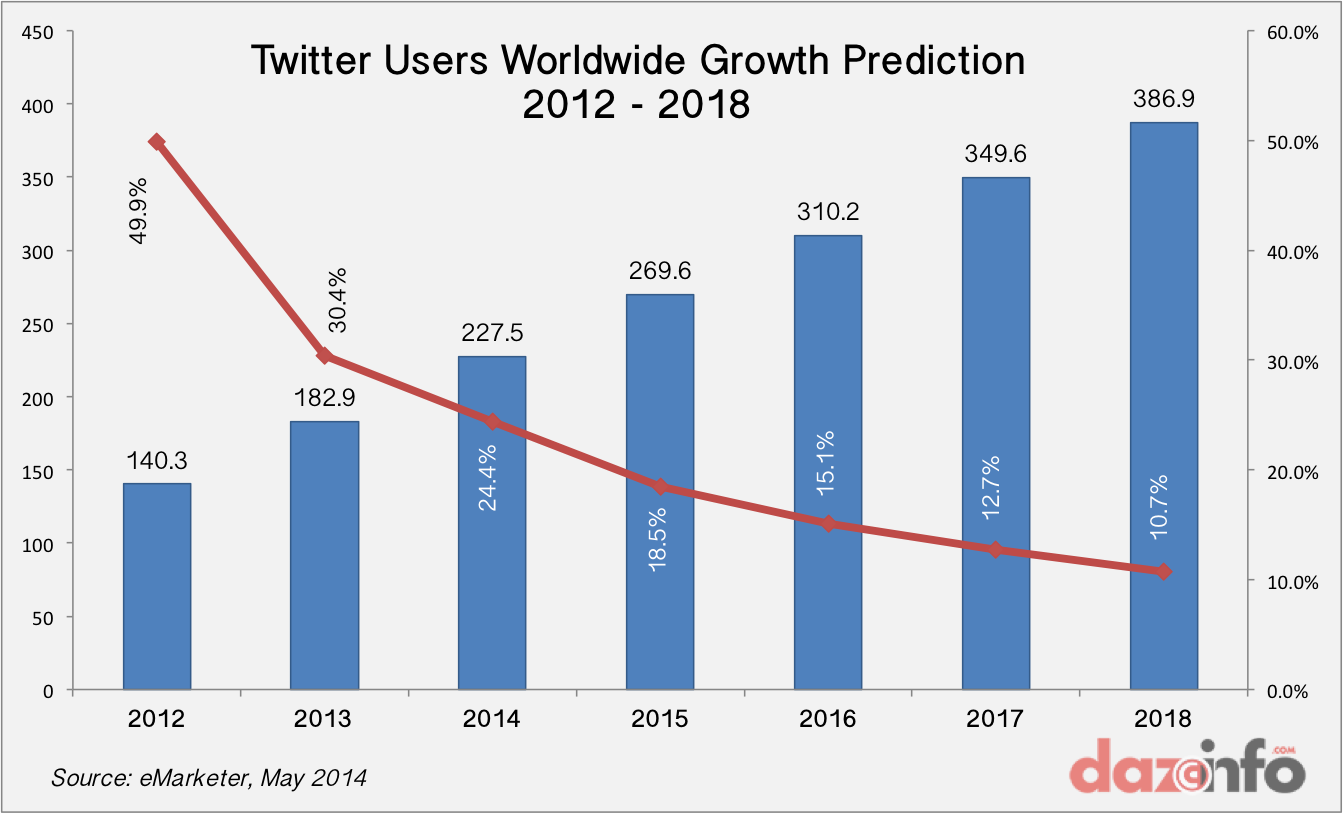 Asia-Pacific To Host More Than 40% Of Overall Twitter Users By 2018!
If we look at country/region-wise user demography of Twitter, a major share of it seems to be swaying in favor of emerging markets of Asia-pacific. By 2014, Asia-pacific region is likely to account for 32.8% of Twitter's user base, and would further increase to 40% by 2018. By the end of 2014 majority of Asia pacific Twitter users are likely to emerge from India and Indonesia, making it 3rd and 4th largest country on Twitter by the number of users.
Increasing social media obsession, penetration of mobile devices and continually evolving user-friendly features can be attributed to growing user base in developing nations. The 140 char device firm had recently tweaked their website by adding more visually engaging content and a revamped look to enhance user experience. It had earlier added visual tweets – inclusion of photos and videos within the tweet itself – to make the tweet more engaging, like that of Facebook Inc. (NASDAQ:FB). Twitter for Android users enhanced its push notifications, reduced the number of steps involved in the sign-up process and allowing users to link their mobile address book with their Twitter accounts to find their friends and peers on the micro-blogging site.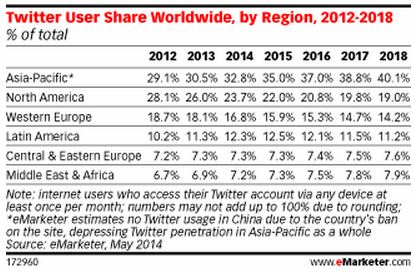 In developed countries of North America, Twitter user base has almost reached the saturation stage and growth rate is likely to slow down in future. The shift would be due to the difference in timeline of social media usage between developed states and developing nations. The San Francisco based micro-blogging firm needs to dive an inch deeper if it has to retain user engagement and lure back wayward users from developed states of North America. Evoking Twitter ban from internet obsessed countries, like China, can boost the firm's user tally beyond imagination.
Will The User Growth Rate From Emerging Markets Boost Its Revenue From The Region?
Although, predictions suggest that user base of Twitter will rise in emerging markets but its reflection on revenue growth is still an unresolved mystery. In Q1, 2014 Twitter's advertising revenue totaled $226 million, an increase of 125% year-over-year. Mobile advertising revenue was approximately 80% of total advertising revenue attributing to the fact that 198 million or 78% of Twitter folks access the site through mobile device. Even though the revenue figure of Twitter might be zooming higher but it is also, along with Facebook, facing problem of uneven revenue distribution.
Like Facebook and other networking sites Twitter's major revenue share is from developed states, whereas revenue from emerging markets is significantly lower compared to user base share from the latter. In 2013, nearly 3/4th of Twitter's revenue came from the U.S, whereas rest of the world accounted for about 28%, these figures are not well aligned with user base share of above two regions. Rest of the world accounts for over 75% of user base share where the U.S. accounts for hardly a quarter of total active users.