Samsung Group (KRX:005930) is the undisputed leader in the world of smartphones. The korean electronics giant shipped 314 million smartphones in 2013, almost double the Apple Inc. (NASDAQ:AAPL) iPhone sales, which were 153.4 million. Together, Apple and Samsung accounted for 47% of the global smartphone market share last year. Both the companies are committed to improve their market share in 2014 as Samsung shipped 89 million smartphones and Apple sold 43.7 million smartphones in first calendar quarter of 2014. The selling price and profit margins of the flagship products of these companies have always soared up irrespective of whether they manufacture their products in-house or outsource them. Despite the rising prices the sales are not deterred much, thanks to the efficient services and features offered by Apple and Samsung. But the scenario could be changed in future, starting from the third-quarter of this year when Apple will reportedly launch iPhone 6. New players are venturing into the market, developed markets are stagnating and developing and emerging markets are pegged to price war and homegrown brands. With much of challenge and intense competition, will Apple and Samsung be able to keep up their high-profit margins on their flagship smartphones? Or, is it the time when both smartphone giants must rework on their sales strategies and explore new avenues to generate revenue and profit?
To get the answer of above questions first we need to drill down to the production, manufacturing and assembling cost to get a clear picture on their actual investment and profit from each smartphone sales.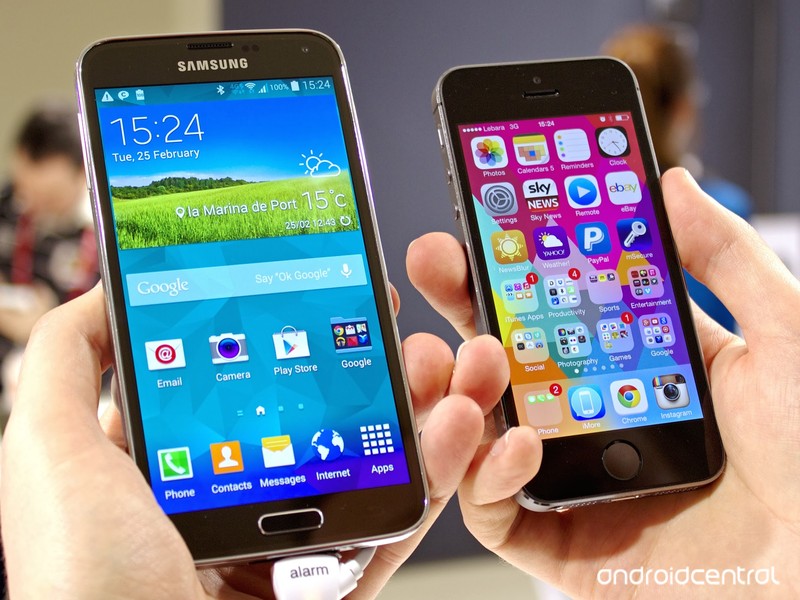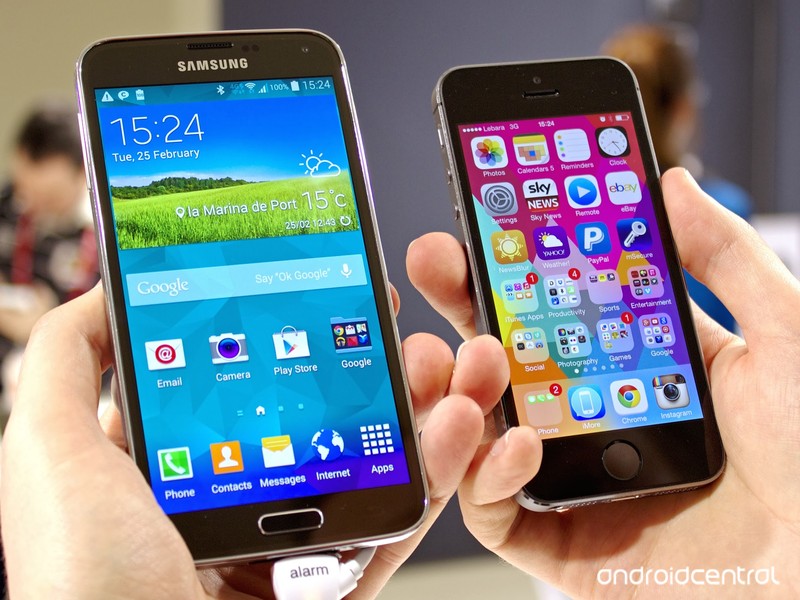 Internally Owned Subsidiaries Produces Samsung's Components
Mostly, Samsung does not outsource its product. It supplies itself with key parts of Galaxy S5 but the main application processor does not belong to Samsung. Snapdragon processor of Qualcomm adds $41 to the overall cost. According to a Teardown Analysis Service conducted by market firm IHS, the cost of material and manufacturing of a S5 is mere US$251.52, whereas assembling the material takes another $5. The bill of material (BOM) is much higher than that of Galaxy S4 due to upgrades in display, sensor, application processor, camera and supporting memory. The flash memory, which is supplied by the Korean-giant, costs $28 while the display and touch-screen, including Gorilla Glass, is worth $63. Although the report has not confirmed the supplier behind the module that supports both wi-fi and Bluetooth functionality, Broadcom is believed to be the semiconductor solution provider.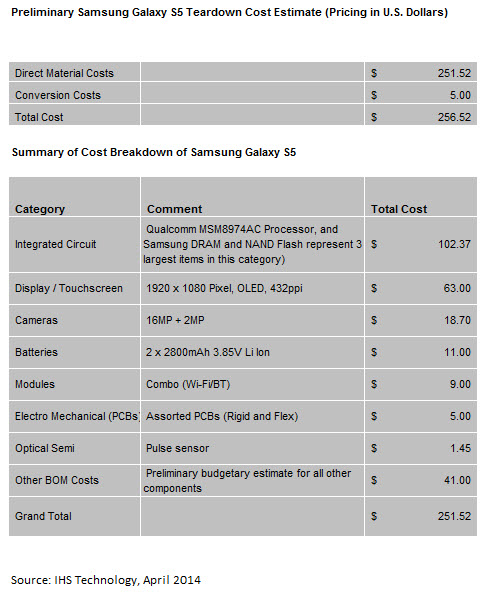 Samsung Galaxy S5 is one of the costliest phones to build. A unit of Galaxy S5 costs $50 more than iPhone 5S.  The cost of low-range Android phone comes at a contrasting $35. However, there have been numerous changes from the previous Galaxy products. The present Galaxy S5 boasts of a Qualcom WTR1625 radio frequency transceiver. Furthermore, Galaxy S5 has included a barometric pressure sensor, pulse and finger sensor.
BOM Cost of iPhone 5S less than iPhone 5
The Cupertino-company spends $199 for the 16GB iPhone 5S, which includes $191 worth of material and manufacturing and $8 worth of assembling the product.  The price without contract of a 16 GB iPhone 5S is $649, a clear-cut profit for the company. The build cost of an iPhone 5S, though, is $13 less than the iPhone 5 in site of beefed up processor and biometric sensors, the company has price tagged iPhone 5S with same figure. A leap from 16GB to 64 GB adds $19 to the component cost and $8 in the assembly cost.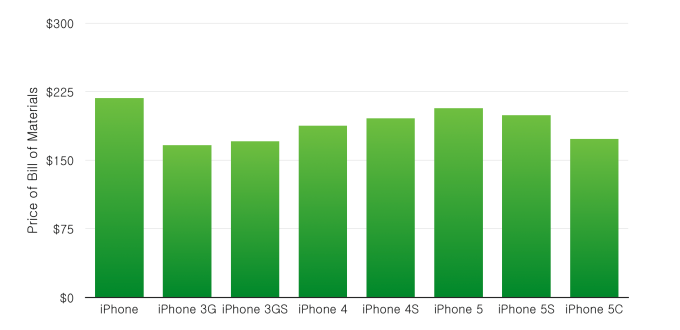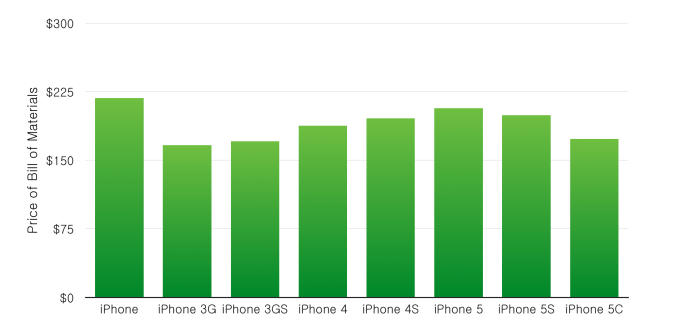 The display of iPhone, being supplied by Sharp, Japan Display Inc. and LG display, costs $44. The sleek aluminium back cover costs more compared the polycarbonate shell of iPhone 5C. NAND flash memory, one of the costliest products, comes with favoured price to Apple being the largest buyer. Also, the price of NAND flash memory has nearly halved in one year.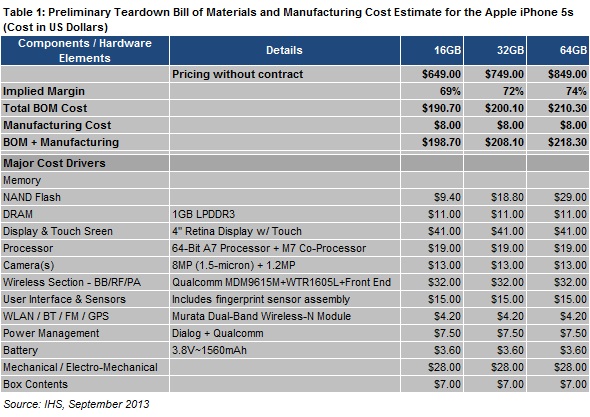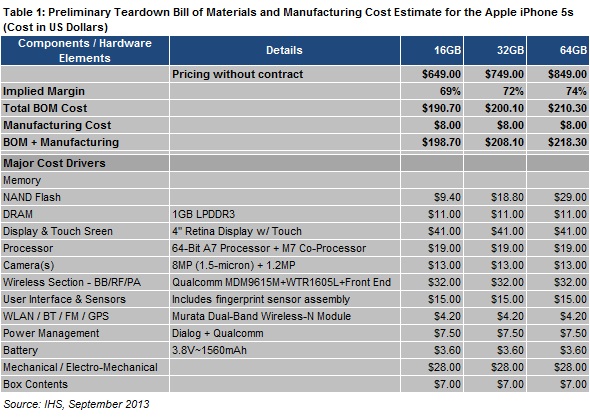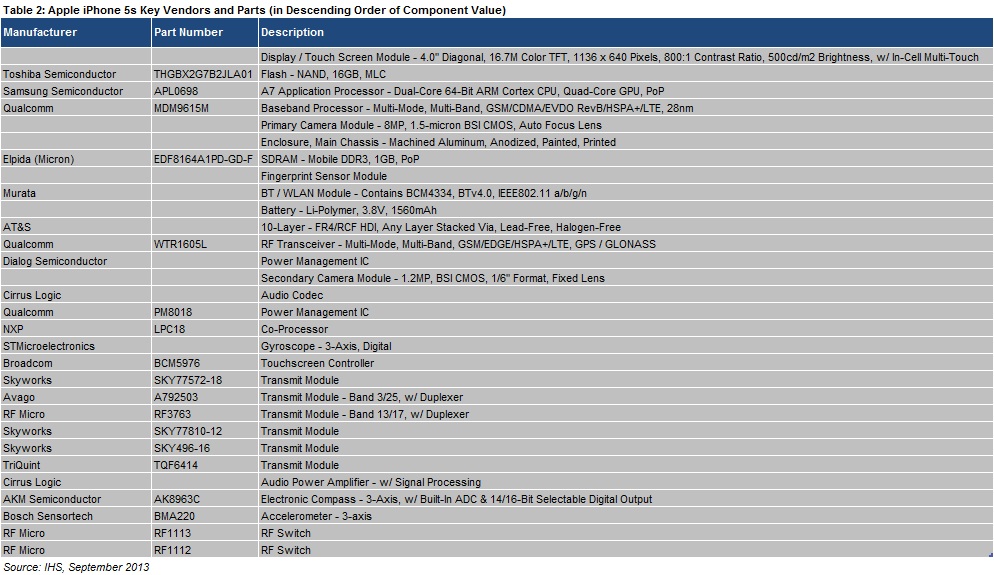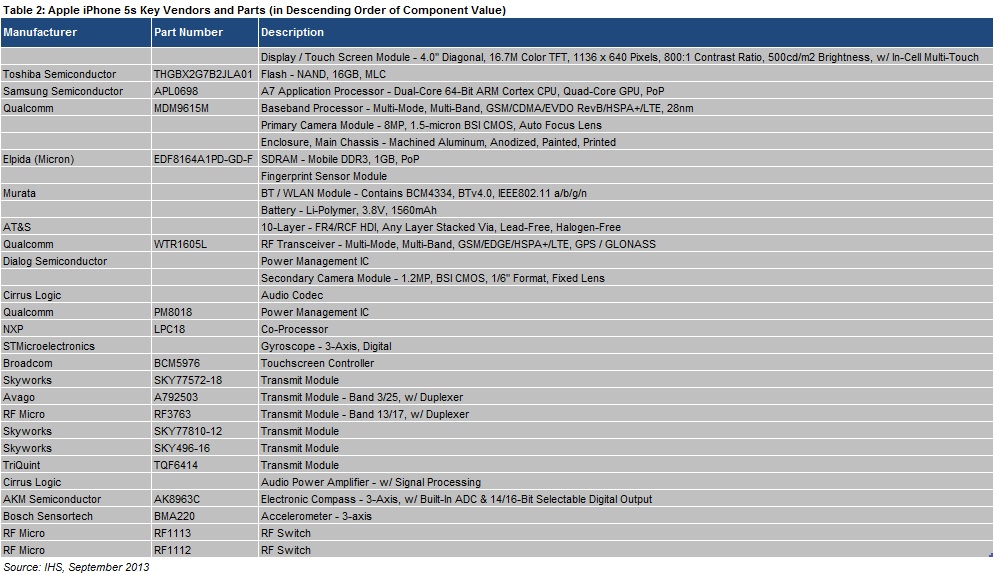 Local Vendors Are Taking Advantage Of  The Brim Situation
The Galaxy S5 is priced at $650, without contract, which leads it to a profit of approximately US$400. Similarly, Apple is also minting huge profit of nearly US$449 from each iPhone 5S sales. But this money is also consumed in marketing, royalties and the operating system costs. Therefore, it will absurd to say that these figures are net profit on each device sales. Having said that, it doesn't lead to any ambiguity that both the companies are minting few hundreds dollars from each device being sold.
The smartphone market in developed countries is stagnant, while the emerging smartphone markets, such as India and China, are welcoming the local vendors more. Homegrown vendors like Xiaomi and Micromax are encashing the market trends by bringing in budget smartphones. India and China present a huge market opportunity for smartphone vendors. In India out of 901 million mobile subscribers, only 94.1 million are using Smartphones. The China scenario, though, is far better in comparison but the opportunity windows is equally big as out of 1.2 billion mobile subscribers only 700 million are smartphone users. Besides, the average selling price of a smartphone is expected to dive to $265 by 2017 and companies, such as Motorola, are fuelling the competition by launching high-specifications smartphones at a low price ranging from $117 to $400.
IHS Senior Principal Analyst, Teardown Services, Andrew Rassweiler said, "Samsung is demonstrating its ability to suit the tastes of carriers in different regions of the world. It comes down to what the market is willing to spend on the features offered."
With so much of developments and market-shifts it's going to be difficult for Samsung and Apple to maintain its high profit margins with each of its flagship smartphones. Both the companies have noticed the hanging market equations and are trying to counter the upcoming challenges by introducing low-priced version of their flagship products. However, the efforts are not paying off well which is clearly visible from the sales performance of iPhone 5C and Galaxy S4 Mini. Probably, its time when both Apple and Samsung join the volume game by introducing really affordable low-price flagship smartphones designed especially for price sensitive developing markets.